Reclaimed wood furniture comes with a huge advantage to interior designers and homeowners that are looking for unique pieces for their homes.
Each piece of reclaimed wood is entirely unique, a home's interior is able to experience a completely fresh look that no other home will have.
If you've been thinking of using reclaimed wood in your home, then check out some of these different pieces that we've found to go great in almost any home. There's a lot of potentials here so be sure not to limit yourself!
Where to Purchase Reclaimed Wood Furniture?
There are a few different ways you can go about finding reclaimed wood furniture for sale. In some cases, you can find some simple pieces at larger stores such as pottery barn, crate, and barrel, or other similar retailers. But, for the most part, you'll need to do a more specialized search to find some more specialized stores for your reclaimed wood furniture needs.
One of the best ways to find what you need is to do a Google search or look on places like Etsy for small businesses that are specifically working and creating reclaimed wood furniture regularly. You'll want to keep an eye on these companies' reviews to ensure that they're legit and that they make high-quality pieces. You'll likely be spending a premium for reclaimed furniture, so you'll want it to be worth what you pay.
DIY Reclaimed Wood Furniture
Another way that individuals will get reclaimed wood furniture into their homes is by building DIY pieces. There are a lot of DIY projects and plans that you can find. Our blog alone is full of simple examples of how you can build DIY wood furniture. If you're interested in doing a DIY project, you'll want to take the time to find the right plan and ensure that you feel confident undergoing the project.
If you're not 100% confident that you can complete the project to your standards, then you may want to ask a friend or family member to come alongside you and help you complete the project. It's never a bad thing to ask for help, especially if you want the furniture piece to turn out great!
18 Reclaimed Wood Furniture Ideas
Now, let's get into those furniture ideas! The biggest thing to watch out for when you're looking into purchasing reclaimed wood furniture form
1. Reclaimed Wood Coffee Table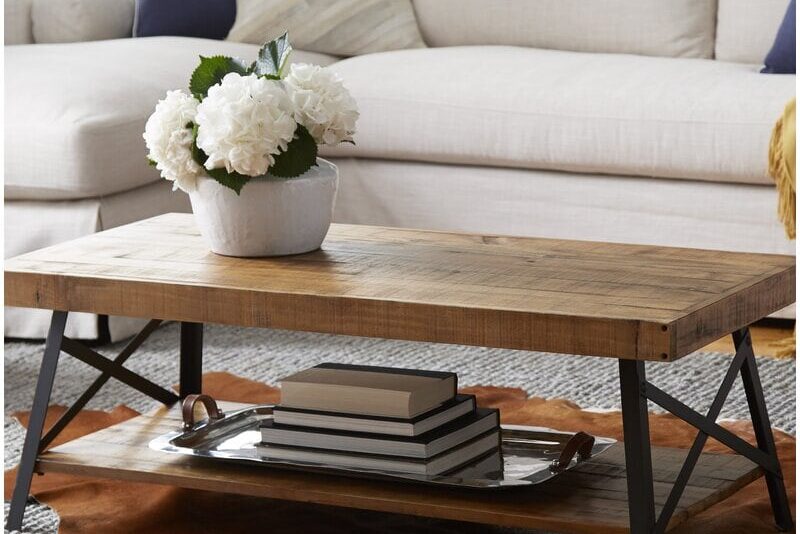 A reclaimed wood coffee table is a great piece in almost any home. There are several different ways that you can find reclaimed wood coffee tables. Two of our favorite places to look, are Wayfair and Pottery Barn. You'll find lots of reclaimed wood selections at both of these stores, but some of their coffee tables stand out really nice amongst some of the other less common options on the market.
2. Reclaimed Wood Headboard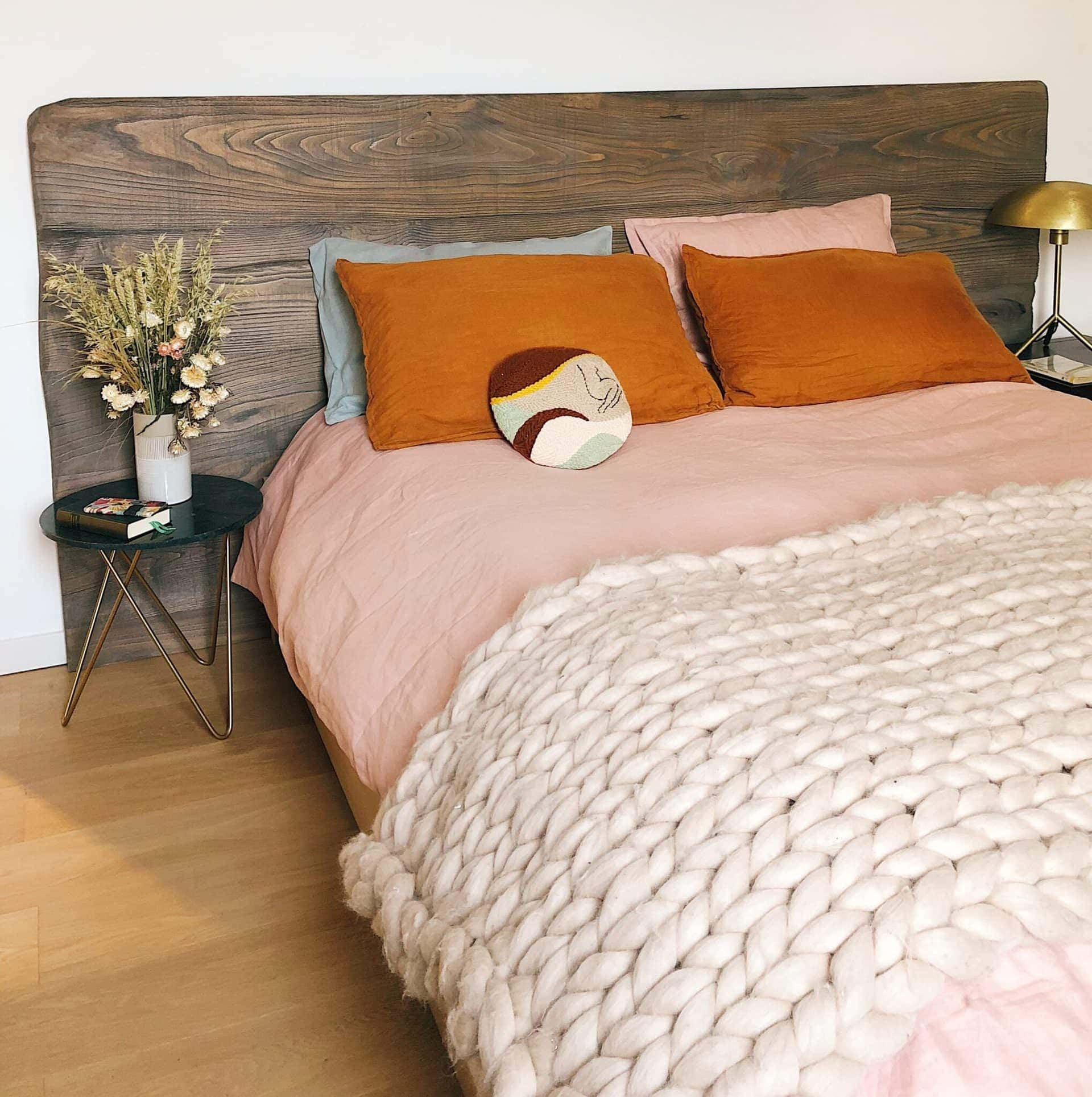 We've talked a couple of times on our blog about a reclaimed wood headboard. There are lots of ways to use wood in a headboard. In our most recent reclaimed wood headboard blog post, we talk about all of the DIY options as well as some of the best places that you can buy them. Find that post here.
3. Reclaimed Wood Bench
A wood bench can add a lot of character to a home. Depending on where you end up wanting to put this wood bench, you might want it to look different or be made of different materials. A wood bench looks great at the foot of a bed, in an entryway, or even right outside a door.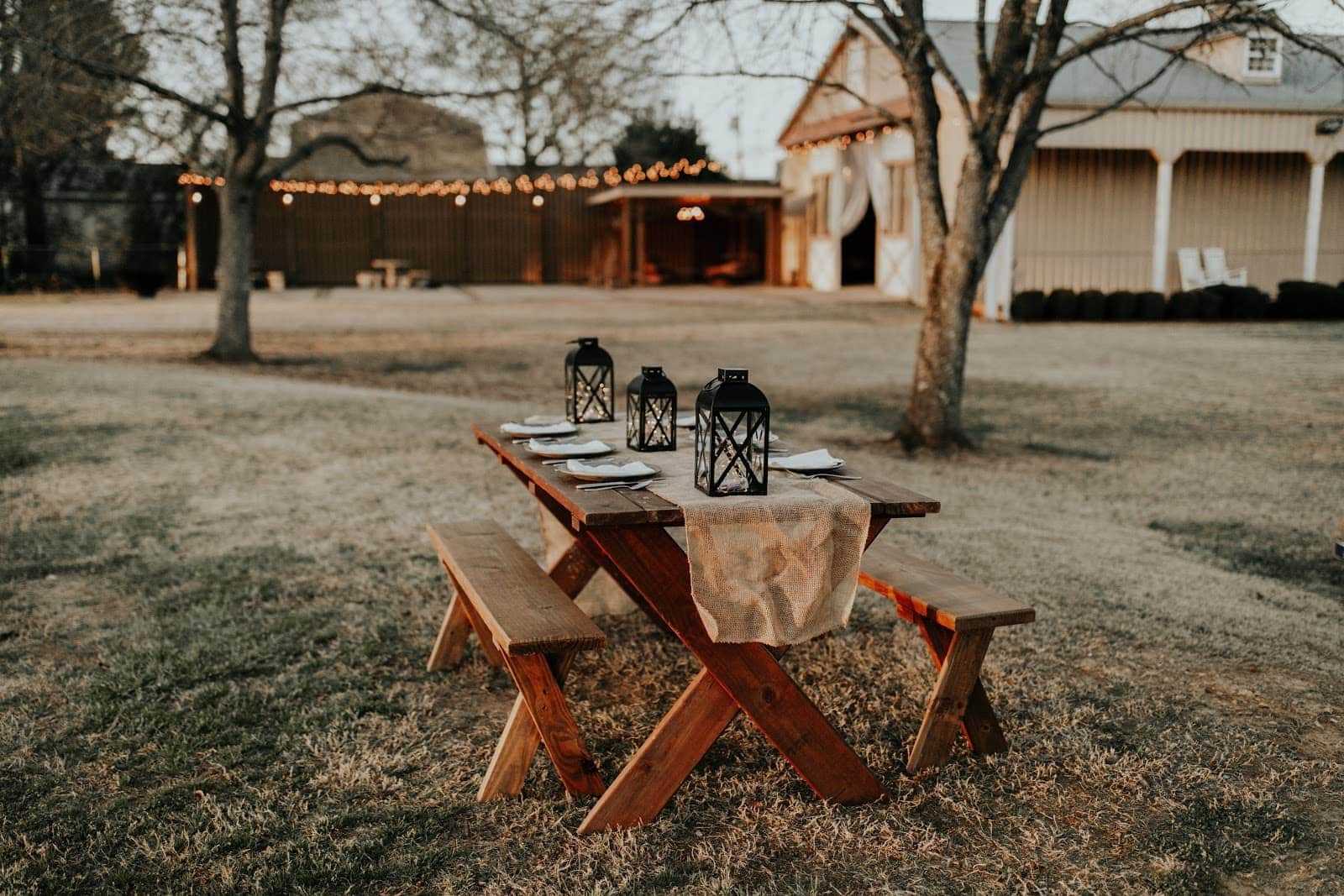 For a DIY wood table and bench, check out this post.
4. Reclaimed Wood Bed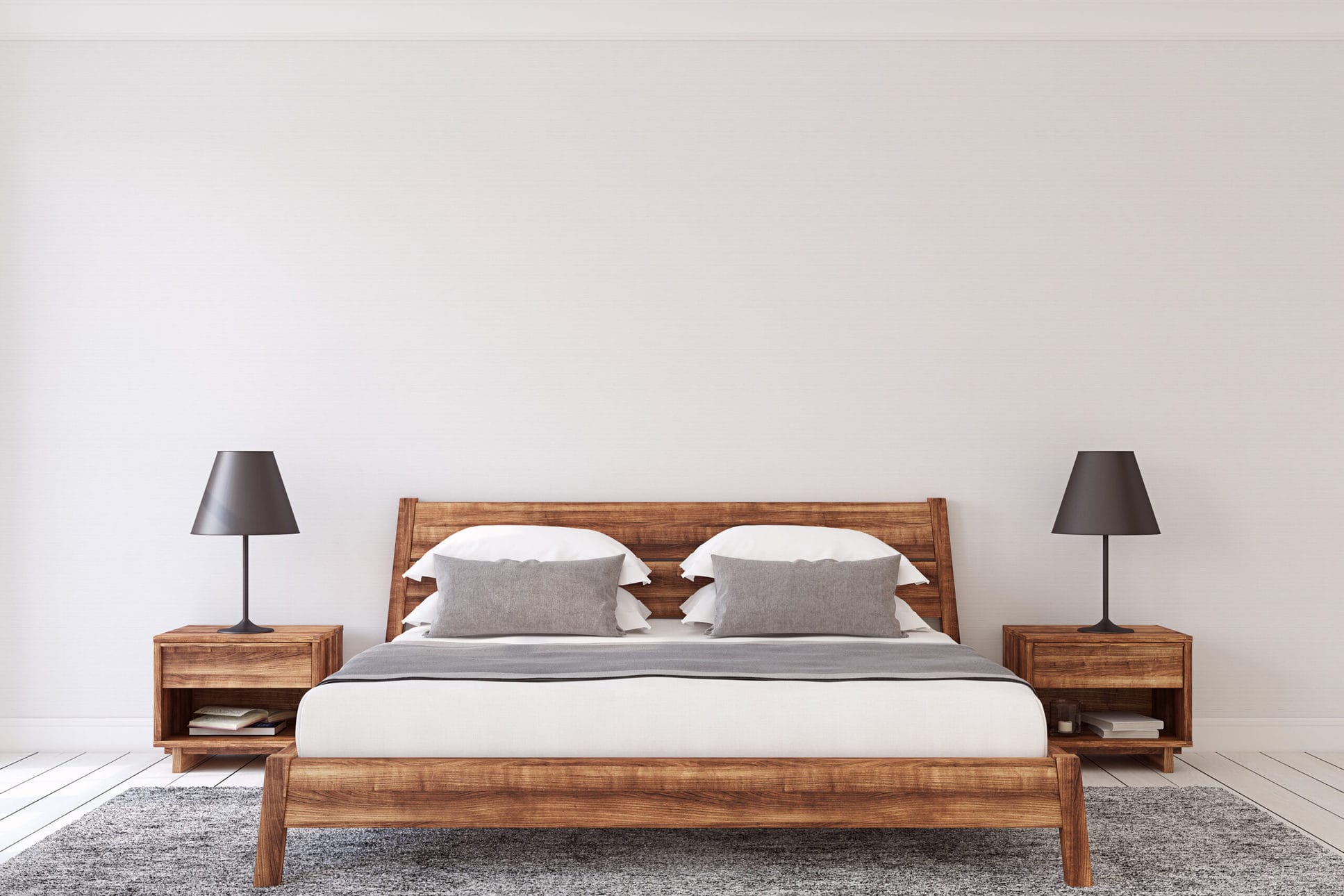 A wood bed is something a lot of homeowners like to have. While some styles of wood beds don't always fit the look you're going for in a bedroom, there are a lot of ways that wood beds can be done and, in turn, ways that they can fit into different style designs and decor tastes.
Look for wood beds when you're looking for reclaimed wood headboards. In some cases, these will come together, and you get a matching set.
5. Reclaimed Wood End Table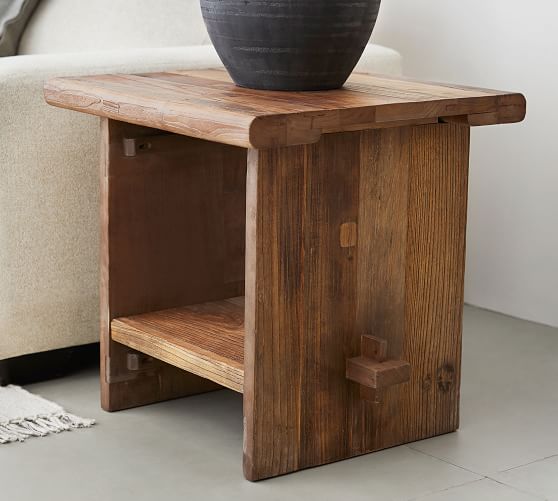 A nice end table can take a living room to another level. Whether you're wanting to the end table in your bedroom or living room, look for something that can accent the rest of your furniture. If you're wanting a wood end table that matches well, then reclaimed wood might not be the best option for you. Reclaimed wood pieces are designed to stand out and be a statement.
6. Reclaimed Wood Bookcase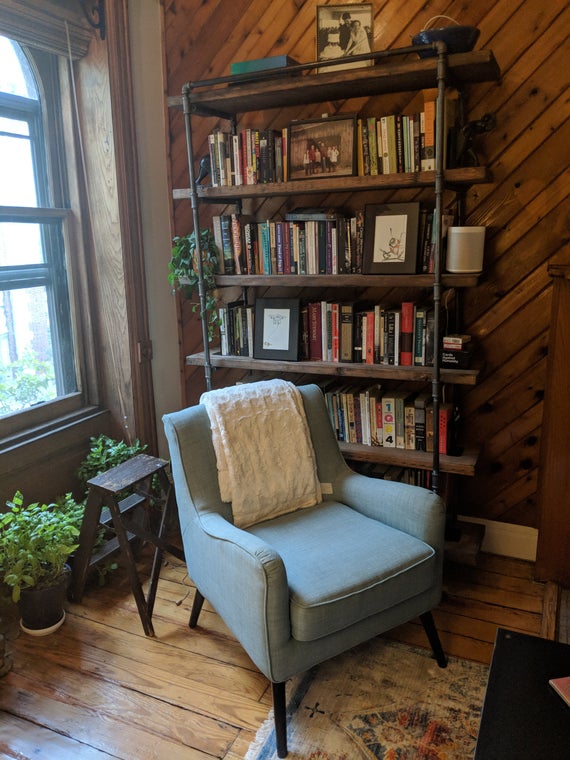 A reclaimed wood bookcase is going to stand out in any room. Whether you're storing books in it; or using it as a decorative piece, it's a great way to incorporate some class and culture in your home.
These are built in a lot of different ways using a lot of different materials, so be sure to do your research and figure out what type of style you're going for and how you want the finished project to look.
7. Reclaimed Wood Chair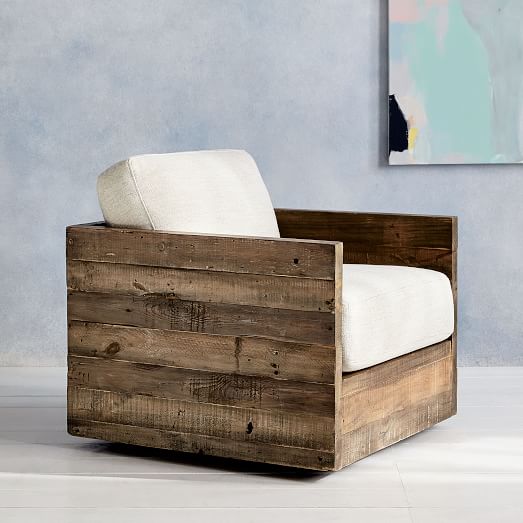 Reclaimed wood chairs are actually more common and easier to acquire than you might think. While yes, someone could take a large piece of reclaimed wood and rework it to fit into a chair. Another great way to find them is to look at antique stores or even thrift shops for old chairs that you could reclaim and refinish yourself.
A lot of times chairs and other similar items are thrown out simply because they need a new coat of finish or some TLC. Look for little projects like this because they can be extremely fulfilling and easy to do!
8. Reclaimed Wood Cabinets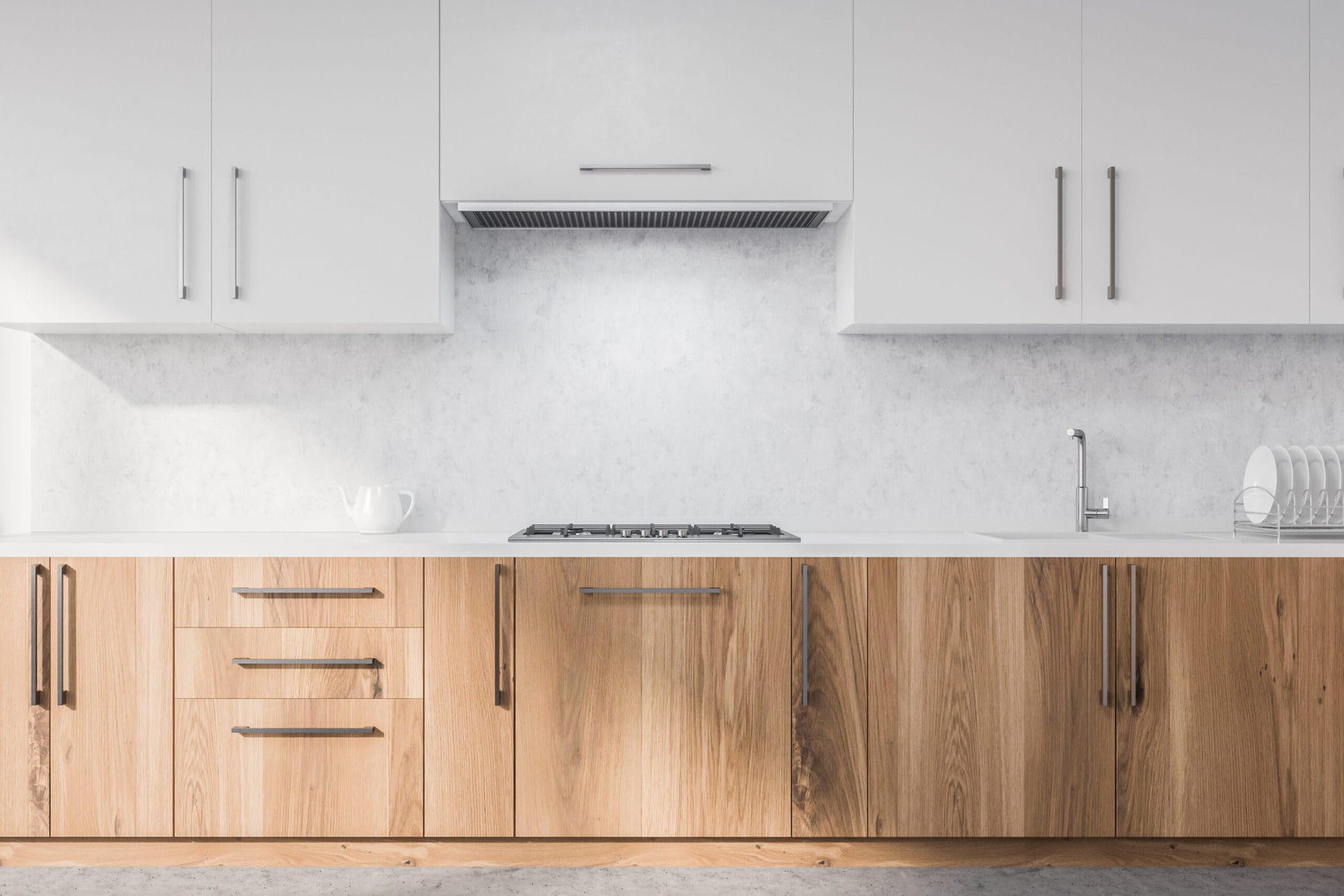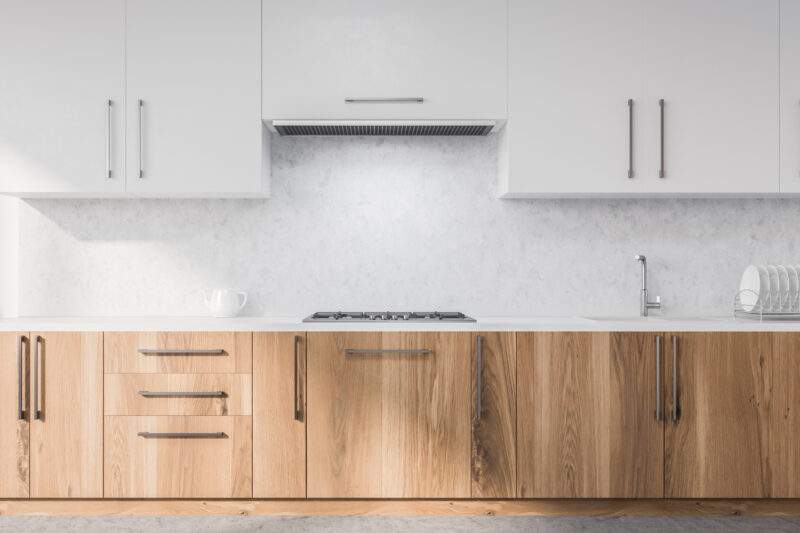 Wood-finished cabinets are all the rage, and they should be! Too many trees are cut down to build new cabinets when old cabinets could either be reused or restored. While it is important that your cabinets are sturdy, some companies focus on reclaiming lumber to make the most of wood cabinets before deciding to just throw them out.
Here are some awesome reclaimed wood cabinet ideas.
9. Reclaimed Wood Chest
A reclaimed wood chest can be used in a lot of the same ways as a wood bench. You can use it as a place to sit, store things, or even as an accent in your bedroom.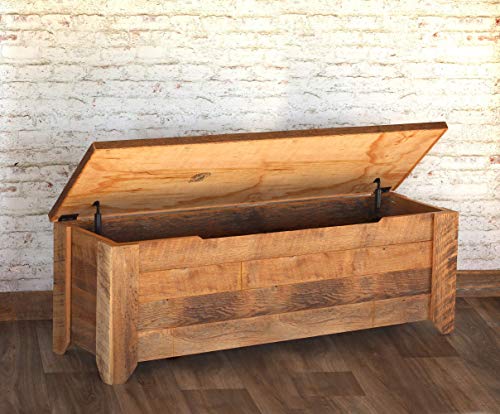 This is another one of those items that you can probably find out at an antique store or another similar type of store. In that case, you'll be able to refinish and reclaim it on your own—a great project with an even better outcome.
10. Reclaimed Wood Chandelier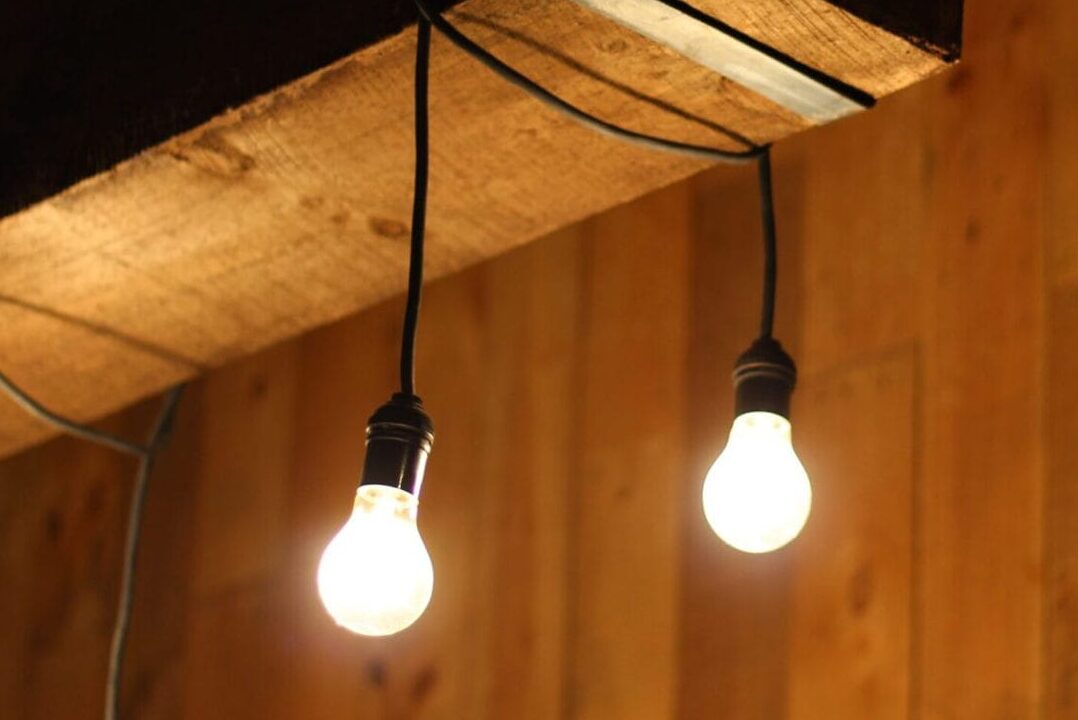 We love a good reclaimed wood light fixture. There are many ways that you can incorporate these and create them to serve your home in a beautiful way. We love using beams and hanging lights from them in the form of a chandelier. Be sure to check out the post we linked above for all of the wood chandeliers and light fixtures that we love.
11. Reclaimed Wood Sofa
You may not have thought of it, but a reclaimed wood sofa is a great way to incorporate reclaimed wood in your living room.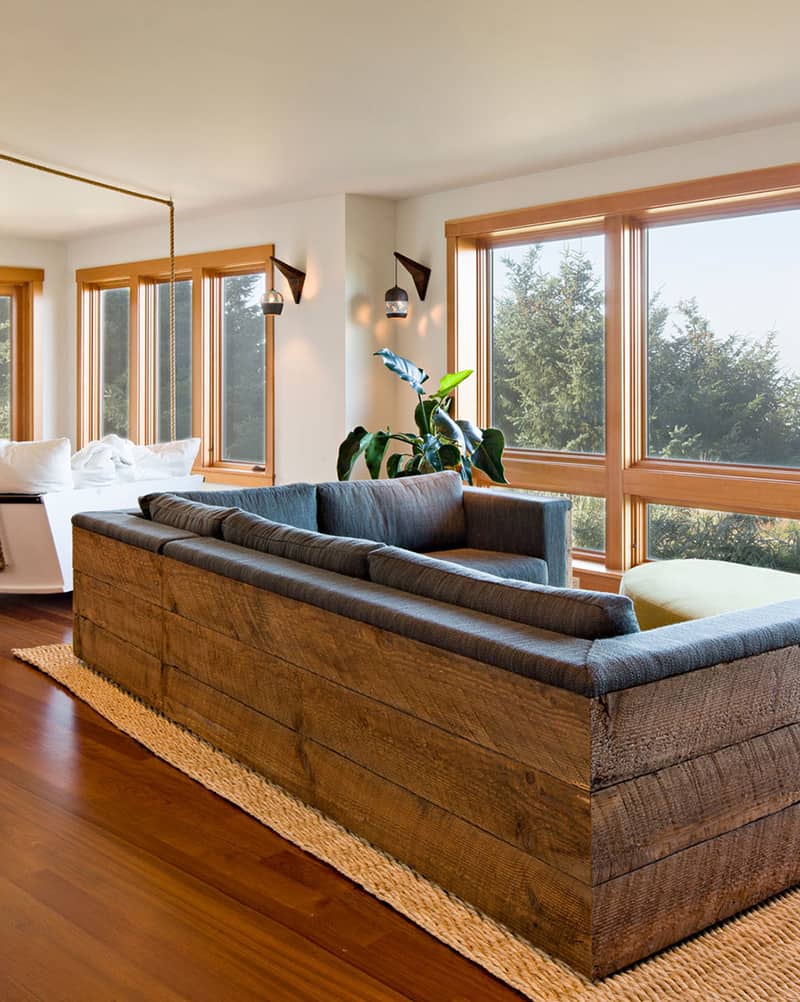 While a wood sofa is still going to contain some elements of a traditional sofa, there are a lot of great wood sofas that make for beautiful furniture pieces.
12. Reclaimed Wood Ottoman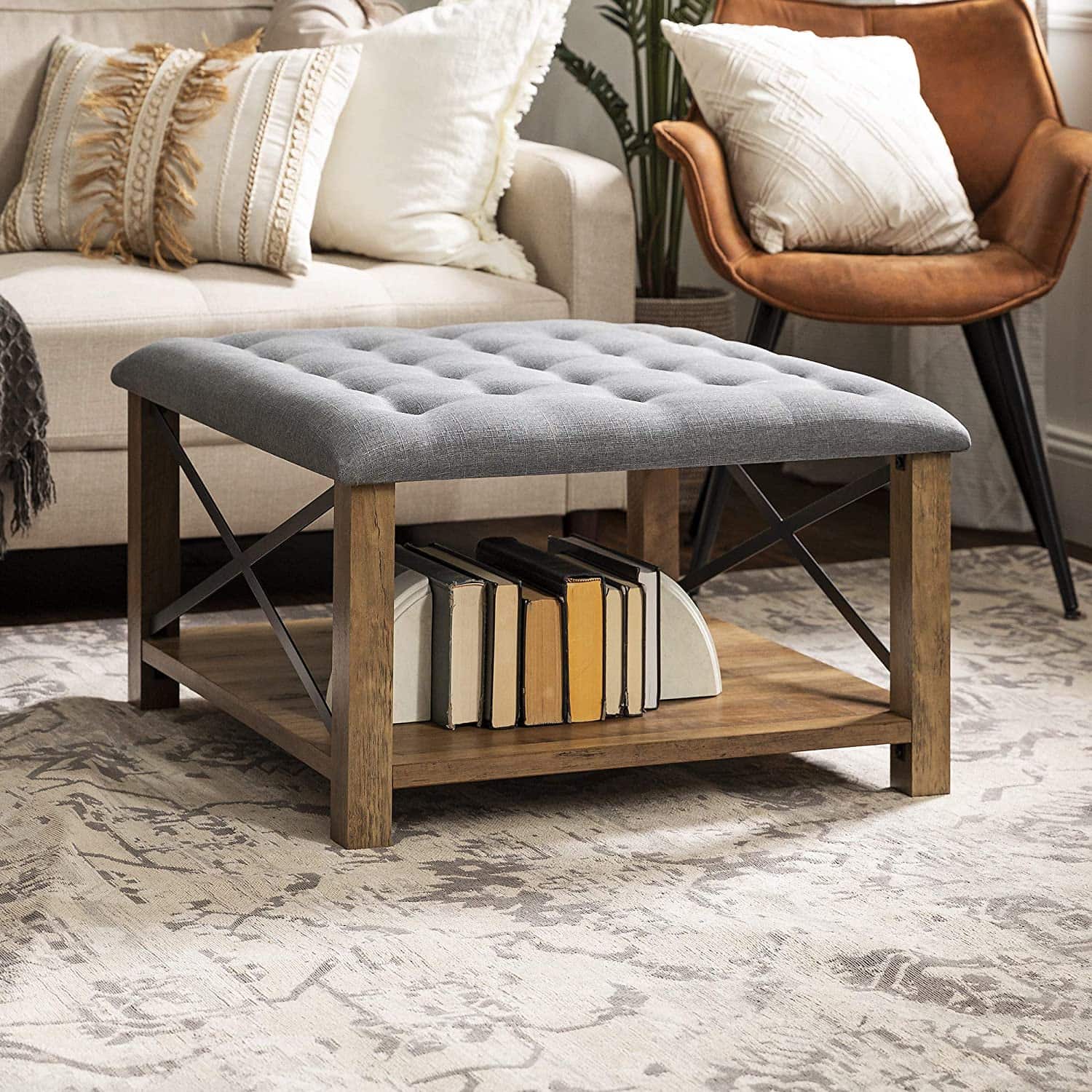 Just like a wood sofa, you'll need a wood ottoman to match it. Including this in your home is the perfect way to accent more traditional or modern furniture in your living room. Some great places to look for these include Etsy and local shops that may have restored or refinished older pieces.
13. Reclaimed Wood Desk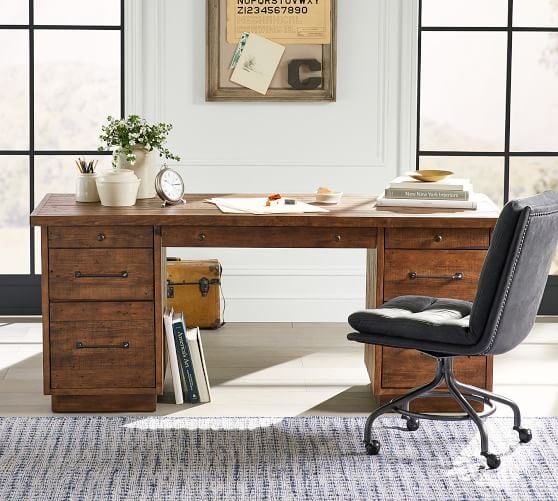 A wood desk would be beautiful in a number of spaces. One of the best ways to get your hands on a wood desk is to either buy one from any major retailer or purchase a reclaimed wood tabletop from a reclaimed wood dealer like Manomin Resawn Timbers. We offer a variety of tabletops that can be built into desks or tables for your home.
14. Reclaimed Wood Shelves
Wood shelves can be made with almost any type of wood. So, why not use reclaimed wood to make them as beautiful as possible. There are a lot of different ways you could go about this, but floating shelves might be one of the classiest ways to do it.
15. Reclaimed Wood Dresser
A reclaimed wood dresser is another beautiful piece that is often put together in a lot of the same ways that a bookcase would be. But, like some of the other pieces that we've talked about. You could DIY this project by reclaiming a dresser that you don't care for anymore or that you find at a thrift store. Sometimes all a wood piece needs is a quick sanding and then a fresh coat of paint.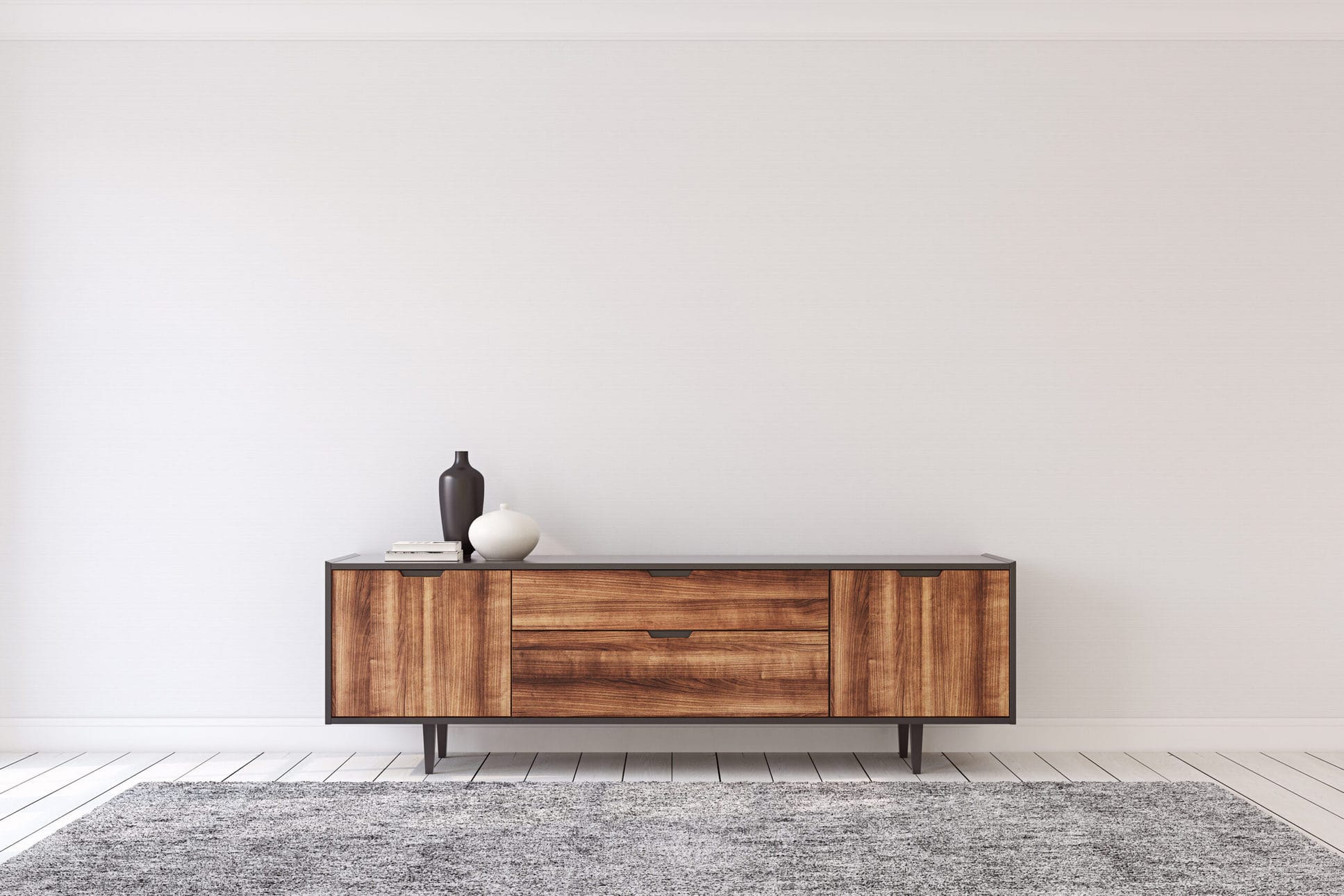 If you do decide to take on this project by yourself, be sure to check the dresser and make sure that it's sturdy. You won't want to spend the time refinishing a product if it's not in good condition outside of the finish. It's easy enough to check for this by wiggling it back and forth a bit.
16. Reclaimed Wood Tv Stand
A TV stand can be made out of a number of different pieces. You might build it out of an old dresser, set it on a bookcase, or have a dedicated TV stand that's sole purpose is for your entertainment system to rest on. Many TV stands are made in a more modern way with the use of glass and metal. Many times this is because those materials can be made lighter yet stronger than wood. That doesn't, however, mean that a reclaimed wood TV stand isn't a great choice. This is another great product that you can likely find in a thrift store and refinish yourself if you're up for it.
17. Reclaimed Wood Vanity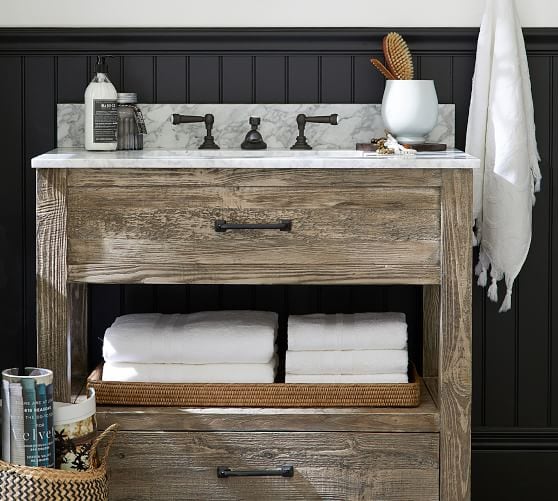 You can find reclaimed wood vanities all over the market and in a lot of different retailers throughout the different spaces. But, that doesn't mean every vanity is built the same. When you're looking for a great vanity, ensure that you check out the reviews and that the product is of high quality through and through. Some products might be a bit cheaper than others but will then lack when it comes to sturdiness.
18. Reclaimed Wood Stool
A reclaimed wood stool can be great in your bathroom, kitchen, or entryway. Where you put it is ultimately up to how you want to use it. Some homeowners just like to have pieces like this for their look, while others focus more on the utility of the product. This is a product that you can find at most retailers or look for to refinish yourself.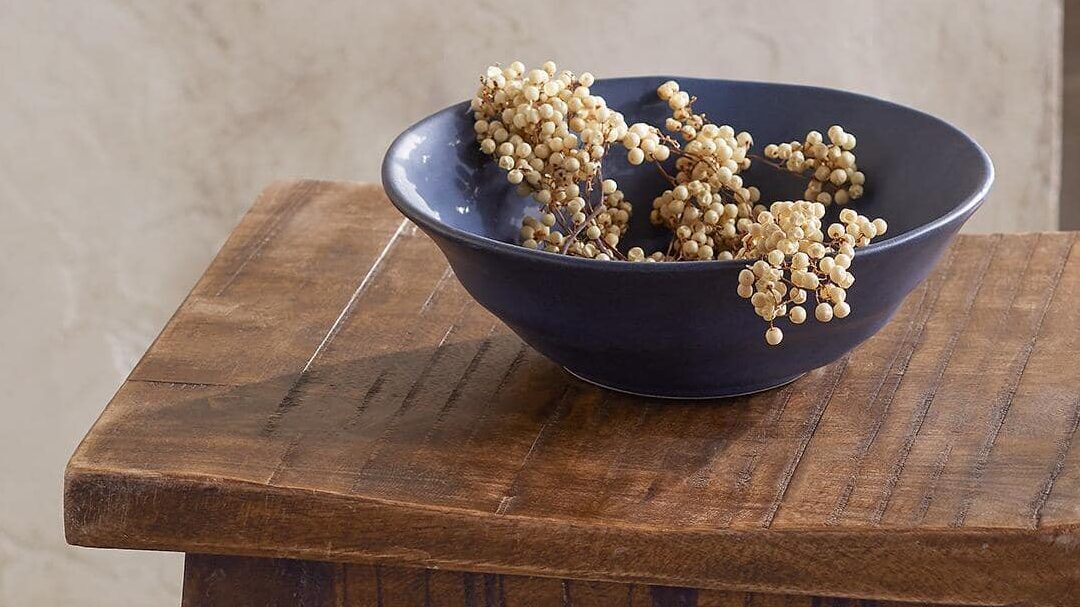 The process of reclaiming a wood stool would be very similar to that of reclaiming and refinishing a wood chair. Take your time and do your best! There's no wrong or right way of refinishing a piece of furniture to fit your needs and design style.
Have Questions? Contact Our Team Of Professionals!
At MR Timbers, we're happy to help our customers create some of the best-reclaimed wood furniture pieces. If you're ever in need of reclaimed wood for your home, visit our website, or give us a call so that we can help you get the right pieces in your home. Be sure to check out our blog for new content going out every week or so. We love sharing reclaimed wood tips with all of our readers!