Finding the right reclaimed wood tv stand for your living room, family room, or home theater is a challenge. But we're here to help! We've been deep-diving into reclaimed wood furniture on our blog, and we've been finding some great products!
4 Best Reclaimed Wood TV Stand Options
In our search for the best-reclaimed wood furniture, we found these awesome reclaimed wood tv stands that would look great in almost any home.
1. Pottery Barn: Parker 68″ Reclaimed Wood TV Stand – $1,499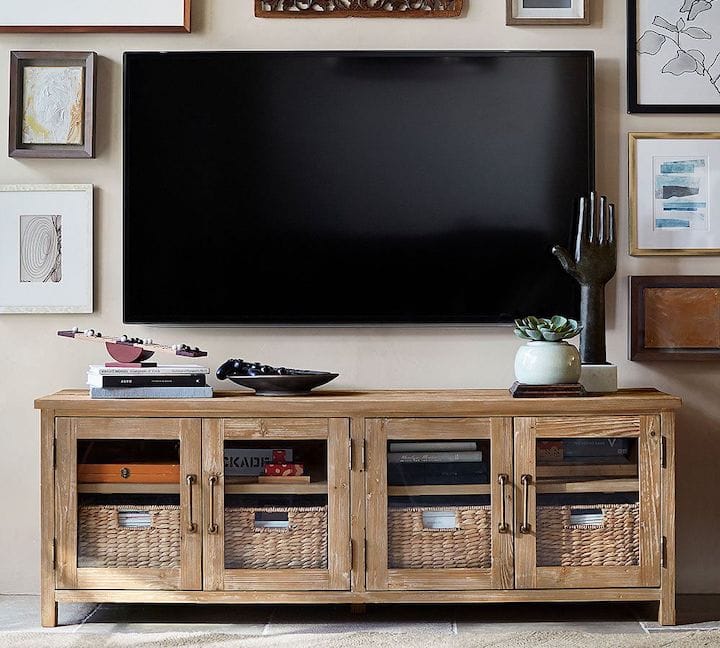 If you're looking for a good-sized media console that offers more than just a stand for your tv, this Parker reclaimed wood media console is a great option. The glass doors on the front and the weather white wood make for great compliments. You can neatly store anything you need on the shelves and place decor or your tv directly on the top.
Some of the pictures on Pottery Barn's website offer some great ideas of ways that you could decorate the tv stand.
2. West Elm: Bin Pull Reclaimed Wood TV Stand – $1,749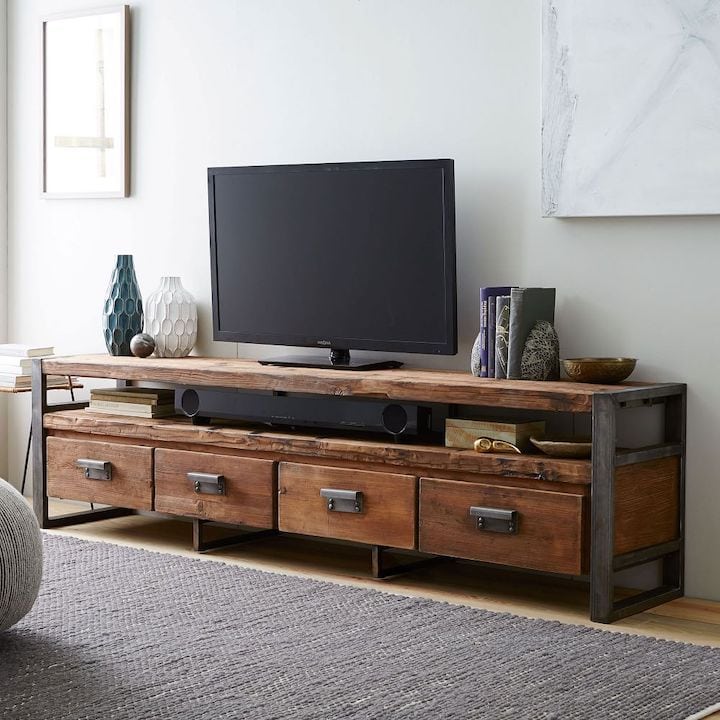 A reclaimed wood tv stand can add a little bit of extra character to your living room, and this reclaimed wood media console from West Elm would do exactly just that. This media/tv stand measures 82″ long, making it great for larger TVs up to 80″. Now that's a solid tv stand for almost any home. The reclaimed look pairs well with any other reclaimed decor you might have around the house. It's made out of reclaimed pine and iron.
3. Wilton II Medium Brown Reclaimed Wood TV Stand – $809.99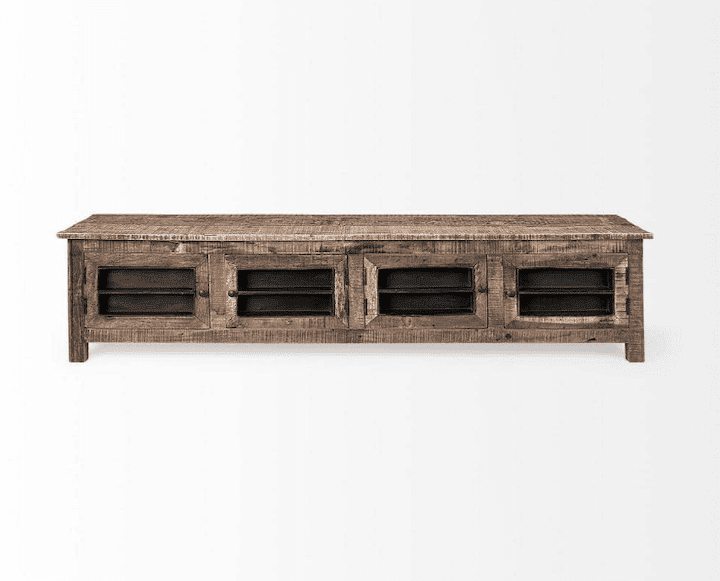 Now that is a bit of a mouthful, but the Wilton reclaimed wood tv stand offered on Home Depot's website is a great find. It's one of the best-for-price items that we found, and we love it, especially because of that. The stand itself measures 76″ long by 19″ wide. It's also very strong and can handle a standard tv up to 87″. The design of this piece is really pretty, especially with the black doors against the harsh wood grains.
Everything about this specific piece is what makes reclaimed wood so perfect for a rustic and worn-style tv stand.
4. Home Depot Baeza 70.86 in. Reclaimed Oak Storage TV Stand – $442.17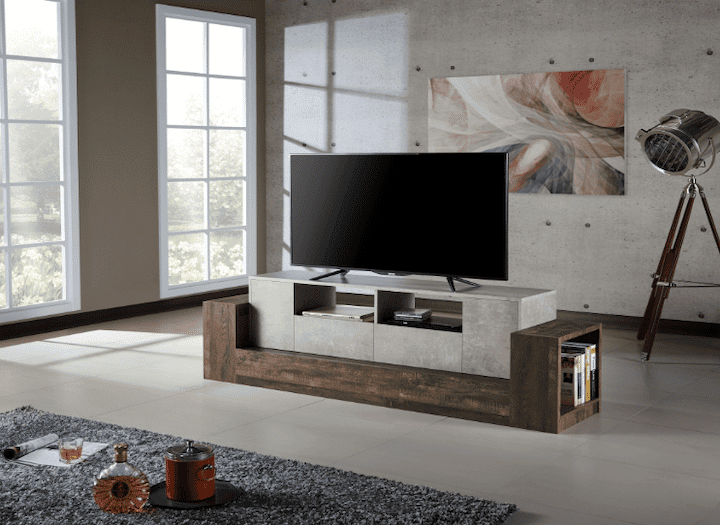 Built with wood and faux concrete, we're including this reclaimed wood tv stand from Baeza because of its design and striking modern appearance. This design is stunning in many ways. Unfortunately, it's not made from solid reclaimed wood and instead just uses a reclaimed oak finish. Nonetheless, this tv stand could make a beautiful center in your entertainment room.
Things to Keep in Mind When Purchasing Reclaimed Wood
When you set out to purchase reclaimed wood, be sure to keep in mind that not all reclaimed wood dealers, or products are of the same quality. Sometimes stores will advertise that they sell reclaimed wood when the wood itself isn't truly reclaimed and might just be made to look like it.
Be sure to do your homework on the different types of wood, where it came from, and what steps were taken to reclaim it properly. One of the benefits of purchasing reclaimed wood from a true reclaimed wood dealer is that you'll know exactly where the wood came from, what went into reclaiming, and who reclaimed it.
In a lot of ways, buying your reclaimed wood from a dealer is a lot like buying produce from a local farmer. You get to know exactly where that wood came from, what went into producing it, and how you can best make its character shine in your home.
DIY Reclaimed Wood Furniture
One last thing to consider is the idea of building your own reclaimed wood furniture. DIY reclaimed wood projects are loads of fun, turn out great, and come with lots of benefits. And, if you're feeling really brave, you can reclaim the wood yourself as well.
Now, a full reclaiming project isn't for the faint of heart. There's a lot that goes into it, and it's a lot of work in itself. To get started on the project, you'll first need to find the wood that you'll be reclaimed for the project. After that, you'll need to find a plan to follow. A quick google search can reveal all types of great plans on how to build the perfect reclaimed wood furniture.
After that, you'll be able to get your materials and your tools together and start on the hard work. In no time at all, you'll have a fully functioning reclaimed wood tv stand, table, desk, or any other furniture item that you set your mind to.
If you're interested in getting a few more reclaimed wood furniture ideas, then be sure to check out the rest of our blog. If you need reclaimed wood for projects around your house, we'd love to help.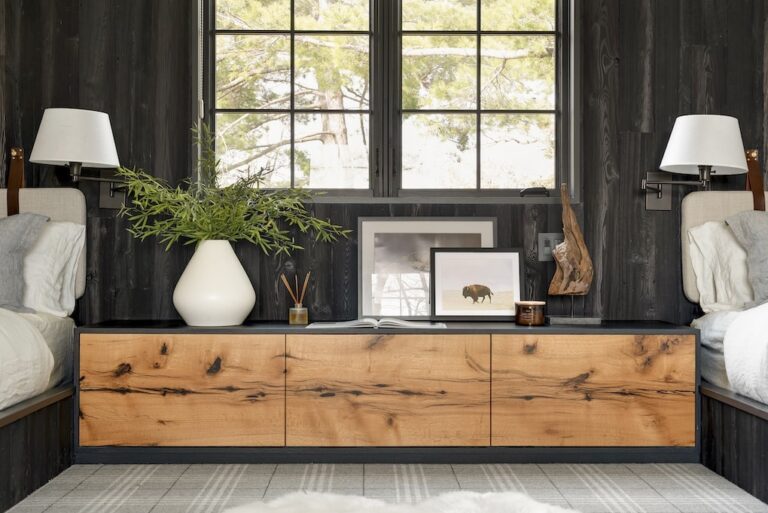 Contact Mr. Timbers For Premium Reclaimed Wood
At MR Timbers, we carry various reclaimed wood products, including flooring, paneling, mantels, timbers, and doors. Reach out to us today for a FREE Quote on your next reclaimed wood project.