A great light fixture can really make a difference in a room. Whether a bedroom, bathroom, or dining room, a light fixture, when used the right way, can be a huge statement to any room.
When it comes to such a big statement piece, why wouldn't you want to use reclaimed wood? Reclaimed wood light fixtures can sometimes be rare, but they are a great addition to any home when used correctly! Here are 3 of our favorite ways to incorporate reclaimed wood light fixtures.
Reclaimed Wood Beam Chandelier
This is one of the most popular ways to use reclaimed wood as a lighting fixture. Using reclaimed wood in this way is simple and effective as a DIY project. You can dress up the project with any lights that you want, but one of the simplest ways to do it yourself is by using string lights and wrapping them around the beam. Here's an example of using string lights: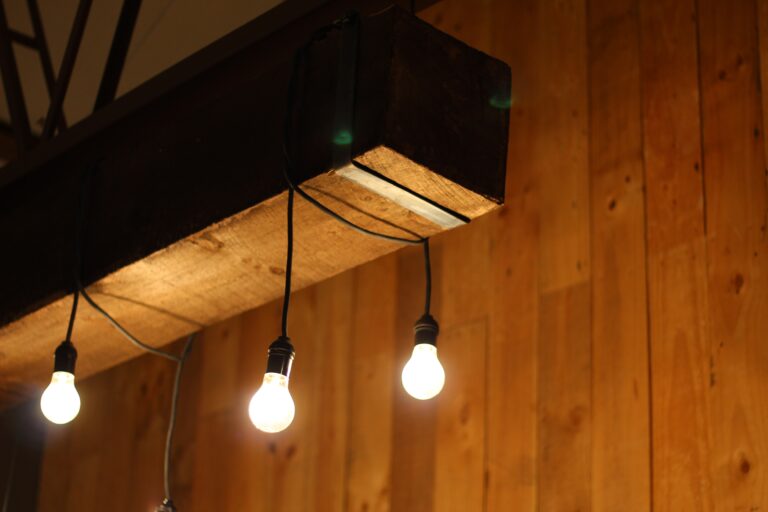 This wood beam has metal drilled into the top of it to hang it from the ceiling, so be sure you know how to hang a chandelier before you get too far into this project. There are all sorts of videos and instructions on how to hang chandeliers on YouTube.
Another version of this method is pictured below.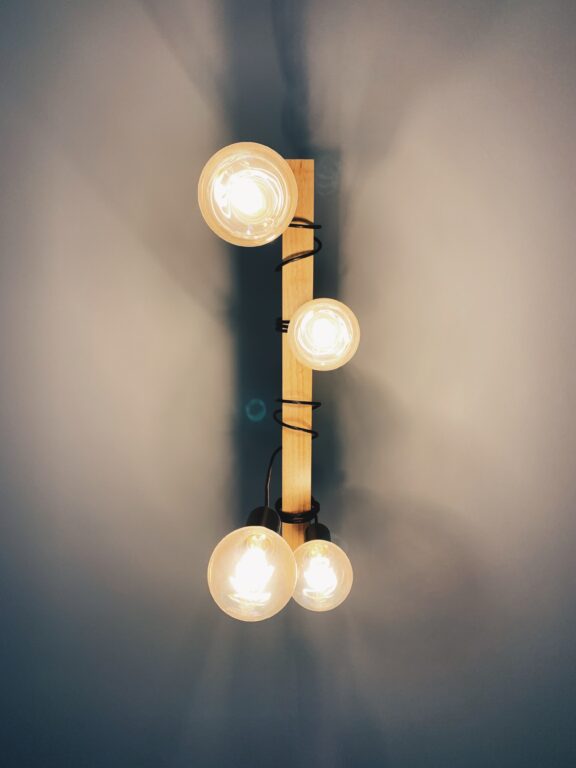 As you can see, the wood beam is much smaller in diameter than the beam above and much lighter in color. This just goes to show how unique and different individual pieces of reclaimed wood can be. It's difficult to find two pieces of wood that look exactly the same, making any project like this all the more customized to your tastes and preferences.
Lastly is this example of a wood beam fixture in a kitchen with some extra decorations on it. You can see the beam in the right-hand corner of the picture and see that it's clearly decorated in a way that accentuates the wood features and the lighting in the kitchen. One of the best parts about reclaimed wood light fixtures is how they lend themselves to different rooms and different styles like this one.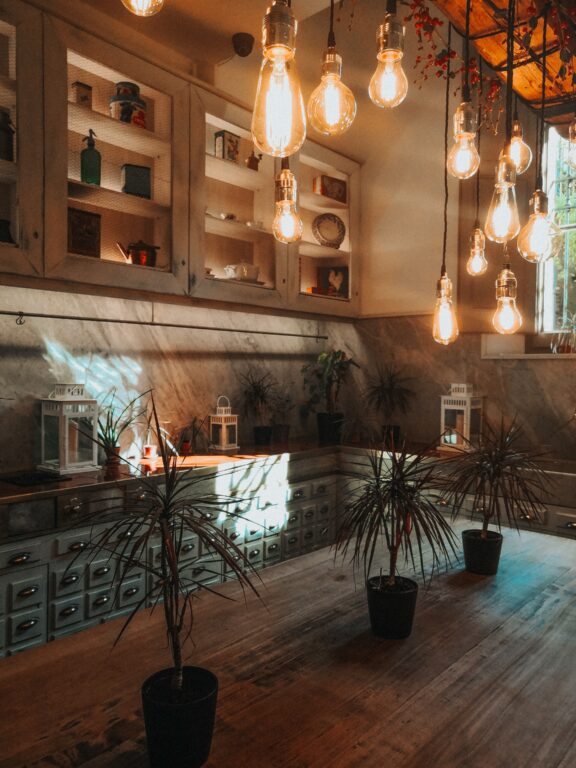 Accent Wood Beams with Light Fixtures
Another common way to use reclaimed wood lighting better is by accentuating your reclaimed wood beams or timbers. Many homes commonly use wood beams as structural and aesthetic sources. Homeowners love the way that natural wood brings warmth and class to a room while also adding value.
One thing that is often overlooked when installing wood beams is how the lighting in the room will be affected by the beams. Because most vaulted ceilings use cans mounted up towards the ceiling, beams can obstruct the light they cast and cause unwanted shadows throughout the room.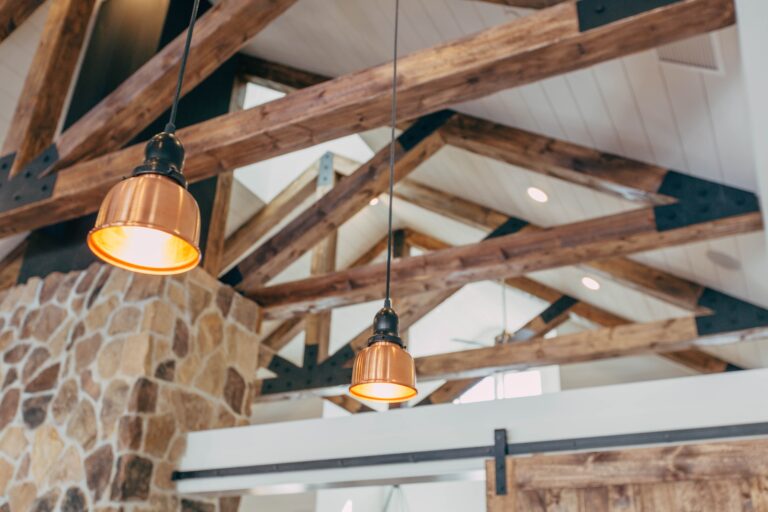 As you can see in this picture, the builder used beautiful copper light fixtures that hang down from the ceiling. This allows light to reach down below the beams without casting shadows. The structure still has cans that you can see in the ceiling and some windows high in the roofline to allow for natural light to come in.
If you're adding reclaimed wood beams to your home, then consider using light fixtures like these in places where you want to control the light better.
Reclaimed Wood Beam Light Fixture
Another great way to utilize a reclaimed wood light fixture is by attaching lights directly to the wood. Some home builders may choose to create a fixture type in this way with a box and light bulbs inside it. Others may create something like the picture below.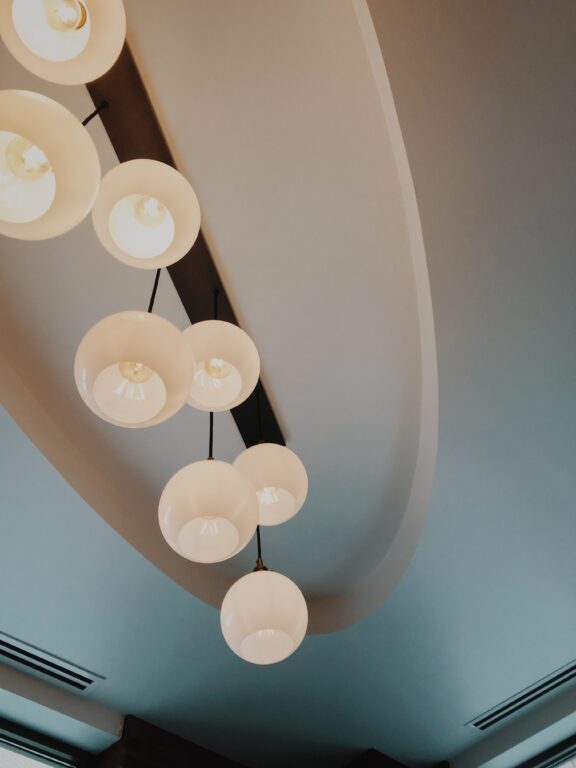 In this picture, you can see how the wood piece is attached to the ceilings, and the lights are mounted to that wood. It's a very effective way of creating a unique light fixture in your home. There are also endless variations of how you might want the final product of this to look. Depending on the wood's size, type of light, and where you hang it, you can truly do whatever you can dream up.
For more reclaimed wood light fixtures and ideas, visit this Pinterest page
If you want to create a reclaimed wood light fixture in your home or you're a builder looking for reclaimed wood to use in one of your client's homes, visit our website. We offer all different kinds of reclaimed wood options, and, if you're interested in visiting our showroom, you can find more ideas of ways to incorporate reclaimed wood into your building project.
Finding the right piece of reclaimed wood is never easy, but when you find the right piece, it will be worth the time it takes you to find it. Reach out to us via our website or give us a call at 651.464.1771 to learn more about the different types of reclaimed wood that we offer.