There are lots of different ways to use reclaimed wood in your home. One of the ways we love to see it used is as an end table.
End tables are beautiful additions to homes and can really tie a room together perfectly when done right. Today we're talking about some of the best ways to incorporate reclaimed wood end tables, as well as where you can find and buy one for your home.
Where to Buy Reclaimed Wood End Tables
There are many places where you can buy reclaimed wood end tables. Whether you're looking for something from a more luxury brand or a custom end table that's entirely one of a kind. It shouldn't be too difficult to come up with something. Here are a few of the different places that you can find these end tables.
Pottery Barn offers some great solutions to your furniture and aesthetic needs. They also have some premium options in their lineup that include reclaimed wood products. Before you go shopping too far, be sure to do a quick search on their website to look for inspiration or if you can find anything that fits your desired aesthetic.
If you enjoy shopping online for your home, then Wayfair is the way to go. With products stretching from furniture and decor to dishes and bedding. It's hard to say if all of the products they show under their "reclaimed wood" search are truly made from that material. But you can look into some of the different specific offerings to learn more about the process behind their production.
For custom, one-of-a-kind pieces, Etsy is the best place to shop. There are hundreds of individual shops that feature lots of different pieces. Depending on what type of end table you're going for, there's definitely one you're sure to love!
Reclaimed Wood End Tables – Style Guide
There are few different styles of end tables, and the different styles will work together with items in your home to make for the best decor. Here are some of the different styles and some of their characteristics.
Traditional
A traditional end table will feature a simple design. A straightforward design that often incorporates a drawer and hand-finished details throughout. When considering traditional end tables, think elegant, dark colors, and functional designs.
Contemporary
More contemporary designs will include possible stone elements as well. Contemporary designs will fit nicely into modern design and function. Depending on the designer of the end table it may include metal elements as well as wood and stone.
Rustic
Rustic is very common among reclaimed wood end tables. Because reclaimed wood already gives off a rustic feel while still being solid wood, it makes for a great rustic end table. These designs will be simple, straightforward, and feel used or worn, offering lots of character.
Industrial
Industrial end tables will feature lots of metal elements. A solid wood base may be used or a solid wood top, but in many cases, the legs and connections are made from steel or often steel pipes. The industrial look fits great into a number of homes and different applications.
Reclaimed Wood End Tables – Inspiration
If you're looking for some inspiration on how you can use reclaimed wood end tables in your home, then check out some of the photos below. End tables can be dressed up in numerous ways to make for beautiful pieces in any home.
Be sure to find end tables that both fit your unique interior's needs and also give you the style you're looking for. Chances are you'll know exactly the right end table for your home when you see it.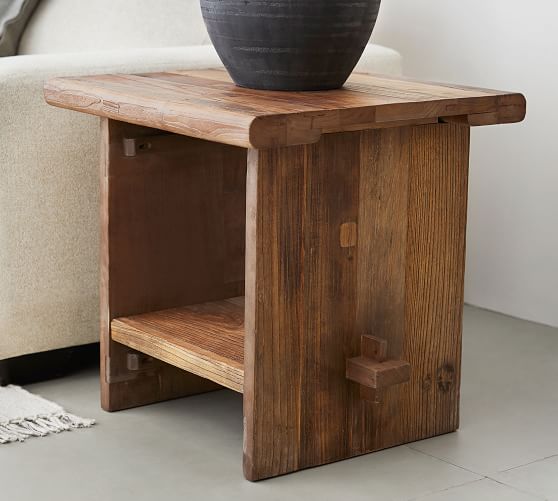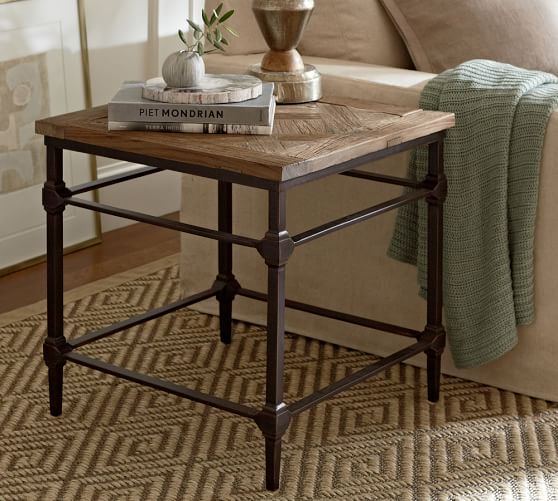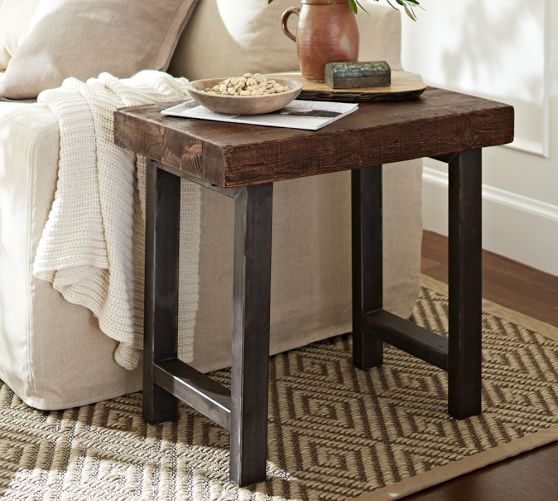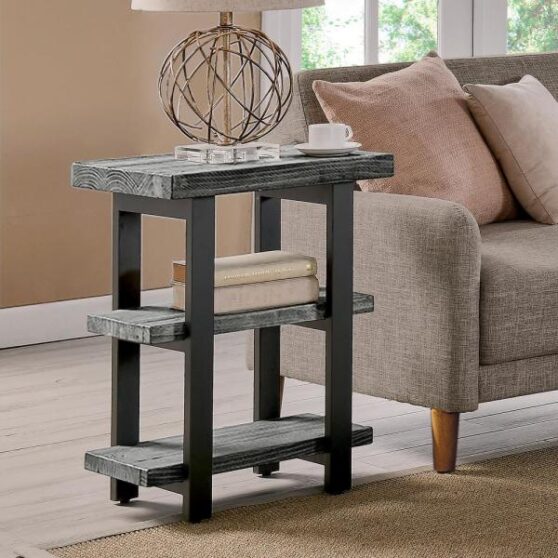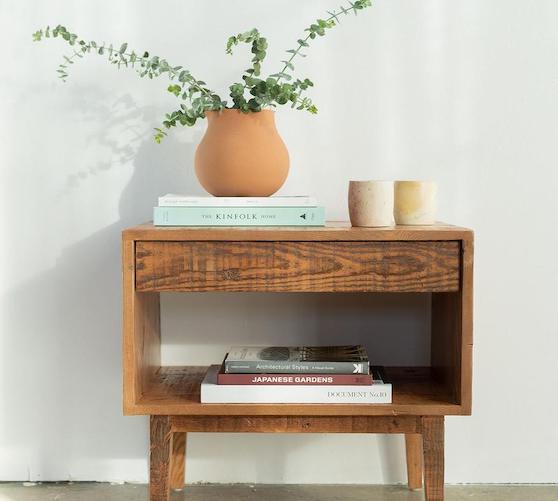 Building Your Own DIY Reclaimed Wood End Table
If you enjoy DIY projects or building furniture for your home, you might already be thinking about building your own reclaimed wood end table. While we always recommend that you have some experience working with wood and building things before tackling a project like this. Reclaimed wood can be expensive, and you wouldn't want to ruin any of the materials while trying to assemble the end table.
Easy Steps to a DIY Reclaimed Wood End Table
Before you can get started on the DIY project, you'll need a few simple tools and safety equipment. Here's a list of some tools for reference.
Finishing nailer
Skill saw, or Miter saw
Tape measure
Pencil
Safety glasses
After you've got the tools, you'll need the materials for the project.
Where to Purchase Reclaimed Wood
There are a few different ways you can gather reclaimed wood. However, one of the easiest ways to gather quality reclaimed wood without the work that goes into locating, cleaning, and de-nailing it yourself is purchasing it from a reclaimed wood dealer. Manomin Resawn Timbers is a great place to purchase reclaimed wood for your home.
We provide premium reclaimed wood that's ready for in-home application when you pick it up from our showroom and warehouse. Contact us today to learn more about what we offer.