Some people want a highly personalized patio space and others want a custom mancave. But maybe you're the type of person who wants an idyllic reading nook in your home. Many mass-produced, build-at-home bookcases lack character and are made from cheap, toxic materials.
Finding a bookcase made from reclaimed wood solves all those issues. Are you looking to add a reclaimed wood bookcase to your home but don't know where to begin?
To help you make the right decision, we're going to cover six inspirational style options, places to purchase reclaimed bookcases, and how to DIY your own bookcase with reclaimed wood.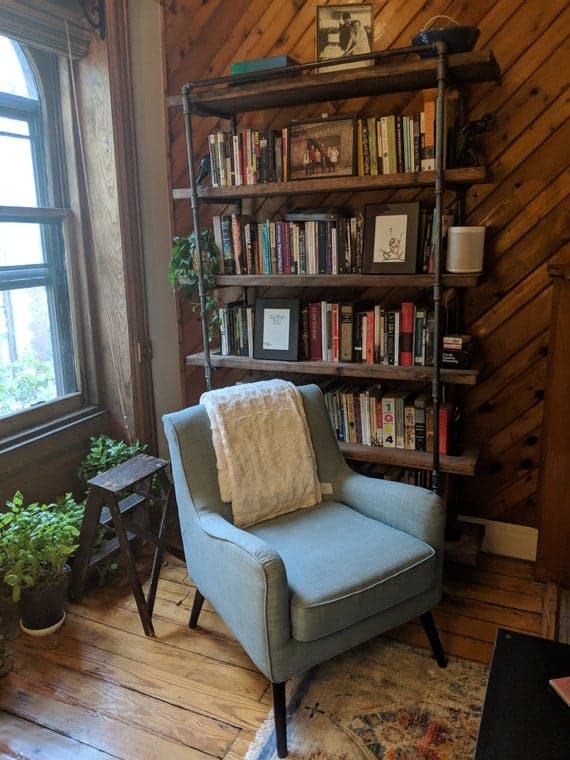 Where to Buy Reclaimed Wood Bookcases
Finding a truly reclaimed wood bookcase isn't always easy. There aren't that many reclaimed wood bookcase options on the market because reclaimed wood can sometimes be hard to come by. But, here are a few of the favorites that we've found:
Pottery Barn
Pottery Barn offers some of the best reclaimed wood furniture on the market. And, it offers its sustainably sourced guarantee. There are few reclaimed furniture items that can be found on the Pottery Barn website. Be sure to check them out!
West Elm
Another high-end furniture dealer, West Elm, has several great reclaimed wood pieces available. While their selection isn't as extensive as Pottery Barn, there still are some great options.
Room&Board
The selection from Room&Board features a few different pieces that come in multiple sizes and colors. These pieces give off an especially modern or industrial look. These pieces are great additions to a home that's looking for something simple to add.
Home Depot
The really simple and straightforward bookcase accent piece offered by Home Depot is a cost-effective solution to getting real Barnwood furniture in your home. There are a lot of homeowners that love the look of this piece at a low cost.
6 Inspiring Reclaimed Wood Bookcases
Pinterest is by far the best place to find inspiration when it comes to almost anything. Here are a few awesome examples of reclaimed wood bookcases that we pulled from Pinterest.
1. Versatile and Bold
The above bookcase is a great example of simple and bold reclaimed woodwork. The design could be used for a number of purposes and the added depth on the bottom half of the bookshelf makes it even more versatile.
2. Asymmetrical Ladder Bookshelf
A ladder bookcase makes for a great way to store books and decorate a smaller room or apartment. You'll get the benefits of a modern-looking bookcase with a space-saving design.
3. Simple and Rustic
If you're looking for a more rustic design this bookcase might work out nicely. A simple design is the right choice for a lot of homeowners.
4. Traditional Style
Last but not least is this traditional-style bookcase. You could use this bookcase for storing or showing off keepsakes and fine china. That's the great part about traditional design; it's very versatile.
5. Thinking Out of the Box
These wood pallets are an incredibly creative way to utilize reclaimed wood. They add unique and functional storage spaces that set this piece of furniture apart from anything we've seen before.
6. Modern Meets Timeless
We love how this bookshelf looks like floating shelves. The reclaimed wood shelves have such a wonderful rustic character, and the modern metal sides make this piece feel very contemporary.
How To Make a DIY Reclaimed Wood Bookcase
Purchasing a pre-built reclaimed wood bookcase is definitely convenient, but it's also expensive. One of the best ways to cut costs without sacrificing style is by going the DIY route and making your own reclaimed wood bookcase.
There are several ways that you can go about reclaiming wood and finding the right products to use for a reclaimed wood bookcase. One way to save time when choosing to DIY a project like this is by purchasing the lumber from a reclaimed wood dealer. Manomin Resawn Timbers provides a number of reclaimed materials that can be used for multiple purposes, including bookcases!
To build your own bookcase, follow these steps:
Step 1: Choose your reclaimed wood from Manomin Resawn Timbers, and get enough to accommodate the size of the bookshelf you want to build. A representative can help you measure what you'll need.
Step 2: Gather your supplies. You'll need:
Yardstick
Pencil
Drill gun
Jig & clamp
Wood glue
Screws
Pocket hole plugs
Wood stain (optional)
Step 3: Measure and mark the side panels to make sure they're even. Use a pencil to mark where you'll install the shelves.
Step 4: Use your jig and clamp to drill a ¾-inch deep pochet hole near the corner of all the shelves. Do this on every shelf except the top board.
Step 5: Attach the shelves using wood glue and screws. Install the top and bottom shelves first. Lay the top shelf over the top of the bookshelf frame, and nail the sides into the supports from above. Install the rest of the shelves by screwing them in at the pocket holes.
Step 6: Attach the face frame with wood glue, then secure with finishing nails.
Step 7: Cover the pocket holes and screws with pocket hole plugs. Secure the plugs with wood glue.
Step 8: Apply finish or stain if desired. If you want to stain your reclaimed wood, be sure to sand it down with 220-grit sandpaper.
Step 9: Attach the back panel if desired. You can opt for a more open design, or keep it classic by attaching a back panel with finishing nails.
https://www.youtube.com/watch?v=vH9EUTvA5tA
Have Your Very Own Reclaimed Wood Bookcase
There's no questioning that reclaimed wood bookshelves are beautiful and full of character. Reclaimed wood is so much better for the environment than continuing to create furniture pieces with virgin lumber.
While you can purchase a ready-made reclaimed wood bookcase through certain retailers, it's definitely fulfilling and exciting to create your own. You can purchase ethically sourced reclaimed wood right through Manomin Resawn Timbers. Our team is happy to help guide your creative project and offer our advice so that you can end up with a piece of furniture you love for life.
Contact our team of professionals today for a FREE quote.