Reclaimed beams look truly beautiful in almost any home. And you can trust that we're not completely biased here at Manomin Resawn Timbers. Homeowners and designers are constantly finding ways to incorporate beautiful wood beams throughout their home designs.
But, when it comes time for you to install a wood beam, you'll likely need some inspiration. Inspiration isn't too hard to find if you know where to look.
Inspiring Reclaimed Wood Beam Projects
Not all homes are built the same. In fact, some homes are very different from others and will require a different approach. Because of that, you'll want to find the right source of inspiration for your project.
1) Rustic Kitchen Beam With Natural Weathered Finished
First up, we're sharing this beautiful rustic wood beam. This beam looks reclaimed from an old barn or other weather-torn building. Its character and rustic looks make for the perfect addition to this modern kitchen.
Adding reclaimed wood to your kitchen is a great way to add some character and offer an accent to the common white and stainless steel colors that often dominate a kitchen.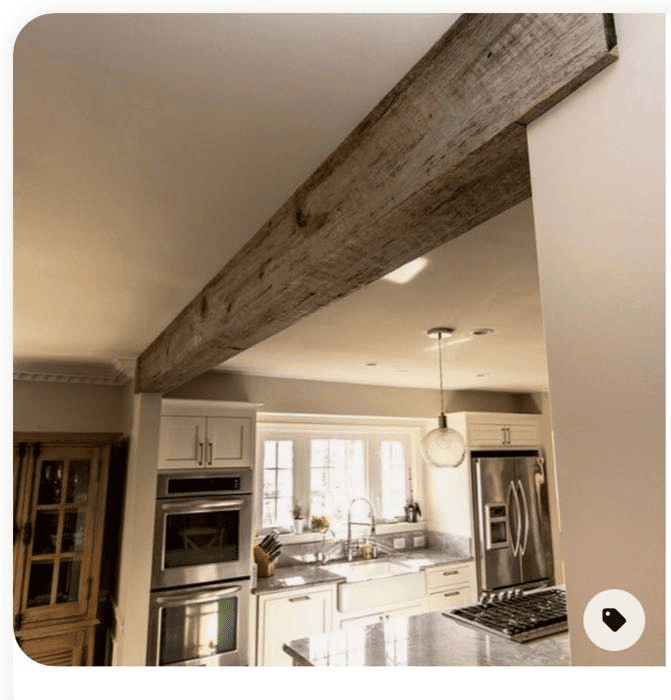 2) Warm Colors for an Inviting Kitchen
This reclaimed wood beam helps to add some warmth to the modern white kitchen it compliments. The colors in the wood are brought out by the surrounding cabinets and walls in a timeless way. In contrast to the last picture, you can see how a warm color changes the texture of a room.
While reclaimed wood beams can work in any home style, they often pair well with more rustic or modern farmhouse-styled homes such as the one below.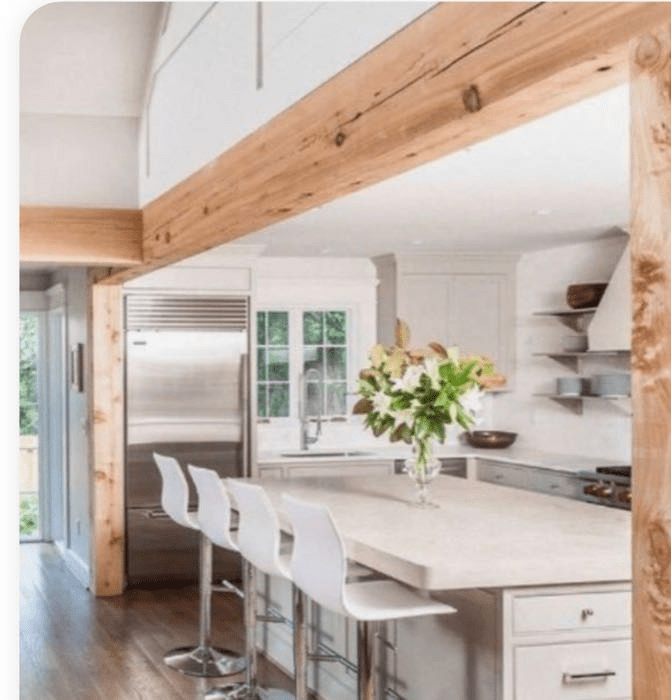 3) A Golden Entryway
The reclaimed wood beam below is the perfect addition to this entryway—the golden tones in the wood match well with the door and surrounding hardwood floors. Adding a wood beam to your entryway is a great way to set your home apart from the rest on your block.
This beam works perfectly in a situation where a beam was already needed. Why not include a beam that looks great instead of hiding it in the ceiling or behind sheetrock.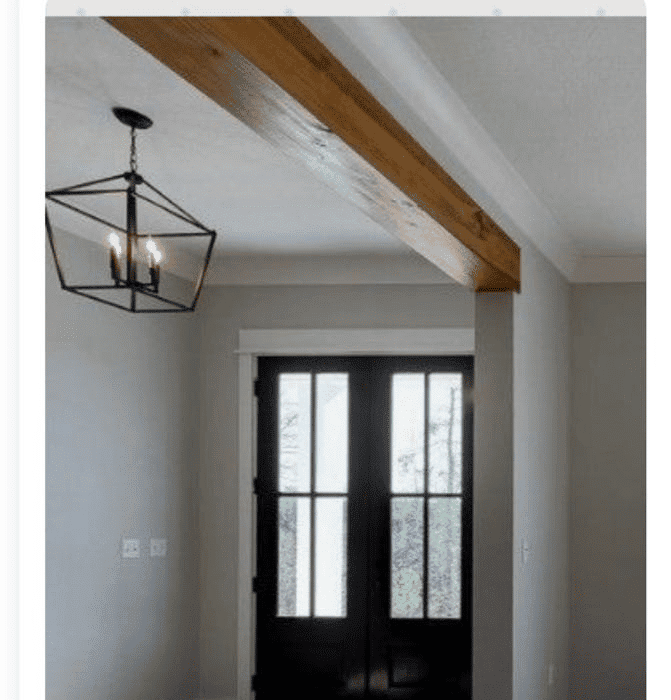 4) Flowing Dining Room Concept
When dining rooms and kitchens flow so seamlessly together, adding something like this beam is the perfect way to separate the two spaces and pull them together. The golden pine beam contrasts the floors well and compliments the modern kitchen in the background.
Adding a beam like this to your house either as decoration or as a support beam is easy when you work with the designers with this in mind from the start.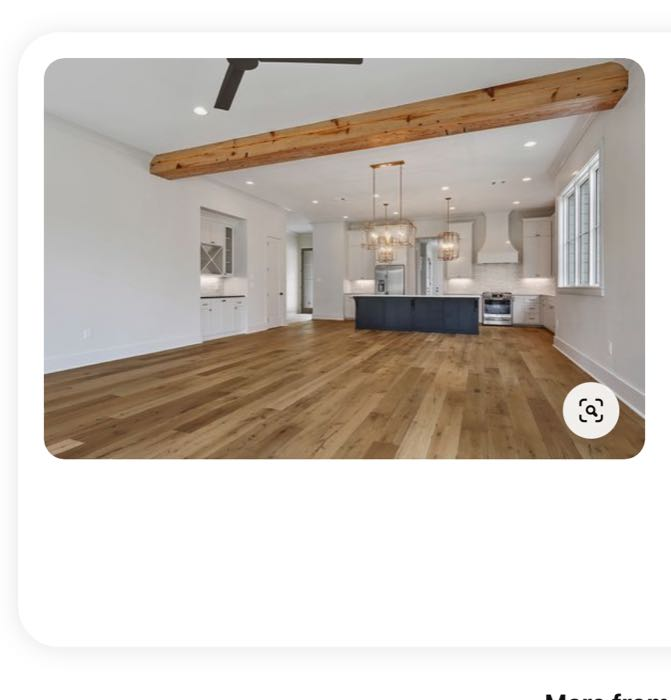 5) Low Hanging Support for an A-Frame Vault
When you have an A-frame vaulted ceiling, you'll likely be looking for ways to decorate the space that compliments the ceiling and doesn't get in the way. This reclaimed wood beam is the perfect addition. Hanging low from the ceiling, this support beam is practical and beautiful.
Beams like this are often used as a design element to help bring your eye up and around the room. In this case, it does an excellent job at drawing attention to the height of the ceiling, chandelier, and fireplace.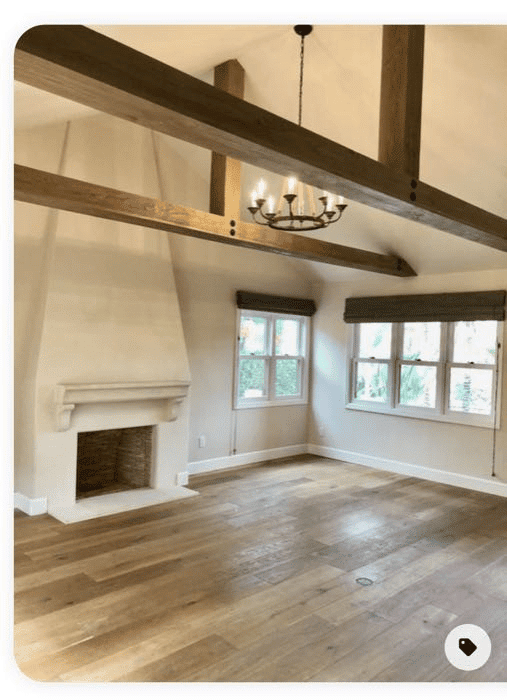 6) Wood Beams Against Wood Ceiling
Reclaimed wood beams can provide a stunning contrast when installed against an all-wood ceiling. This particular room has a beautiful wood hardwood floor, wood ceiling, and reclaimed beams that help to accentuate it all. The rough sawn beams still have saw marks and character all over. This brings your eyes up to enjoy the room's wood ceiling.
This example shows that you can't have "too much" wood in one room. The next time you consider all of the above for your home, try using this as an example.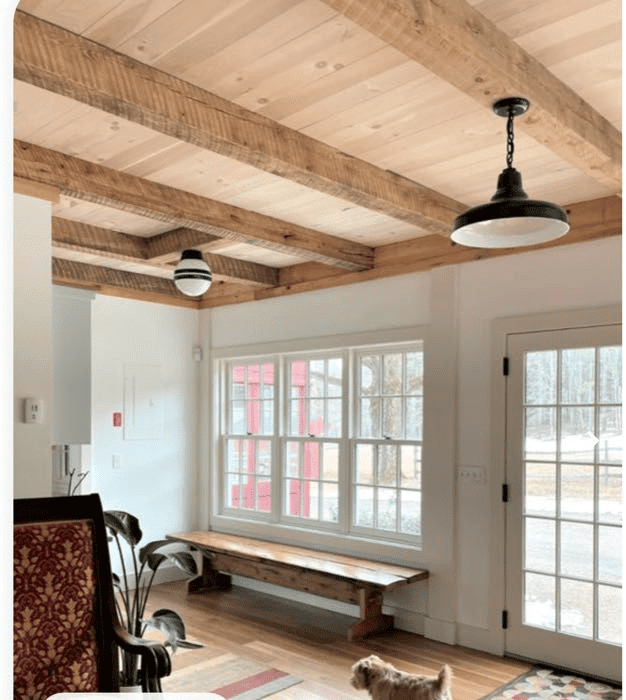 7) Frame the Room with Beams
Framing the room and adding rustic wood beams like this modern home is a beautiful way to add texture and character. As a homeowner, you can turn to many different elements to add life to your home. Decor, wallpaper, and fixtures are all great ways to add life to your home, but one way you can truly step up your home is by adding reclaimed wood beams as a frame to the room.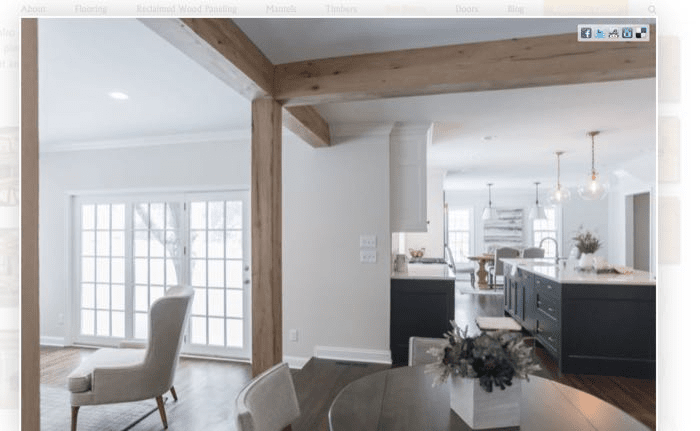 8) Install Lights in the Beams
Adding lights to the reclaimed wood beams adds lighting and a beautiful beam for your home. Lighting is a valuable asset to any home, especially with vaulted ceilings. So, instead of hanging long lights from the peak, installing these LEDs directly into the beams makes for a unique way to provide great lighting in your kitchen, dining, living, or bedroom.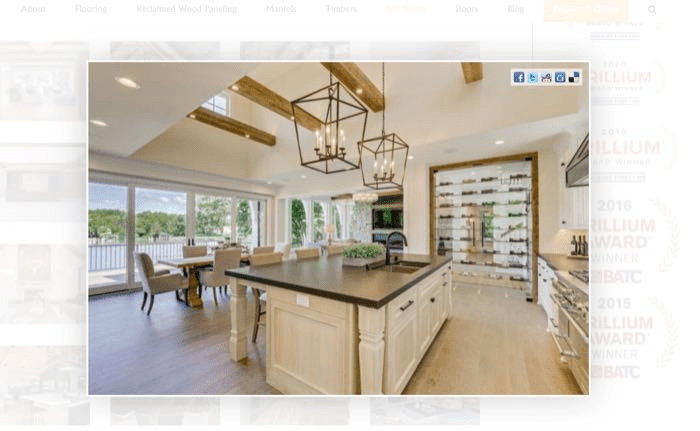 Where to Purchase Reclaimed Wood Beams
Reclaimed wood has several benefits, but some of the most popular reasons to buy reclaimed wood beams are the beauty, character, history, and sustainability that reclaimed wood offers.
Surely virgin lumber can be found cheaper and easier to come by, but finding the perfect reclaimed wood box beam will make all the difference in your home's interior design. Here are a few places to shop for reclaimed wood:
Local Reclaimed Wood Dealer (

MR. Timbers

)

Online Reclaimed Wood Dealer

Home Depot

Craigslist

Local Facebook Ads
If you're local to the Minnesota area, you'll be happy to know that the last two beams on our list of images were sold from MR. Timbers. Our business provides premium reclaimed wood options that help make your home shine with beauty!
Request a quote to see what type of options we can offer you!