There are several uses for benches throughout a home. Whether you use one to sit in the entryway for help getting your shoes on or bench seating around the dining table, you'll surely love having a reclaimed wood bench in your home.
The best part about a high-quality reclaimed wood option is that you'll be able to use it just about anywhere. Whether you transition it from a seating area bench to a decorative piece or a place to sit at your dining table is totally up to you.
Where to Buy Reclaimed Wood Benches
Finding ready-to-purchase reclaimed wood products isn't always easy, but there are a few places where you can find reclaimed wood benches. Disclaimer that sometimes businesses will say that their products are made from reclaimed wood when they aren't. Be sure to do your research to ensure that you're getting the real deal.
The Home Depot features several reclaimed wood bench options. From a simple reclaimed wood dining bench to barn wood entry benches. One benefit of buying at Home Depot is that they're slightly less expensive than some of the other options. The only downside to this is that you'll have fewer unique, custom options.
The dining bench linked above is one of the great choices offered by Pottery Barn. If you're looking for more premium options without buying entirely one-of-a-kind pieces, Pottery Barn is a great choice.
The prices on Etsy are always very reasonable, especially when you consider that every piece is handmade and completely one-of-a-kind. Etsy carries many different styles, colors, and tones of wood. From dark finished wood to lighter options and everything in between, they have something for everyone. The hardest part about purchasing from Etsy is paying for the shipping on the products you're getting.
Wayfair doesn't carry very many reclaimed wood options, but the one we linked above is considered "reclaimed wood," according to their website. It's hard to say if it's truly reclaimed wood, but it can give the same look for less. Nonetheless, Wayfair is known for producing some high-quality products.
With a quick Google search, you should be able to find some other companies that have a few offerings as well.
Reclaimed Wood Bench Inspiration
When it comes to styling your reclaimed wood bench, there are several options. Ultimately, it's up to you which style you'll choose for your home. Included here are some pictures and ideas to give you some inspiration.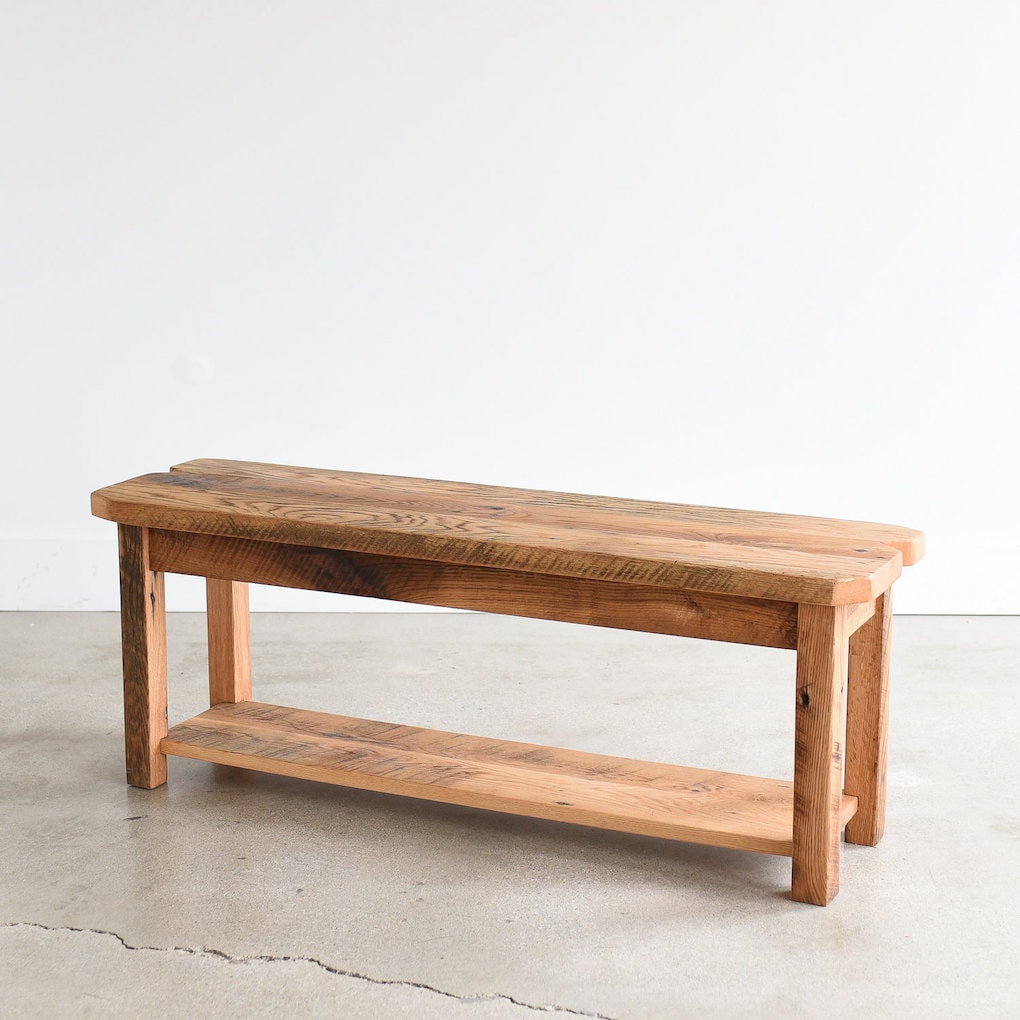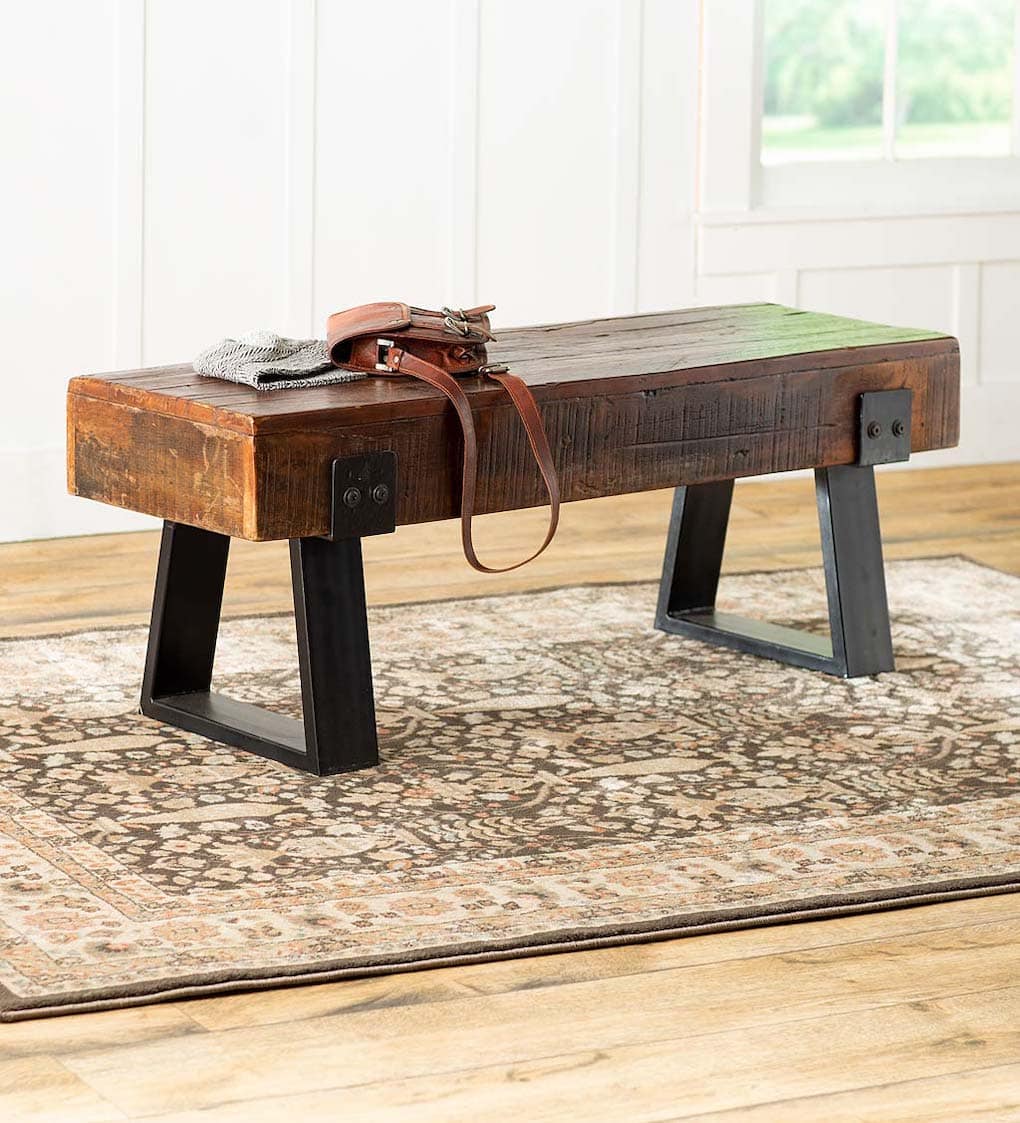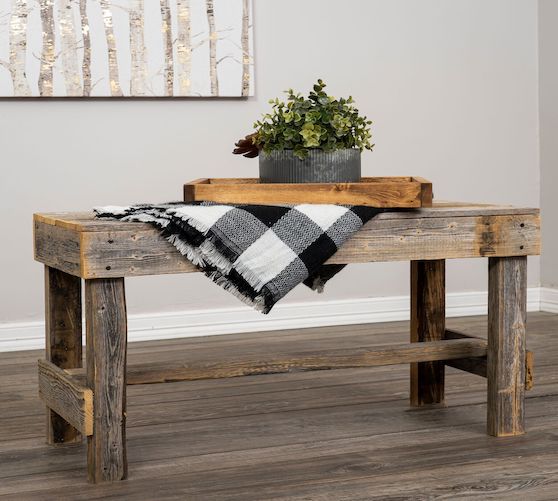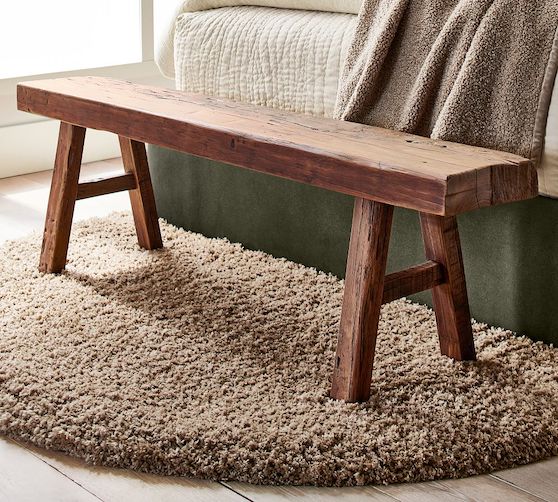 DIY Reclaimed Wood Benches
Some homeowners who have an itch to do some woodworking might want to DIY their reclaimed wood bench. There are a few ways that you could go about building a DIY reclaimed wood bench. We do encourage anyone that wants to take on a DIY woodworking project to have some experience. Reclaimed wood can be somewhat expensive, and you wouldn't want to damage a piece by making a mistake.
Easy Steps to a DIY Reclaimed Wood Bench
First off, you'll need some tools and safety equipment to complete the project. Here's what to make sure you have.
Finishing nailer
Skill saw, or miter saw
Tape measure
Pencil
Safety glasses
Finding a simple wood bench plan isn't too difficult, and many websites will even offer a walkthrough video or blog post. Here's a great example of a reclaimed wood bench plan.
Where to Buy Reclaimed Wood
You can get reclaimed wood from several different places, but one of the best places to pick up some reclaimed wood is from a reclaimed wood dealer like Manomin Resawn Timbers. We provide our customers with reclaimed wood that's been entirely restored and treated. This way, you don't have to worry about finding it, cleaning it, or ensuring that it's safe and ready to put in your home.
Learn more today by checking out our website.