Have you ever been in the middle of redecorating, remodeling, or decorating a new home for the first time? If so, then you've probably had the feeling of something not being quite right.
It's a common feeling for many when decorating, and it can be hard to solve the mystery of what exactly is missing. We have one idea of something that might help. Adding a reclaimed wood headboard to your new master bedroom or guest room might be just the thing you're missing.
Choosing reclaimed wood is good for the environment and also adds a great conversation piece as well as a unique element that's custom to your home.
Reclaimed Wood Headboard
You might think that wood headboards are kind of a thing of the past, but they're not at all. Reclaimed wood headboards seek to bring some beautiful rustic elements into the bedroom, and they do just that. The exposed wood headboard can give a room a very homey feel and bring some antique and warm features while still allowing everything to feel modern and fresh.
Let's dive into some inspirations for your home!
1) Checkered Headboard
The first inspiration headboard we'll share is this red and natural checkered headboard.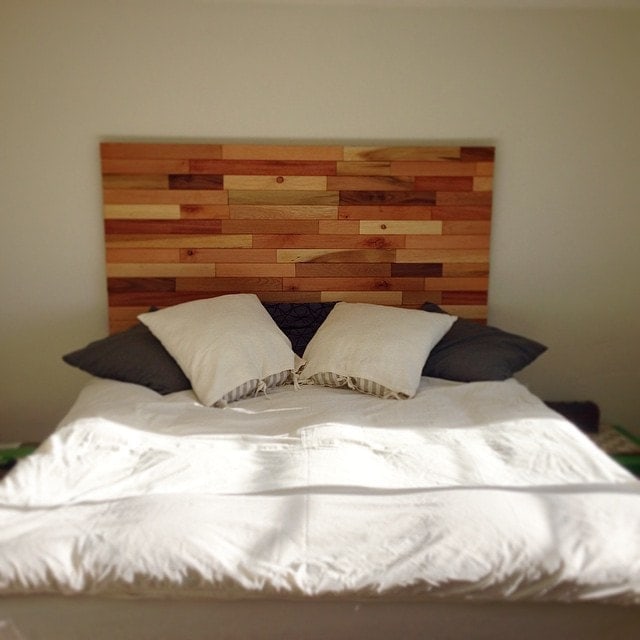 Adding a checkered headboard that includes all different kinds of wood is an excellent choice for any bedroom. Better yet, it goes with lots of different paint colors, bedspreads, and furniture. These headboards are also very DIY friendly. All you have to do is find the right shades of wood, and you'll be able to start creating your headboard.
2) Solid Dark Colors
Next up, we have something a little bit simpler and more elegant—a solid dark headboard.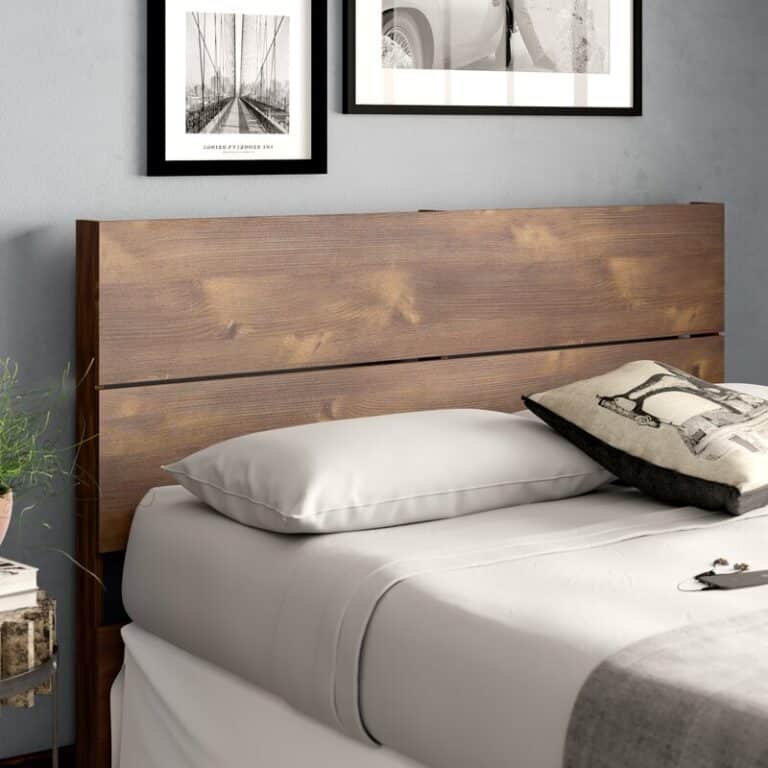 This headboard utilizes panels of wood hung vertically. This makes for an exquisite piece that would go nicely with many different interior decorating styles.
3) Rustic Headboard
You can't give inspiration for reclaimed wood headboards without talking about a rustic headboard. These headboards are beautiful and display the character of the wood that's been used to construct them.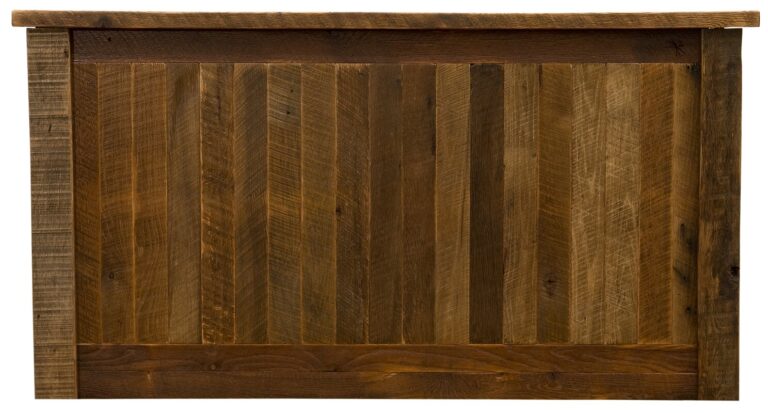 These headboards are gorgeous editions to any bedroom, and they do offer something that regular or imitation headboards can't provide. The true character within the wood is something that can't easily be found in other headboards.
4) Simple Wood Paneling
The best part about simplifying something like a headboard is that it's easy to install, move, and change if you're looking to do something different. This simple dark wood paneling is a great example of that. Place the panels against your wall, and push the bed up to it for a classy look.
We think this option is great for anyone on a budget or looking to do it themselves.
5) Wood Paneled Walls
Wall panels aren't quite classified as a headboard, but it sure is close. If you decide to panel your walls instead of doing a headboard, then you might just get the best of both worlds: a headboard, and a reclaimed wood wall.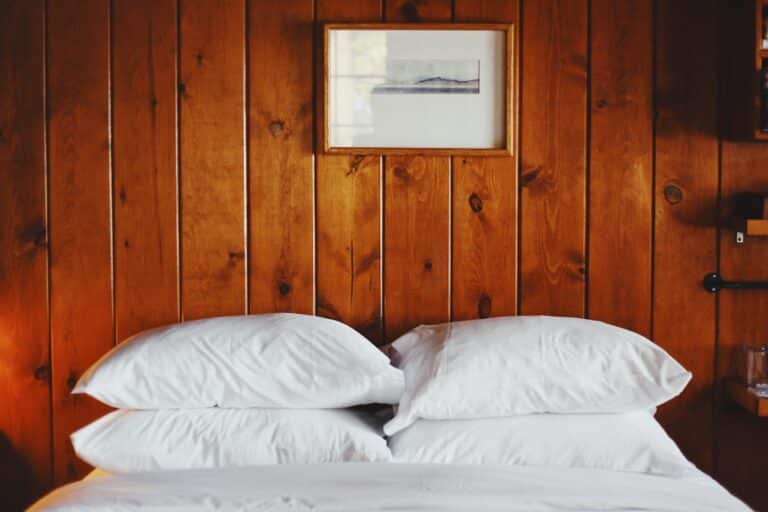 As you can see, this is a very clean and pleasant option. We'd recommend it. There are a ton of different options as far as colors and styles of wood paneling. Consider also making them horizontal instead of vertical.
6) The Perfect Getaway
This option might feel slightly extreme if you're just trying to remake the look of your bed. But for those of you who are up for a challenge, here's a great option: a reclaimed wood wall with a matching bed and headboard. This inspiration would be great for a cabin or lake house. Consider taking a few different pieces from this picture and exploring what it would look like if you added them to your home.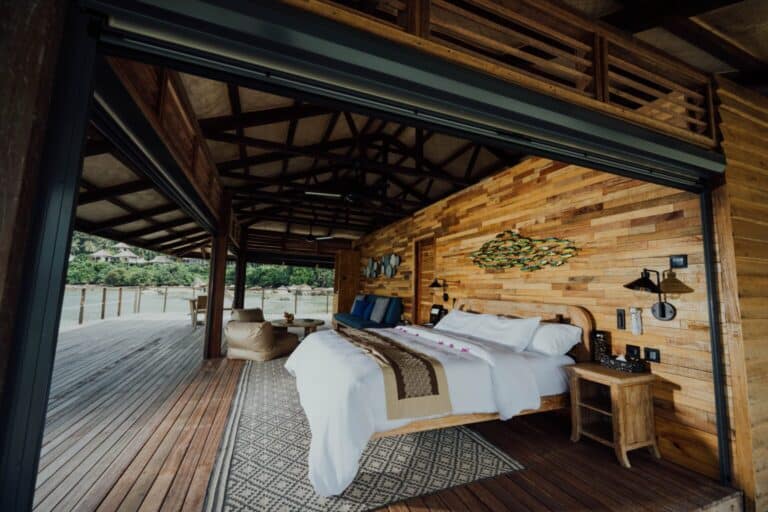 7) Wood Beam Headboard
Our last example is a simple wood beam headboard with a matching nightstand. This is such a simple way to incorporate reclaimed wood and a classy way to finish off our list.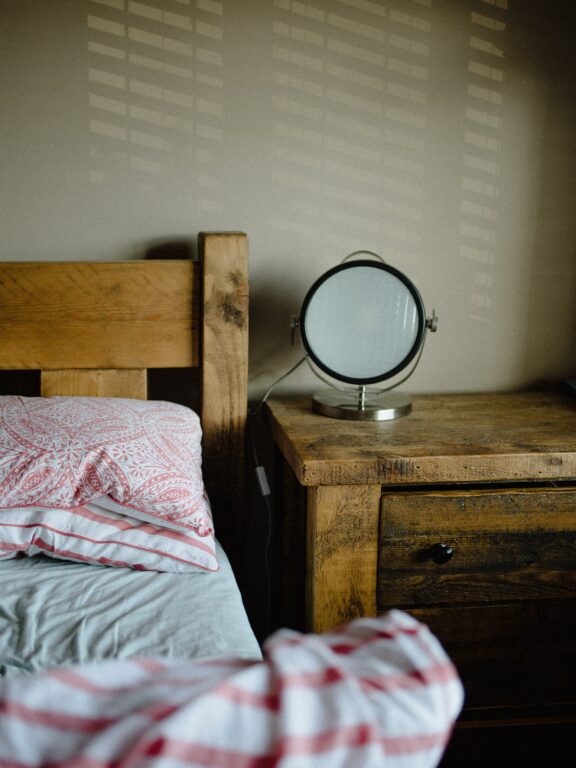 DIY Reclaimed Wood Headboard
In order to DIY the project, you'll need to have some experience reclaiming wood and working with wood. We don't recommend going into a project if you don't already have experience working with wood or completing projects like this. If that's you, then try to find a friend or family member that would be willing to help you complete the project so that you can learn as you go.
First up, find some reclaimed wood, or purchase it from a dealer or retailer. It's not uncommon to purchase reclaimed, you shouldn't have much trouble finding wood. If you're unable to find reclaimed wood then you can use standard virgin lumber.
Next, decide on whether you want the headboard installed directly against your wall or as part of the bed. In this case, we'd recommend installing it on the wall if possible. Use a level and tape measure to create a square that's roughly 12-18 inches larger than the bed frame. Scribe this square on the wall and cut the lumber to fit the length needed. 
Before installing the boards, be sure to find studs. Having something to nail to is a must. You may also want to paint that square black to help ensure that your reclaimed wood looks perfect on the wall. 
Here's a guide on how to finish reclaimed wood after you've got it all put together.
DIY Template for Your Next Project
If you're looking for further instruction this blog post from Ana White does an amazing job of laying out all the steps and directions for how to create a queen-sized headboard.
The only thing we don't love about this particular example is that it's painted instead of stained. While the paint does look great, it doesn't give you the opportunity to enjoy all of the characters that reclaimed wood has to offer.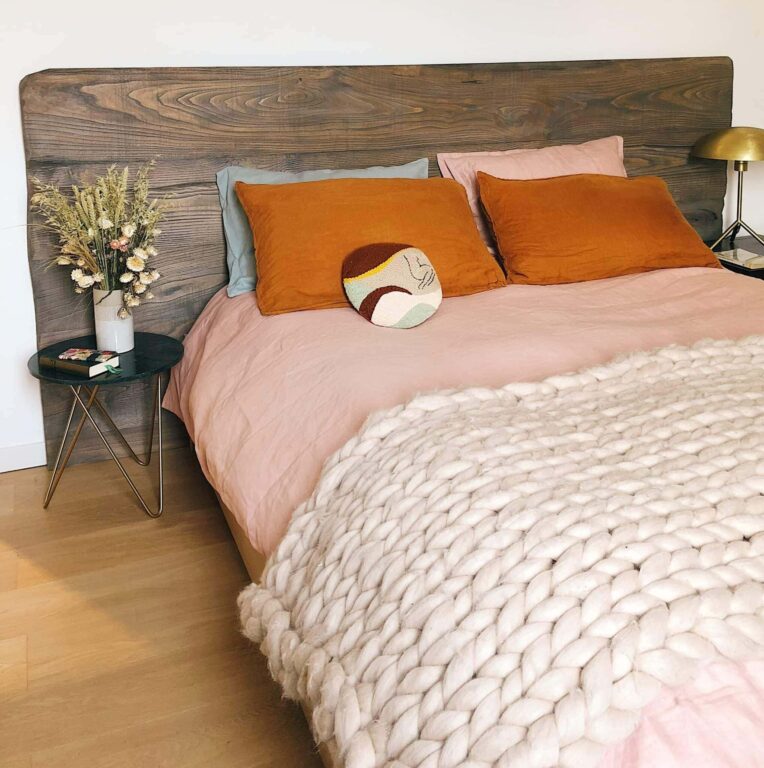 Purchasing Reclaimed Wood for Headboards
To purchase reclaimed wood from a dealer, all you'll need to do is a quick Google search to find a dealer. Manomin Resawn Timbers works in Minnesota and can be the perfect option for you if you're looking for your home. While we don't sell headboards, we do sell the wood you can use to build them and many other reclaimed wood products. Give us a call today!
Where to Purchase Reclaimed Wood Headboards
If you're not ready to go full DIY, then you can purchase a reclaimed wood headboard. There are a number of different companies that carry these products. Most companies that sell these products are actually going to sell the entire bed as one piece and not necessarily just the headboard. Don't see that as a downside! There's a huge benefit to getting the entire bed all in a matching wood stain. While you can make the headboard work with a number of different beds, a full bed is a great option as well.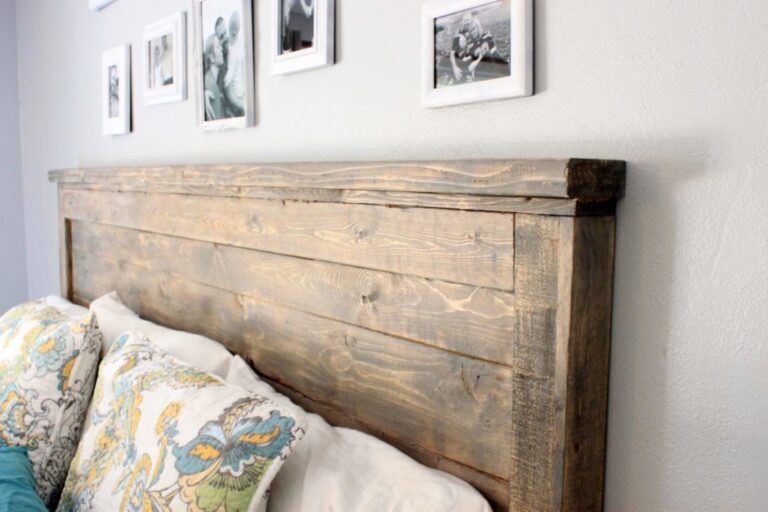 Here are some of the best places to purchase reclaimed wood headboards and beds.
Pottery Barn
Pottery Barn has a great selection of reclaimed wood beds and headboards to go along with them. Each of them has a slightly different style to it, so you'll definitely be able to find one that you love and that fits your taste well. Below are some pictures and links to some of our favorites from their collection.
West Elm
West Elm carries a slightly less extensive line of beds and headboards but each of them has a lot to offer. One thing you'll notice among each of these pieces is that some are more elaborate while others take on a more minimalist approach.
Etsy
Etsy has something for everything and everyone. Every product on their website feels like a piece of artwork and that's no different here.
Take this headboard for example. It's so beautiful that it could be used for a piece of wall decor and not just a headboard.
Other products on their site feature add-ons like these lamps that are installed on the pallet wood headboard. Spend some time browsing Etsy and you're sure to find something that you like.
Do be sure to check the reviews on all of the products that you look at on Etsy and other retailers as well. Some products may not have as many reviews but it's always good to make sure that on average the headboards and products all hold up.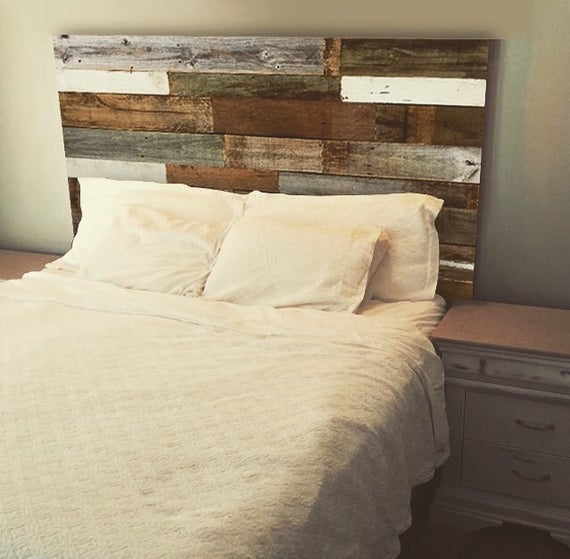 Purchase Your Reclaimed Wood From a Local Dealer
If you're interested in trying to build your own headboard then we'd love to help you get the reclaimed lumber for your home. Manomin Resawn Timbers is a premium reclaimed wood dealer. We offer a number of reclaimed wood products but we can also provide you with wood to work on your own project. Give us a call today at 651-615-2188 to learn more!