Reclaimed wood adds lots of character to any space and truly any home. But, to be a great reclaimed wood piece and not just another table in your home, you'll have to work hard to find the perfect piece.
Today we'll walk you through reclaimed wood coffee tables, where to get them, how to build them, and what to look for to make your home beautiful.
Purchase or DIY Reclaimed Wood Coffee Table
The question that's often associated with reclaimed wood products is whether or not you should DIY the product on your own or just purchase a finished product from a retail store or reclaimed wood dealer.
Ultimately, whether you choose to reclaim a product or not comes down to whether you feel comfortable doing it on your own and completing the project the way you want it done. If you've worked with wood a lot and have experience building tables or products similar to tables, this might not scare you. But if it's your first time, it might be better to have a friend or family member with woodworking experience help you get started.
We recently put together a blog post that goes into detail on how to build a reclaimed wood dining table. This plan could easily be modified to build a coffee table. View the post here. If you're looking for a more specific coffee table plan, then check out the video below.
https://www.youtube.com/watch?v=g0LAd-i_9qA
Places to Purchase Reclaimed Wood Coffee Tables
Reclaimed Wood Dealer
At Manomin Resawn Timbers, we reclaim and manufacture wood from a number of sources and create reclaimed wood products with the wood that we gather. Among a number of other products at our warehouse, you can purchase premade reclaimed wood table tops. These can be easily installed by attaching table legs to the bottom. This is a great choice if you're looking for something custom or DIY without fully reclaiming all of the wood on your own.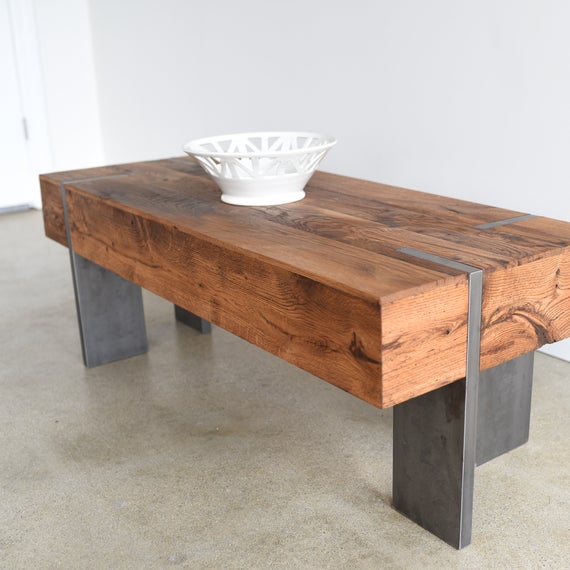 Etsy is full of all different kinds of handmade products. While you never truly know what you're getting from Etsy, many times, the products you purchase will hit it out of the park! Below are some pictures of the different wood coffee tables that you can purchase on Etsy. You might even consider using Etsy as inspiration for your own reclaimed wood table build.
West Elm is known for its high-end furniture, and reclaimed wood coffee tables are no exception. On their site, you can find a number of different products and styles, from round to square, dark wood to light wood, character and design, or just simplicity. There are lots of different options.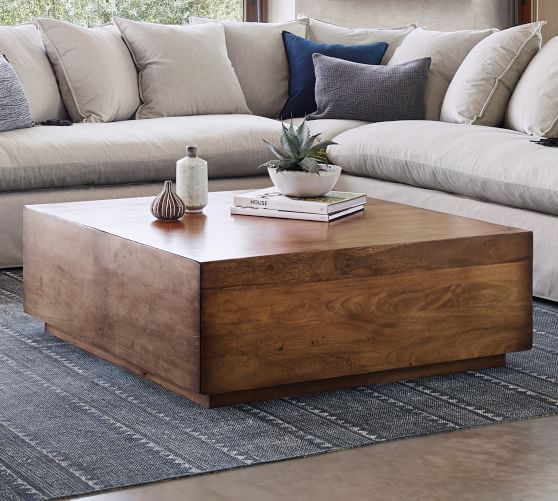 Some people might not know, but Pottery Barn carries a number of great furniture products, and the coffee tables on their site are no different. Watch on their website because some of their products are sourced sustainably, and others don't have that same badge. Reclaimed wood should almost always be sourced in a sustainable way. Otherwise, the wood wouldn't really be any better than virgin lumber. Below are a few of the products from Pottery Barn's website.