Reclaimed wood cabinets can bring life to your home in ways that you've only dreamed of. But that can change.
Kitchen cabinets have the tendency to become stale over time and sometimes just need a makeover. So when you decide to install reclaimed wood cabinets, you're getting a cabinet that truly stand the test of time.
Because reclaimed wood already gives off a rustic and timeless look, you won't have to worry about the cabinets themselves going out of style. Sure, you might want to change your hardware or adjust your doors at some point, but the strong, sturdy, and timeless nature of reclaimed wood can adorn your kitchen for years to come.
Designing a Kitchen with Reclaimed Wood Cabinets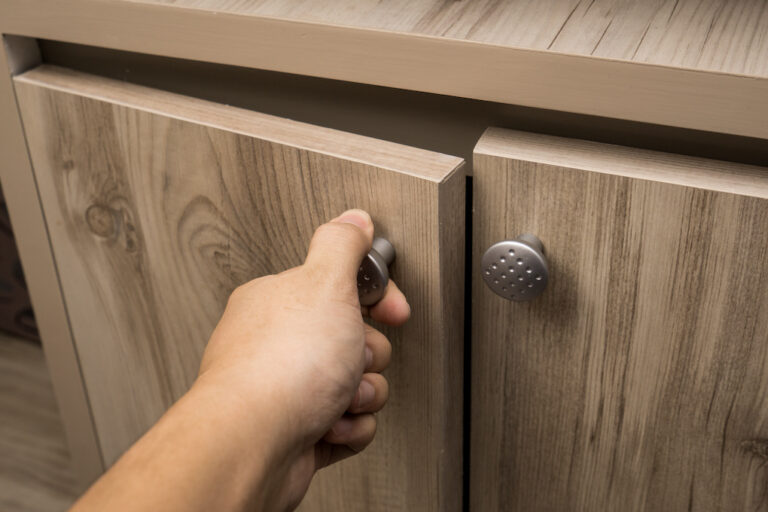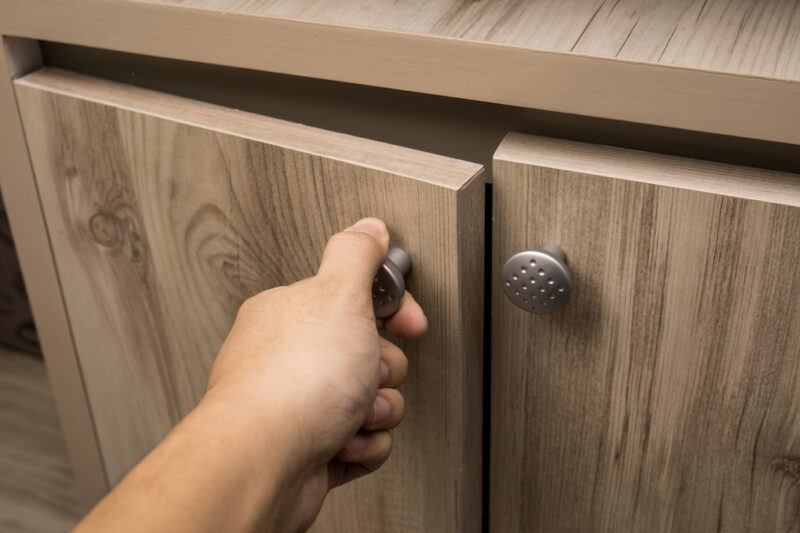 A contemporary reclaimed wood cabinet can offer a rustic style that is both aesthetic and functional. Often reclaimed wood has character, such as nail holes or cracks from being once used in older houses or from the wood's life before it became a cabinet.
However, this does not mean that reclaimed wood should not be used because you don't love the "look" of it. Remember, reclaimed wood is not always antiqued, and it's not always reclaimed from old buildings. In fact, reclaimed wood can be reclaimed in a variety of ways from a variety of places. But, the most commonly include: decks, barns, old houses, or sheds.
As you begin to dream up your reclaimed wood cabinets, remember that you can have a variety of styles in one kitchen. Many kitchens incorporate multiple colors and styles throughout. In fact, reclaimed wood can go with just about anything.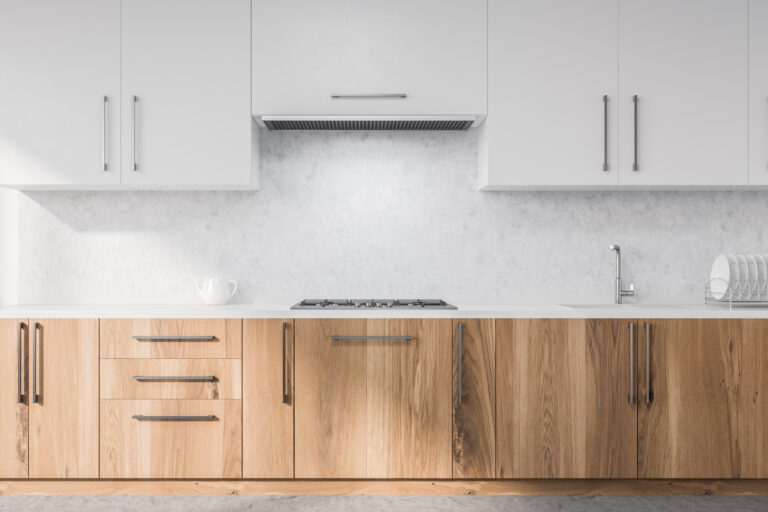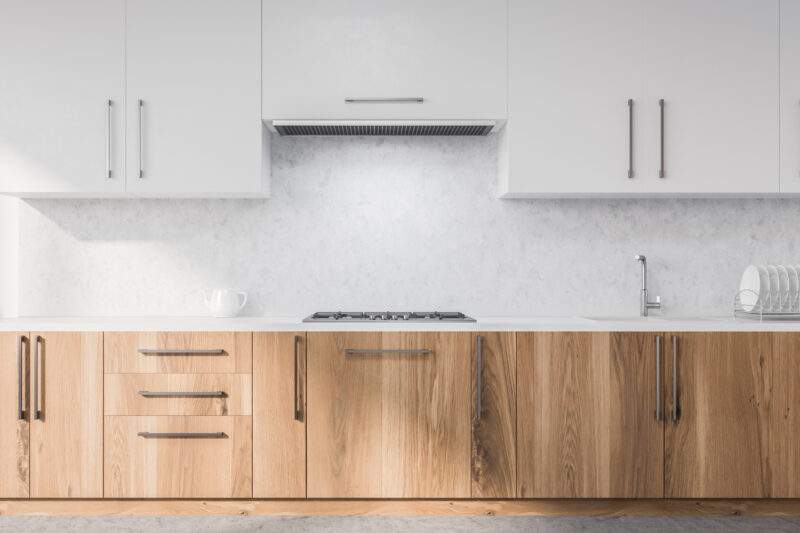 The above example of a reclaimed wood kitchen is truly stunning. This kitchen incorporates reclaimed light wood cabinets alongside solid white cabinetry. The reclaimed wood doesn't match the aesthetics exactly but offers a beautiful contrast against the rest of the kitchen.
Reclaimed wood can be used for more than just cabinet exteriors; it could also function as beautiful countertops for your home.
Countertops made from reclaimed wood are durable enough to last many years of everyday use and abuse. And just like reclaimed wood kitchen cabinets, they offer timeless character that will never go out of style.
Custom Built Reclaimed Wood Cabinets
Finding a custom cabinet building or remodeling company isn't always easy. But, if you're interested in finding someone to put something together that fits your unique needs perfectly, we'd love to help! At Manomin we're happy to refer you to contractors that will provide you with a great cabinet remodel experience. Reach out to us today for a referral. 
Choosing Reclaimed Wood for New Builds
If you're undergoing a new build, reclaimed wood cabinets are a great option to use. You have the advantage and pride of knowing that there weren't any trees cut down to produce your cabinets, your home is unique, and the cabinets will look stunning.
It can be intimidating to choose reclaimed wood only because you won't have total control over the way they turn out, but you will have a good idea of the shade and color that you'll be getting in your cabinets.
3 Benefits of Choosing Reclaimed Wood Cabinets
There are a number of benefits to choosing reclaimed wood that far outweighs just the knowledge that you're saving trees from being cut down. These 3 benefits should be enough to convince you reclaimed wood is worth it.
Character and Unique Design
All wood cabinets offer their own character, but if you want something that tells its own story and isn't the same as the next house down the street, you should choose reclaimed wood. Reclaimed wood offers a unique element by telling the stories of its past life through the character and aging that can be seen under the stain. 
Wood is timeless. No matter how many years go by and how many times trends change. Wood will always be a timeless choice for your kitchen, bathroom, or anywhere else you're installing cabinets. As wood ages, it might get darker and you might even choose to refinish it someday but you'll never want to replace it with a different material.
Many new cabinets today are made from MDF or particle boards. Even the plywood today is made from scraps of different wood unless it specifically says solid wood when being purchased. Reclaimed wood cabinets are made from solid pieces of wood so when you choose to install them you're getting high-quality durable materials that can last for decades or longer.
Hardwood cabinets are expensive and hard to come by sometimes but reclaimed wood is an alternative to harvesting virgin lumber and offers all of the same benefits and more.
Where to Buy Pre-Built Reclaimed Wood Cabinets
For those who want to incorporate reclaimed wood cabinets, but aren't ready to install them throughout their kitchen, there are a couple of options to consider.
Your reclaimed wood purchase can either include reclaimed wood that is reclaimed by the manufacturer or reclaimed wood that you salvage on your own.
If you're looking to purchase reclaimed wood cabinets that are reclaimed by the manufacturer, they're expensive, but you can find reclaimed wood cabinets at most large hardware stores. You will have little or no input on the selection of reclaimed wood that is available to you, and the reclaimed design may not be exactly what you dreamed up. If you want something more suited for you, custom cabinets or DIY building the cabinets yourself might be better.
Here are some of the stores that do carry reclaimed wood cabinets:
West Elm doesn't have a huge selection of cabinets, and most of their pieces are stand-alone, but they do offer some beautiful pieces nonetheless. If you're looking for a reclaimed wood cabinet that could accent your kitchen or living room, then be sure to look into their offerings.
Pottery Barn has a very similar selection to that of West Elm, except that they have a bit more variety. You'll find bar cabinets, wine storage consoles, among other pieces, throughout their online shop.
If you're looking for a quick and easy-to-find cabinet, Amazon is the place to go. Some of their reclaimed wood cabinets even come with free shipping. This makes purchasing and receiving the cabinet quick and easy.
If you're looking for a true reclaimed wood kitchen, then Vienna Wood Works is the place to look. Their reclaimed wood cabinets can be designed to fit in your kitchen. They offer reclaimed barn wood, reclaimed oak, and reclaimed kitchen islands if you're looking for that subtle flare. Be sure to peek at their website.
Manomin Resawn Timbers is a premier reclaimed wood dealer that provides some of the best reclaimed wood products throughout Minnesota and beyond. So if you're interested in learning more about installing reclaimed wood throughout your home, visit our showroom or call us for a quote. We'd love to hear from you!