While new wood in a home is nice for projects like flooring or paneling, it lacks the appeal and vintage aesthetic that's gained from older, aged wood.
If you can't afford to purchase reclaimed wood from a dealer like Manomin Resawn Timbers, there are ways to age wood synthetically and make it look great.
Today We're breaking down 7 simple techniques on how to make wood look old.
The Benefits of Distressing and Aging Wood ?
Distressing wood is no easy task. There are endless ways to distress and age wood, making it lengthy and challenging.
When it comes to making it look the way you want, you'll first need to decide on a good technique to use. The different aging techniques will help change the way the wood looks when it's finished and offer a different impression of the age or weathering of the wood.
Decide On A Wood Aging Technique You Like
Before you can age your wood, you'll need to decide how it's going to look when it's done. Will the surface look like water damage, or will there be cracks and splits? Are you looking for nail holes or a variety of different aged colors?
This video breaks down a simple technique really well.
Tools You'll Need for Distressing the Wood
Successfully distressing wood isn't easy by any means, but the right tools make it so much more accessible and easy. Here are some of the tools you'll need to get the job done the right way:
Chisel (different sizes will help)
Hammer
Sawzall
Hand Saw
Screwdriver
Hatchet
Sandpaper
Power Sander
Drill
Drill Bits
Bristle Brush – Drill Attachment
You might not need each of these tools to complete the project, but if you're hoping to use each of the techniques above, these tools will be essential.
How To Make Wood Look Old
It's easy to make a piece of wood look lightly weathered and aged but getting just the right detail is tricky. Here are some of the different techniques that you can consider.
1) Create Distressed Lines With a Chisel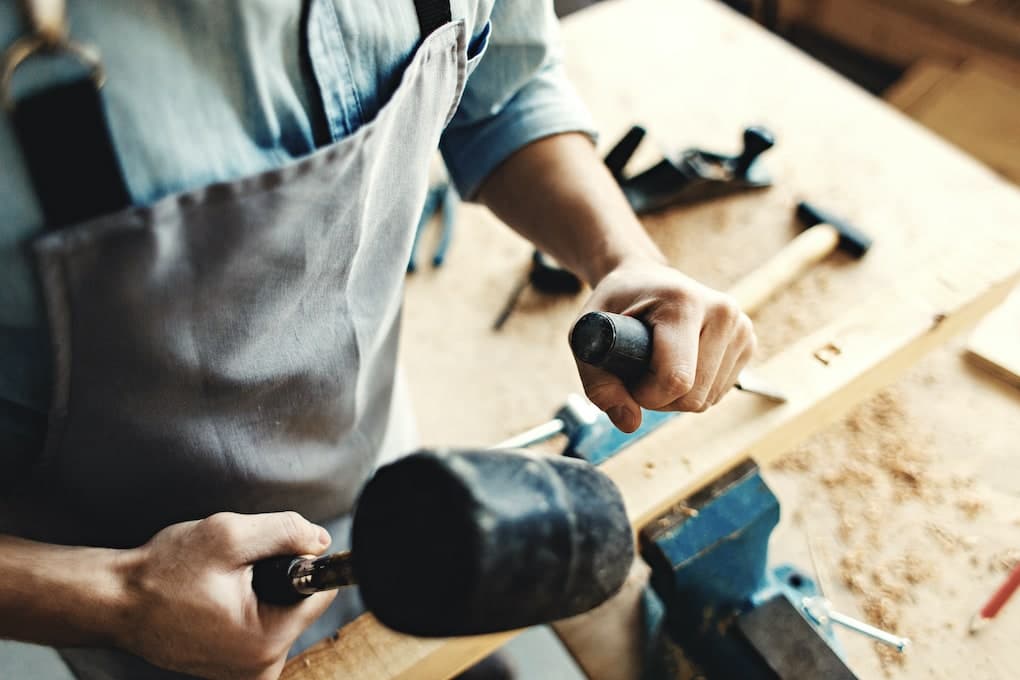 If you want to create a distressed vintage look, a chisel will be the perfect way to do just that. You can lightly tap the chisel into the wood in rows or lines to create a pattern similar to the one made if hand tools were used to form the wood's shape.
Use as many or as few marks as you'd like to distress the wood.
2) Skip Planing: Adding Saw Marks ?
Making the wood look rough and unfinished is one of the easiest ways to look older. Old sawmills didn't produce smooth wood the way we're used to today.
A Sawzall or hand saw can cut sections of the wood to make it look aged and rough.
3) Nail Holes & Dents: Common Wear and Tear ?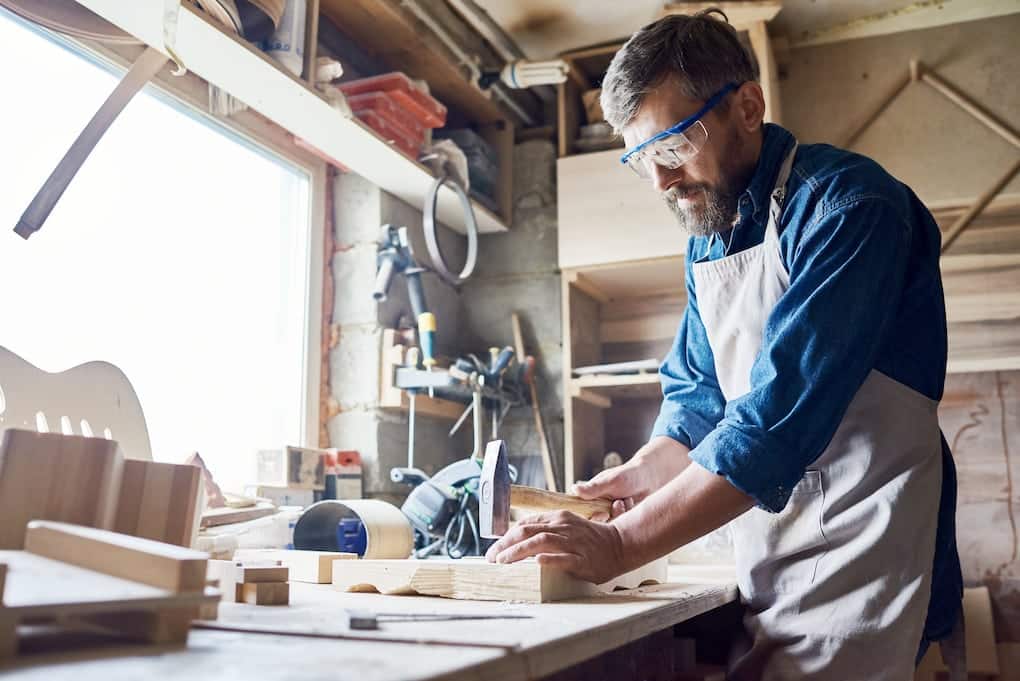 Adding dents and nail holes is a great way to make the wood look like it's had another life. It's one of the most common ways to distress wood and can be easily done with a hammer or screwdriver.
Pound a few nails in, pull them out, or lay a nail out on the wood and give it a few hits. Reclaimed wood is full of dents from common wear and tear.
4) Cracks and Gouges: Adding History to the Wood
Using a chisel or screwdriver to create cracks and gouges will take your aging and distressing to a new level. Don't go overboard but don't be afraid to add a nice detail to the piece.
Cracks are great because they're unique; each will look different from the next, giving your wood its own story.
5) Hatchet Marks and Rounded Edges
Another way to distress the wood is by using a hatchet. This will add character and give it a more rustic feel. Hatchets and axes were often used to cut down wood throughout history. Boards often still have those markets after decades of service to their structure before being reclaimed.
You can also round off the edges of the wood with sandpaper for a softer look.
6) Wormholes (Not From Real Worms) ?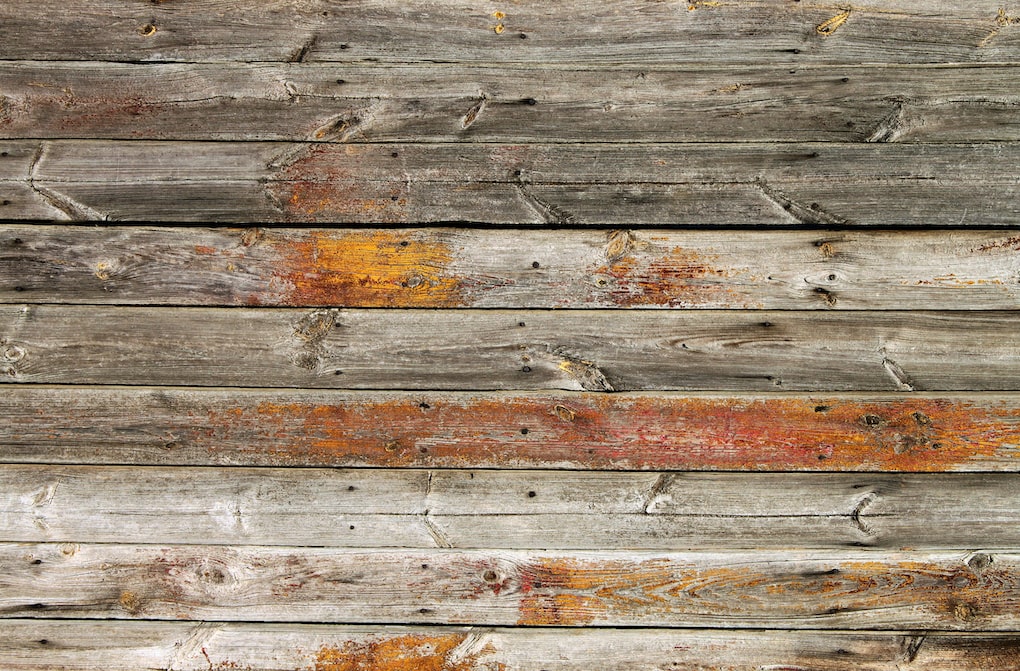 Creating Artificial Wormholes helps add extra character and detail to your aged wood. You can use a small drill bit or knife to create these on the surface of the wood. It's common for old wood to have had some insect living in it at one point or another.
Try not to go overboard with the number of holes you create, but remember to add "tunnels" to the wood. Worm tunnels and holes might be just what your piece of wood needs to be unique.
7) Sanding and Bringing Out the Grain
Once you've added all the aging and distressing that you'd like, it's time to sand. This will help bring out the wood's natural grain and make it look even more worn down.
The finesse used when sanding is critical for a good turnout. Sand too much, and you'll take away from all the distressing you've done. Don't sand enough, and you won't see the benefit of your labor.
Choosing the Right Wood for Your Project
If you're going to age wood or distress it, you'll want to use a certain type of wood. We recommend using pine because it's soft and easy to work with. It's also readily available in most hardware stores and home centers, making it convenient for your DIY project.
Pine is also very affordable and comes in many different shapes and sizes. It's the perfect wood to distress because it's essentially a blank slate.
When you're purchasing wood for your project, look for pieces full of character. Using the natural wood character to your advantage will help you get the most out of your distressing efforts.
Wood Stains to Consider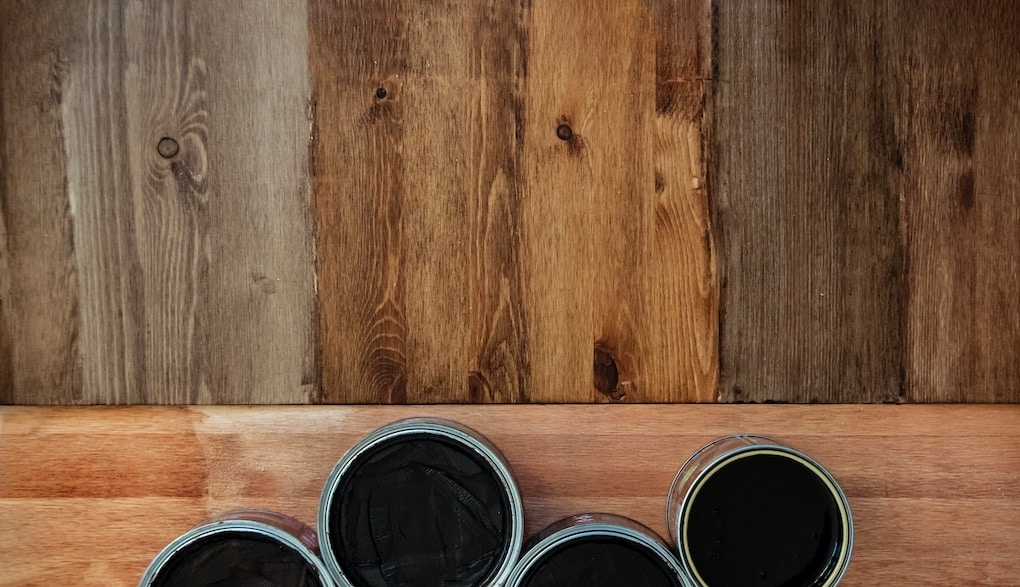 There are a variety of different wood stains on the market today, but we recommend using a dark stain. A dark brown will help the distressing really stand out and make your project look aged. But too dark, and the wood won't look natural anymore.
If you'd like the wood to have a lighter appearance, you can use lighter stains or even clear coats. For a truly aged look, it's best to use a stain that looks closer to what an aged piece of wood might be.
Reclaimed Wood: The Perfect Alternative to a Lengthy DIY Project
If you're looking for a quick and easy way to get the weathered and aged wood you need, then reclaimed wood is the answer. Because reclaimed wood is salvaged from old barns, factories, buildings, and other common places constructed with wood it's the perfect sustainable option!
No new trees need to be cut down, and you'll be able to give new life to wood that's sometimes more than 100 years old.
Choose reclaimed wood and talk to MR Timbers today!