Have you been staring at your hardwood floors, desperately wanting a change of scenery? Or maybe you've recently purchased a new house that needs a major facelift. You don't have to replace your entire flooring system to get the change you're desiring.
Instead, you can opt to stain your hardwood floors, which is more cost-effective and can be DIY-friendly! Let's take a look at 9 of the best wood floor stain colors for hardwood floors based on the following categories:
Dark wood
Classic brown wood
Light wood
9 Popular Wood Floor Stain Colors
Going to the hardware store with no plan can quickly leave you overwhelmed. You'll find yourself staring at a mountain of different floor stain colors, unsure how to narrow them down. (What's the difference between Walnut 002 and Walnut 004 anyway?!)
To help reduce unnecessary time spent staring at a wall of jars, consider these common stain colors.
Dark Wood Floor Stain Colors
Darker floors can be the perfect solution for homeowners who want a more dramatic interior design. Dark stain also helps camouflage the wood grains on your floorboards, which lends itself to a more contemporary style. Common darker shades include:
1) Espresso ☕️
Espresso has been a popular color for both flooring and furniture over the years. Its popularity is partly because it's easy to match other interior design elements with the espresso color, as it's widely available.
Espresso is almost black, but it has more dark brown undertones, which make it easy to pair with most colors. When used on flooring, it adds a dramatic touch while still maintaining its warmth.
2) True Black
Black is one of the boldest and most modern interior design trends right now, and it doesn't look to be slowing down any time soon. If you want an ultra-sleek look in your home, opt for a "true black" floor stain. If standard brown neutral color schemes just aren't for you, a true black floor can be a great solution.
3) Ebony
Finally, for the dark colors, we have ebony. An ebony stain will be almost black, but it leans on the cooler side of the color spectrum. If you prefer cooler colors like blues, grays, and greens, you may prefer an ebony stain over the warmer hue of espresso. This is also a great compromise if you don't want to fully commit to a true black floor.
Classic Brown Wood Floor Stain Colors
Now, onto the mid-brown tones that tend to be more classic and timeless in many homeowners' minds. These mid-tones reflect nature and are easy to style. Plus, stains in these colors can transform a run-of-the-mill flooring material into something much more high-end.
4) Walnut
Walnut is a deep, classic brown shade that is both timeless and modern. It's easy to pair other interior design elements with a walnut-stained floor. This stain color amplifies and champions the wood grain patterns in your hardwood floors, offering an almost-vintage feel to the space.
5) Mahogany
When the character Effie Trinket yells, "That is mahogany!" in the film "The Hunger Games," she implies that mahogany is a rare and expensive type of wood that should be treated with care. So, if you simply stain your current hardwood floors to look like mahogany, your guests will be quite impressed.
Mahogany wood is famous for its deep red color, and the stain mimics the same shade. This gorgeous and unique stain will have your guests exclaiming, "That is mahogany!" with excitement and awe.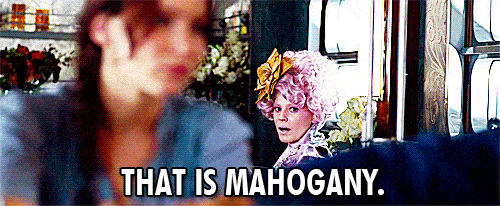 6) Cherry 🍒
As you might guess, cherry also has a red hue, but this wood floor stain actually has more of a rich, warm brown tone than a vibrant red one. Cherry flooring lends itself to more traditional home styles with simple black and white walls and decor. It's the perfect happy medium between the brown tones of walnut and the red tones of mahogany.
Light Wood Floor Stain Colors
Last but not least, we have light wood stain colors for homeowners who prefer a natural look and light designs all around. Light stain colors are perfect for cheery, bright spaces and often lend themselves to the minimalist design trend.
7) Pine 🌲
Pine actually comes in numerous shades, so your options are vast in this category. Many shades of pine offer a more traditional look for hardwood floors. For a more timeless hue that adds to your home's resale value, opt for a more beige shade of pine rather than a golden yellow.
​​
8) Golden Oak
Golden oak stain colors are laced with nostalgia. If you want a homey, vintage feel in your home, give a golden oak floor stain a try. It's definitely rich in color, but you can opt for a more neutral shade if you aren't a huge fan of the intense yellow color that can lean a little outdated.
9) Gray
A gray color stain is unlike any other color on this list. This highly-contemporary color lends itself perfectly to an interior design complete with other light shades of gray, white, and tan. Incorporate plenty of green plants to bring the design to life.
If you want to avoid yellow or red tones that can appear in some of the other stains on this list, gray is a great option. It will also bring out a nice variation in the wood grains in your flooring.
How to Choose the Right Stain Color
With all these great stain options, you may be wondering how to choose the best color for your home. Choosing the right stain color is important because:
It will have a major impact on the overall look and style of your home.
Once the stain is applied, re-doing it can be time-consuming and expensive.
Follow these tips to narrow down the best color for you:
Ensure you have the right type of wood floors that can be stained. Oak floors take stains very well. If you have a more unique wood floor like mahogany, walnut, cherry, or maple, they probably shouldn't be stained. Those wood strains don't take stain as well, plus they're full of natural beauty that many people try to emulate with stain.
Narrow down the interior design/decorating style you want. If you're keeping your existing furniture, you'll want to find a color that compliments what you have.
Rustic farmhouse styles work best with mid-toned brown shades. Modern, contemporary minimalism works great with lighter shades, and elegant, moody designs look great with darker browns and reds.
Get stain samples from your flooring professional so you can compare them in person with your furniture.
Stain a small portion of your floor first to ensure you like the color. It's much easier to stain over a small area is much easier than redoing your entire floor.
Reclaimed Wood Has a World of Potential
Real hardwood floors are a treasure for any homeowner— whether you're looking to stay in your home for years or sell it eventually. If you're looking to upgrade your floors to real hardwood, utilize reclaimed wood! It's far more economical and eco-friendly and adds gorgeous character to your home.
Plus, reclaimed wood floors can be stained in any of these colors outlined here so that you can have the perfect fit for your home. Do you want to learn more about incorporating reclaimed wood into your home design? Contact the friendly team at MR Timbers today!