When it comes to decorating for the holidays, there may be no better focal-point for decor than your fireplace mantel.
And it makes sense too. Naturally, a fireplace is already the centerpiece of many homes. So, why shouldn't it be the centerpiece for your holiday spirit? Your fireplace is where you'll find the most warmth within your home. It's where you'll gather together with loved ones when it's snowy and chilly outside. It's the heart of your home.
So, to help you get your home ready for the holidays and to get into the holiday spirit, here are eight Holiday-themed mantel decor ideas!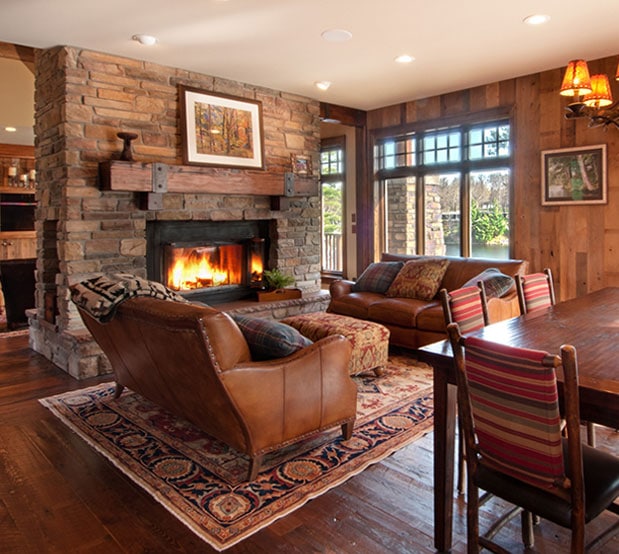 Christmas Countdown DIY Advent Calendar
For those who celebrate Christmas, your mantel is a perfect place for an advent calendar. There are some great advent calendars you can buy that will look perfect above your fireplace.
Or, if you're feeling adventurous or love DIY projects, you can craft your own! As you may have guessed, there are some great homemade advent calendars out there that will inspire you to create one yourself.
Just one tip: make sure to include some chocolate somewhere in there so you (or your kids) can enjoy a tasty sweet as Christmas day nears!
Vintage Mirror
Including a vintage mirror alongside some other holiday-themed decor is a nice way to mix things up. In addition to looking great atop your mantel, a mirror also has the added benefit of making homes appear larger. This makes it an appealing option for if you're hosting for the holidays this year.
Oh, and it will also help you and your guests see if they have a hot chocolate or eggnog mustache that needs to be cleaned up as they walk by.
Christmas By Candlelight
Sure, your fireplace already has enough firelight — but that doesn't mean you can't add some candles for even more!  Imagine how nice your fireplace will look with it lit up without any artificial light, adorned with an array of your favorite candles atop as you sit around with your family. Sounds pretty nice, doesn't it?
We recommend pine or spruce candles, as they are perfect for setting the holiday mood throughout your home.
Traditional Garland With Stockings
Sometimes it's best to just keep things simple. For those who are fans of traditional decor, going with a simple garland and stockings for your mantel decorations is a tried and true option.
However, you can still make it unique to your home and style preferences. There are hundreds upon hundreds of different styled garland out there, as well as stockings.
Once again, for the DIY-inclined, homemade stockings are also incredibly easy and fun to create — especially for your kids!
I think we can all agree that the reason why the garland stocking combo is so popular for mantel decor is that it looks so great!
Minimalist Decor
The rise in modern decor and interior styling doesn't have to stop when it comes to gearing up for the holidays. Coco Kelley has some great tips and tricks for creating a modern, minimalist holiday mantel.
This is a great way to mix things up and go with something a little different for your holiday decor. If you decide to take on the minimalist decor for your mantel, make sure to be creative with it and keep trying out new things until you find the perfect look for you and your home.
Keep Things Simple With a Charlie Brown Inspired Mantel
Each home has unique traditions and customs that they do with family and friends each year. For many of those homes, watching A Charlie Brown Christmas is surely one of them.
You can pay homage to the movie that talks about the true meaning of Christmas perhaps better than any other film by following this Fat Orange Cat Studio outline for how to pull off at Charlie Brown Christmas for your Mantel.
This is great for anyone who wants to keep things simple while still creating a great holiday-themed mantel.
Choose an Unorthodox Color Scheme
Go with something off the beaten path and experiment with using some traditional non-holiday colors. Take a peek at this Deeply Southern Home blog for inspiration on how to use color like blue as an accent on your holiday-themed mantel.
The sky is the limit for how creative you can be here, so make sure to have fun with it!
Use Neon Colors For an 80s Throwback
Who doesn't love a good throwback to the 80s??
A Kailo Chic Life has everything you need to deck your place out in 80s-themed Christmas decor, including your mantel. This is a great way to mix things up and go with something completely different than the norm when it comes to Christmas decor.
Now instead of wearing Christmas sweaters, you can bring back some 80s workout and fashion for your holiday parties!
Just kidding, that might be taking it a bit too far.
Looking to Upgrade Your Fireplace Mantel? Contact Us Today!
Now is the perfect time to add or replace the mantel for your fireplace! Imagine, you've just upgraded your fireplace with high quality, reclaimed wood mantel from Manomin Resawn Timbers and then you get to show it off for all your friends and families during the holidays!
Go ahead and treat yourself and give us a call today to get started on adding a one of a kind mantel to your home.
We look forward to hearing from you!
Need to Pick Up A Mantel For Your Home Before The Holidays?
We've got you covered. You can view all the mantels we currently have in stock by clicking here. You can browse our collection before swinging in, or even just buy it off the website if you find one you really like!
Thanks for reading! We wish you the best of luck in finding a reclaimed wood mantel that's perfect for your home.