There's no place like home. And there's nothing quite like a roaring fire to make your home feel warm and comforting. This is especially true if you have invested in one of the majestic Modern Ethanol Fireplaces. A hearth is often the heart of a home; with a fire blazing, everyone gathers around to play games, read a new book, or watch a movie, so it's only natural to seek out the best wood for fireplace mantels. A fireplace makes for an excellent focal point for any room, be it a bedroom, living room, or family room. But, finding the right mantel to complement your hearth can be difficult.
With so many choices when it comes to the style, including size, type of wood, and additional features, how can one person hope to find the perfect mantel for their home? At Manomin Resawn Timbers, we specialize in helping homeowners find the best-reclaimed wood accent pieces for their homes. Since the year 2000, we've been helping families find the best wood for their fireplace mantel, flooring, paneling, timbers, doors, and more.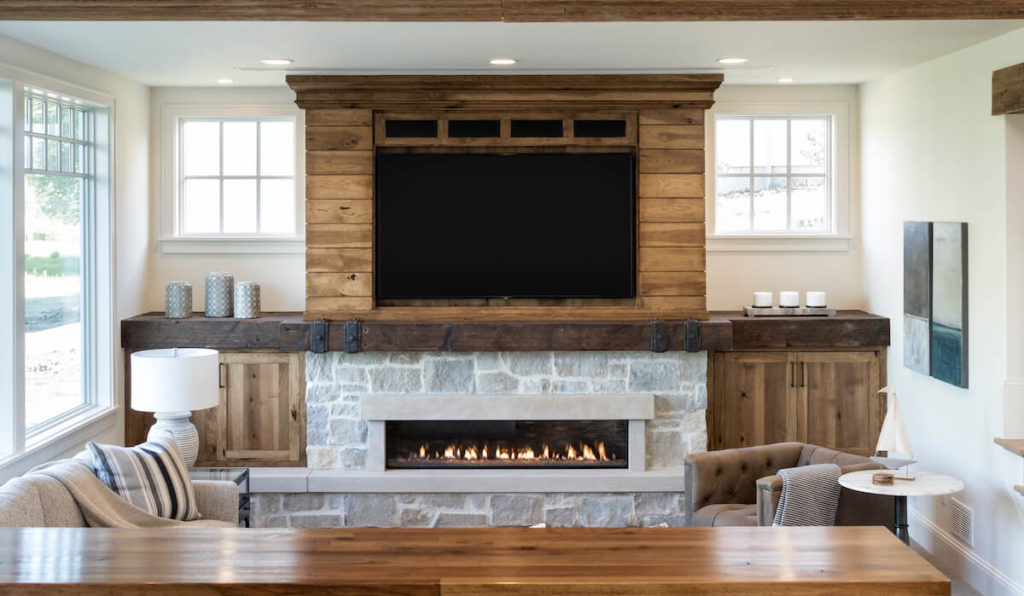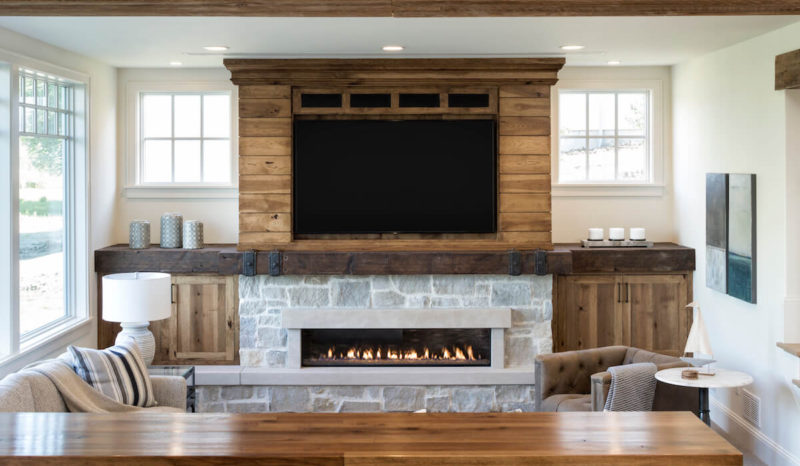 How To Choose The Best Wood for Fireplace Mantels For You
So how can you choose which mantel is right for your home? There is no concrete answer for which is the best wood for fireplace mantels because it entirely depends on the needs of your own home. There are key, filtering questions you need to ask yourself before you pull out your wallet to purchase a beautiful mantel for your home fireplace. Begin by determining the things you REALLY want in your new mantel (or old if you purchase a reclaimed wood mantel), and begin filtering from there. Are there any things you really don't want for your mantel? Are you looking for a more rugged look or a polished and finished style?
There are seemingly endless styles for fireplace mantels; you have to begin by asking filtering questions and defining the 'must-haves' for your future mantel. If you don't quite know what filtering questions to ask – no worries! You're the reason we wrote this article, so check out the following questions to help you find the best wood for your fireplace mantel.
What size room will your mantel be going in?
A large room can support a large mantel, but smaller rooms can also benefit from larger statement pieces. Large pieces can act as a focal point in any sized room, while smaller pieces can be used to tie a room together. If you want the wall with your fireplace to be the anchor of the room, we recommend that you opt for a larger piece that will dominate your space in style. On the flip side, if your space is small, that doesn't mean your smaller mantel will be any less of a focal point in the room.
Size does not always make a mantel the dominant style point in a room. It can, but it really is more about the style of the wood mantel in comparison to the room. Is it an accent piece? Or does it blend in and add to the overall vibe of the room? You can have very bold mantels that are rather small in size or large mantels that are more subtle. It just depends on what you want to do with your room.
How much traffic does your room get?
How much traffic your room gets can play a large part in determining the type of mantel your room needs. Low traffic rooms may be better complemented by a smooth finished smaller mantel, whereas heavier traffic areas, such as family rooms, can support larger focal pieces that prompt conversation and serve a purpose, such as displaying artwork or holding a TV.
When determining the best wood for your fireplace mantel, also consider the purpose of the room. If it gets a lot of traffic but isn't a 'socializing' area, you may not want a super bold wood mantel. It really does depend on the unique needs of your home.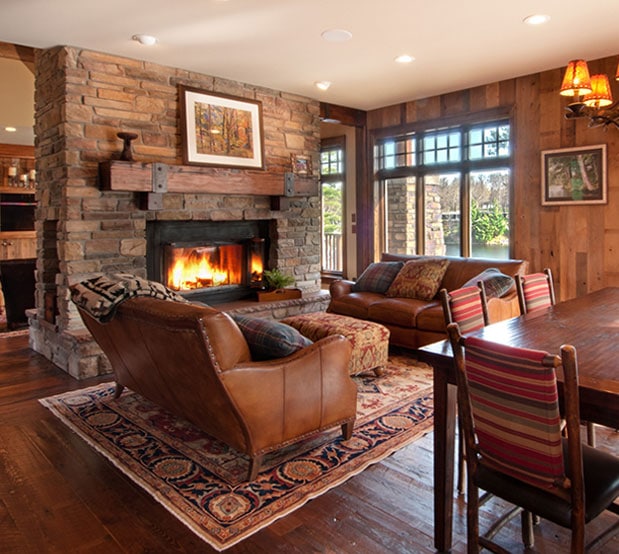 How frequently is your room used?
If you need a mantel for a room that barely gets any traffic, then you don't need a statement piece. In this example, a piece that works for function as opposed to fashion might be more practical. If the mantel is for a space people won't be in much, not much sense in spending the money on a bold mantel. You may still want to get a nice mantel for that space, but don't spend the time finding the best wood for your fireplace mantel unless it's actually going to be seen.
However, areas like a home office space or master bedroom may not be frequently used by anyone but yourselves as the homeowners. In cases like this, don't just get something more subtle because fewer people will see it – get a style you want because it's something you'll be looking at quite a bit.
Does your mantel need to match an existing color scheme?
Your mantel can be custom-crafted to match the existing color scheme of your home. At Manomin, you'll have your choice of wood type and finish, allowing you to craft the mantel that best suits your space. We currently offer the following finishes for our unique mantels.
Natural patina

Planed smooth

Wire brushed

Scrub planed

Scrub planed – walnut stain

Scrub planed – charcoal stain

Wire brushed – walnut stain

Burnished finish

Wire brushed – walnut stain
Any of these finishes could complement the best wood for fireplace mantels in your home. When thinking about the color scheme, you'll need to think about more than just your wall colors. Consider your flooring, linens, window dressings, upholstery, lighting, and room accessories. You can choose to go with a cohesive scheme by matching your new mantel to the rest of the room, or you can choose to use your mantel as an opportunity to incorporate a new color or look into your space.
What size do you want your mantel to be?
At Manomin, we offer a wide variety of sizing options for our mantels. Depending on your selection between our reclaimed wood Douglas Fir Timber mantels, Hand Hewn Timber mantels, and Weathered Antique Barn mantels, you will have your choice of sizing in order to find the best wood for fireplace mantels in your home.
Our Timber Mantels are available in almost any size imaginable. These reclaimed Douglas fir timbers are carefully rescued from warehouses and factories that were built during the Industrial Revolution. All mantels will have nail marks, possible bolt holes, and may have some checking. Ready-to-ship sizes include 5″ tall x 10″ deep x 5′ and 6′ available for immediate delivery.

Next, our Hand Hewn Timber Mantels are ready to ship 8″ tall x 8″ deep or 10″ tall by 10″ deep x 5′ and 6′ long cuts, which are available for immediate delivery. Hand Hewn Timber Mantels are sourced from barns that were built prior to the 1880s. Each timber carries with itself an air of age and grandeur not found in modern furnishings. These mantels will contain mortise pockets, and sometimes you may even find a wooden peg.

Lastly, our Weathered Antique Barn Mantels are ready to ship in 8″ tall x 8″ deep and 10″ tall by 10″ deep x 5′ and 6′ long sizes, which are available for immediate delivery. These timbers were cut with a giant circle saw circa the 1880s. These mantels are available in a grayish-brown or brown patina.
What do you plan to use your mantel for?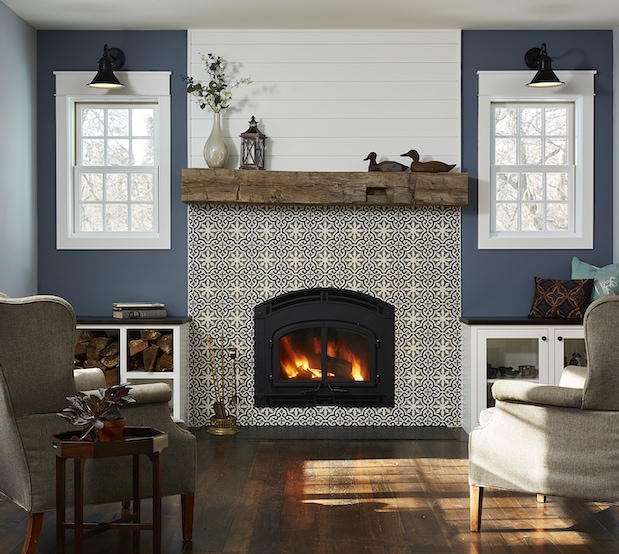 Is your mantel going to function as a decorative piece, or will it serve a function, such as to support a TV or a large portrait? The intended use of your mantel will factor into which woods you should consider while designing your mantel. If your mantel is going to support a heavy load, you'll need to choose a stronger wood. Sometimes weathered wood can lose structural support and may not be the best choice for a load-bearing mantel.
At the end of the day, finding the best wood for fireplace mantels may require you to get hands-on with the wood. You can find amazing wood online, and it is super safe to buy it there. But if you have very specific parameters for what your mantel needs, we strongly recommend checking it out in person before pulling the trigger on it.
Find The Best Wood For Fireplace Mantels at Manomin Resawn Timbers
If you're ready to start mantel shopping, you can view our entire collection by clicking here. If you find one you really like, you can either swing in to check it out or buy it right off our website!
There may be a lot to consider when choosing a new mantel, but at Manomin, we can make the process easy. From the moment you say "hello," our experienced team will be ready to assist you with every step of the mantel process. Whether you want to lead or follow, we'll make sure that you end up with the mantel of your dreams.
Contact us today to get started on your next mantel project, or if you have any questions we were unable to answer in this post. Happy mantel hunting! We hope you find the absolute best wood for fireplace mantels in your home!