Have you been looking for a guide that would help you not only understand the hype around reclaimed wood but also the ways that it's made or procured and how to use it throughout your home? We're here to help! Within this guide, you'll find each of those specific things and more.
At Manomin Resawn Timbers we provide all things reclaimed wood including doors, mantels, timbers, paneling, flooring, and more. As an expert in the world of reclaimed wood, this ultimate guide to reclaimed wood is designed to be a resource to both home builders, remodelers, and homeowners alike.
There is a lot to cover, so let's get started.
What is Reclaimed Wood?
It's simple, really. Reclaimed wood is a high-quality wood taken from various sources where it lived in its previous life. The process of upcycling or recycling with a creative purpose can sometimes be extensive, but the product derived from reclaimed wood is well worth the work that goes into it.
Obtaining Reclaimed Wood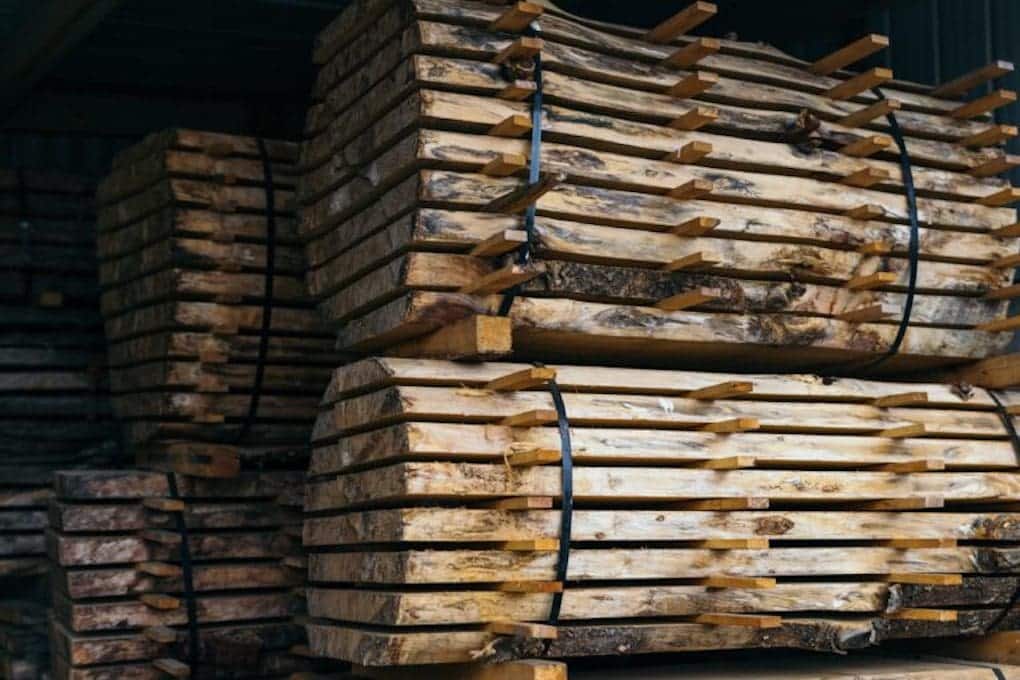 Before we can even begin creating reclaimed wood that you can use throughout your house, we need to obtain the wood. Reclaimed wood is often taken from the following places before being treated and used in your home or business.
Factories
Old Barns
Retired Ships
Stock Farms
Warehouses
Wine Casts
Pallets
And More
The place the wood is taken from will often determine what the wood looks like and what it's used for in the future. Pallet wood can be used for reclaimed wood walls or ceiling panels, while retired ships and warehouses will offer large beams that work well for ceiling beams or mantels.
Reclaimed lumber can tell a story of its past life through the character that it displays. You'll see this especially when you used reclaimed wood for paneling, flooring, and anything like that.
If you're interested in trying to obtain reclaimed wood on your own, there are some DIY reclaimed wood ideas on our blog.
What Is The Reclaiming Process
The reclaiming process is very extensive. Within the industry, we call the processes after we obtain wood, the "reclaiming" process, thus giving us the name – reclaimed wood. There are several steps to reclaiming wood. We'll do our best to break them all down in clear and concise ways. Here's are the steps to the reclaiming process:
De-nailing
Cleaning
Kiln Drying
Milling
Installation
Those are the steps to the reclaiming process, here's how they break down.
De-Nailing
De-nailing is a really simple process. But it's not just about removing any and all of the nails that are contained throughout. The other key element within our de-nailing process is removing all metal from the wood. In some cases, wood will have metal ties or other material embedded within it. When we're reclaiming lumber from different places we check to make sure all of the metal is out. This ensures that there aren't any unwanted surprises as we cut and shape the wood in the future.
During de-nailing, we'll also remove any large junks of debris that aren't part of the wood. This could be anything from dirt to plastic pieces or brackets that are still attached from the wood's previous life.
Cleaning
Part of the cleaning process starts during de-nailing, as we've already mentioned. But, there is more to the cleaning process! The amount of time and energy that goes into cleaning the reclaimed lumber will primarily depend upon where the wood came from and what condition it's in. In some cases, the wood will need to be stripped of the paint on it or sanded down a bit to remove major blemishes and imperfections.
In most cases, we want to keep any major changes to the wood's aesthetic to a minimum. But it's also important that the wood is cleaned thoroughly so that you're not bringing anything more than the wood into your home. Additionally, at times there can be insects in the wood that need to be removed. Don't worry, a few insects aren't uncommon and our reclaiming process ensures that the wood is completely free of any insects.
Here is a post with a more in-depth look at cleaning reclaimed wood on your own.
Kiln Drying
After the cleaning process, we have to place the wood in large kiln dryers. These dryers are like gigantic ovens for wood. They allow us to bake out all of the moisture and ensure that the wood dries straight. The wood is dried for different amounts of time depending on how much moisture is present in the wood. The end goal of a kiln is to heat treat the wood to destroy any bugs and larvae in the wood – before they become unwelcome visitors in your home and to ensure that the wood is at a proper moisture level.
Not all recovered wood companies perform this important step. Proper Kiln Drying separates the good companies from the great companies.
Milling
Milling is the process of shaping and forming the wood into the different products that we need. We cut down the boards into panels, flooring, and more! Through the use of saws, planers, sanders, joiners, molders, and other specialty tools we're able to create something truly unique and perfect for each and every one of our customers.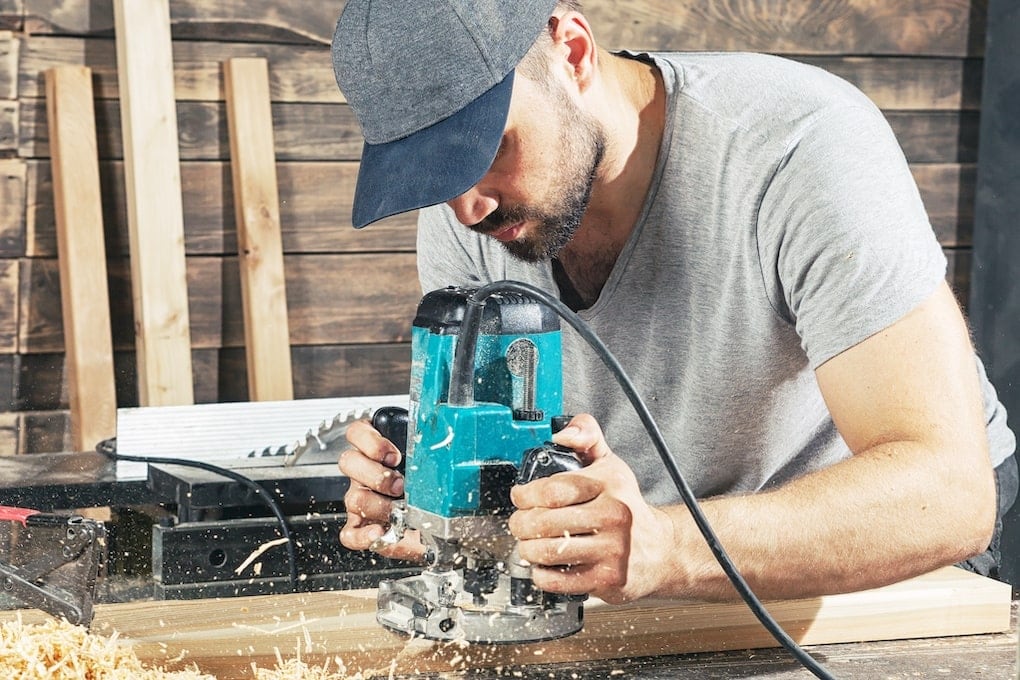 Installation
Finally is installation. When you're working with high-end reclaimed wood that's gone through an extensive reclaiming process, it's ideal that you have the wood installed by someone that has experience working with the wood and that can ensure everything is properly handled and taken care of. If you have some experience then there's nothing wrong with making it a DIY project but we can also refer you to some of the contractors that we regularly work with.
We regularly work with builders and contractors that are committed to high standards and creating beautiful projects with our reclaimed wood projects.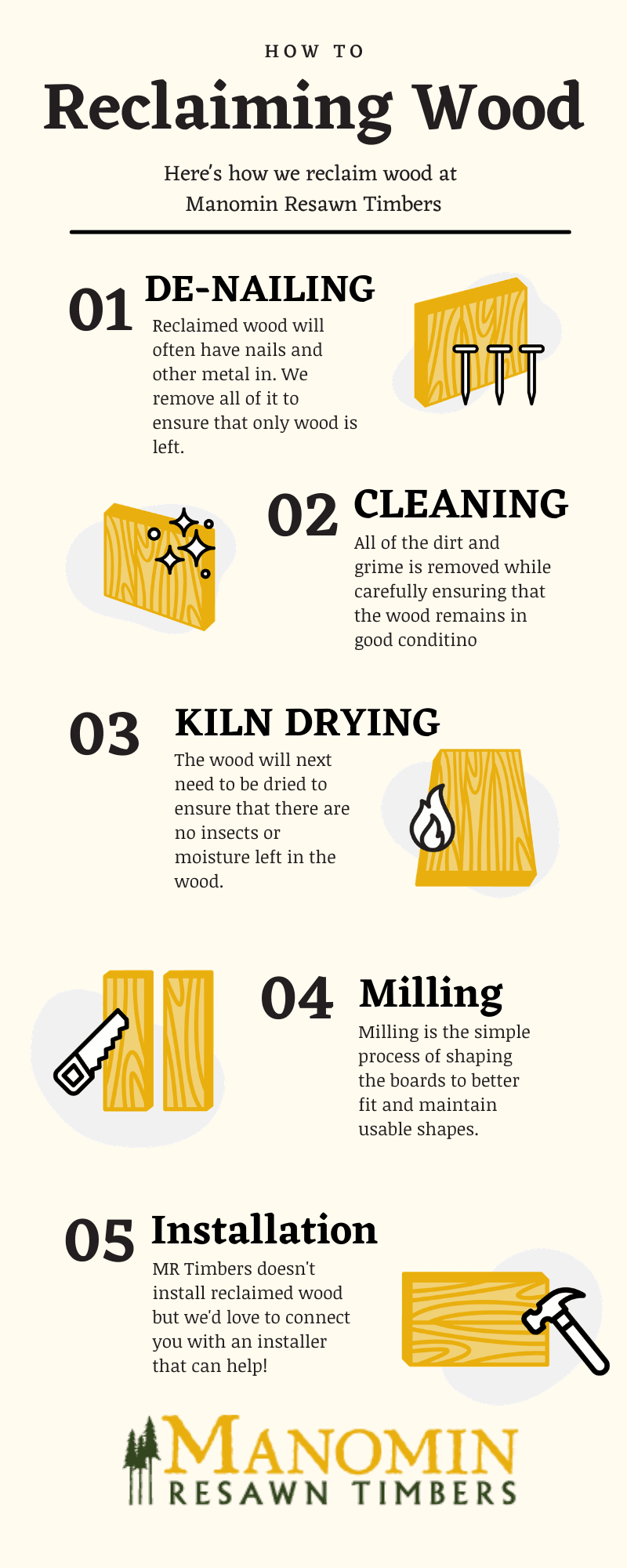 History Of Reclaimed Wood
So, how did reclaimed wood come into style? At one point in time, everyone did want new things in their house and not old or reused products. In that way, one might wonder why reclaimed wood is at all popular. Reclaimed wood can also be expensive… Why is reclaimed wood so expensive if it's a reused product? Let's break it down.
The Abundance of Reclaimed Wood
Prior to the late 1900s wood was used as the main element in almost all of the structures that were built throughout the United States. From houses to large office buildings and warehouses, wood was used throughout as support for the structure itself. One of the main larger buildings that wood was used as the primary building material were barns and farm structures. As the agriculture industry took off throughout the U.S. there was a huge surge in the construction of barns and thus there is now a large surplus of wood ready to be reclaimed as those buildings begin to fall into disrepair and new metal barns are being built.
Another common element that is reclaimed along with wood is brick. Old bricks show large amounts of character due to the years of weathering that it has received. While we don't deal in reclaimed bricks, we can say that they are truly beautiful and that they offer a lot to homeowners that are looking for a weathered look to the exterior or interior of their home.
This is all to say that there are lots of places where reclaimed wood can be obtained and there is a lot of value in reusing the lumber that is found within old buildings. If the lumber isn't reclaimed and reused it will likely find its way to a local landfill or be burned.
How Did Reclaimed Wood Come into Style?
One of the biggest reasons that reclaimed wood started coming into style is because of the environmentally friendly and clean aspect of reusing lumber instead of cutting down new trees. Another big reason is that the vintage or somewhat antique look has become very popular among higher-income and larger new homes as well as middle-range homes.
In a way, you could say that reclaimed lumber and reclaimed wood used in homes have always been in style. Old homes have always used wood mantels over their fireplaces and many use hardwood for the floors. In newer homes, it's also extremely common to use hardwood flooring as a durable, long-lasting, and high-end flooring solution. For that reason among others' reclaimed wood flooring is extremely popular.
As any trend like this starts, it quickly became attractive to homebuyers when homes have reclaimed wood throughout. Lastly, homeowners have recently grown extremely fond of exposed wood beams in homes. Reclaimed wood beams bring an entirely unique feature to every home that they're installed in. The cost of reclaimed wood directly relates to both the demand and the time and energy it takes to properly treat the lumber before it can be installed in your home. For more information on the cost of reclaimed wood, consult this post from our blog.
Where To Get Reclaimed Wood
You can find reclaimed wood in a number of places. While it's not always easy to get exactly what you want, if you put in the time to look for the wood you want then you'll definitely be able to find it. A commonplace to find reclaimed wood is through a dealer such as Manomin Resawn Timbers. As a reclaimed wood dealer, we can work with you to find the perfect wood for your home.
Ultimately the best way to get reclaimed wood is from a dealer that has the experience and that you can trust to get you the wood that you need for your home. If you want to try and reclaim the wood on your own that's always a possible option as well. But, you should know that finding and reclaiming wood on your own can be very difficult.
If you do find lumber that you want to reclaim on your own, check out this great video where you can learn about DIY reclaimed wood. https://www.youtube.com/watch?v=V6iMyiesc0s
Uses Of Reclaimed Wood
The uses for reclaimed wood are truly unlimited. There are just too many ways that you can use wood and in turn, use reclaimed wood. Here are some of our favorite ways.
Furniture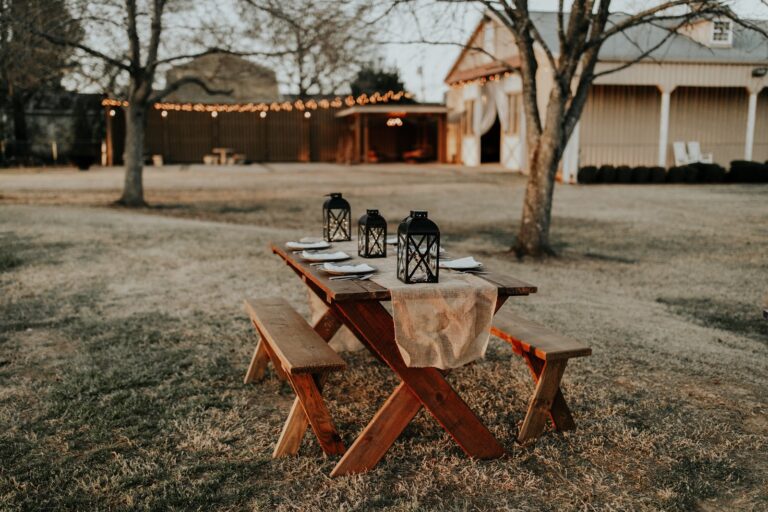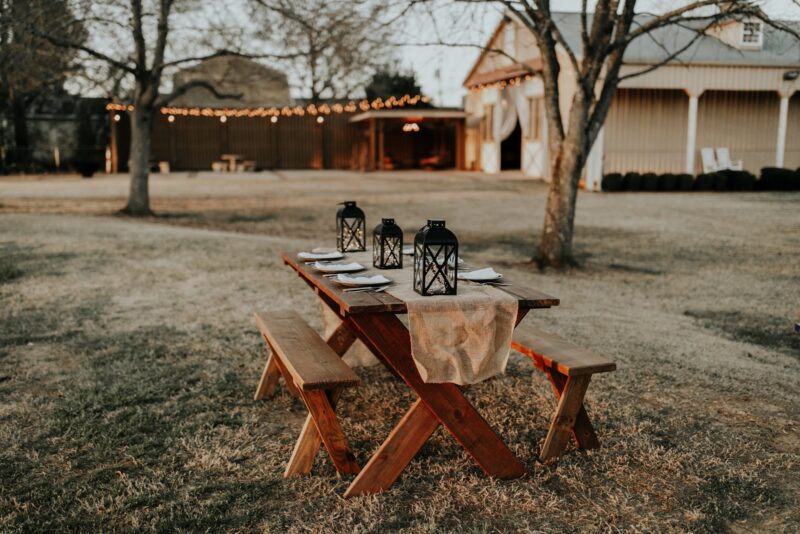 Furniture is a great way to incorporate reclaimed wood into your home. There are a number of companies on the market that make reclaimed wood furniture. Some different pieces of furniture that look great when made of reclaimed wood include chairs and tables or desks. Each of these items adequately shows off the reclaimed wood and can catch the attention of anyone who has the opportunity to see it.
Here's some info on reclaimed wood dining tables that you can use in your home. Also, be sure to check out this post for a DIY reclaimed wood table and bench.
Light Fixtures
Light fixtures are a great way to bring reclaimed wood into your home. There are several ways that you can use wood in light fixtures but some of the simplest ways are almost always most eloquent and tasteful. Here are a few examples: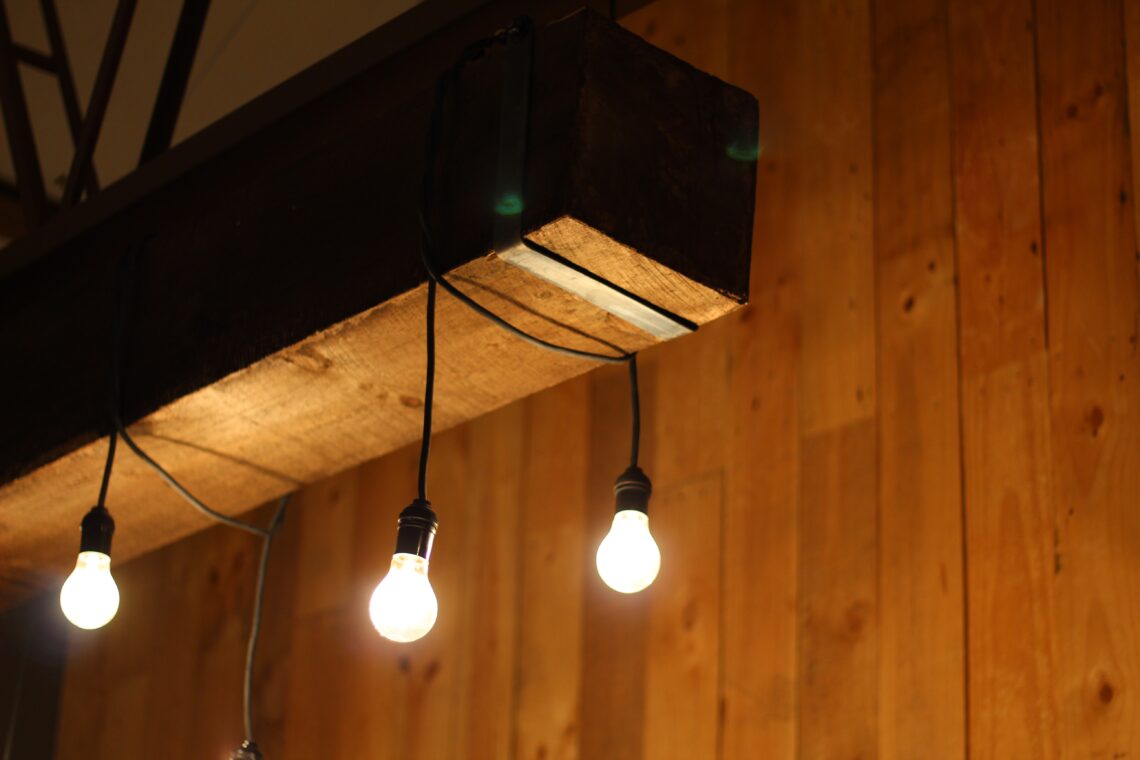 Decorations
Home Decor is a great way to use reclaimed wood. You might not think it, but wood paneling or even old wood toys make for great pieces. When we're talking about reclaimed wood decor, think of anything made from wood that you can use in your home. Even a cutting board or an old wood bowl is a great way to utilize reclaimed wood for decor.
Bed Frames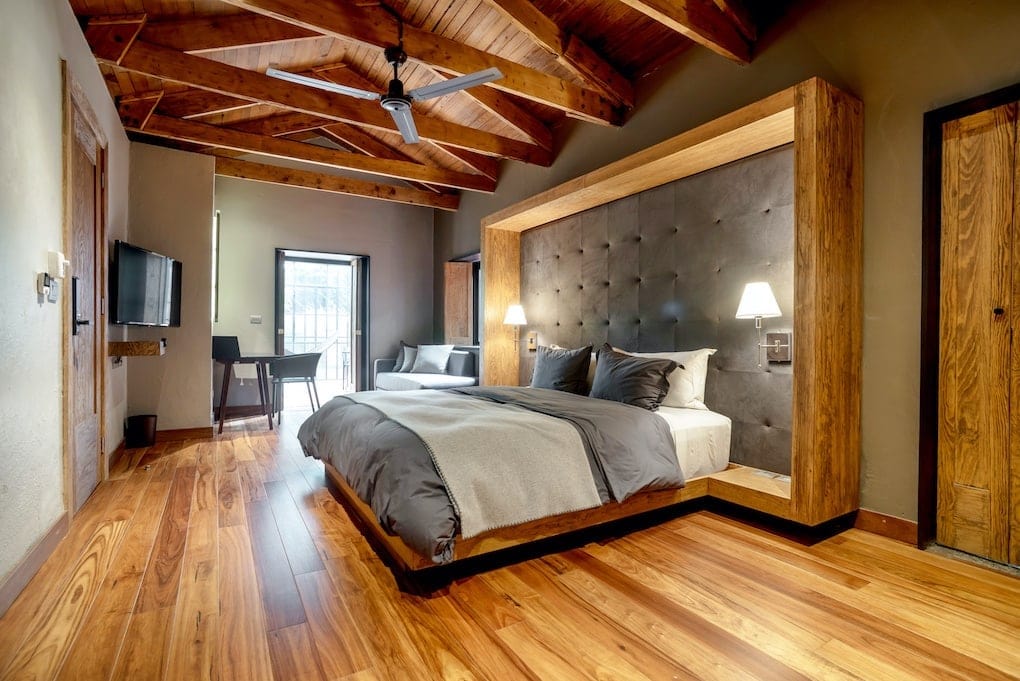 Bed frames look great when constructed from reclaimed wood. No matter how you like your bed frame to look, there's likely a way that you can use reclaimed wood to construct. Headboards and legs to bed frames look great as reclaimed wood! Find some examples in this blog post.
Countertops
Last on today's list, but definitely not least of all is countertops. Reclaimed wood can be a great material to use for countertops that you're looking to cut on or enjoy as a bar. Everyone loves the look of a wood bar so why not use that look in your own home or business. Finding the wood to use for countertops can sometimes be difficult so be sure to reach out to your local reclaimed lumber dealer for more info on countertops and what types of wood might work best for them. Here are some examples of how you can use reclaimed wood as a countertop or tabletop.
Designing with Reclaimed Wood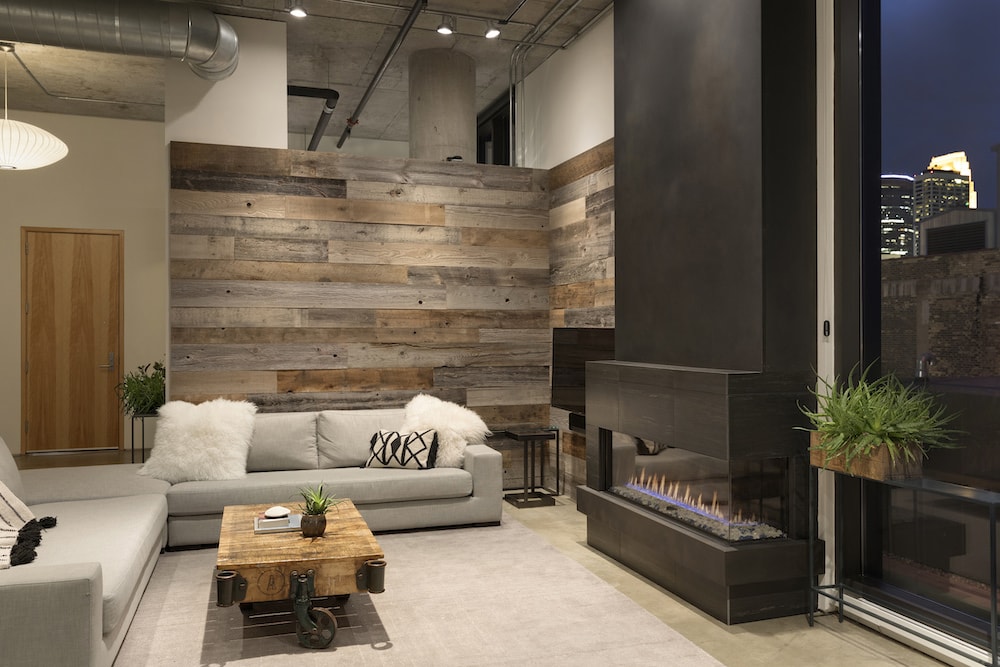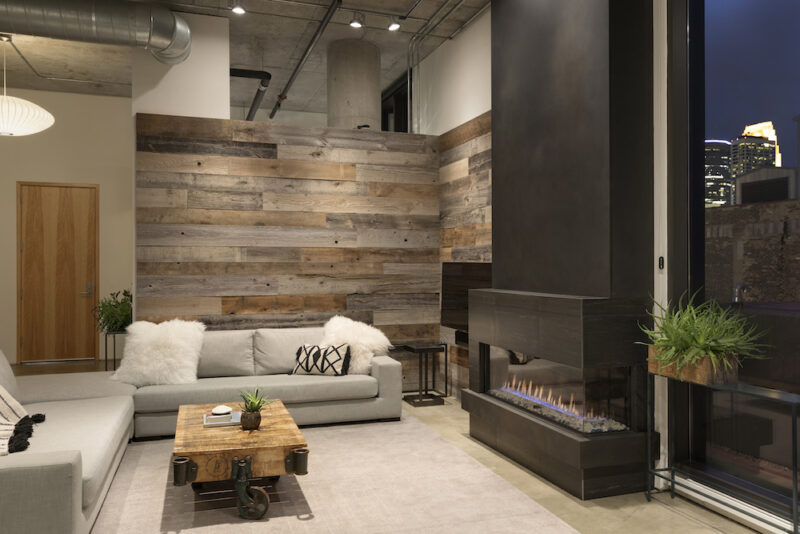 There are many ways to utilize reclaimed wood throughout the design of both new homes and remodels. If you're thinking of using any exposed wood elements in your home then you should definitely be considering reclaimed wood. There are many ways that reclaimed wood can be used. Whether you choose to use it within furniture or decor or you want to use reclaimed wood beams and reclaimed wood floors in your house. There is so much potential with the use of reclaimed wood.
Here are a few common design styles that use exposed wood:
Modern Home Design
Modern design has taken a big swing towards the use of exposed raw materials such as concrete, wood, and sometimes steel (although steel or metal is much less common). Reclaimed wood paneling, timbers, or flooring are all great ways to include reclaimed lumber in your modern home design.
Farmhouse
Farmhouses and modern farmhouses almost always use exposed lumber throughout the home. Reclaimed lumber will give your home a warm, aged, and character-filled feeling that is otherwise missed when installing "new wood" where you could install reclaimed wood.
Remodeling with Reclaimed Wood
Finally, remodeling is a great time to consider including reclaimed wood in your home. Kitchens are a great place to use reclaimed wood floors. Another common design feature is including timbers or using reclaimed wood for mantels. Where you'll use reclaimed wood in your home will entirely depend on where you remodel and how much you're spending on the remodel.
Types Of Reclaimed Wood
There are a number of different types of reclaimed wood that you can purchase and use throughout your home. Keep in mind that in the end, these are just the most common types. Reclaimed wood can be used almost anywhere where you would use real wood.
Panels
Panels are a reclaimed lumber product that is regularly used in homes to create wood accent walls, paneling for wood ceilings, or any other place where you want there to be a large appearance of exposed wood. These wood panels are not too difficult to install and can add a lot to a home. Reclaimed wood walls and ceilings are beautiful additions to any home. View our reclaimed wood paneling here.
Timbers (Box Beams)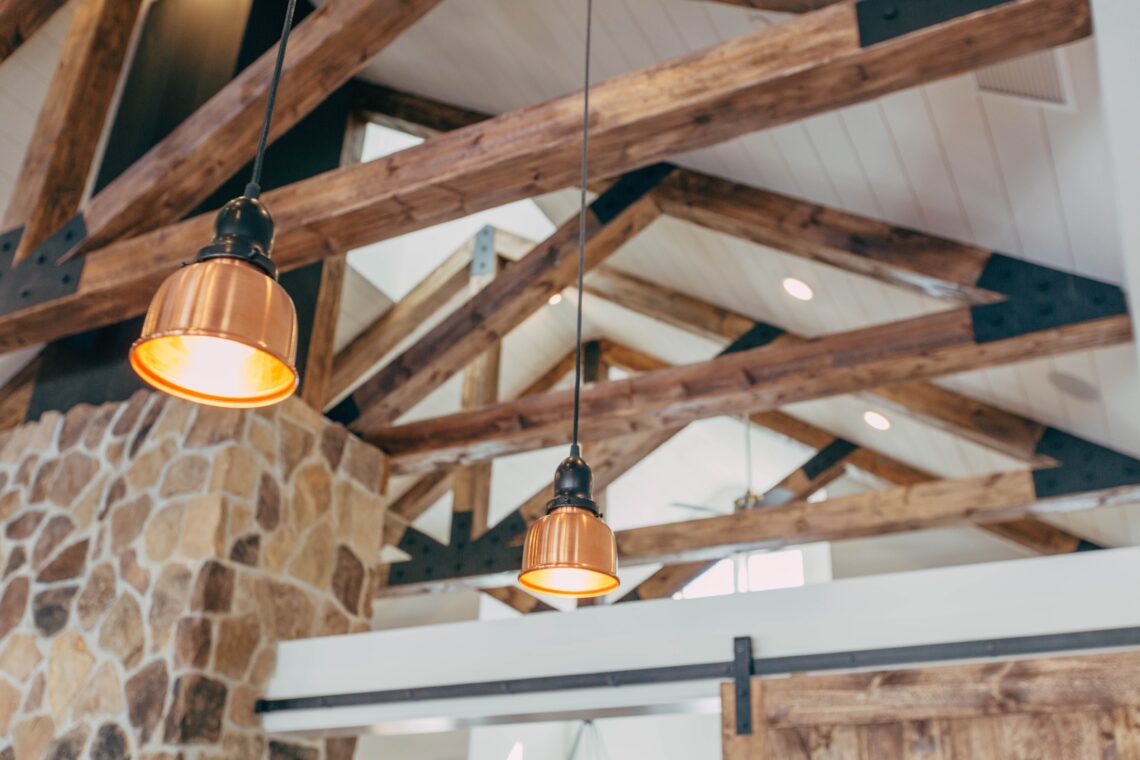 Timbers look great in almost any home, but especially in homes with high vaulted ceilings. Vaulted ceilings help to bring out the beauty of exposed wood beams and add a certain elegance and class to the home. You'll likely notice box beams and timbers used in higher-end homes where vaulted ceilings are extremely popular. View our timbers here.
Mantles
Reclaimed wood mantels are a beautiful and priceless addition to almost any fireplace. There aren't too many fireplaces that don't utilize a mantel so when you decide to install a fireplace whether it be gas, electric, or wood in your home consider adding a reclaimed wood mantel as a unique way to set your fireplace apart from the rest. Check out our reclaimed wood mantels.
Flooring
Reclaimed wood flooring offers character and uniqueness, unlike any other flooring. Traditional hardwood flooring looks beautiful but doesn't offer any character or story it. We love using reclaimed wood flooring because of the advantage that the character brings to a home. While you're in your kitchen or dining room you can look down at the reclaimed wood floor and see hundreds of years of character right below your feet. At MR Timbers we know where every piece of wood came from so we'll even be able to tell you where the wood was located in its previous life. Find reclaimed wood flooring, here.
Doors
Finally, doors offer another amazing and beautiful way to take advantage of reclaimed wood and its character in your home. Reclaimed wood doors can be used on both the interior or exterior of your home. You might even see reclaimed wood used for garage doors on homes. For more info on our reclaimed wood doors, click here.
Species of Reclaimed Wood
Along with there being a number of different ways that you can use reclaimed wood, there are also several different species of wood that we regularly reclaim to reuse throughout our customers' homes and businesses. Here are some of the most common species of reclaimed wood:
Teak
Oak
Redwood
Fir
Pine
Cedar
No matter how you choose to use reclaimed wood in your home, MR Timbers is here to help you. We supply reclaimed wood either to homeowners directly or to builders on behalf of homeowners. We'll gladly put you in touch with a builder/contractor that can help you get your reclaimed wood products successfully installed.
Be sure to check out our blog for more info on reclaimed wood, how to use it, and inspiration for your home! And, check back on this blog post as we'll be adding more information every month.
Why You Should Choose Reclaimed Wood
Reclaimed wood is more than just a piece of wood. After all, going to Home Depot, Menards, or any other local hardware store to get some lumber for your home is no big deal. But, selecting reclaimed wood for your interior or exterior project is always going to be a more extensive process. That process will take time, and ultimately reclaimed wood will be more expensive than other types of wood you could buy.
So why should you choose reclaimed wood for your home? There are quite a few reasons, but here are some of our favorites.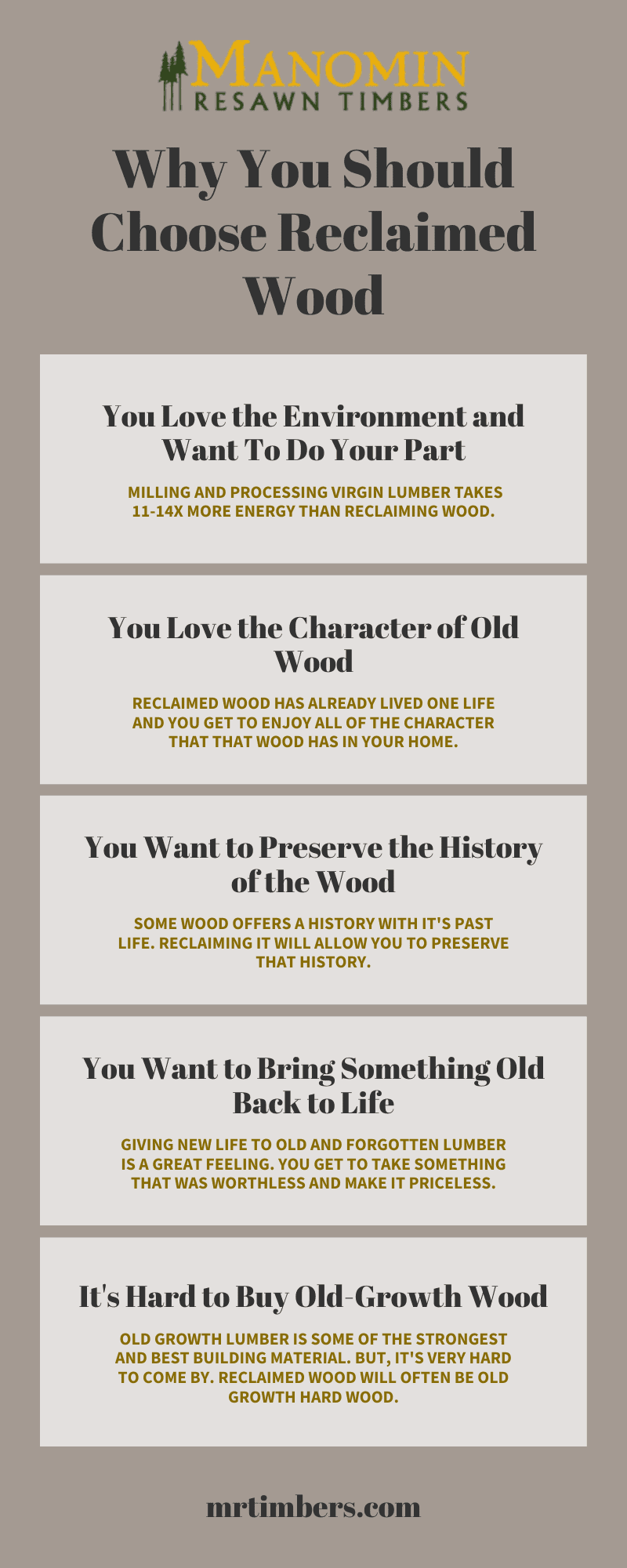 You Love the Environment and Want To Do Your Part
If you didn't already know, reclaimed wood offers environmental benefits that other woods don't. One of the largest environmental benefits is that the wood has already been grown and shaped. There's no need to harvest any more trees, and the wood doesn't need to be transported long distances in order to be utilized.
A recent study done on reclaimed wood vs. virgin lumber found that, on average, virgin lumber needs 11 to 13 times more energy in order to be produced and used. When reclaimed wood is harvested in a safe and responsible manner, it becomes a renewable resource that reduces both environmental hazards and landfill waste. Using wood that's being saved from a landfill will always help the environment, and you'll almost always be getting a superior product to virgin lumber.
You Love the Character of Old Wood
The character provided by reclaimed wood is second to none. Very few products on the market can match reclaimed wood when it comes to the raw character and story that it's able to tell. Every piece will have already lived a life of its own before you bring it into your home and, in turn, will wear the character from that life. No two pieces of wood are ever truly the same, and no two pieces will offer the same character when it comes to reclaimed wood.
When wood has been exposed to the elements and weathered by wind, rain, and snow, it will have an even more appealing character and look. You can bet that no one else will have wood with the same character as yours.
You Want to Preserve the History of the Wood
At Manomin Resawn Timbers, we know where each and every piece of wood has come from and what it was used for in its previous life. Whether the wood was used as flooring, on the exterior of a barn, or in a different house before yours, it carries history with it.
If you find yourself attached to that history and want to continue to preserve it for years to come, reclaimed wood offers a great option. You can use the wood in many different ways throughout your house, depending on what type of project you're working on.
You Want to Bring Something Old Back to Life
If you're thinking of using the wood to build furniture or another type of memorable piece, then you'll be giving that wood new life that it didn't have before. Without the processes of reclaiming wood, the majority of all used lumber would be sent to landfills, and lumber companies would be forced to continue cutting down more trees in order to keep up with demand.
Giving wood a second life is one of the joys of using reclaimed wood instead of virgin lumber.
It's Hard to Buy Old-Growth Wood
Old-growth lumber is extremely hard to come by these days and not just because everyone wants it or because it's expensive. If you don't already know what "old-growth" is referring to, it's the wood that takes decades to grow. Old-growth lumber requires an environment that allows it to grow for long periods of time at a painstakingly slow pace. Because these trees grow so slow, they are much stronger than most of the other trees that grow quickly. Think, for example, of the differences between pine and oak. Oak takes much longer to grow and reach maturity and, for that reason, is considerably stronger than pine.
Because old-growth forests are almost always extremely diverse and full of many different species of both wildlife and plants, they are heavily protected. Housing projects can no longer purchase old-growth wood for the homes. But, one way around this setback is by breathing new life into aged old-growth woods and reclaiming it. Reclaimed wood will often be the strongest and most durable wood available.
You Want the Best Available Wood
The best wood for your home is going to be the strongest and most durable wood for your home. Because you're not able to purchase old-growth lumber for your home, the next best wood for your home will be reclaimed old-growth lumber. By far, reclaimed wood is going to offer the most strength, especially when compared to most virgin lumber on the market today.
You Want Wider Planks of Wood
Wider planks of wood will require larger trees unless they're fabricated and formed by putting multiple pieces of wood together. But, as you might have guessed, reclaimed wood offers a solution to this. You can often find wider planks of wood in older buildings and use them for your home. You'll find that reclaimed wood offers a large selection of wide-planked wood that can be used for flooring, walls or ceilings, paneling, and much more.
You Want to Use Rare or Exotic Woods
Rare and exotic woods are extremely expensive and hard to come by, but you can find rare and exotic woods that can be reclaimed. Wood is a product provided by nature that should be able to be used for hundreds and hundreds of years instead of just once or twice. What's the point of being expensive exotic wood if it's just going to end up in a landfill within the next 50 years or so.
Instead, choose reclaimed wood so that you can be a part of keeping the life of wood as long as possible. It might also be good to know that in many cases, the longer amount of time that wood goes on living under proper conditions, the stronger it becomes.
You Love Originality and Unique Features in Your Home
If you want a home that's truly custom and unique, then reclaimed wood offers you that opportunity. While there are definitely other ways that you can make your home unique, why wouldn't you want to have flooring or wood beams in your home that no one else can say they have. There's nothing more beautiful than a true reclaimed wood floor.
Better yet, if you purchase the reclaimed wood from a trusted dealer or reclaim the wood yourself, you'll be able to tell your guests the story of the wood and the life that it's had previously. If you want a truly unique and original home, then reclaimed wood is the way to go!
Reclaimed Wood Can Help Your Building Achieve LEED Certification
LEED Certification is the process of ensuring that your building is efficient, earth-friendly, and high-performing. This certification isn't necessarily standard for all homes and neighborhoods, but it has become much more popular. By using reclaimed lumber in the construction of your home, you're choosing a building material that not only adds unique character to your home, but it's also a safe and green alternative to using virgin lumber.
Reclaimed Wood Can Add Property Value
Because reclaimed wood is unique and is often used to create unique spaces, it can add significant value to your home. Reclaimed wood flooring is often a much stronger and longer-lasting material than many other materials that are often used for or in place of wood flooring. So, in the case of using reclaimed wood throughout a home, you'll find that it adds a lot of value to your home.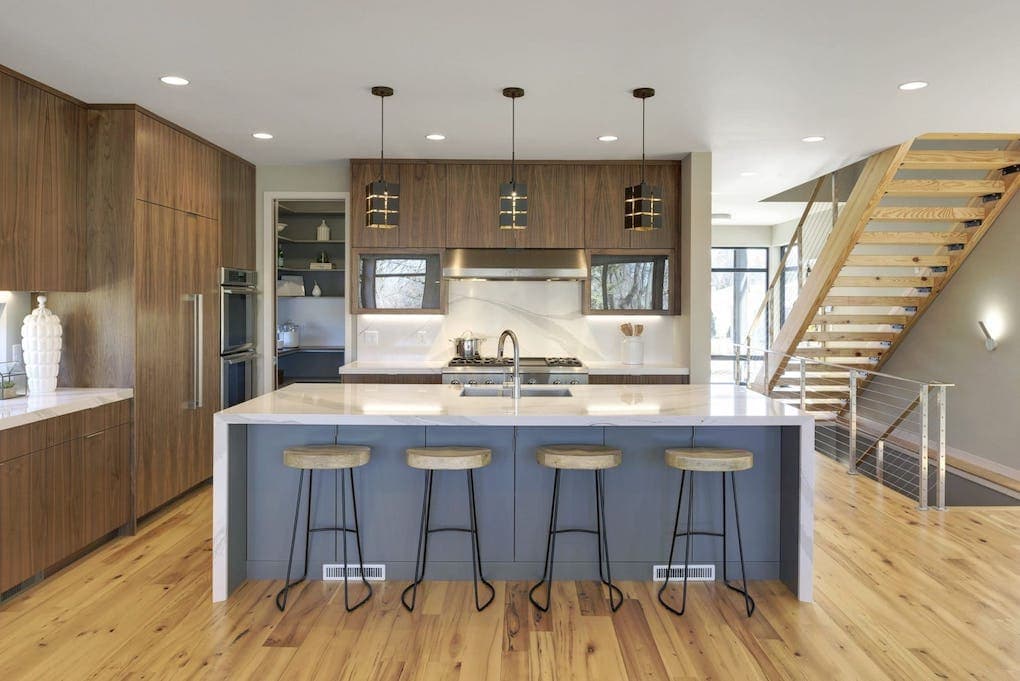 Reclaimed Wood Adds Character
Beyond just adding value to your home because of the strength that reclaimed wood brings, the character of different pieces is also something to look for. Today's new wood furniture and even the new wood floors can't compare to the old-growth reclaimed wood that's hundreds of years old. Old wood offers character shaped by its previous life. There really isn't a way to get wood as characterized as reclaimed wood. There's something special about being able to say that your wood floors came from a 100-year-old barn or warehouse. Old wood like that is beautiful and unique in color variation from anything you can get from lumber companies.
Understanding the Cost of Reclaimed Wood
The cost of Reclaimed wood may seem expensive, especially when you compare it to the cost of a two-by-four at Home Depot or Menards. But when you think about it, it can't really be compared to just a simple pine two by four. Reclaimed wood is often sourced as oak, fir, or other hardwoods that would be much more expensive to purchase if you were seeking to use those types of wood throughout your home.
It's important that you know what you're paying for. There's no reason you shouldn't feel confident in the price you pay for the materials you will use throughout your house. Above, we talked about the processes that go into reclaimed wood; many of those processes are time extensive, but some of the main elements cause reclaimed wood to cost what it does.
Finding and Harvesting the Wood
When we need more wood for our inventory, we first have to go find the lumber that we want to reclaim. This isn't always a long process. Sometimes we'll hear about a building being torn down, and we'll pay for the right to take the lumber out of that building. In other cases, we'll need to go out and find buildings or places where we can source the wood from. At any rate, we need to pay our employees to harvest the wood, and we need to pay for the wood itself. Because reclaimed wood has become more popular, it is a commodity item, and there is competition to see who will be able to reclaim the wood and resell it.
Reclamation Process
Our reclamation process above takes time. Thankful the process isn't very energy-intensive and thus saves money on energy costs, but there is manual labor involved. The wood will need to be de-nailed by hand, and there are employees that work to ensure the product is always taken care of. Additionally, if we're staining or treating the wood in any way, our employees will also need to undergo that. And of course, along with reclaiming the wood, we need to pay for our facility where we store and work on the lumber. So, just like any business, there are overhead costs.
Distribution
Next up is distribution. There are many costs associated with distribution. Whether we're distributing our product to a builder or a homeowner, it does need to be handled with care and transported properly. We always prefer that customers pick up the lumber at our facility, but in some cases, we can provide some form of transportation for the product. Reclaimed timber can be very large and, in turn, may take a large truck to move from point a to point b. These trucks are expensive and do require a trained driver who has the proper licenses.
Installation (if needed)
And finally, we have installation. Manomin Resawn Timbers doesn't offer installation at this time, but we do partner with some specific builders who regularly use our reclaimed timber and reclaimed wood products throughout their projects. While many homeowners will choose to DIY reclaimed wood projects, there is always the option available for you to hire out the project. We recommend that you have an expert help you install our reclaimed wood products. If you already have some experience, then feel free to give it a go, but it's never a bad thing to ask for help and get a hand with a project. At least that way, you can be confident that the project is done right.
Cost of Virgin Lumber Compared to Reclaimed Wood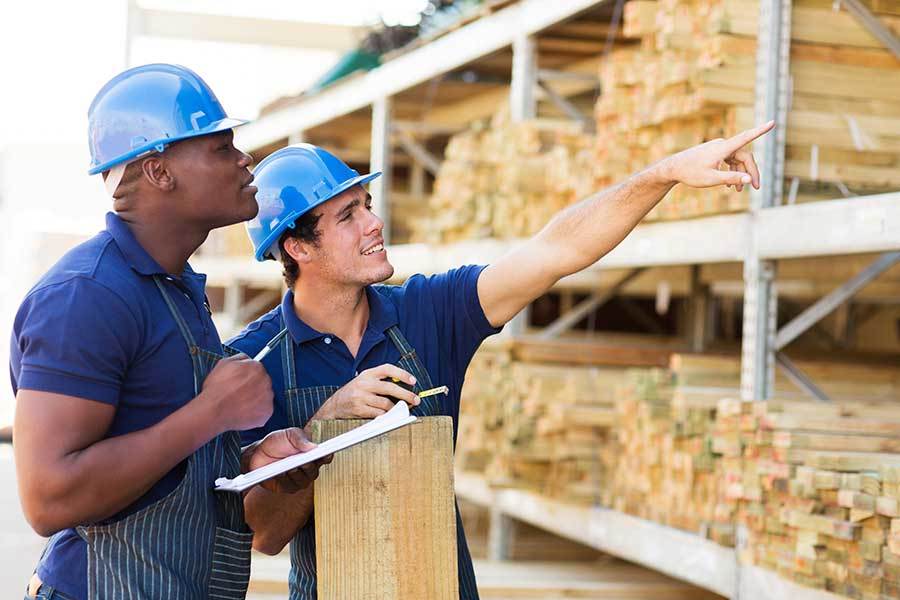 You'll need to pay for lumber throughout your home one way or another. Whether you pay for high-quality A-grade virgin lumber or choose to pay for reclaimed wood, there's still a cost associated with both. But, many people do wonder what the difference in price is between reclaimed wood and virgin lumber. Here's how it breaks down and how you can better understand it.
The cost of reclaimed wood will vary based on the type of reclaimed wood that you're looking for and what you want to use it for. In most cases, reclaimed wood can range anywhere from $10 a square foot to around $40. More exotic or premium species of wood can cost even more. For that reason, be sure to do your research on the type of reclaimed wood that you want to use throughout your home.
Virgin lumber is much cheaper for obvious reasons, but you won't have the same benefits as you would have if you choose to install reclaimed wood. On average, a hardwood floor installation with the use of virgin lumber will cost anywhere from $4 to $20 per square foot. In some cases, it can cost slightly more than that, but it is fairly uncommon. Virgin lumber floors also aren't always as strong and will wear more easily and become damaged in some cases.
Reclaimed wood cost – $10 to $40 per square foot
Virgin lumber cost – $4 to $20 per square foot
Safety Concerns Involving Reclaimed Wood
There are some safety concerns involving reclaimed wood that you should be aware of before installing it in your home or choosing to DIY any reclaimed wood projects. Do note that most of these concerns are easily addressable if you know your reclaimed wood source and trust the provider you're working with.
The Source of Your Reclaimed Wood
There are truly only two different ways to know beyond a shadow of a doubt where your reclaimed wood came from. Number one, source the wood yourself and harvest it from the building or structure that you find. Or two, trust the company or person that sourced the wood. It's not always entirely critical that you know exactly where the wood came from, but if you do know where it came from then you'll be able to answer the questions below.
Has It Been Treated with Chemicals?
Chemicals were often used in the past to treat lumber and help keep insects out and make them last longer. If it has been treated with chemicals, you'll want to know which chemicals and do some research on ways that you can either remove them or ensure that it's safe for you and your family to be around. Bringing chemicals and foreign objects into the ecosystem of your home can be very dangerous and cause serious health concerns.
Does It Contain Lead Paint?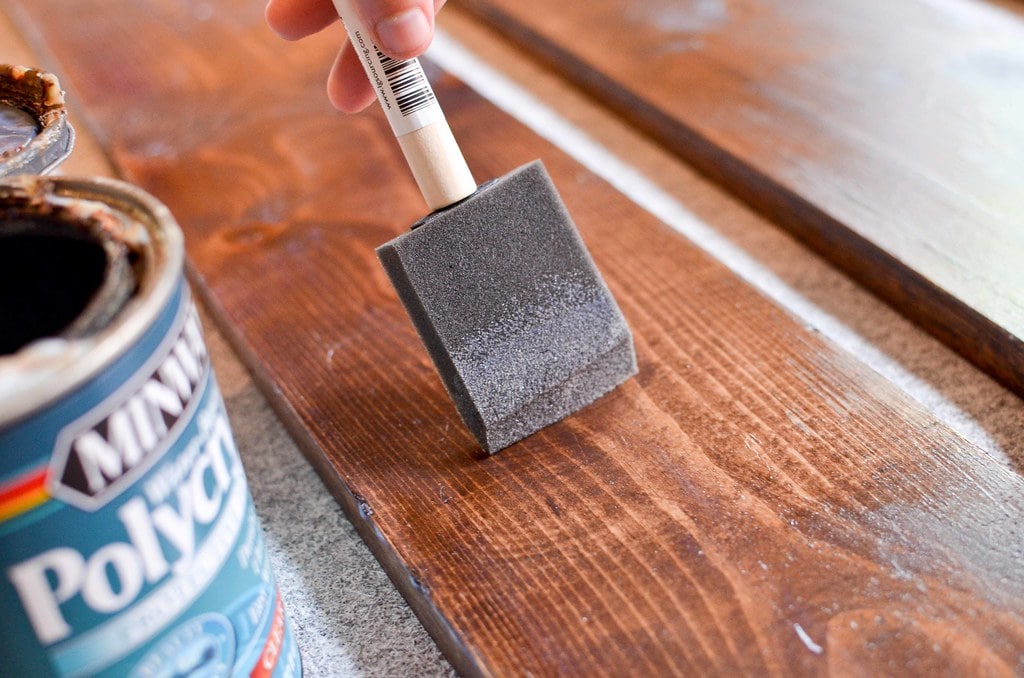 Lead paint has been known to cause many different problems. Many times lead paint isn't actually removed and instead is just painted over. While that may give the illusion of solving the problem, it won't actually solve the problem; it will just cover it up. You can sand down reclaimed wood to remove the majority of paint, but in some cases, the lead paint may have seeped into the wood, and you'll need to seal it or clean it to remove the lead or chance of lead getting into your home.
Have Foreign Materials Been Removed?
Foreign materials include metal that Manomin always removes during the reclamation process. Other foreign materials could be insects that made their home in the wood when it was neglected during its last life. The only way to truly know if all the metal has been removed and the insects are gone is to one, do it yourself, or two, trust the person that's going through the process and doing it for you.
Who Should I Purchase Reclaimed Wood From?
As you can see, it's essential that you trust the company that you're working with. Without trust in the work they're doing, you can't ever truly be sure of the product that you're getting or the quality of it. Like any business, there are a few different ways that you can dig into a source to see if they're trustworthy. Here are a few filters to run possible sources of reclaimed wood through.
Do they have a website?
A website is a great source of credibility. You'll be able to find information on their company, past projects, and history. Some companies will also display awards they've won for customer service or their accreditation from the Better Business Bureau.
How long have they been in business?
It's not wrong to work with a company that has recently started, but it is good to look more diligently into the work that they've done over the past few years. If a company is long-standing and has built a good reputation, then that's all the more reason to trust them.
Do they have good reviews?
Reviews mean a lot to people, and they should! Look into the reviews that they've gotten from customers to see how they treat their customers and what they're doing to ensure that everyone stays happy.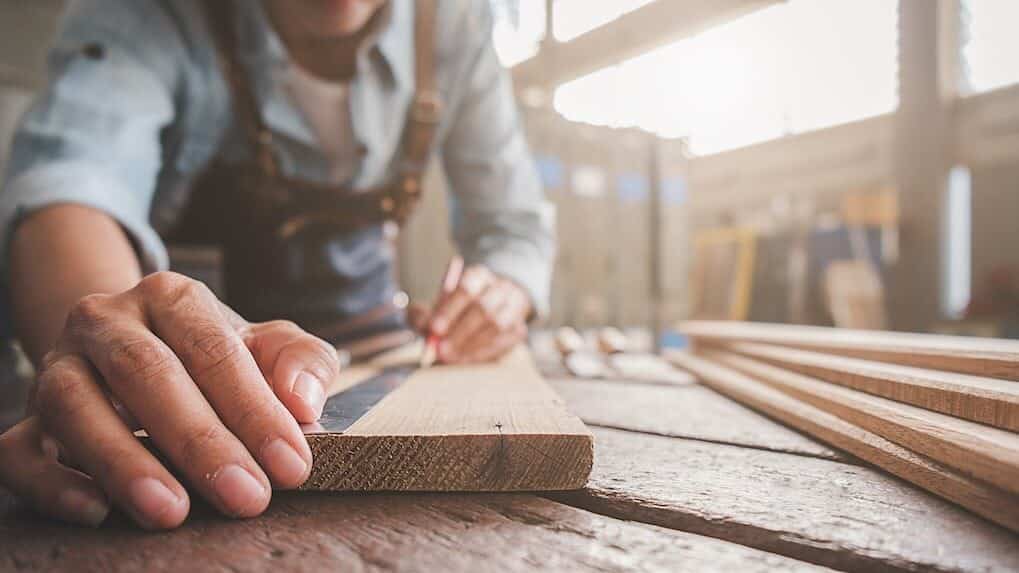 Contact Manomin Resawn Timbers For Professional Help
We'd love to help you get reclaimed wood for your home or business. If you're looking for high-quality reclaimed lumber that performs incredibly and is sourced in ethical and sustainable ways, then look no further. MR Timbers is the source for all things reclaimed wood, and we can help you get suitable wood for any project. We work hard to ensure that we meet every customer's expectation for everything that a reclaimed wood company should be.
Make an appointment to visit our showroom, request a quote, or check out our blog for more information on all things reclaimed wood. We'd love to help you and be a part of your next project.