A fireplace holds a special place in a home. Around a fireplace, memories are made, stories are told, and the company around that fireplace is some of the best you'll find.
Imagine for a moment that it is a cold, dark midwestern evening in the dead of winter. Just one look outside is enough to make you shiver.
However, the evening takes on a completely different tone once you light your fireplace, and everyone gathers around with a warm cup of hot chocolate. Sounds pretty nice, right? And that's the power of a fireplace in your home!
It's true what they say, that home is where the heart is. But, to get a little more specific, home is actually where the hearth it.
But, it's important that when you install your fireplace, you create one that is unique to your home and your taste and style preferences. Your fireplace should be special to your home, and shouldn't be just s standard, run-of-the-mill one.
One way you can add your personal touch to your fireplace is with a mantel, made from the finest reclaimed wood that has been restored to look amazing in your home.
Let's dive into how a mantel can transform your fireplace, as well as some tips and tricks for finding the right mantel for your home!
Reclaimed Wood Mantels For Your Fireplace — Why You Need One For Your Home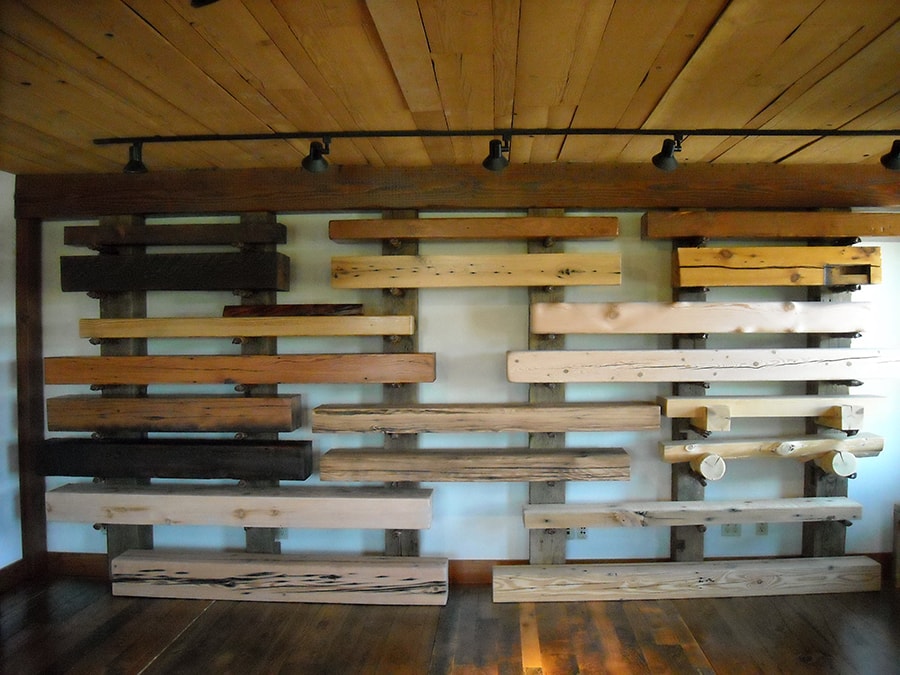 Fireplace mantels do the impossible by adding warmth to an already cozy fireplace. When that mantel is made from reclaimed wood, it takes it a step further by adding a sense of history and character to your home.
Here at Manomin Resawn Timbers, we rescue all of our wood from historically significant buildings — such as old wooden homes, barns, factories, and warehouses. In addition to the added style and functionality of a fireplace mantel, you'll also have the opportunity to preserve the historical significance of each piece of wood. So, if you want to set your space apart from others and create a truly unique space that warms up those in it, as well as inspires you with stories from the past, then a reclaimed wood mantel is exactly what you need.
Because we search far and wide for our reclaimed wood, we are able to offer a large variety of beautiful timbers that can be custom cut to your fireplace. So, no matter the size, material, or style you're looking for, we'll work with you every step of the way to help you find the perfect mantel for your home and fireplace.
Available Styles of Reclaimed Fireplace Mantels
Timber Mantels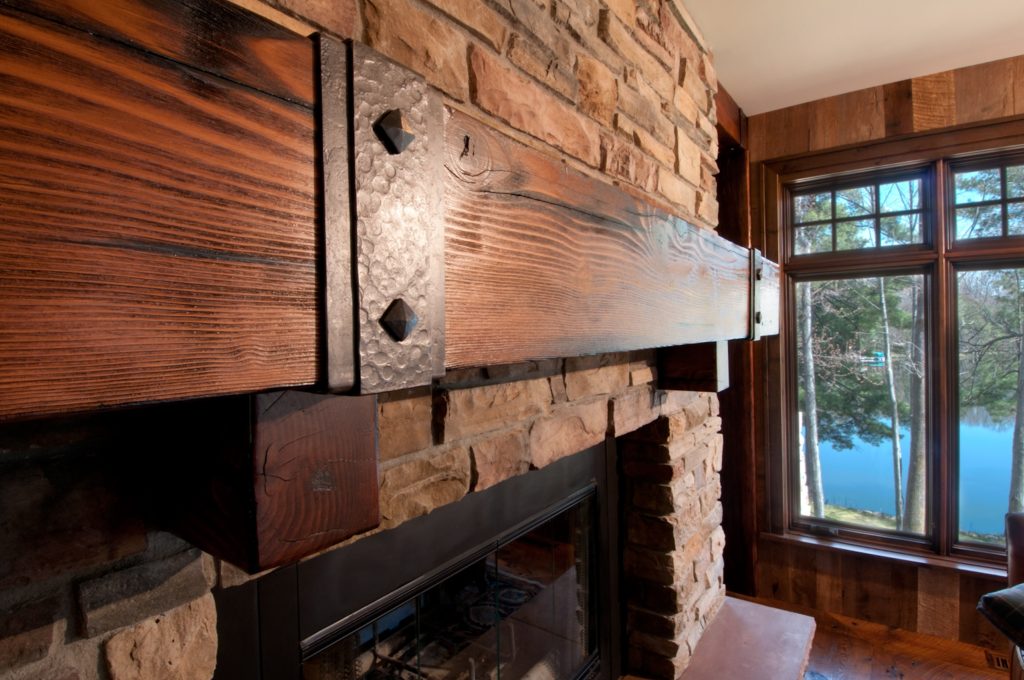 Our reclaimed Douglas fir timbers have been rescued from warehouses and factories that were built back during the Industrial Revolution. Each of our Douglas fir timber mantels we produce has several nail marks. Potential bolt holes and checking contribute to the unique look and character of each piece, creating an irreplaceable mantel that you and your family will cherish forever.
Works well when paired with: Bricks and Stone.
Hand-Hewn Timber Mantels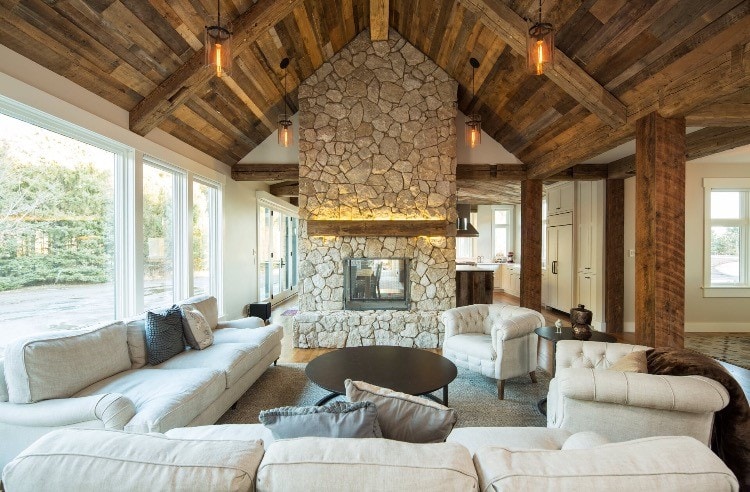 The hand-hewn timber mantels originate from barns that were built around the early 1800s. These timber mantels will take your fireplace to the next level by adding functionality and style to your gathering space.
The hand-hewn mantels have mortise pocket and may also bear one or two wooden begs, which helps to add more uniqueness to your home. These mantels are ready to ship in 8×8, 10×10 by 5 and 6′ long and — once introduced to your home — will bring forth countless conversations from friends and family who visit.
Works well when paired with: Stone
Weathered Antique Barn Mantels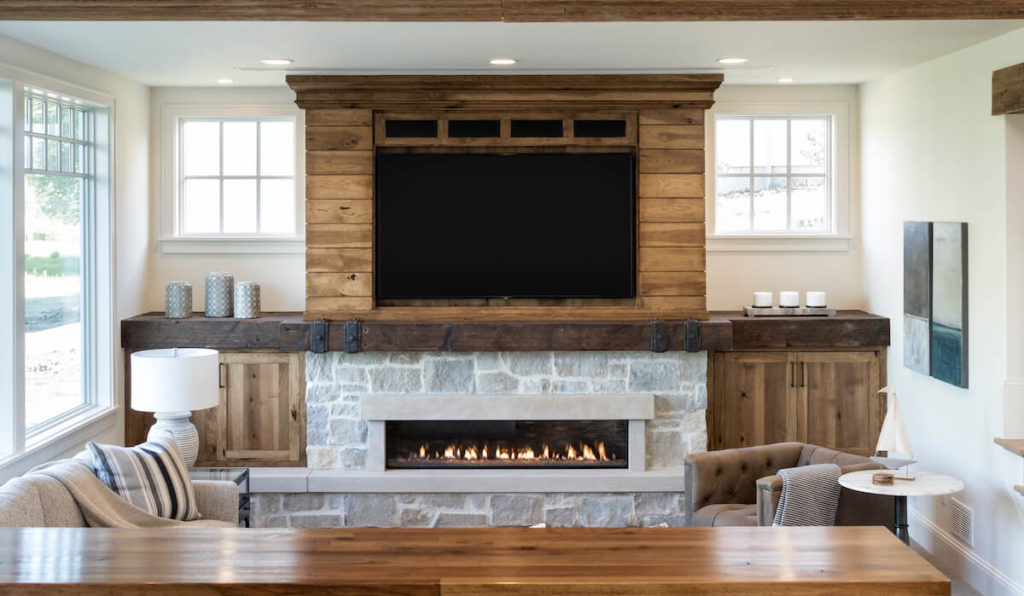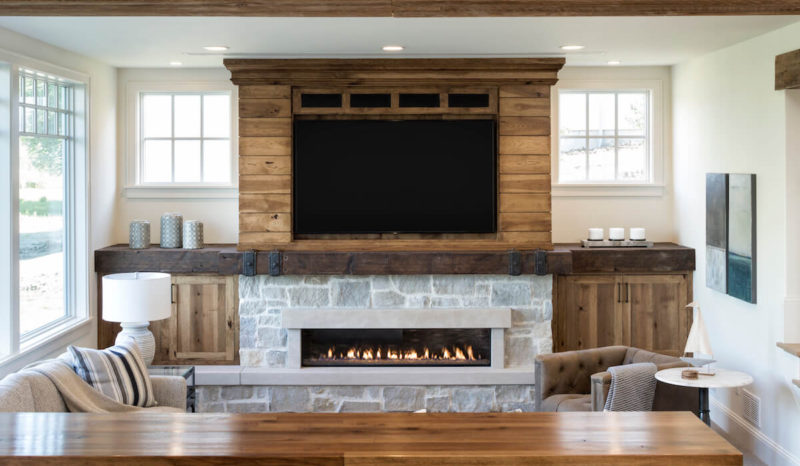 These incredible mantels were cut with giant circle saws circa 1880 by American farming families and used to build barns before their rescue. Available for immediate delivery in 8×8, 10×10 by 5 and 6' long, our weathered antique barn mantels will lend a sense of timelessness and history to your fireplace, making it all the more inviting for family and guests.
Works well when paired with: Wood and Stone
Fireplace Mantel Decor Ideas
One of the undervalued features of a fireplace mantel is all the potential decorating options you have once it's installed.
Some people like to keep their mantel decor to a minimum and let the mantel stand on its own. However, if you're looking to add a little detailing to your fireplace room, the mantel is a good place to start.
Here are some great fireplace mantel decor ideas to try once your mantel is installed:
Going with the season — the mantel is a fantastic area of your home to commemorate the changing of the seasons. In the spring, flowers and other spring knick-knacks can sit atop your mantel. In the fall, get festive with the endless supply of autumn decor ideas.
A place for memories – Your mantel itself will carry many memories from years past, but you can also use the mantel to help remember some of your memories. Placing framed photos and occasionally updating them is an awesome way to add a personal touch to your fireplace.
The ultimate TV stand –  You know those long winter days when all you want to do is stay inside, grab your warmest, softest blanket, cuddle up on the couch and watch a movie? Anyone who has ever lived through a Midwest winter knows the feeling. Now, imagine that you are watching your favorite holiday movie right next to your cozy fireplace. Sound pretty nice, right? By turning your mantel into the ultimate television stand, you can have just that.
Contact Manomin Resawn Timbers to Get Your Reclaimed Fireplace Mantel!
If you're ready to take your mantel hunt to the next level, you can view our full inventory by clicking here. Once you find one you like, swing on in or just by it right off our website!
If you want to learn more, and bring a whole new element of warmth and character to your home, reach out to the friendly folks at MR Timbers. We'll get to know your home and style preferences, so we can work with you to find the perfect mantel for your fireplace.
We love hearing from our readers! So if you want to get in touch you can call 651-464-1771, fill out our contact form on our website, or stop in and say hi!
We can't wait to get started on helping you find the perfect mantel for your home!