Many homebuilders promise — or even guarantee — that they'll deliver high-quality results while treating their clients fair and with respect, day-in-and-day-out, project after project, some deliver and some do not on this promise.
However, here in the Midwest, many of the home builders are passionate about what they do and want to make sure their clients are not just satisfied with the results but are ecstatic.
For a great example of this, look no further than Stonewood LLC Custom Home Builders.
In today's Minnesota Builder to Know spotlight, we'll dive into what has made Stonewood LLC such a consistent, quality option for future homeowners looking to build the custom home of their dreams.
Withstanding the Test of Time: Stonewood LLC Custom Home Builders
For four generations, the Gustafson family has worked with clients to build homes and buildings throughout the Midwest. These days, Stonewood LLC is helmed by J. Sven Gustafson who continues to carry on the legacy that his family before him crafted.
As the son of a home builder, Sven Gustafson learned the aspects of fine homebuilding from a very young age.
Working summers for his father, Sven spent a lot of time on job sites and interacting with clients. "I always thought of my father as an artist, on a large scale and knew that I wanted to follow in his footsteps as I developed my company," says Sven on their company website.
So, how has Stonewood LLC cemented itself as one of the top home builders in the area? By following these three pillars/values that embody everything it means to be a quality custom home builder:
Integrity

Integrity is such an important part of any work that involves creating something with your hands. Integrity is knowing when something isn't quite right and instead of sweeping it under the rug, you do it over again until it's right. In their materials, construction, scheduling, and all the details, you'll find integrity is consistent in tall of them.
Character

Stonewood LLC is committed to working with their clients to ensure that everything is how they imagined and dreamed it would be. Not only in terms of the finished product's quality but also with other elements of the homebuilding process, including making sure that the homeowners have transparency with costs. In addition to this, Stonewood promises enthusiasm and trustworthiness from start to finish.
Competency

Competency is more than simply knowing how to build a home. When it comes to crafting a custom home, competency means being able to reflect the quality and best practices in the craftsmanship of the home and being able to manage the entire project's process with professionalism.
Creativity

When it comes to custom homes, what the homeowners are really looking for is a creative solution to their needs and lifestyle. Homeowners looking for custom homes are trying to avoid the cookie-cutter look that you see in non-custom homes. Stonewood LLC made creativity one of its core values and has stuck to it ever since. From the exterior of the home to the interior, creativity abounds in their homes.
Stonewood's team of professional project managers all have extensive experience within the industry and are trained to the highest standards for custom home building. Because they only build a select number of homes each year, all the projects receive the attention they deserve.
Stonewood LLC Homes
From Stonewood's website: A signature Stonewood home is a story revealed through the landscape and personable living spaces. Each project reflects our love of craft applied to home, life and style.
Take a look at some of the exceptional work that Stonewood LLC has produced over the years.
Palmer Pointe  – From the driveway, this lakefront home looks pretty large, but it isn't until one steps inside that the full breadth of space can be properly admired. A house that can easily fit a large family while still offering plenty of room for each individual to never feel crowded, the Palmer Pointe Home may be one of the best examples of Stonewood's work in action.
North Arm Retreat – Another breathtaking home located on a lake. Scrolling through photos, you'll be amazed not only with the gorgeous interior but also with the functionality of every room. The home office space makes working from home easy. A kid's room complete with two twin beds and a ladder to a loft offers plenty of space even with two occupants. And a mudroom with plenty of storage space and hangers makes getting the kids ready for school — and even yourself ready for work — a cinch.
Locust Hills Tudor – While the interior of this home is stunning and the exterior from the front of the home is also beautiful, where this home really shines and where you can get the full feel of it is from the dock in the back. A truly mesmerizing home from anywhere you look.
Ferndale Lake Home – This contemporary home illustrates the range that Stonewood can provide for their clients. While the previous homes in this list have more of a classic feel to them, this house is perfect for those who are interested in a modern/contemporary feel but don't want to go overboard. While there are a lot of key features to choose from, the staircase is certainly a sight to behold, especially when looking down on it from above. Keep swiping through the gallery to find it.
Willow Hill – A lovely home that exudes warmth, making it the perfect place for taking on long midwest winters. But, once the snow thaws, this home makes for the perfect summer retreat as well.
Here are some photos of an absolutely gorgeous house from Stonewood LLC that we had the pleasure of being a part of!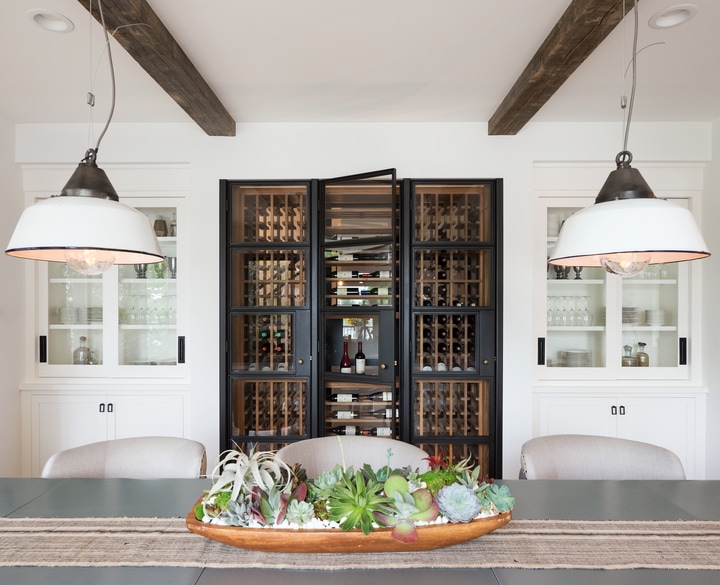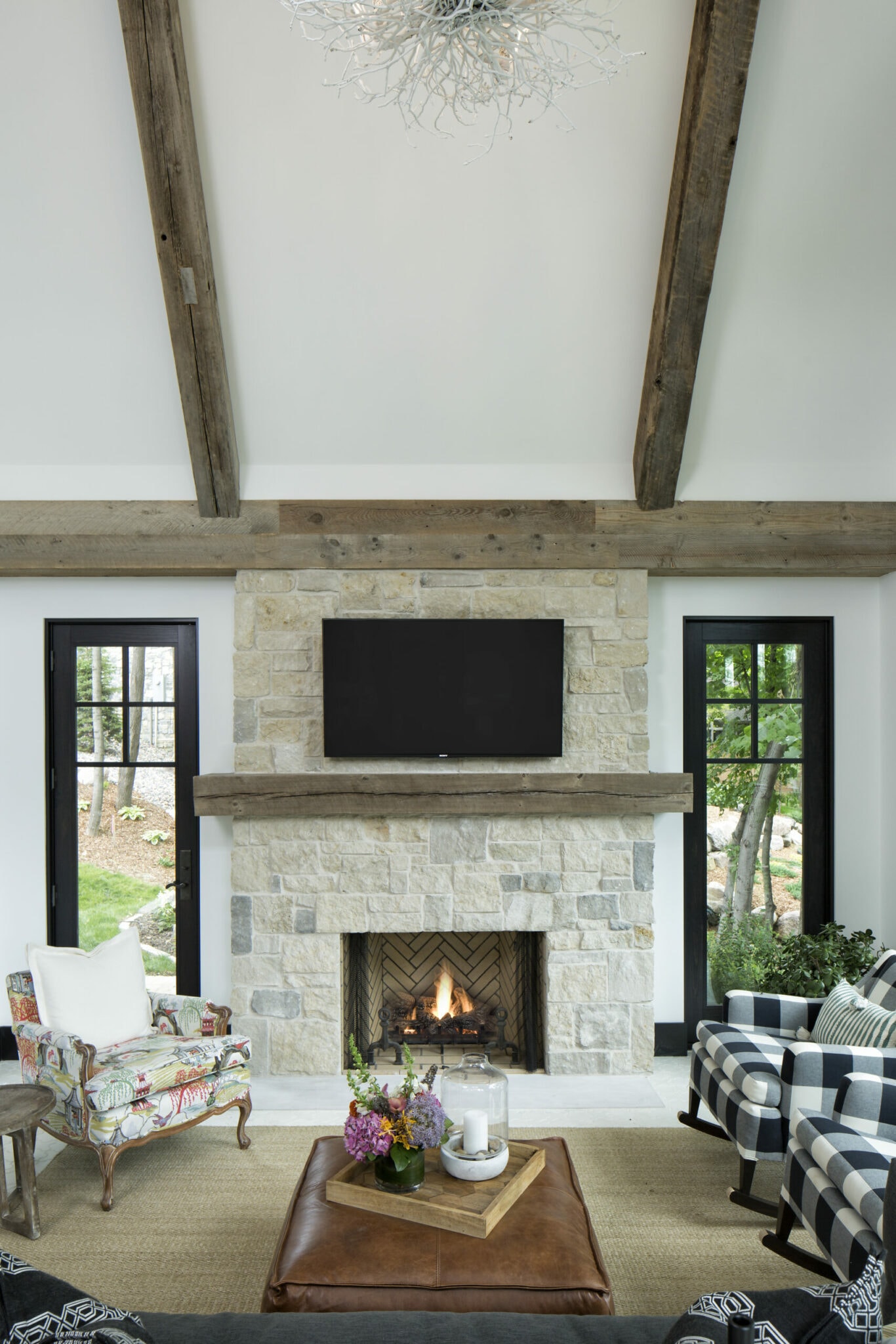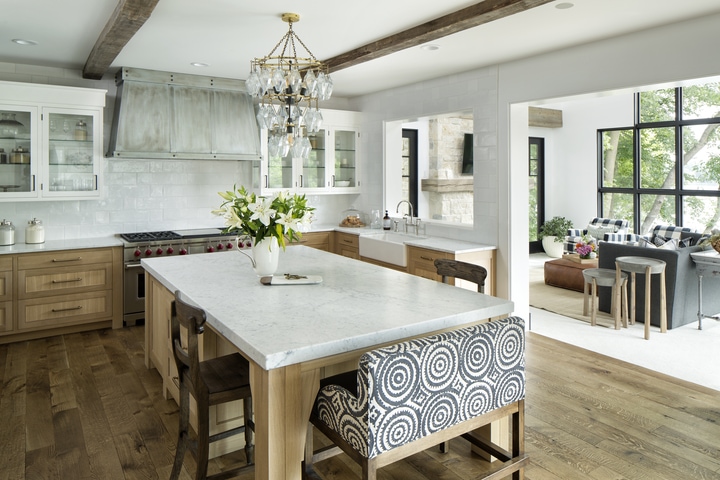 If you have a client that is interested in adding reclaimed wood to their new build or remodel, reach out to us today! 
And, check out our product pages for an in-depth look at the species and styles of reclaimed wood we offer for each: