Finding the best hardwood flooring for your home can feel like looking for a needle in a haystack. But, thankfully, it's not too difficult if you know where to look and have a good idea of what you want.
As wood flooring experts, we're here to help you make the right decision for your flooring. There are a lot of options, and while we're definitely biased towards reclaimed wood floors, we'll cover all types of wood in this post. There's a lot out there, and we want to make sure that you are well informed on how to choose hardwood flooring.
Types of Hardwood Flooring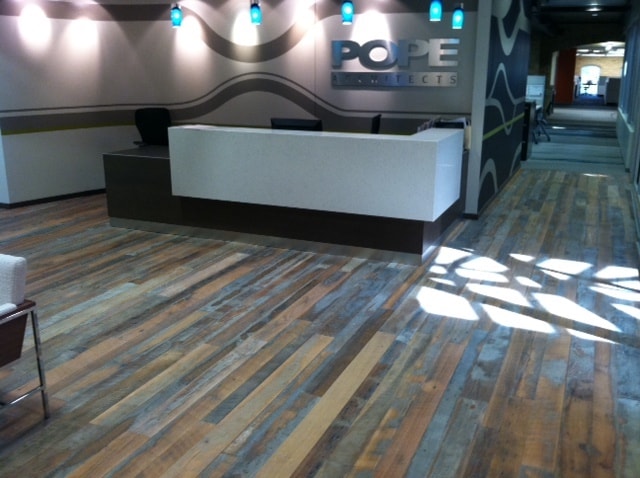 1 & 2) Unfinished or Finished Hardwood Flooring
Right off the bat, we have unfinished vs. finished hardwood. If you're looking for something personalized, such as a custom stain or finish, you'll want to buy unfinished hardwood. If you're okay with the options that pre-finished brings, you'll find that buying finished is a lot easier because you won't have to worry about having it stained after it's installed.
Beyond that main difference, there are several smaller discrepancies.
Pros and Cons of Unfinished Hardwood Flooring
We already know that unfinished hardwood floors will offer some of the most customizable finishes, but there are a few other ups and downs to using unfinished hardwood. Here they are:
✅ It's always the smoothest option.

Because the wood isn't finished before you install it, you'll be able to go through and sand the floor. This allows you to make it as smooth as you can.

✅ Allows for custom colors.

No matter the type of wood you've installed, if it's unfinished, you'll be able to change the color.

❌ More time-consuming to install.

Because the wood will need to be sanded and finished, it takes longer to install than prefinished hardwood flooring.

❌ It is often messy and can use toxic chemicals and fumes.

Unfortunately, staining wood is a messy business. The stain used for the wood is often toxic as well, so be sure you know what you're getting into.

✅ Lower material costs.

The material cost is always quite low because the product isn't finished yet.

❌ More expensive to install.

Because of the extra labor needed to finish the floors, the installation cost is often much higher.
✅ Pros of Finished Hardwood Flooring
Available in a few dozen colors.

You'll likely not struggle to find the color you've been looking for because there are so many options.

Higher material costs but lower installation costs.

Because the floor is already finished, the installation cost is minimal. But, the cost of purchasing the material is higher than unfinished hardwood lumber.

No exposure to dust or toxic fumes.

Because the wood will be finished, you won't have to worry about dust or toxic chemicals during installation.

Comes with a manufacturer warranty.

If you find stains or other types of defects, manufacturers will often send you a new board for free!
❌ Cons of Finished Hardwood Flooring
Can be noisy as it ages.

Hardwood flooring is a classic culprit of noisy floors. While it's not always the case that hardwood flooring is noisy, it's always more likely than engineered hardwood flooring.

Needs to be regularly refinished.

Engineered hardwood will likely hold its finish well, while traditional hardwood flooring will need to be refinished every 10 years or so, depending on the foot traffic levels.
As you can see, choosing between prefinished and unfinished hardwood flooring is really a matter of preference. If you'd like a more custom-looking hardwood floor, we recommend unfinished hardwood. It's a great way to make your floor look unique and stand out. Another way to get a completely unique floor is to use reclaimed lumber.
3) Reclaimed Hardwood Flooring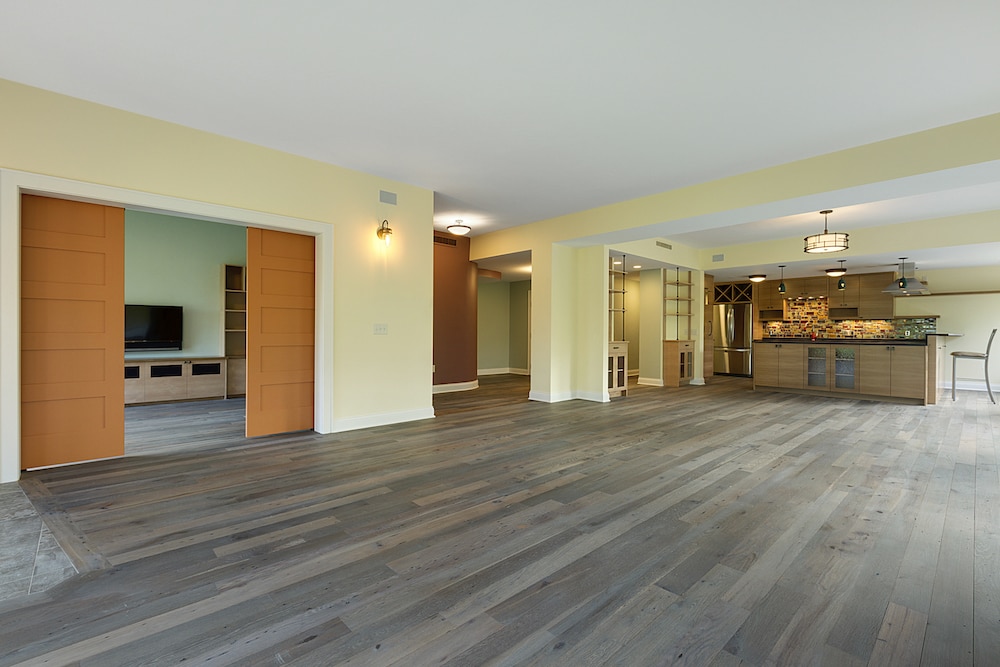 No matter what you're going for when it comes to species of hardwood or color of wood, reclaimed flooring is the premium option. When you choose reclaimed wood flooring for your home or place of business, you're making a green choice 🌎 because reclaimed wood will be living its second life in your home.
All the reclaimed lumber that we process comes from:
Abanded warehouses

Barns

Shipyards

Other buildings
The lumber can be up to 150 years old and is still in pristine condition and full of character. In many ways, reclaimed hardwood floors are the premier option if you want the best for your home.
Check out our examples of reclaimed wood floors here.
4 & 5) Solid or Engineered Hardwood
After you've decided on unfinished vs. finished flooring, you'll need to choose between solid or engineered hardwood. There are many pros and cons to both of these options, so we'll be sure to go through them all.
To start, here's a simple definition. Solid wood floors are made up of one piece of wood with no glue holding it together. It's simply the same wood that was harvested from the forest. 
Engineered hardwood is made up of several different pieces of wood or wood particles. Both can look great, but engineered can be perceived as a bit cheaper and often reflects that in the cost.
✅ Pros of Solid Hardwood Flooring
Can be refinished many times.

The biggest perk of hardwood flooring is you'll be able to sand off the old finish and refinish it several times over.

Designed for installation over a wood subfloor.

Each board is positioned and nailed to the subfloor individually. Because it requires nailing, you'll need to have a wood subfloor.
❌ Cons of Solid Hardwood Flooring
Not recommended for below-grade installation.

Solid wood will have the potential to warp especially when exposed to moisture that's often common below grade.

Can develop cupping if exposed to high humidity.

Just like the above consideration, high humidity will wreak havoc on your hardwood.

Can develop cracks as the wood contracts.

Solid wood is going to dry over time and change shape as it does. This can cause cracks or gaps in the hardwood flooring.
✅ Pros of Engineered Hardwood Flooring
Can be installed over many different subfloors.

If you don't have a wood subfloor, you won't need to worry. Engineered hardwood can be installed over concrete and other subfloor materials as well.

Can be installed in basements.

The glues and other materials within engineered hardwood will be able to withstand greater humidity levels than that of solid hardwood.

Will not cup or cause gaps between seems.

Because of its greater resistance to humidity, you won't have to worry about engineered wood cupping or causing gaps between seems.

Comes pre-finished

. While not all prefinished wood is engineered, all engineered wood will come prefinished, making for a quicker installation process.
❌ Cons of Engineered Hardwood Flooring
Can only sometimes be refinished.

The downside to engineered wood is that it can't be refinished the same way that solid wood can be. At best, you'll only be able to refinish engineered wood once.

Lower quality core

. Engineered hardwood is less durable than solid hardwood. Low-quality core layers can develop issues from temperature fluctuations.

Susceptible to dents and scratches

. Since engineered hardwood is less durable, it's quite vulnerable to dents when heavy objects are dropped on it. And since you can't refinish it as easily as solid wood, you could be left staring at lots of imperfections.
Different Kinds of Hardwood Species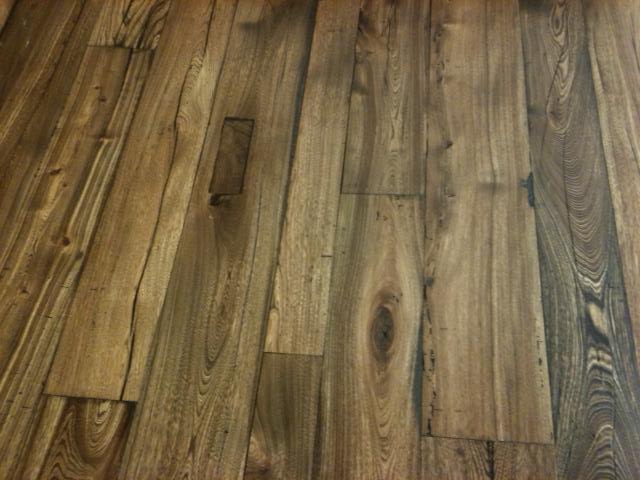 There's a variety of hardwood species that you'll be able to choose from. The below options are some of the most common hardwood types. There are, however, some softer woods that can sometimes be used for flooring. One such softwood species that is often used for flooring is pine.🌲 It's not included here because it's not considered to be hardwood.
Each hardwood is tested to determine how hard the wood is and how well it withstands everyday use. A Janka rating is the system used to determine the wood's density.
The rating process is fairly simple— an 11.28mm steel ball is placed on the sample piece of wood, and then a weight is applied to the top of the ball. The test determines how much weight needs to be applied to the ball before it leaves a mark. For more details on the Janka Rating system, visit this blog post.
White Oak 🌳
White oak is not as dramatic in coloration as red oak, but it's still a very desired hardwood. One of the reasons it has received recognition is because of its 1360 Janka Rating. Because it's such a hard wood, white oak is commonly used in high-traffic areas of homes.
Red Oak
Red oak is easily the most common of all hardwood flooring types. One of the reasons that it's so popular is its beautiful red color and how it takes stains. The graceful patterns throughout the wood, along with its warm yellow or deep red colorations, make it a staple in many homes. This wood features a Janka rating of 1290.
Cherry 🍒
Cherry is a very distinguishable wood. It has some awesome characteristics and boasts a beautiful warm brown tone. It's not a very hard wood compared to some of the others we're featuring. This wood's Janka Rating sits at 950. Because it's a bit softer, you'll want to use it in lower traffic areas such as bedrooms, dining rooms, or sitting rooms.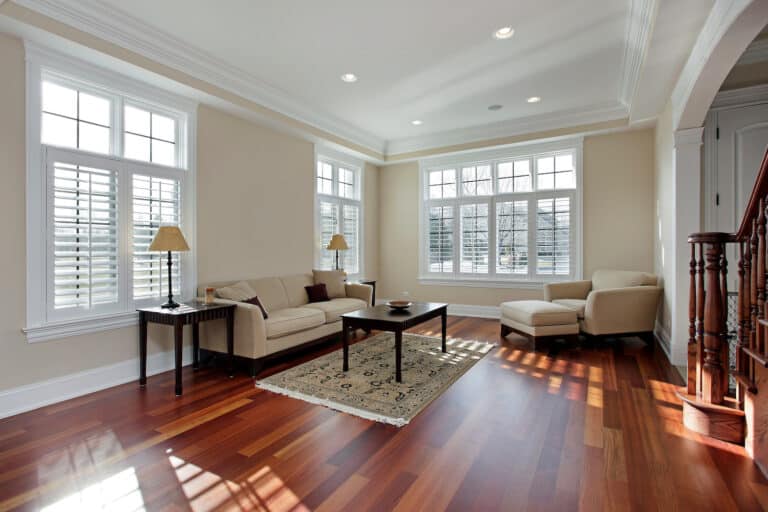 Walnut
Walnut is an intense, darkly-colored wood. Many describe the tones that it produces as similar to chocolate. Walnut is relatively dense and holds up nicely with a 1010 Jank Rating.
One of the great features of walnut is its consistency from board to board. You won't have to worry too much about boards being different from each other; thus, you'll have a very smooth and consistent-looking floor.
Hickory
Hickory is your ideal high-traffic wood. Its Janka rating comes in at 1810, making it the hardest wood out of the different options that we've mentioned here. Solid hickory is often the wood you'll see on school gymnasium floors because of its durability.
If you're looking for a floorboard with lots of character, hickory is a great option. The color will vary from warm mocha to mellow creams or even red hues with dark streaks. It's a knotty wood with lots of variations.
Maple 🍁
Last but certainly not least is maple. Maple is a very durable choice with a Janka rating of 1450. This wood is often what you'll see in homes if the homeowner is looking for a lighter wood. Because it's such a durable, light-colored wood, you'll often see it in new construction projects. Many homeowners really like the light tones that this wood offers them.
Which Wood Species Is Best for Your Home?
As outlined by the Janka scale, the best hardwood floors are the hardest ones that can handle the heaviest weight. Any of the choices in the above list make great options.
You can also choose more premium species like bamboo (which is technically a grass), mahogany, and ash. Just be sure to check that the wood flooring you're looking at comes from sustainably harvested forests.
Another fantastic option is reclaimed wood flooring, which you can find from specialty providers. Reclaimed wood is eco-friendly, sustainably sourced & manufactured, and has an unbeatable unique appearance.
Extra bonus: reclaimed wood costs far less than brand new wood flooring!
Get Guidance From the Professionals
If you're in the market for a hardwood floor, we hope this guide has helped you better understand your options. If you're still unsure about what you'd like to install in your home, give us a call!
At Manomin Resawn Timbers, we offer premium reclaimed lumber, and reclaimed flooring is one of our favorite items to help customers pick out. We can't wait to hear from you!