One of the most difficult parts of any remodel or home build is figuring out the color combination to go with between your cabinets and your flooring in your kitchen.
While yes, there are plenty of different styles and colors you can go with that all look great, you still want to make sure you choose the right one for you.
Recently, we were featured in this Houzz article, which details the steps for choosing how to design the interior of your kitchen.
In this post, we'll just focus on how to find that perfect combination of cabinets and flooring for your home.
First up – create a colorful collage.
Creating a Collage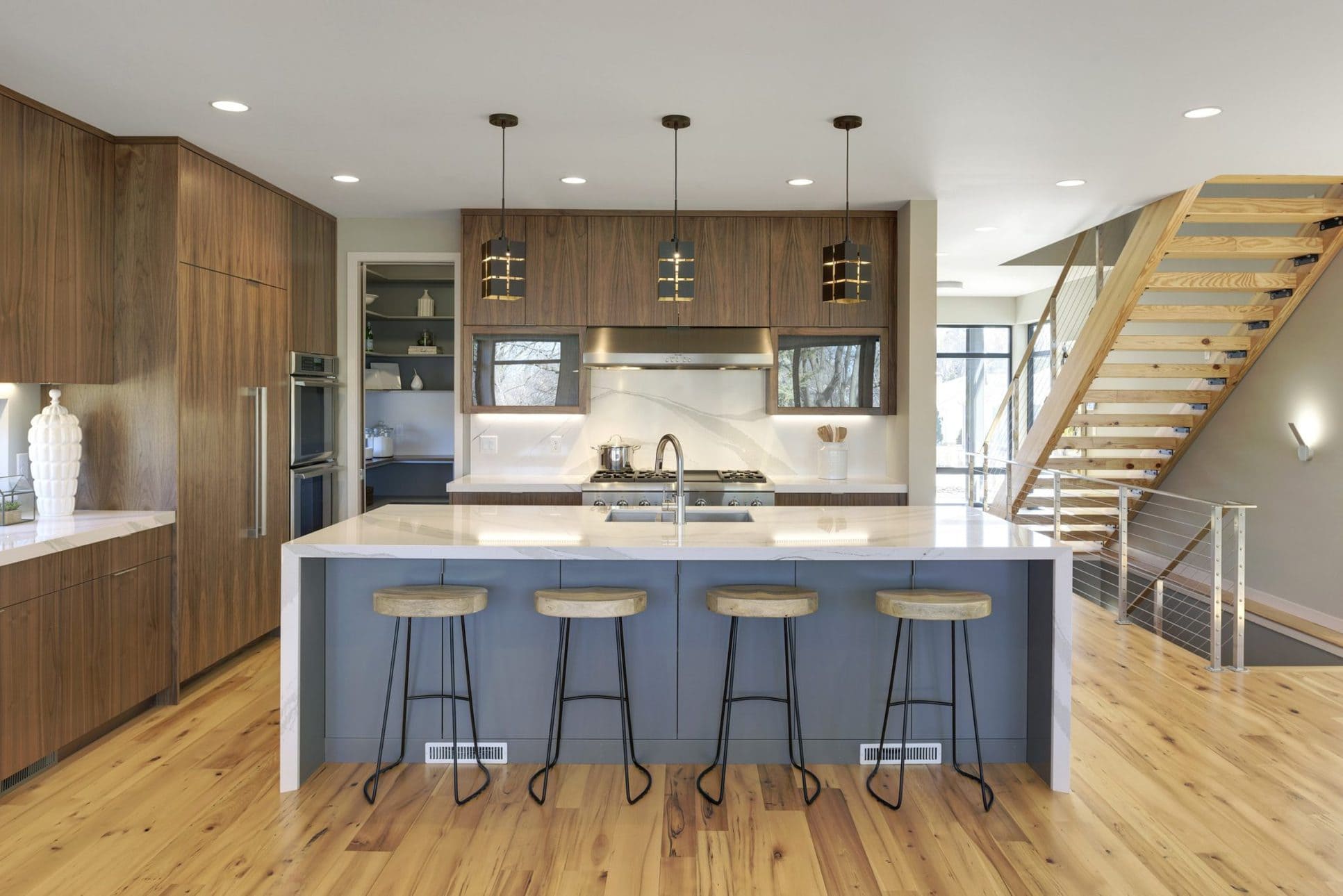 Unless you're a professional interior designer, you may not even be aware of all the different colors and types of cabinets, as well as all the wood flooring options out there.
Because there is such a large variety of options, it's important to do a little research and find as many cabinets as you like — whether on Pinterest or in interior home publications.
But don't just limit yourself to the first couple you see and like. Instead, find as many as you can. While you may think that you want green cabinets, there are many different types of green colors available. Or, if you want wooden cabinets, there is a wide variety of those as well.
Finding as many examples of options you like will help lead to a more satisfying finished product, where you won't be second-guessing any decisions because you know you were thorough.
Even if you think you might have a winner early on, you may find something you like more.
Creating an actual physical collage of all your favorites will allow you to see which flooring options and colors pair best with which cabinets.
If you're working with a designer, then make sure you do both color and pattern studies, looking alongside photos and samples to make sure you're making the right choice.
Which brings us to our next tip… ordering samples.
Ordering Samples
For those who just want to finish the project as soon as possible, ordering samples may seem like something that will only prolong the process. But, looking at samples is a must if you want to properly validate your decisions.
You should never try and rush through a project as elaborate as a kitchen remodel and all these extra steps will ensure that you avoid costly mistakes.
Finding the Right Flooring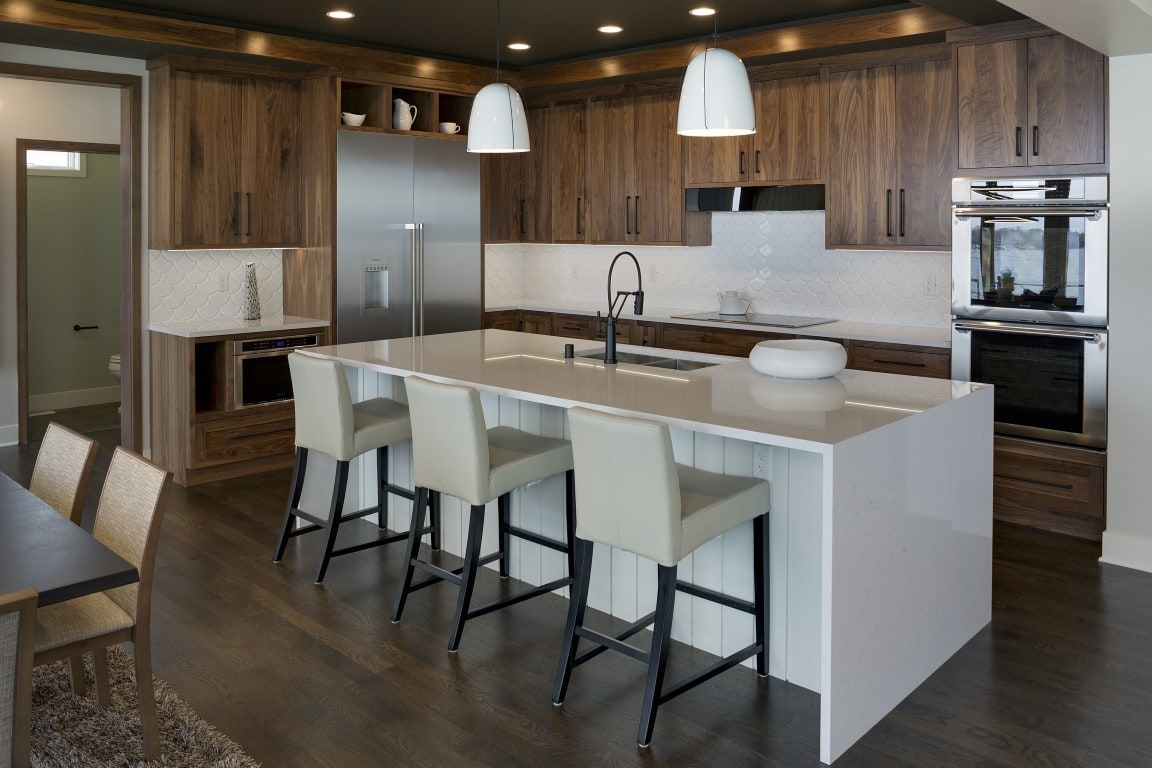 Trying to find the right floor stain color that matches with the rest of your kitchen is difficult.
This especially holds true for a remodel. This is because if you have original floors and are planning on refinishing your kitchen, many floors in older homes are made of old-growth wood and flooring is manufactured very differently today.
However, reclaimed wood can help make this process much easier (here at Manomin Resawn Timbers, we offer 13 different styles of reclaimed wood flooring).
As the author of the Houzz article, Rebekah Zaveloff, puts it, "Testing is the best way to get a close match. Even if you're not trying to match new to old, doing stain tests on samples of the actual flooring is the best way to get it right."
If you're doing tile or stone floors, work on picking those materials at the same time as cabinets, backsplash, and countertops, The relationships among these materials are critical," continues Zaveloff, "It's tough to mix different types of stone and tile unless you want your kitchen to look like a showroom."
Manomin Resawn Timbers — Your Go-To Reclaimed Wood Flooring Provider
Here at MR Timbers, we are passionate about reclaimed wood — especially when it comes to flooring.
Reclaimed wood flooring allows you to bring a level of warmth, as well as unique beauty into your home.
Avoid filling your home with bland and boring flooring that you've already seen. Instead, find something that is truly personal to your home. Each piece of reclaimed wood has a story, and by using recycled wood in your home, you can help add more chapters to their tales.
Your reclaimed wood will amaze guests, and even yourself, every time they walk in the door.
Here are our following types of wood flooring options we have available:
Antique Ash
Antique Elm
Antique Oak
Antique Wormy Chestnut
Reclaimed /Douglas Fir Signature Floor
Reclaimed Douglas Fir Manmin Lodge Floor
REcliamed Douglas Fir Rustic Rough Sawn Floor
Reclaimed Douglas Fir Vertical Grain Floor
Reclaimed Douglas Fir Manomin Extreme Floor
Antique Mixed Hardwoods
Antique Black Walnut Floor
Weathered Antique Floor
Antique End-Grain Wood Tile
If you're interested in acquiring reclaimed wood for your home — whether it's flooring, paneling, timbers, doors, or mantels, then r
each out to MR Timbers today
!