In this installment of our MR Timbers Featured Project Series, we're highlighting this unique Bunkhouse project courtesy of the talented people over at Mark D. Williams Custom Homes. They're an award-winning, third-generation family operation in the Twin Cities with over 40 years of experience under their belt. Despite being in the business of custom homes for a while, they still possess the passion and enthusiasm from the early days. This makes them an exceptional and fun team to work with!
By using our reclaimed wood, the folks at Mark Williams were able to pull off this creative home with a lofted bunkhouse that adds both originality and functionality.
Let's get into some of the details that make this project so special!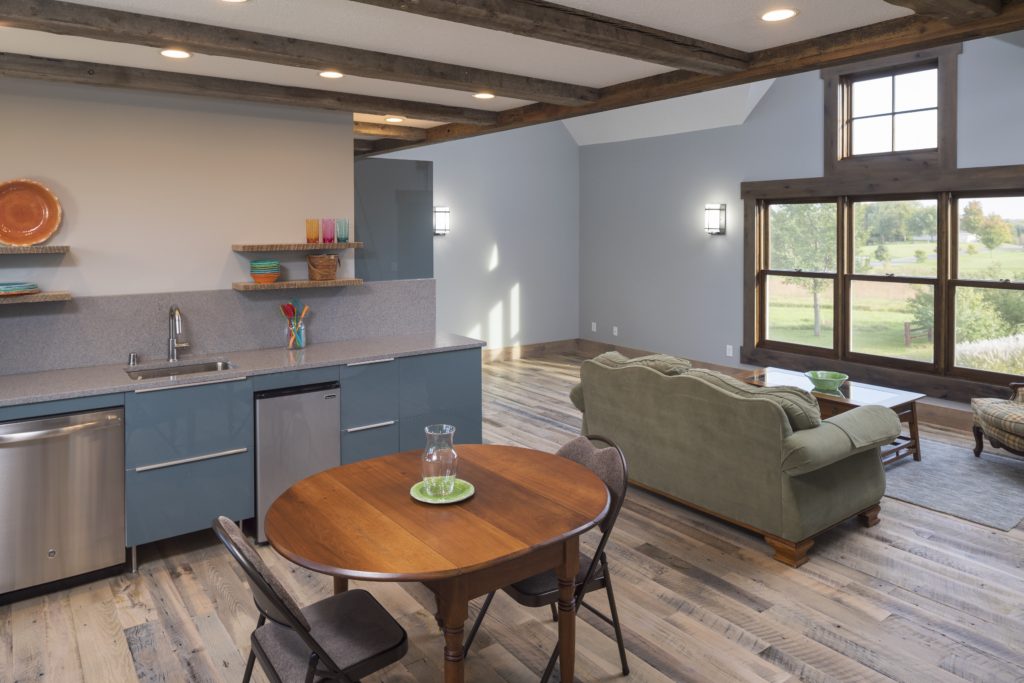 Starting things off below the overhang, we see a nice little kitchen area. We love the teal colors for the cupboards, which adds both a sense of modern design and a nostalgic 60s vibe as well.
This space is actually over a second garage. That makes it the perfect space for out of town guests to stay when they visit, as well as adding a fun twist of character to the home! While hosting guests may be a bit of a hassle in other homes, this one is designed perfectly to house a big group while still giving everyone enough space. If you incorporate this design feature into your next home, make sure you're prepared to welcome some additional guests during the holiday season.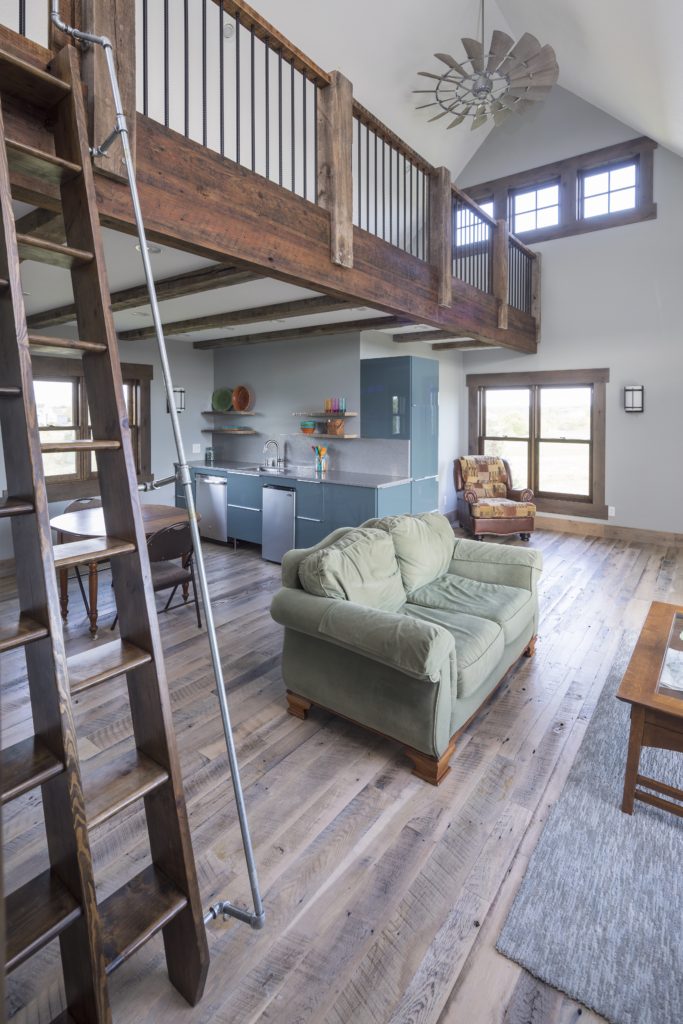 Today, one of the biggest home design trends is creating functional homes that still look good. Our reclaimed wood is extremely durable and aesthetically pleasing. Through our extensive process of de-nailing, kiln drying, milling, and finally installing the wood, we make sure that all of our products come out looking great.
As you can see, the color of this wood creates a very warm, home-like feeling — once again making it an excellent space for guests.
Focusing in on the ladder, the 'piping' that outlines it not only adds some functionality in terms of making it easier to get up and down, but it also adds a nice accent to the project overall. Wood and metal-like details will always go well together.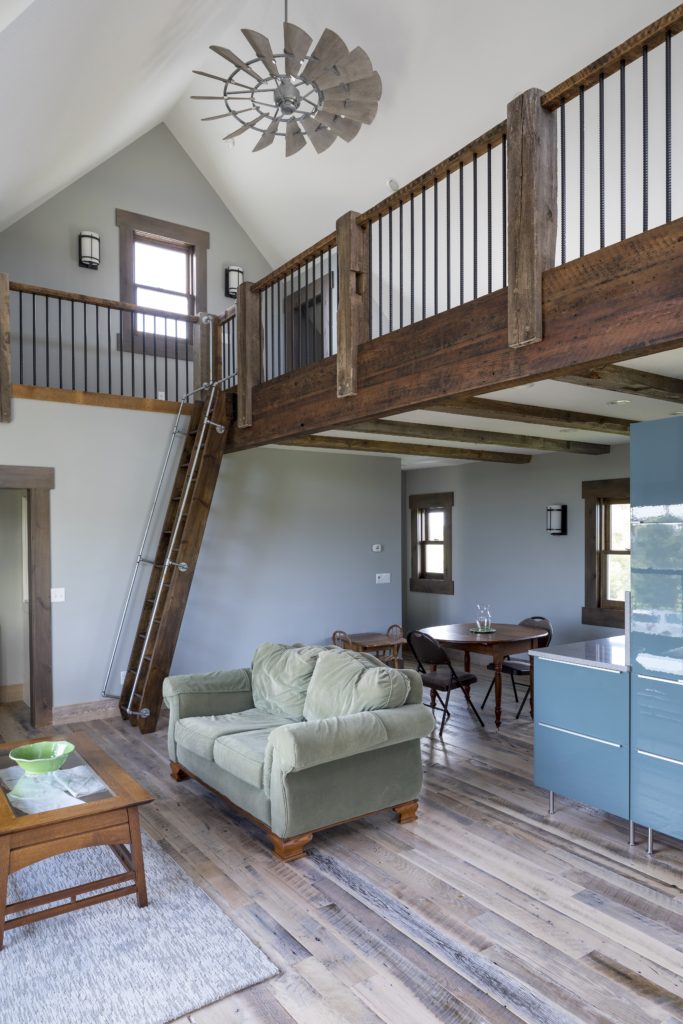 From this angle, we can see just how nicely the lofted piece fits into the rest of the space. The placement of the ladder far against the wall means that the ladder isn't intrusive in terms of moving around. The loft is also high enough over the kitchen where you wouldn't feel squished while making breakfast or eating at the table.
Notice the wood trimming on the doorframe and windows, which helps to emphasize the rustic, warm feel of the space further.
As of now, it looks like the walls are pretty bare. But a blank canvas makes for some exciting decor, and it's not too hard to envision some framed pictures and other artwork going up to further the 'home-y' vibe of the room.
Interested in Working With Us? Call Today!
At Manomin Resawn Timbers, we like to say that we're all about "the good old days." We love how reclaimed wood has a story and how adding recycled wood to any home adds so much character.
We also take great pride in our products. We go to great lengths to ensure that we deliver on your high expectations. We hold ourselves to high standards, and you'll see that in all of our product offerings. Our diligence starts with sourcing the highest-quality wood and continues with precise milling that accentuates the best qualities and unique character of every board.
Contact us today to learn more about how we can help with your next build!