For 100s of years, homeowners have been using wood to decorate their homes. In different time periods, it may have been used out of necessity in the form of a table, chairs, or other similar items.
Today, wood is often used in a decorative way and in utility. Whether it be wood floors, a butcher block countertop, or a wood lamp—there are several ways that you can use reclaimed wood for interior design.
These are some of the different things we'll be covering today.
How to decorate with reclaimed wood
Reclaimed wood interior design ideas
Wood interior design inspiration for your home
You shouldn't be hard-pressed to find different pictures and examples of ways to use wood throughout your home. But we'll give you in-depth ways and real examples of places we've seen our reclaimed wood products used.
Decorating with Reclaimed Wood
Decorating with wood doesn't need to be difficult, but sometimes it can seem that way. Sometimes the hardest part of decorating with reclaimed wood is finding the right pieces and knowing where to put them. Below you'll find some of our favorite ideas for using wood in decorating.
Beautiful Wood Headboards for Your Bedroom
Wood has been a traditional material for headboards since some of the very first beds. Thanks to modern technology, you can now choose between metal, wood, glass, and other headboard materials.
However, the case for wood headboards isn't lost. A wood headboard can be a beautiful decorative piece that ties together wood flooring and other wood elements in your bedroom. Or, it can be a standalone wood piece that adds a beautiful spark to the room.

Intricate Wooden Picture Frames
Everyone loves having pictures of their families and friends throughout the house. Using different tones and shades of wood for those picture frames can make a huge difference in the overall feel of the room they're in.
A Wood Chandelier in Your Foyer
Wood chandeliers are another great wood interior design and decor idea for your home. They can be used to tie together wood elements like wood flooring and wood beams.
There are wood chandeliers that fit in with the traditional wood decor and wood chandeliers that stand out and add a modern touch to your home. Shop around for a bit, and you're sure to find the perfect chandelier for your home.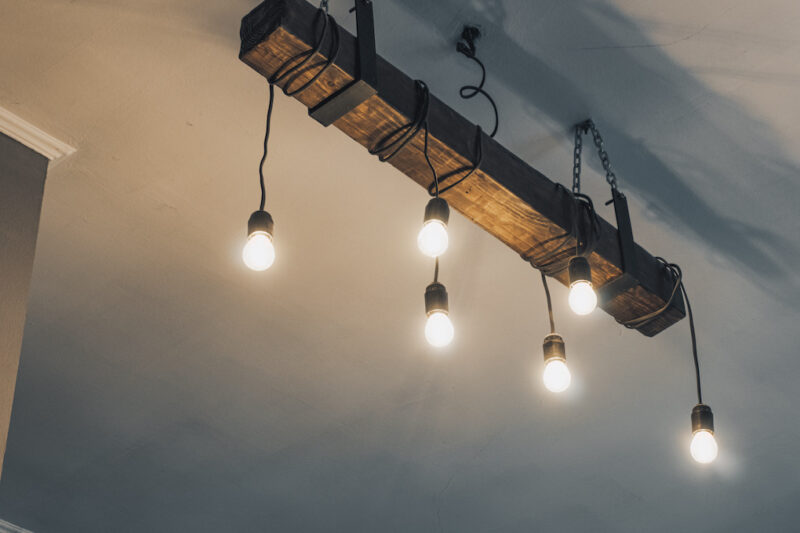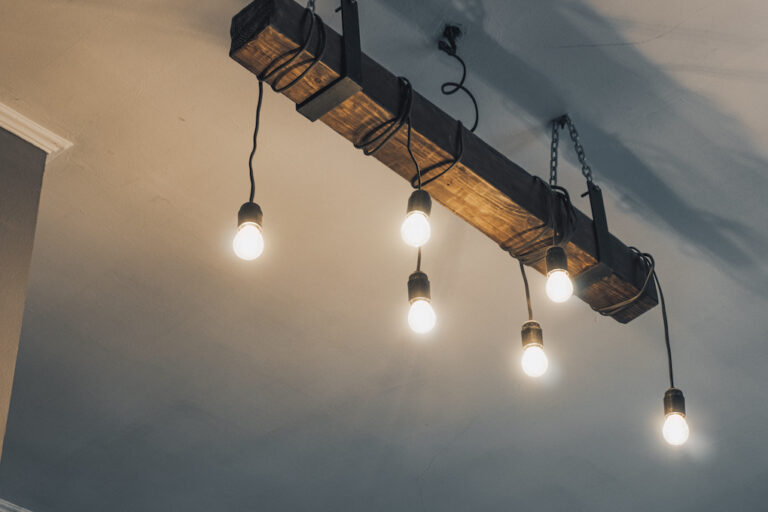 Wood Planters for Your Favorite House Plants
Another wood interior design idea that can't be forgotten is wood planters. If you have a favorite house plant, why not compliment it with a wood planter. Before making your own planter, be sure to coat the inside with something to protect the wood from soaking up water from your plant.
Decorative Wood Bowls on the Kitchen Counter
Using wood bowls as a centerpiece on your counter can add a nice pop to almost any kitchen. And, it's a popular trend these days. Not sure you want a bowl as your centerpiece? Why not use it for your fruit, keys, or other utility.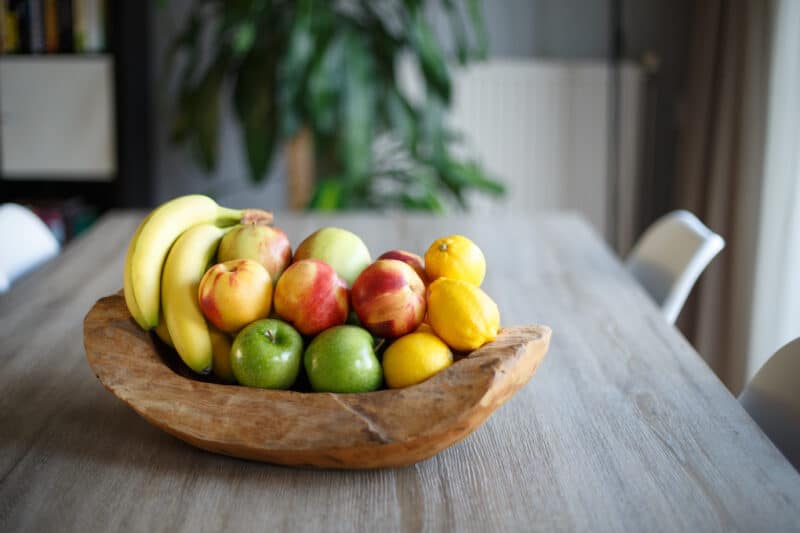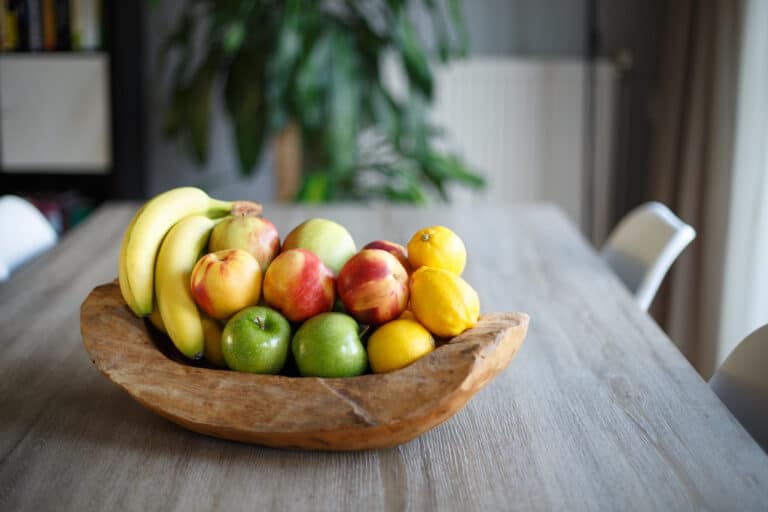 A Wood Lamp on Your Desk or End Table
Using wood lamps on your desk or end table is a classic way of incorporating wood in your home. Unfortunately, finding wood lamps isn't as easy as it likely once was. But, you can often find wood lamps at antique stores and other similar places.
Have an Accented Wood Stool in the Corner
Wood stools and reclaimed wood stools are available in many different sizes, shades, and characters. Whether you're looking for something elegant or rustic, having a wood stool in the corner can add warmth to almost any room.
Antiqued Wood Ladder for Towels or Blankets
You'll more than likely find wood ladder decor in some variation or another throughout almost every modern farmhouse. Whether the ladder sits on its own, holds blankets on each rung, or is hung on a wall. These pieces have become very popular.
Reclaimed Wood Interior Design: How To Do it Right
Now that you have some wood and reclaimed wood decor ideas, here are the steps to take so your home doesn't look like a handful of wood was thrown together without much thought.
We like to think of interior design as the process of developing ideas and building out the house in just the way that you've thought it up in your head. Each of the ideas below will take a more central role in the function and design of your home.
Reclaimed wood floors are a popular choice throughout the world, and it's easy to see why. They're beautiful, warm, and inviting. Wood floors can tie together wood beams and wood furniture in a way that few other wood interior design ideas can.
Wood floors also add a lot of value to your home because they're seen in many lights as a premium feature for homes. Of course, you can install engineered wood, but then you aren't getting all the character of a real hardwood floor.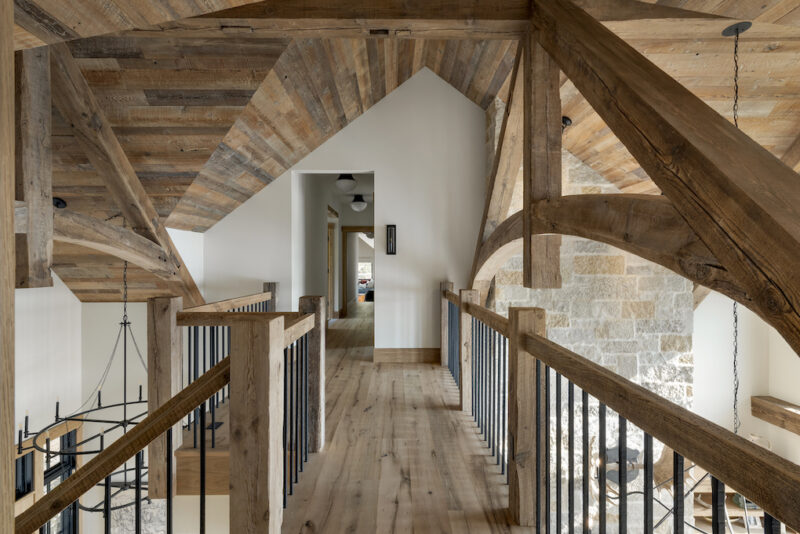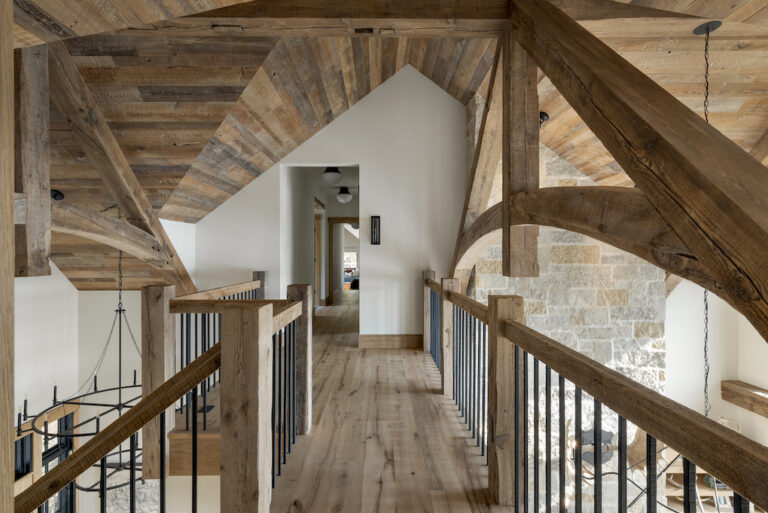 Another wood interior design idea is reclaimed wood furniture. There are so many different styles of wood furniture that can be made to fit in with any wood decor, from couches and chairs that incorporate wood elements to dressers, nightstands, tv stands, and more. Finding the right reclaimed wood furniture shouldn't be too difficult. Be sure to check out our reclaimed wood furniture guide if you're looking for more inspiration and ideas.
Wood floors and wood furniture go hand in hand, as some people might say, so you can't have one without the other. Now obviously, you can have one without the other. But why not have both? We love the idea of incorporating wood furniture wherever it fits.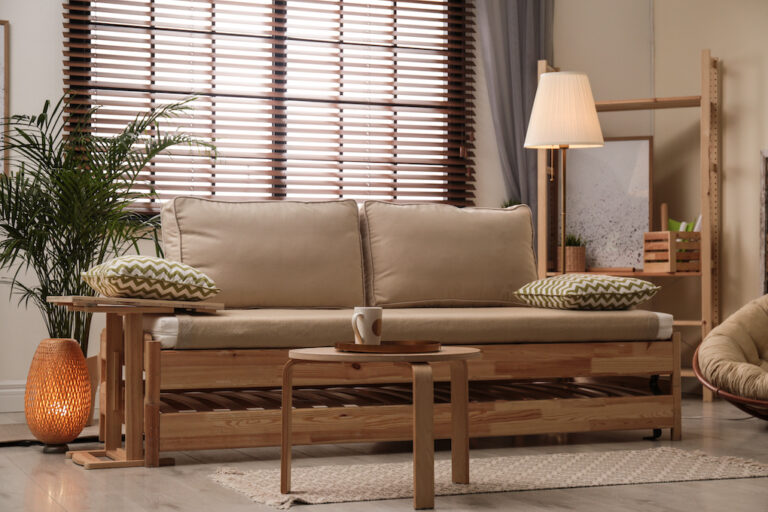 Wood planks or wood paneling offer a great way to directly adhere wood to different services in your home. Whether you choose to get wood strips and create your own wall or ceiling paneling or purchase shiplap to install, there's plenty of potential that can be offered here.
One of the hardest parts about doing wood walls or ceilings right is knowing where to install them. Next, you'll want to find the perfect place to accent to get the most out of it.

Gorgeous Wood Doors and Cabinets
Wood doors and cabinets are probably one of the most popular wood interior design elements, and not for the reason you'd think. Most homeowners choose a wood finish on their doors or cabinets because they think that's one of the only options. But, with recent trends changing, many homes feature painted cabinets and doors.
Wood looks great next to almost everything. Really, the only thing wood won't always look great with is another wood with a different shade. Finding the right stand and wood type for your cabinets and doors can make all the difference and take your home's interior from simple to elegant.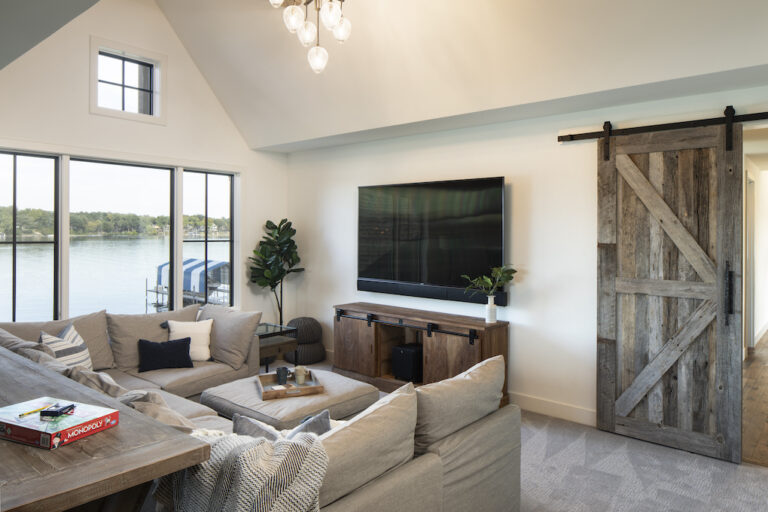 Reclaimed Wood Mantel Over the Fireplace
A wood mantel can take a room from looking nice to feeling warm and inviting. Mantels add character, texture, and warmth to a room. Of course, you'll need to have a fireplace if you're going to have a mantel. There are a number of ways that you can get a fireplace in your home if you don't already have one.
Gas and electric fireplaces can easily be added to your home for little cost. A remodel that adds a fireplace can offer cozy evenings, and celebrations around a fire are always better. Of course, you can always add a wood mantel to a built-in fireplace outside if you're interested in doing that as well.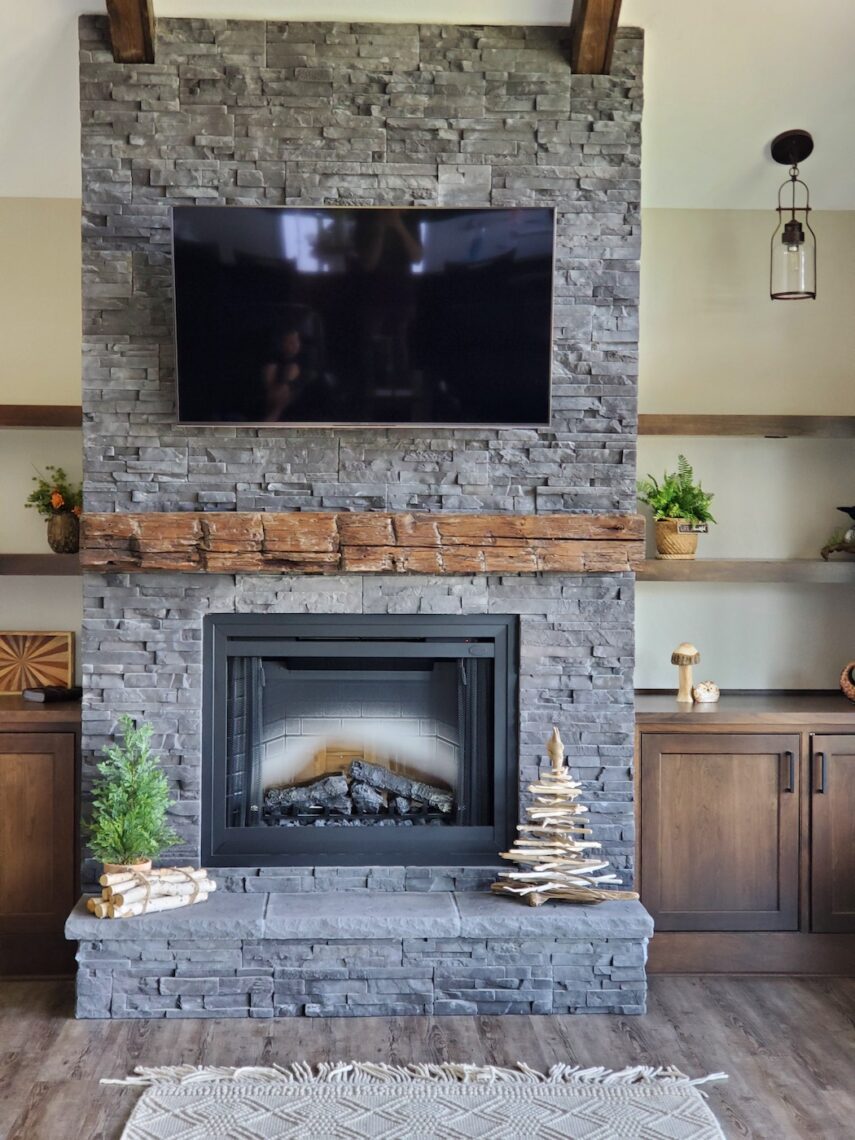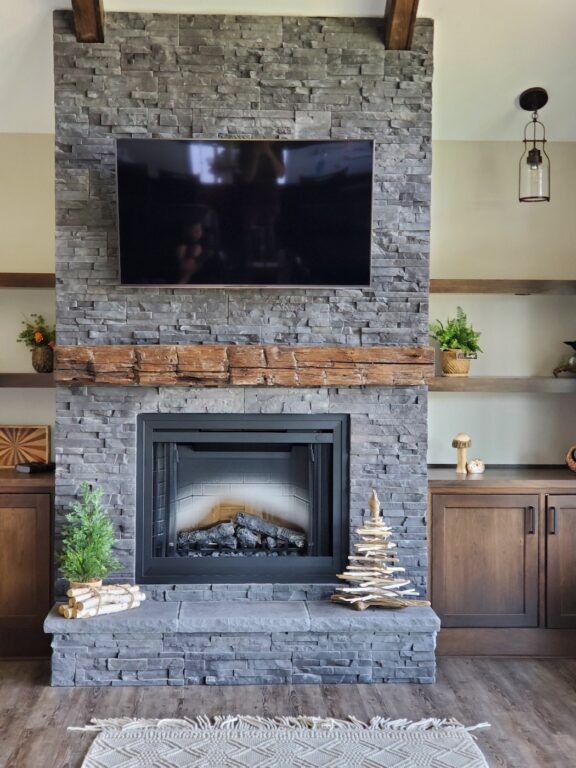 Reclaimed wood beams add a majestic and elegant feel to vaulted ceilings and can really help your home shine. They're not only beautiful, but they add character and warmth to a room. Wooden beams can often be used in a structural way for the home, but many times they're put on the ceiling as a design feature that is meant to balance the wood with the rest of the room and home.
Wood can be incorporated into almost everything, and wood beams on ceilings or wood beams used as wood shelves make for stunning design features. You'll find reclaimed wood beams in many modern homes.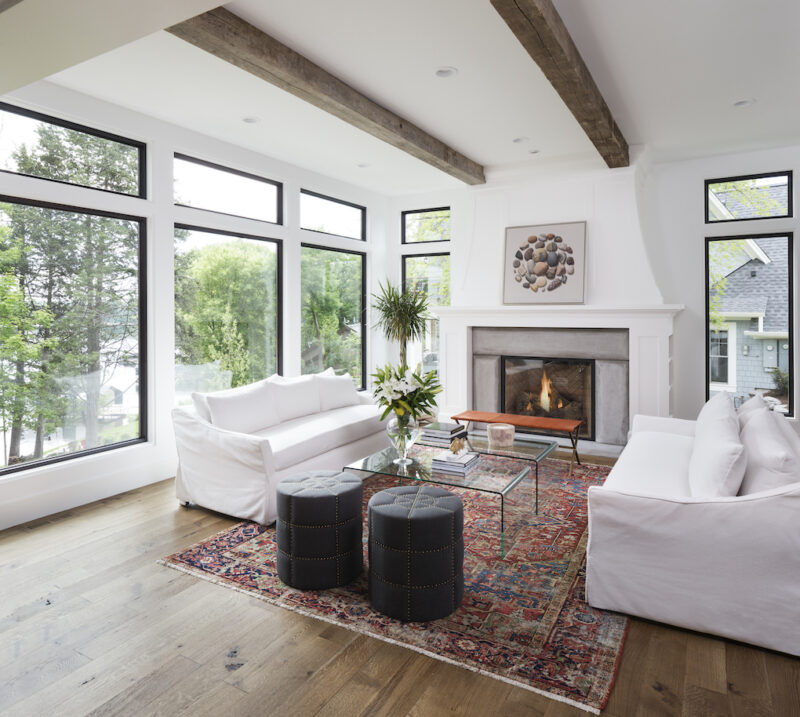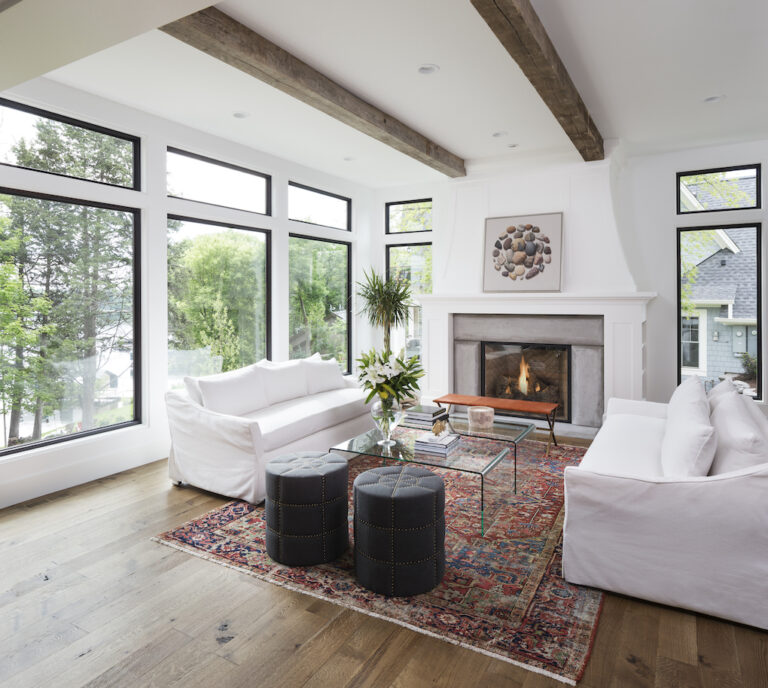 If you're looking for more ways to incorporate reclaimed wood throughout your home, be sure to check out our blog. There you can find loads of different ideas on reclaimed wood and how to incorporate it in your home.
And if you're looking for reclaimed wood products such as beams, planks, doors, floorboards, or anything else, reach out to us! We'd be happy to help you find the right reclaimed wood for any application in your home.