Reclaimed wood flooring looks great in almost any home. Unfortunately, deciding on the right style, color, and wood type can be difficult.
Don't worry about figuring it all out on your own. We're here to help you make the right choices so that you can have the wood flooring of your dreams.
In this reclaimed wood flooring guide, we'll help you understand the differences between reclaimed wood flooring types and some visual examples so that you can make a well-informed decision.
Complete Guide To Reclaimed Wood Flooring

Reclaimed Wood Flooring Process
There is an extensive process when it comes to treating and preparing reclaimed wood for re-application. The process starts by locating wood that has been a part of a building project. That wood is taken from its original structure and transported to a facility like Manonmin Resawn Timbers, where it can be processed. Initially, the boards are de-nailed, and all metal is removed. The boards are then washed and cleaned and placed into our Kiln dryer, where the moisture is extracted in a way that makes the wood stronger and more durable for future use.
After drying, the wood can be milled into the desired form. Whether that is flooring or ceiling boards, timbers for mantels, or any other use: we make customers' dreams come true. After the wood has been installed, we can then finish it to the desired color or tone that has been requested.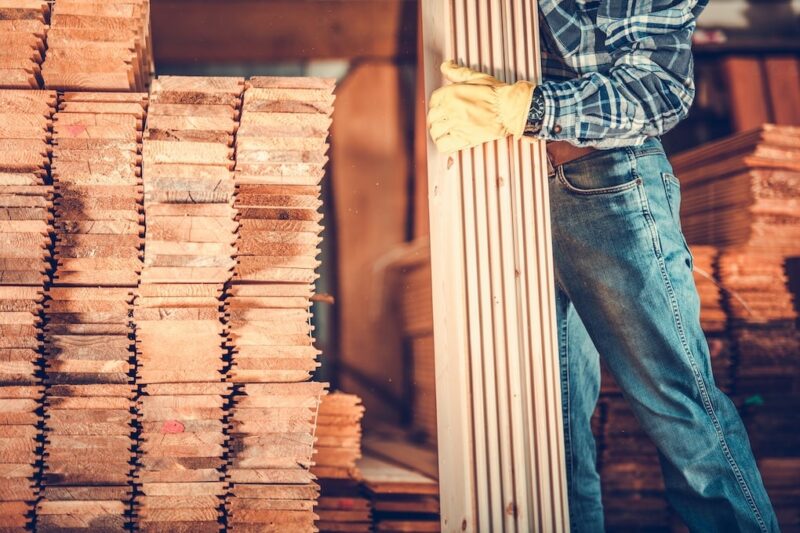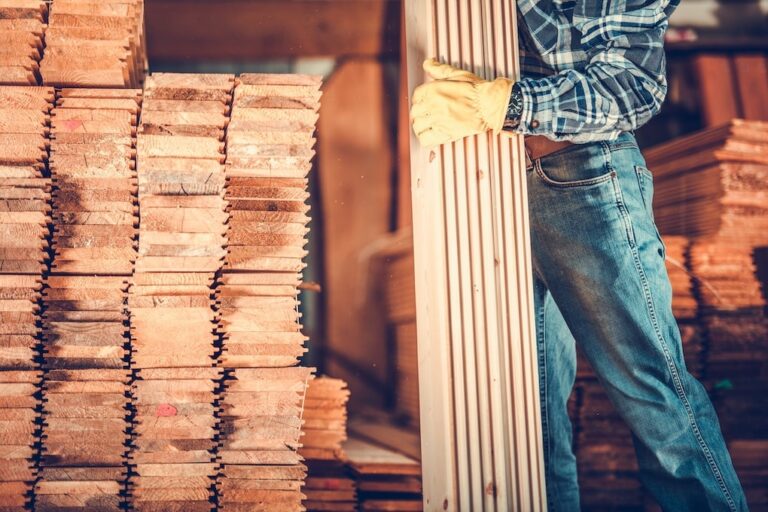 Benefits Of Reclaimed Wood Flooring
Reclaimed wood is undeniably beautiful and makes for a stunning addition to any setting, but this unique flooring option can benefit your home in many ways beyond being merely eye-catching.
Reclaimed Wood Floors are Eco-Friendly
To some, the most attractive aspect of reclaimed wood is its eco-friendly nature. Millions of trees are cut down in the U.S. each year with billions of others falling across the globe in the same span of time. When you utilize reclaimed wood in your renovation or construction project you're helping to stop this cycle. Due to the rate of deforestation, some woods have become hard to source on the traditional market, but when using reclaimed wood, a larger variety of wood types will be available to you.
Reclaimed Hardwood Flooring. is Durable
When using reclaimed wood, you're utilizing a living, breathing part of history. We source our reclaimed wood from old barns and factories primarily built between the 18th-20th century. The wood we bring in has already undergone years of natural tempering and weathering. These planks have gone through years of expanding and contracting to reach a point of being completely dried out. With matured wood being more durable and less prone to splitting or splintering, the dense grain of these pieces of the past makes our reclaimed wood planks strong enough to stand up to any environmental challenge. If Hardwood Floor Refinishing Contractors have fitted this flooring in your home, it doesn't tend to need much more attention due to these factors, just as long as you generally look after it!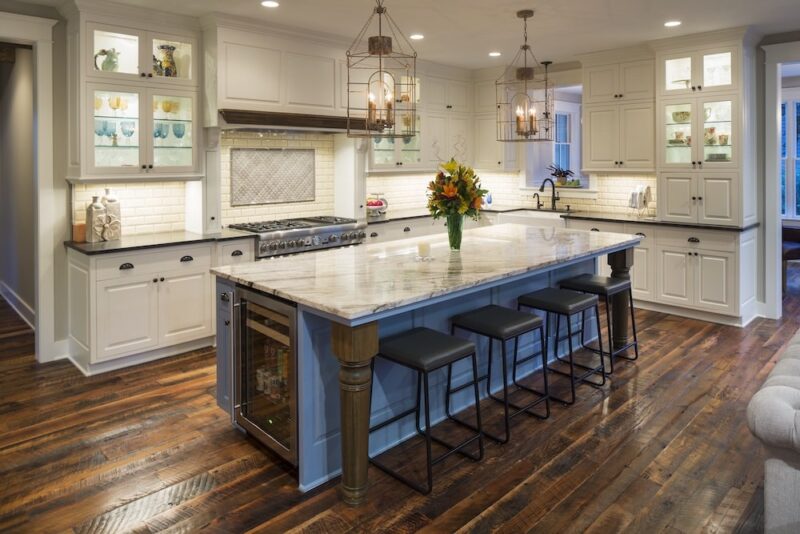 Signature Style & Quality
As mentioned above, the signature style of reclaimed wood is captivating. No two pieces will ever be identical. And since planks are made from aged, old-growth wood, they can be fashioned into wider planks than today's modern hardwood floors can be. Reclaimed wood carries with itself a visual map of the past. From original saw markings and nail marks to wormholes and peg holes, any one piece of reclaimed wood can tell a thousand tales.
With a broad range of natural color options, you can find the perfect reclaimed wood flooring at Manomin. Take your pick between earthy warm brown tones or antiqued honeyed hues. Each variety of wood offers an exquisite and exclusive tone. If you wish for a multi-toned flooring solution, then one of our mixed hardwoods may be the right fit for you. No matter which reclaimed wood flooring you decide to go with, one thing is for sure; it will be the center of attention for all who enter.
Customize with Reclaimed Hardwood Flooring
With most flooring options, there are only a few preselected customizations available to you when ordering pieces for your project. You may possibly be able to choose the color of your boards, but other than that you're pretty limited. With reclaimed wood, you have the availability to decide what you want the length, width, and style of your boards to be. Want floors that are more heavily veined or wormy? Not a problem. One of the most interesting qualities of reclaimed wood is its origin story, and with that detailed and lengthy history comes ingrained and distinctive markings that machines just aren't able to replicate in modern woods.
Types of Reclaimed Wood Flooring
Reclaimed wood flooring is an excellent option for dining rooms, kitchens, living areas, and bedrooms. Moreover, there are many styles of reclaimed wood flooring to choose from. Here's a brief rundown of each variant we offer to give you a better idea of which one will work best in your space.
Antique Ash
Antique Ash is milled from 19th-century barn timbers and is highly durable, making it a great choice for rooms seeing heavy foot traffic. When Antique Ash wood is finished naturally, its color can range from light blonde to cream with rich, nutty brown hues, creating a cozy patina that will bring your space to life.
Antique Elm
Antique Elmwood is milled from barn timbers dating from 1820 to 1880. This wood is generally a mixture of light tans and striking browns, creating a gorgeous, iridescent shimmer that will grant your floor a beautiful sheen.
Antique Oak
Antique Oak is milled from a mix of red and white oak barn wood and features a fascinating contrast between warm hues and gold tones. This product offers a rich patina that can only be found in antique wood, giving your flooring a one-of-a-kind look.
Antique Wormy Chestnut
As a result of the chestnut blight of 1904, high-quality chestnut wood is exceptionally rare. Our Antique Wormy Chestnut flooring lends an attractive, unique look through its earthy tones and compelling patina, making it a beautiful addition to any project.
Reclaimed Douglas Fir Signature Floor
This lumber was rescued from a variety of timbers used to frame warehouses and factories during the Industrial Revolution. Reclaimed Douglas Fir flooring features bright, energetic tones that wonderfully complement a wide variety of design styles.
Reclaimed Douglas Fir Manomin Lodge Floor
Rescued from century-old structures located throughout the US, this lumber has a rustic appearance that fits beautifully with many contemporary design styles and color palettes. Most importantly, Manomin Lodge flooring is incredibly versatile, adding a soulful warmth to any room it occupies.
Reclaimed Douglas Fir Rustic Rough Sawn Floor
Reclaimed Douglas Fir Rustic Rough Sawn flooring is salvaged from centuries-old industrial buildings and bridge timbers spanning the US, lending a rough and intriguing look that's still smooth enough for barefoot living. This flooring is left rough sawn directly from the sawmill to further enhance its unique character.
Reclaimed Douglas Fir Vertical Grain Floor
Rescued from timber structures built during the 19th century, this lumber produces a stunning look and highlights a vertical grain aesthetic that will set your space apart from all others. Most importantly, this vertical grain prevents the wood from expanding or contracting, ensuring it maintains its stunning finish year after year.
Reclaimed Douglas Fir Manomin Extreme Floor
This extra-wide lumber bears a rustic feel and outstanding strength for its weight, making it a perfect flooring option for frequently used rooms. Douglas Fir Manomin Extreme flooring is a phenomenal choice if you're looking to add warmth and ideal structure to your floors.
Antique Mixed Hardwoods
Salvaged from barns dating back from the 1820s to the 1880s, our mixed hardwoods are primarily ash, elm, and maple, creating a mixture of gorgeous tones and textures that make the flooring of any room stand out. Moreover, this flooring undergoes a unique revitalization process called skip planing, leaving 30 to 40% of the original saw marks intact.
Antique Black Walnut Floor
Black Walnut wood is rescued from century-old barns and outbuildings, lending a strikingly warm, rare look to your space's floors. This flooring is known for its beautiful grain pattern and rich dark hues and can be further enhanced through hand-scraping or use of square pegs during installation.
Weathered Antique Floor
This mixture of reclaimed softwoods (ranging from hemlocks to pines) contributes a timeless, natural look and feel to your floors. Weathered Antique flooring bears completely unique characteristics, including original saw markings and nail marks that add soulful and historic impressions to your space.
Antique Red End-Grain Wood Tile
Our End-Grain tiles are reclaimed from factories and roads created during the turn of the 19th century, bearing a unique texture that accents and enhances many forms of modern decor. Moreover, these flooring tiles are available in a wide range of patterns and species, offering a huge number of design options to personalize your space.
Hardwood vs. Softwood Reclaimed Wood Flooring
An easy way to tell the difference between hardwood and softwood is to look at the tree that it comes from. Most often, softwood is a needle-bearing tree such as pine. Hardwood refers to a leaf-bearing tree such as oak. There are some general exceptions to this, but that is a good way to judge in most cases.
Hardwood
Reclaimed hardwood is commonly used for wood floors. The types of wood that we specifically use include oak, ash, chestnut, and black walnut. Each of these can come in a mixture of tones or can be matched to each other. Reclaimed hardwood flooring is especially great for high-traffic areas in your home. These woods will hold up well and can take a beating.
Softwood
Softwood can yes, be softer than most hardwoods, but that doesn't necessarily mean it's soft. In fact, some variations of pine such as fir or what we carry, douglas fir, is a great wood to use for your flooring. While it is important that you're slightly more careful with softwood than you would be with hardwood flooring, that doesn't make it the wrong choice at all.
Cost of Reclaimed Wood Flooring
The cost of reclaimed wood or reclaimed flooring varies greatly depending on the type of wood you choose to install in your home. There are several different types of wood, colors, and variations to choose from. And, while the most expensive wood might not necessarily be the "best" wood, it is often, or in many cases, rarer and in more demand based on its look.
Because the cost varies at different times and depends on the amount of flooring you'll need to be installed, it's not possible to share a price in this post. But, it is good to keep in mind that the width and length of the planks will also influence the cost. If you're looking for a quote, reach out to us, and we'll make sure that we get you the best price on premium reclaimed wood.
Find The Best Reclaimed Wood Flooring for Your Home
While it's not for us to say, we do think that this checklist can help you decide on the best-reclaimed flooring for your home.
Does your interior design match light or dark wood?
Do you need hardwood or softwood, based on traffic and wear and tear?
What does your budget allow?
Do you like color mixes or matches?
Contact Manomin For All Your Reclaimed Wood Needs
If you're interested in wood floors for your home, we'd be happy to help. Manomin Resawn Timbers is an industry leader in Minnesota for reclaimed and resawn wood. We offer wood flooring, wall and ceiling paneling, beams, timbers, and mantels. Reach out to us today to learn more about reclaimed wood flooring or to get started on a quote for your home.