One of the most often neglected parts of the home is the ceiling. But that shouldn't be such a surprise. Just think about it, how often are you looking directly up at the ceiling in your own home? Probably not very often. Reclaimed wood ceiling panels will change that.
BUT, we're here to tell you that times are changing. In fact, homeowners today are placing more effort into creating ceilings that not only add something to the overall home but also represent their style and taste preferences. For some reclaimed wood ceiling panels inspiration, click here.
This ceiling renaissance is being spear-headed by reclaimed wood ceiling panels. Today, we're going to be discussing some of the main benefits of reclaimed wood ceiling panels, as well as some of the many different options we offer here at Manomin Resawn Timbers.
Why Reclaimed Wood Ceiling Panels are the Right Choice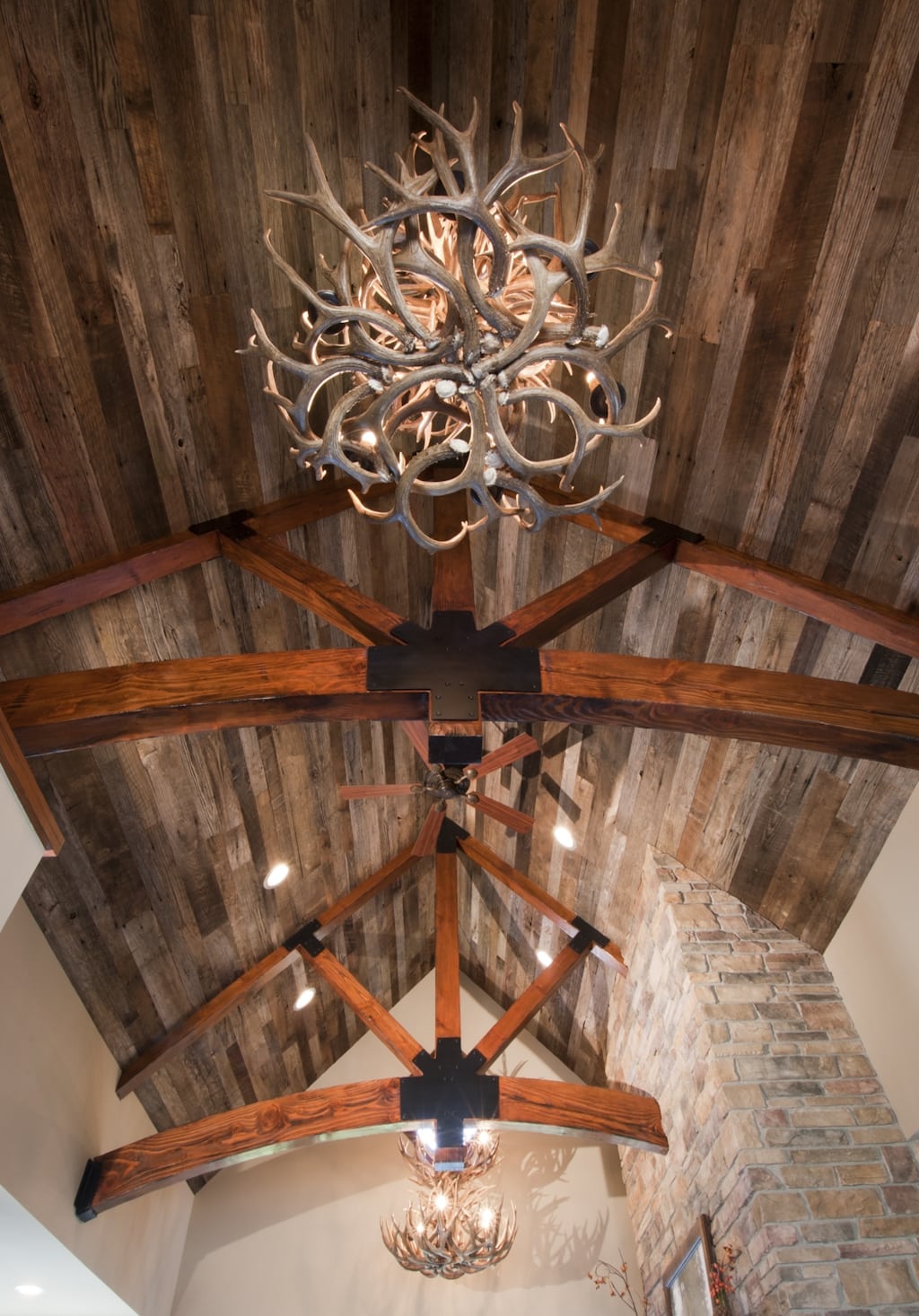 Before we get into the benefits of reclaimed wood ceiling panels, let's talk about what makes this wood so unique.
First, there is an undeniable benefit of sustainability that this type of wood provides. Instead of chopping down new trees to source your wood, you'll be using wood from old ships, homes, and factories. So, not only will you help reduce deforestation by choosing reclaimed wood, but you'll add a sense of history and character to your home. Reclaimed wood is even stronger than new wood because it had hundreds of years to grow before being chopped down by early American settlers.
Those are some pretty compelling benefits, but it doesn't matter if the wood doesn't look great. Lucky for you, reclaimed wood is absolutely stunning. Not to mention, there are so many options—which we will get to in a second—that it would be hard for you not to find a species and style that you absolutely love. In fact, you might have a hard time picking the right one! Reclaimed wood can take any basic space and turn it into a memorable showcase of beauty and character.
Our Selection of Reclaimed Wood Paneling
Weathered Antique – Created from a mix of softwoods that date back to the 19th century, Weathered Antique wood provides a natural style that can't be replicated.
Platinum Gray – Sourced from snow fencing that has turned into a bright gray color after years of exposure to snow, wind, rain, and the sun, platinum gray is a very unique, rustic option.
Antique Oak – A mix of red and white oak barn wood, Antique Oak offers both a warm hue, as well as the white oak shine with golden tones. A very whimsical color scheme!
Antique Ash – Wormholes, mortise pockets, and peg holes abound on Antique Ash, making it an incredible showcase of the Old War and a style that is gone but will never be forgotten.
Reclaimed Douglas Fir – This wood is sourced from factories and warehouses that were constructed during the Industrial Revolution and still manages to look great today in any modern home setting.
Faded Red Barn Wood – As you may have guessed by the name, this wood is from red American barns and offers a soothing gray color with subtle hints of red.
Antique Elm – Sourced from wood that dates back to the 1820s, Antique Elm is another wood that features a variety of wormholes and peg holes, as well as a beautiful grain pattern.
Antique Mixed Hardwoods – Made up of ash, maple, elm, and sometimes a mystery board, the Antique Mixed Hardwood is a truly unique wood to choose.
Antique Wormy Chestnut – A rare wood, the Antique Wormy Chestnut is a very beautiful material to look at, and its earthy tones give it a strong sense of warmth in any space.
Heart Pine – A great choice for those who want a classic look, the Heart Pine is an excellent choice with a rich amber flare to it.
Timber Tile – The Timber Tile delivers a rustic look with varying tones of rescued panels that elicit an organic, natural tone.
Shou Sugi Ban – Shou Sugi Ban is probably the most unique type of wood you could incorporate into your home, and one of the most beautiful. The process of burning and charring the wood makes it more fire-resistant and less likely to be affected by insects, rot, and decay.
Weathered Gray Barnwood – Add an updated and modern element to your home while maintaining the rustic charm with Weathered Gray Barn Wood paneling.
Visit our reclaimed wood paneling page to see these woods in action on past home projects we've worked on!
Visit Our Showroom to Learn More and See the Woods Up Close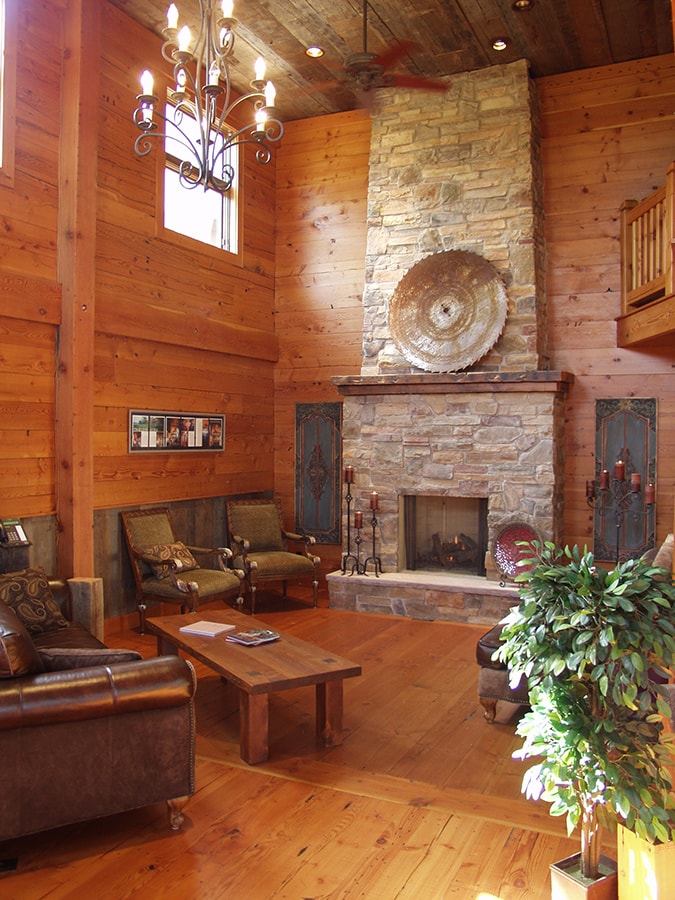 While we try and offer as much insight into our products, nothing beats actually seeing the wood in person. That's why we always recommend stopping into our showroom if you're even a little interested in reclaimed wood—no matter what form it takes (paneling, timbers, mantels, flooring, etc.). If you want to reach out because you have a question or comment, check out our contact page here!
Showroom Hours
Monday – Thursday: 9 am-5 pm
Friday: 9 am-4 pm
15152 Freeland Avenue North
Hugo, MN 55038
Contact us by telephone:
Local: 651.464.1771
We're looking forward to seeing you there!