We'll preface this by saying Rehkamp Larson is an architecture firm, but they do such great work we had to share.
The talented and creative minds at Rehkamp Larson have helped bring to life all sorts of homes. What is perhaps most impressive about there work is the fact that none of the houses they design look like one another. Each is extremely unique to the taste and preferences of their clients.
To help illustrate this, today we're going to talk about three of the homes they've designed and some of the fantastic features they've included in them — as well as a project in which they used some of our reclaimed wood!
Let's get started!
Buckeye Point
Check out the gallery for this home here.
We dare you to find a home that looks anything remotely like this one, which is located on a peninsula of a small lake here in Minnesota.
With three wings, the property offers some seclusion for family members. Each wing also has its own functionality.
One of the wings has access to the lake, as well as a kitchen, living room, and dining room. Meanwhile, another wing has the garage, mudroom, and two bedrooms. Believe it or not, an interior bridge links the third wing's master suite to the rest of the home.
Overall, it's a stunning home that blends in well with its surroundings without disrupting the beautiful setting of the surrounding environment.
The home also holds some spacious rooms that can host large amounts of people. This makes it a great home for families day-to-day, and an excellent place to host family events and holiday get-togethers (and let's be honest, if you live in this home, you're going to be expected to be the host more often than not).
Lake Everett Retreat
Check out the gallery for this home here.
If you're going to build a summer bunkhouse near the Boundary Waters Canoe Area, then you need to include some space for all your outdoor essentials. This spacious retreat has plenty of storage room for all your fishing, canoeing, backpacking, and camping needs.
In addition to the excess storage space, there are three bedrooms, a main level office, and lower level workshop.
Whether you're looking to get a larger group up north to enjoy the scenery and seclusion or just need a little alone time on your own, this retreat on Lake Everett is the perfect spot to take in one of Minnesota's most famous lands.
Brown's Bay Residence
Check out the gallery for this home here.
The creatives at Rehkamp Larson have a great talent for creating luxurious, modern homes that are detailed, but yet never feel overcrowded. It's a tricky line to walk, but they do it effortlessly.
Perhaps one of the best examples of this is this Brown's Bay home on Lake Minnetonka.
A beautifully crafted exterior holds a polished interior, with crisp, clean lines everywhere. Not to mention the wood detailing throughout — which we can definitely appreciate here at MR Timbers.
The architects at Rehkamp Larson did a great job at creating spaces inside, with open rooms and wide hallways connecting it all.
Manomin Resawn Timbers — Rehkamp Larson Collaboration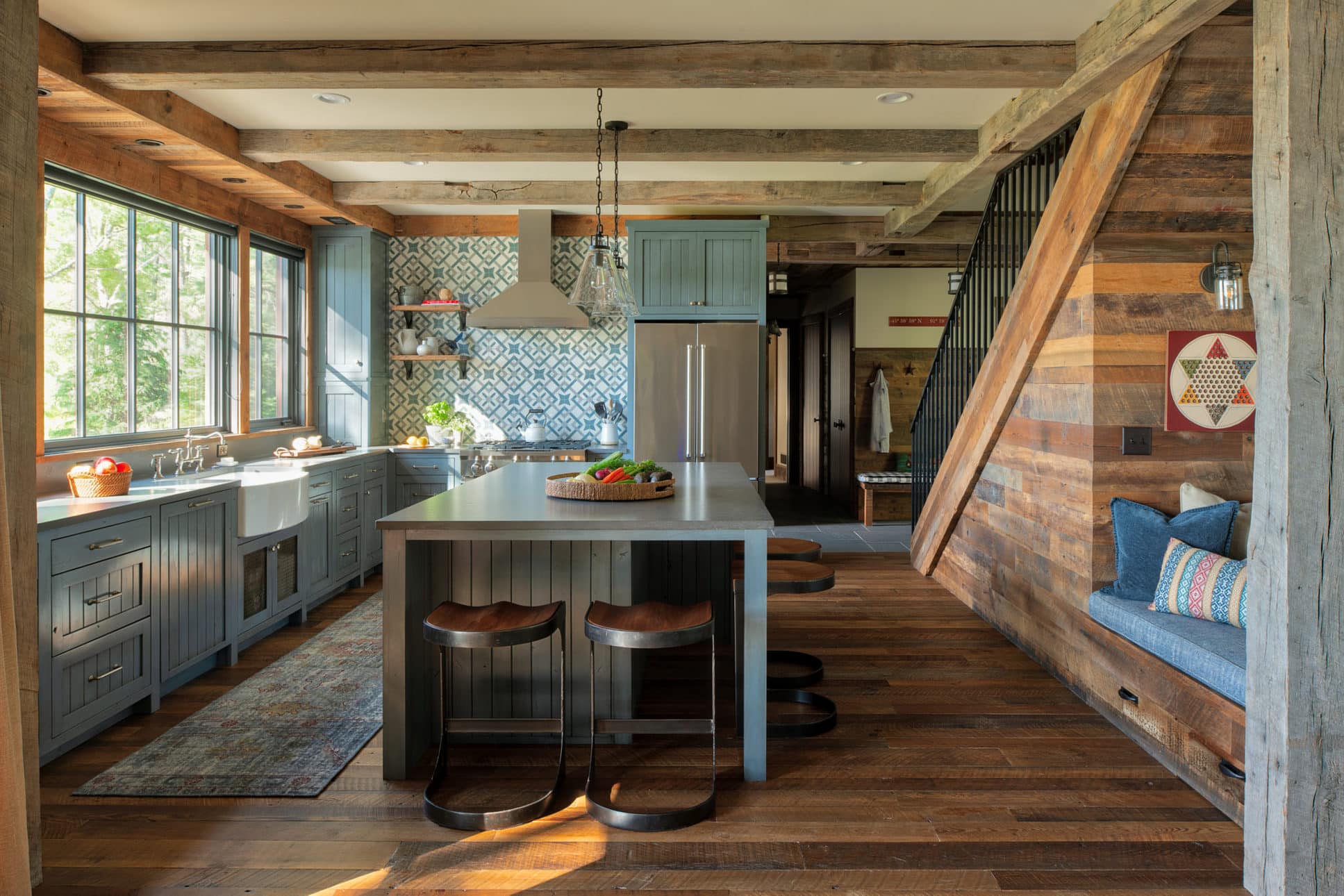 One of the most rewarding parts of working with reclaimed wood is going through the restoration process and then getting to see the wood find a newfound purpose in a gorgeous home. Our collaboration with Rehkamp Larson was no different, and we love the way our reclaimed wood turned out in this home.
The smaller details, such as the backsplash and the decision to go with blue cabinets, compliments the wood exceptionally well.
Contact Us Today For Your Next Home Project
If you're looking to include reclaimed wood in your next home build or remodel, then look no further than Manomin Resawn Timbers.
Reclaimed wood not only looks amazing in homes, but it is also a sustainable option that will last you a lifetime.
We offer antique, wooden flooring that you'll enjoy every time you step inside your home. The most compelling and valuable homes offer one-of-a-kind conversation pieces at every turn, so what better way to enhance your own space than with gorgeous flooring that serves as an endless source of fascinating discussion and discovery?
Our reclaimed wood paneling seamlessly blends modern palettes with rustic charm, creating a rugged yet polished look. Avoid boring, overdone white spaces and include some warmth with our wood paneling today!
To get in touch, simply call 651-464-1771 or request a quote online here.