Our first featured Minnesota Builder to Know is Sustainable 9.
Reduce. Reuse. Recycle.
Those are three "R"s we are all so familiar with by now, as it was repeated by our elementary school teachers whenever Earth Day was near. Unfortunately, while we are all aware of the importance of being conscious of our impact on the environment, few actually walk the talk.
Today, for our first installment of our 'Minnesota Builder to Know Series,' we are highlighting one design and build firm that not only talks about working towards limiting our impact on the world but actually applies this philosophy to their projects.
Sustainable 9 is an eco-friendly Minnesota modern custom home builder based in Minneapolis. Sustainable 9's homes are jaw-droppingly gorgeous, to put it mildly. Their commitment to creating beautiful homes that are at the forefront of eco-friendly building practices is what makes them such a fun partner.
While S9's houses are beautiful and sustainable, a custom house may not be ideal for you, and you may just want to look on the market for your dream home. If this is the case, you can check out this website to aid you in your search.
To learn more about S9, we're going to tell you a little more about the company, their process, and some examples of their work.
Who is Sustainable 9?
Led by brothers Chad Hanson (Managing General Partner) and Ryan Hanson (Partner/Co-Owner), Sustainable 9 is an energetic design + build firm that is a blast to work with. Their designers are passionate and love taking on the challenge of fitting green materials and details into homes without compromising aesthetics and functionality.
Sustainable 9 stands by three main pillars. First, they want to be highly adaptable and innovative for their clients. Every family is different, and so every home must be unique to meet their needs.
Next, they care deeply about sustainability. Not only does S9 help you reduce your environmental impact, but installing sustainable elements in your home can help save you money as well on energy bills. Saving money on energy and in general is a great thing to do, especially for people who are careful with their money but don't want to compromise on quality.
Another thing that can be looked at carefully to see if you can get a better deal is home insurance, comparing policies can make you see what would be the best for you without the worry of going for the wrong one. Check out the website simply insurance to see if they can help you with the insurance on your new home!
Third, they are obsessed with modern design. And how can you not be? Today's modern designers and builders are pushing the bounds to what was thought to be possible when it comes to both modern interiors and exteriors.
Sustainable 9's Process
Sustainable 9 encourages their clients to get as involved as possible with their process to make sure that they hit all their needs and wants. Here is an outline of their process:
Consultation – Meet up with the fine folks at S9 to discuss what your dream home looks like.
Architectural/Design Agreement – Get a layout of the design plans and make any necessary tweaks before signing off on the project.
Product/Materials Selection – There are some great sustainable vendors out there, and S9 will help you find them.
Pricing and Budget – S9 will discuss with you on fitting the project within the parameters of your budget.
Pre-Construction – Dotting all the I's and crossing out every t before laying the first brick.
Construction – Watch your dream home come to life!
Overall, working with Sustainable 9 and their thorough, detailed process is a great experience and has produced some of the most sensational homes in the area.
Sustainable 9 Homes: Modern + Green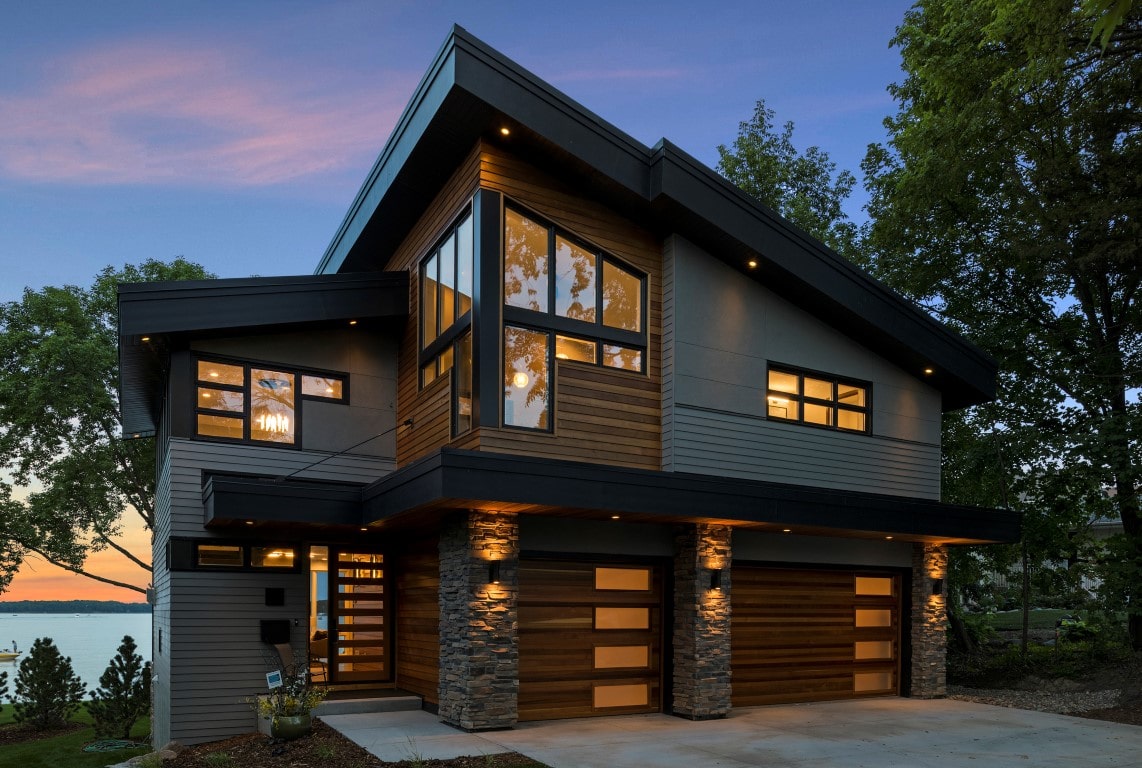 Perhaps what is most impressive about the exterior of a Sustainable 9 home is their ability to make it blend with the surrounding environment. A lakeside view of a sunset is certainly quite the scene, and it's amazing that the home above doesn't detract from the beauty, but rather adds to it. Everything about the home from the lighting to the material used creates a welcoming ambiance.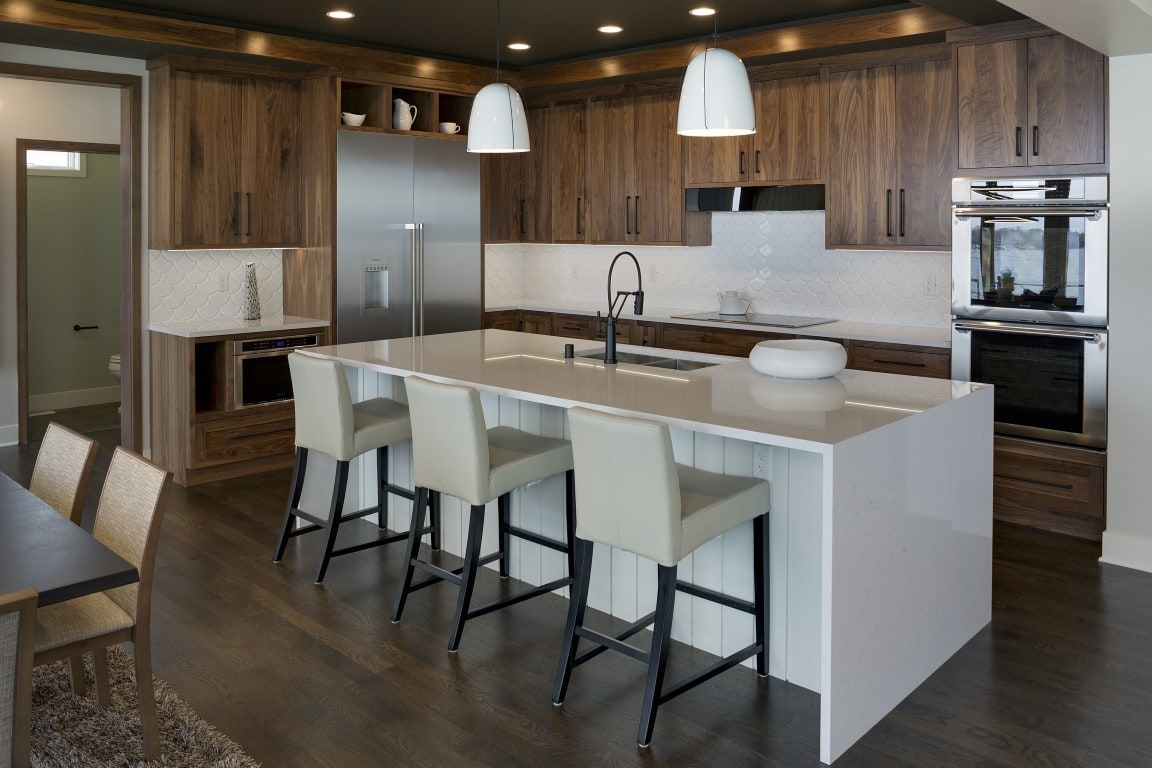 Inside you'll find that warmth translates to the interior. Here is a shot of a modern kitchen that is the perfect place to entertain guests, as well as have breakfast in the morning with the family.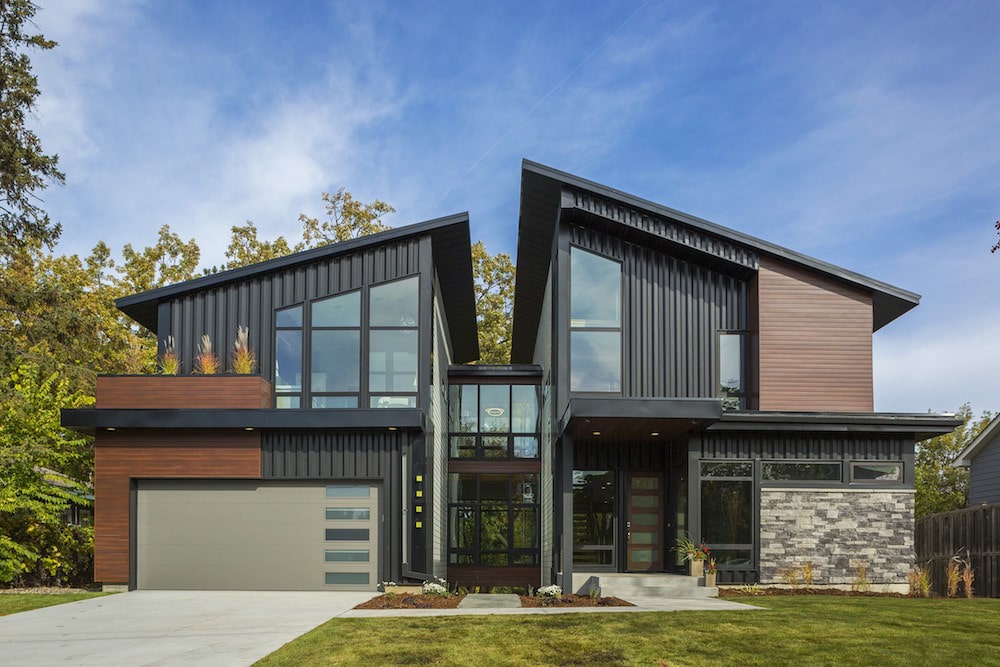 Here is another home that once again doesn't detract from the area around it. We here at MR Timbers were fortunate enough to work with Sustainable 9 in implementing some of the interior detailing in this home.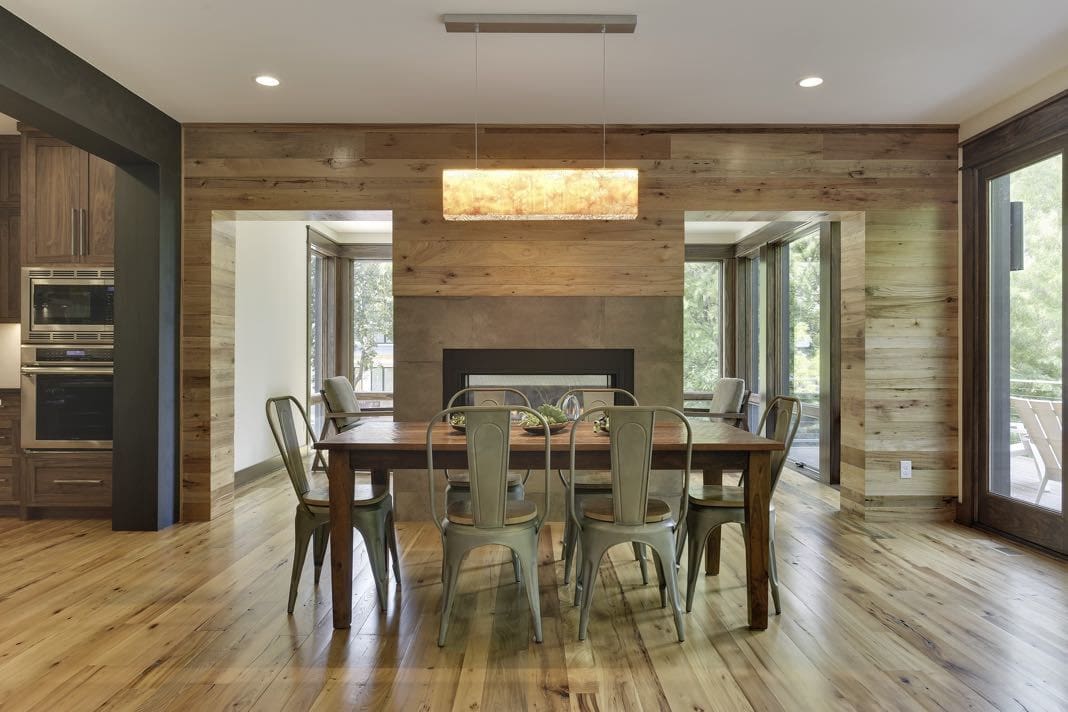 The dining room pictured above is a perfect example of how using recycled wood can still create that sleek, modern look. The wall paneling is actually our hardwood which many of our clients like, while the flooring is antique elm, which is another extremely popular choice among our customers.
The paneling here has been skim planed smooth and pairs perfectly with the overall open layout of the home. You can read more about this home here!
Make sure to check back often on our blog for our next Featured Builder. If you're interested in working with Manomin Resawn Timbers, then contact us today at 651-464-1771 or fill out this brief form to request a quote!