Want to take your home to the next level with a piece that will impress guests for years to come? Who doesn't!? Reclaimed wood doors are a great way to add character to your home. There are various styles and ways that you can incorporate reclaimed lumber in your home, and here at Manomin Resawn Timbers, we love reclaimed wood doors and believe they are a great addition to any home.
Because we're such huge fans of reclaimed wood doors, we thought it would be a great idea to offer up this guide full of ideas on how you can utilize a set of reclaimed wood doors in your home. Let's dive in!
Understanding Reclaimed Lumber
Before we get too far into this guide, it's good to ensure that we all have a good understanding of what reclaimed lumber is and how you can use it to your advantage. Reclaimed lumber is a simple product that has a lot that goes into it. The lumber itself is exactly what you think it is; wood that's been reclaimed from old wood buildings or buildings with wood in them.
When we reclaim wood, we take it out of these buildings where it's been sitting and put it through a process that makes it ready for being used in your home. This process includes denailing, removing any other metal, shaping, trimming, and drying to ensure no rot or termites living within the wood.
Reclaiming, cleaning, and treating lumber is something that you can do on your own. Although the process can be drawn out and frustrating at times, many people enjoy doing it. If you're interested in doing a DIY reclaimed wood project, be sure to check out some of the posts on our blog and "How to Clean Reclaimed Wood" in particular.
Types of Reclaimed Wood
There are a number of different types of reclaimed wood, including large and small pieces, planks, beams, and species of wood altogether. With all of these variations, you should do your research to understand which reclaimed wood is going to work best for your doors or other woodworking projects.
We like to use wood that was already a door. Perhaps barn doors or other wood doors from old buildings. These work really well because they're already in the general shape that we'll need them to be. In some cases, when you'd like to have the wood doors inside, you'll be able to install a reclaimed door without making too many changes to it. Barn doors work great as interior doors.
Why Use Reclaimed Wood
With the technology out in today's world, there are hundreds if not millions of different options for what material you'd like to use and what you'd like your wood door to look like. For example, you could install a door in your home or place of business that looks like wood but doesn't actually use any real wood elements. You could also install a wood door that's made of fresh wood instead of reclaimed or recycled elements. So why use reclaimed lumber?
We encourage consumers to consider the effect that cutting down trees has on the world around them and their community. While there is wood that is harvested in sustainable ways, there are also many products that aren't harvested or made sustainably. Instead of cutting down new trees, reclaimed lumber is a great way to repurpose wood that's already been in use. It's sustainable and great for the environment when we choose to recycle products.
While reclaimed wood is a sustainable choice, it's also a beautiful choice.
Interior Doors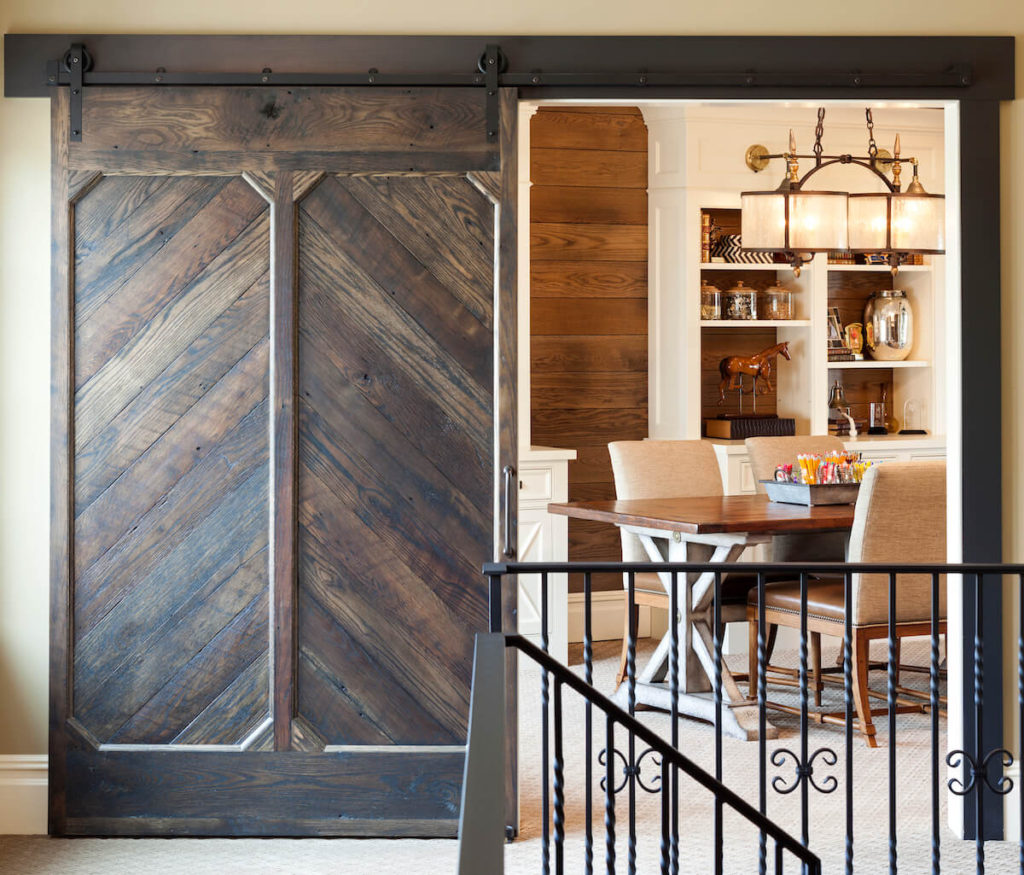 There are likely too many interior doors in your house than you'd like to count. But the beauty of that is all the different options you have when it comes time to design the interior of your home. From stained wood to painted cabinetry, the sky is truly the limit when it comes to interior doors.
Cabinetry Doors
When you think of doors, you might not think of your cabinetry right away, but cabinet doors are the doors that you likely use and see the most in your home. They're part of the kitchen, and they determine a lot when it comes to the way that the room looks and the mood that it gives off.
Using reclaimed wood for cabinet doors will give them a beautiful look and makes for a great conversation piece when you have guests over. Solid wood cabinets are also much more durable and will last a lot longer than the composite cabinets that are often used in homes today.
Doors for Rooms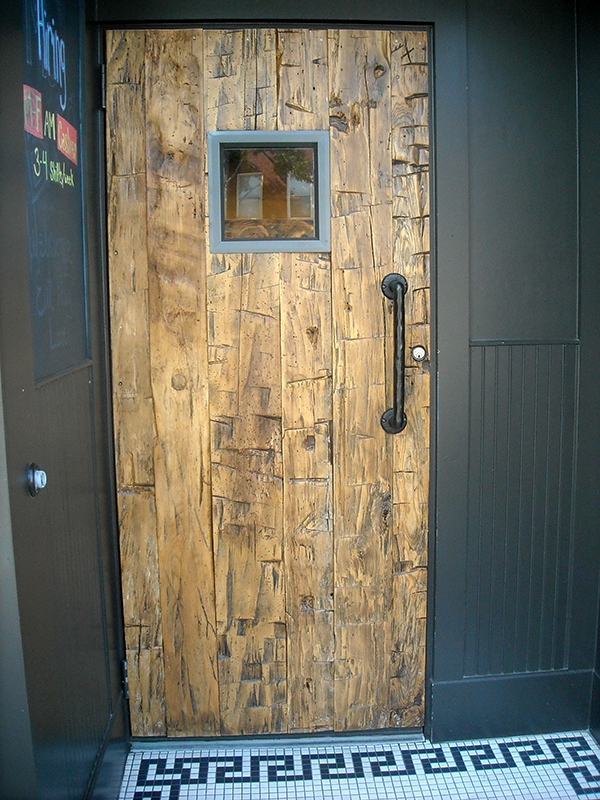 The different rooms within your house can have their own reclaimed lumber doors. A wood door adds a great amount of warmth and character to a home. Whether you're looking to give your home a rustic or modern feel, you'll be able to find a wood door that matches the flair you're looking for.
French Doors
French doors are beautiful pieces. Suppose you're looking for the classic french doors complete with windows or stained glass. They can make for ornate details. But, a barn door can also make for a great french type door as well. Barn wood often has more character than many other words on the market because of the harsh outdoor elements making it the perfect candidate for double doors or sliding doors. Before you decide on a classic french door, look into a barn wood door!
Exterior Doors
There are just a few different places where you'll have exterior doors on your home. The two most common areas to use reclaimed lumber for these doors are the garage doors and the front door. Many homeowners don't consider the curb appeal of their home and how the doors on your home influence it.
Reclaimed Wood Garage Doors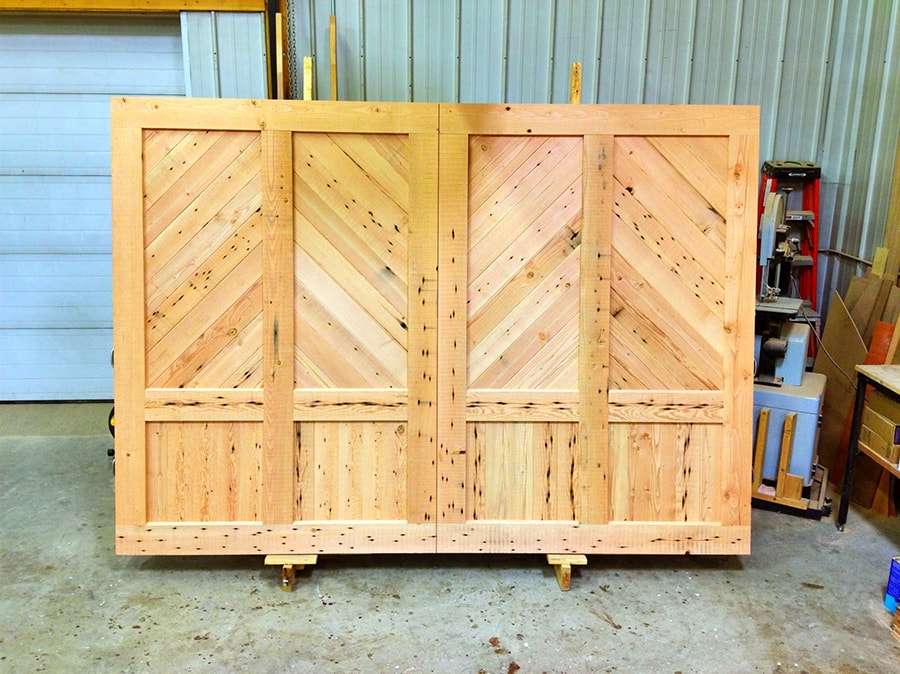 Instead of just installing the generic white doors on your garage that is so common these days, try reclaimed wood doors. Reclaimed wood garage doors are a beautiful way to accentuate your home and add an element that likely no one in the neighborhood is using. Even better, there's a multitude of different stains you can choose from when picking out the wood for your garage door.
Reclaimed Wood Entryway + Door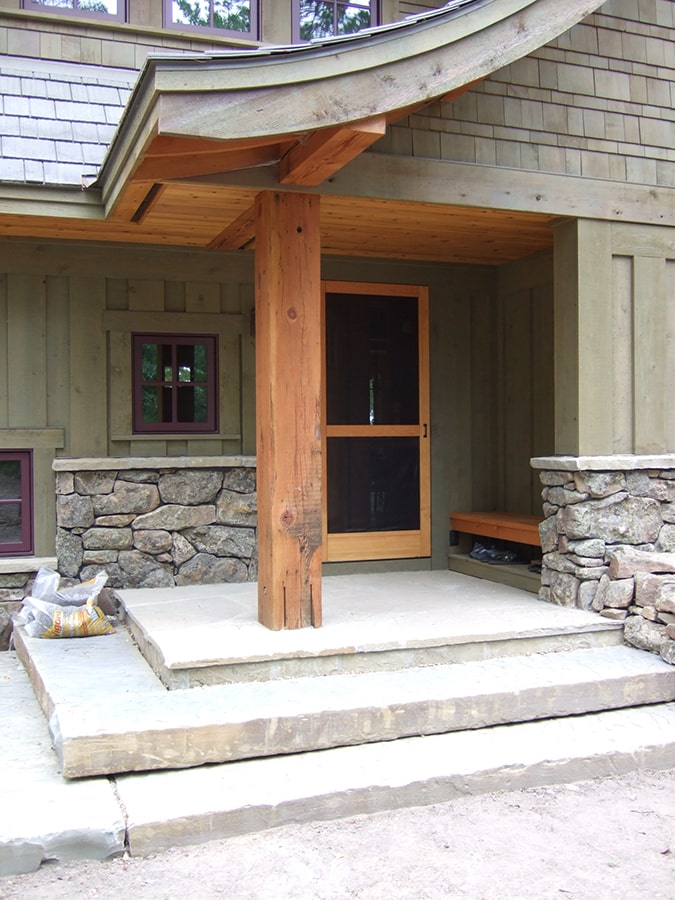 Depending on how your home is built, you may be able to see the front door from the street or not. Either way, the front door of your home makes a statement to everyone who sees it. Could be light and inviting, it could incorporate stained glass and decorative elements, or it could be dark and moody. If you're looking for a completely unique front door, choose reclaimed wood. Reclaimed lumber creates a completely unique pattern of colors contained within the door, and it can incorporate decorative elements such as stained glass if you'd like it to.
If you're going to use reclaimed lumber for your front door, then why not use it for the entirety of your entryway? Many homes are built with large entrances that incorporate different wood elements. You can use reclaimed wood beams, reclaimed wood light fixtures, as well as other recycled products to add sustainable features that will make your home unique.
Reclaimed wood doors are a great addition to any and every home. The best part about them is the minimal care that is needed after installation. If you're looking to learn more about the barn wood doors that we sell at MR Timbers, be sure to reach out to us today. We'd love to talk with you about a sliding barn door or any other style that you'd like to incorporate into your home.
We hope you've enjoyed this blog and can't wait to hear from you when you're ready to install reclaimed wood doors in your house!