Reclaimed wood countertops in your house, lake house, or apartment type home are a great way to spice up the kitchen area while still maintaining some class and style. Using wood in this way has a rich history. Wood butcher block counters have been apart of kitchens forever.
Depending on the home that you have, there are a few different ways that reclaimed wood countertops and tabletops can be styled. We'll break each of them down, so you have a good idea of how to make it work in your home and how to decorate your reclaimed wood countertop or tabletop.
Whether you choose to buy a premade reclaimed wood countertop or tabletop or you're looking into designing and building one from hand-picked reclaimed wood, there is something here for you.
If you're looking for reclaimed wood to help you get started on building or designing one of these pieces, reach out to us! We're Minnesota's premier reclaimed wood dealer, and we'd be happy to help you get your hands on some of the best-reclaimed wood on the market.
Reclaimed Wood Countertop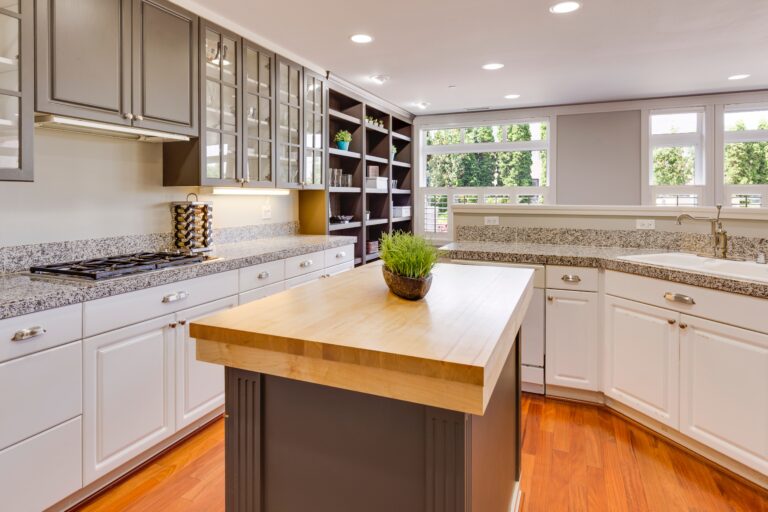 Wood countertops have long been popular not only because wood is easy to get ahold of but also because it's a very stylish product that can be made to look appropriate in almost any and every space. While today products such as marble and granite have become more popular, they'll never be able to take away the legacy of wood butcher blocks and countertops.
Decorating with a Reclaimed Wood Countertop
Interior design has taken on many different styles since the days of wood countertops. That means adding them to your place of residence might mean a little extra creativity. But don't let the challenge scare you away; when done right, wood countertops add an irresistible flair to any space. Here are a few things to consider as you approach decorating and interior design with wood countertops.
Choosing the tone of the wood is going to be one of the most essential parts of the process. We offer a variety of wood tones to our clients from dark to light. There are plenty of options depending on the style you're going for. Here are some examples of the different tones that you could possibly have in your home.
Adding contrast with cabinetry colors and hardware styles will also be important in helping to bring the project together. You might consider paring silver or gold hardware with darker or semi-dark countertops. Lighter counters would look best with a black or polished type of hardware. Additionally, white cabinets will accent almost any color counters. But, in general, lighter color cabinets match well with most wood colors, and darker colors will look best with dark to semi-dark cabinets. The key with this is to provide contrast so that there is good depth in your kitchen.
Deciding on a flooring material is the last step in completing some of the many elements of your kitchen. Whether you choose to do a wood floor or a tile floor is going to depend on your taste, but be sure that whatever you choose offers a good pattern and that it won't interfere with the pattern wood you use for your countertops.
Throughout the decorating process, you'll want to maintain a sense of contrast. Consider using different elements that help make the wood pop out and become the staple point. Use some of these pictures as examples of what you can do.
Reclaimed Wood Table Top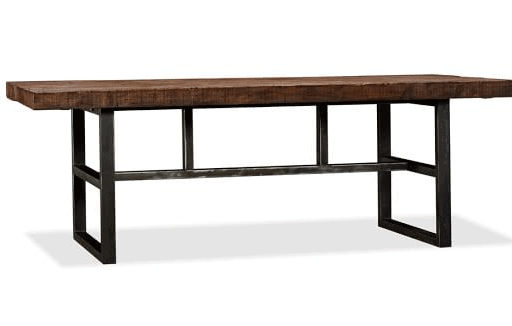 While butcher block countertops aren't very popular in today's kitchens, wood table tops are and have widely been considered one of the only options for dining tables. If you're looking for a table that's slightly different from a standard dining table, then you might consider a reclaimed wood table. Reclaimed wood tables often use metal legs and then wood for tabletops.
These tabletops are very stylish and can add a lot to a dining pace. A wood table top can also be used for a kitchen island. Many people enjoy a wood island counter in their kitchen as a contrast to their marble or granite countertops. Another great spot for reclaimed wood is a bar. Kitchen bars or basement bars are great options and can be relatively cost-effective compared to a standard stone that might be more regularly or commonly used in these areas.
A reclaimed wood table might also make for a great desk or coffee table. All you need is some beautiful table legs, perhaps hairpin or industrial pipe style and the wood for the tabletop. This is a great way to add a rustic conversation piece to any room. And, not only will these pieces of furniture look great, but they'll also be very functional as well.
Finding the right reclaimed wood table top can take time, especially because each piece can vary so much from one another. Start your search by looking at lots of pictures and determining what you want it to look like; then, you'll be able to start successfully hunting for that perfect wood tabletop.
Looking for Reclaimed Wood
Whether it ends up being a countertop or a tabletop that you're looking for, we'd be happy to help. It's been our mission to find the best wood and make it accessible to our customers. Reach out to MR Timbers today to get started! We'd be happy to help you find the perfect wood for whatever your project might entail. Be sure to check out our blog if you want to learn more about reclaimed wood and the different ways that you can incorporate it into your home.
Finally, if you're interested in learning more about the processes of obtaining and treating reclaimed wood, you can find that on our site as well. We've developed these processes over the years so that we can ensure a high-quality product for each and every one of our clients.