With today's Minnesota Builder to Know, we'll look at Denali Custom Homes located in Wayzata.
Minnesota is certainly home to some exceptional home builders, and Denali is no exception – with their one size doesn't fit all approach, they've created some genuinely gorgeous houses for many Minnesota families.
Let's get to know a little more about one of Minnesota's premier home builders.
About Denali Custom Homes
Founded by a "passion for creativity, design, and delivering extreme customer service," Denali has placed its clients' needs at the forefront of their process. David Bieker is the President and General Manager at Denali Custom Homes and is an expert in matching design and construction to vision and ideals of his clients.
It's fair to say that when it comes to separating the excellent home builders from the great ones, the promise and actual fulfillment of implementing ideas based on clients' needs is a deciding factor.
"We take the time to understand our clients' needs and personalities, then utilize our trade team to design and deliver a truly one-of-a-kind building experience," their 'About' page reads.
When it comes to the homes Denali crafts, they have created everything from Modern Mountain to Panoramic Lakefronts, and Urban Modern homes to Contemporary Lakefronts.
Going Green
It wasn't that long ago when being a green home builder was not nearly as popular as it is today. But now, thanks to home builders like Denali, the eco-friendly home market is alive and well.
Not only does Denali work towards crafting homes that are warm and comfortable, but they also prioritize building sustainable houses.
They specifically look for ways to include technologies and materials within their homes that promote enhanced durability, energy efficiency, and a healthier indoor living environment.
Their Minnetonka Green Build is a fine example of how you don't need to sacrifice quality and style for sustainability.
Other Denali Homes to Check Out
When a couple who loves Colorado wanted to reflect their passion for the Rocky Mountain state into their new home, they knew that Denali was a perfect choice.
In addition to the sheer beauty of the outside of the home – complete with an inground pool in the back – the inside of the house features a beautiful open kitchen layout as well as a basketball court.
All-in-all, this appears to be the perfect home to spend some quality time with friends and family.
The 2010 ASID Award Winner, this home holds up masterfully in terms of functionality and design even nearly 10 years later.
"… our goal was to create a rustic contemporary, dog-friendly home that brings the outside in through thoughtfully designed floor plans that lend themselves to entertaining," reads Denali's profile on the home.
The home features an elaborate deck system with panoramic views of the lake, as well as a breathtaking interior and a full-fledged movie theater.
Breezy Point Road
Here is a home by Denali that we had the good fortune of working with them on alongside Brittany Wille of Redstone Interiors.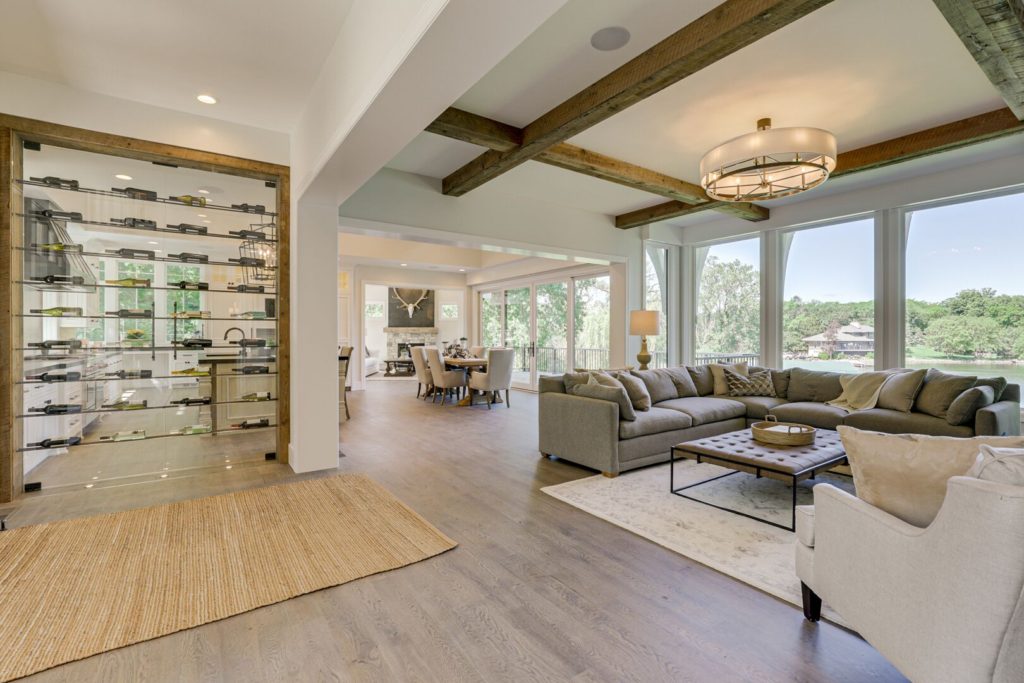 Creating a space that has a lot of neutral colors – in this case, the cream walls – but still feels warm can be a tricky endeavor. However, this home is able to accomplish such a feat with ease.
Right away, you'll notice the spacious layout of the room, and the cream-colored walls add a sense of freshness to the space. Our reclaimed wood flooring helps to add warmth as well.
You'll be hard-pressed to find another home that takes advantage of natural light as well as this one, with gorgeous windows outlining the home. You'll also notice the large timbers on the ceiling – also courtesy of MR Timbers – which accent the light fixture in the living area perfectly.
The glass wine rack is a unique feature you don't find in a lot of other homes and adds a lot of character to the home.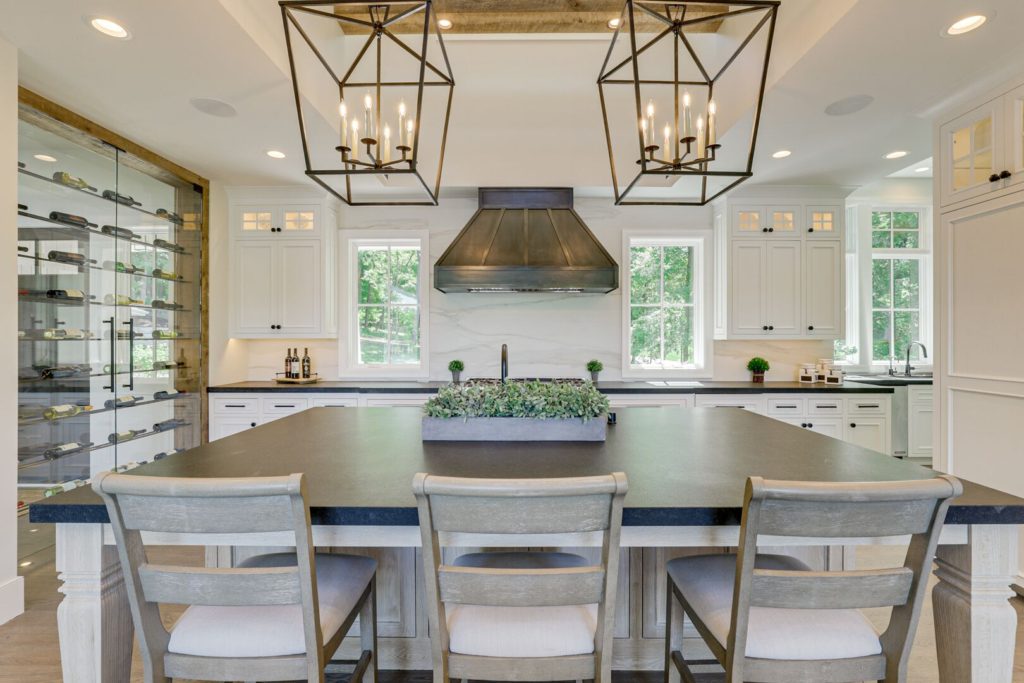 Here is a closer look at the kitchen, which as you can see has both the space necessary for cooking up some delicious meals, as well as entertaining guests.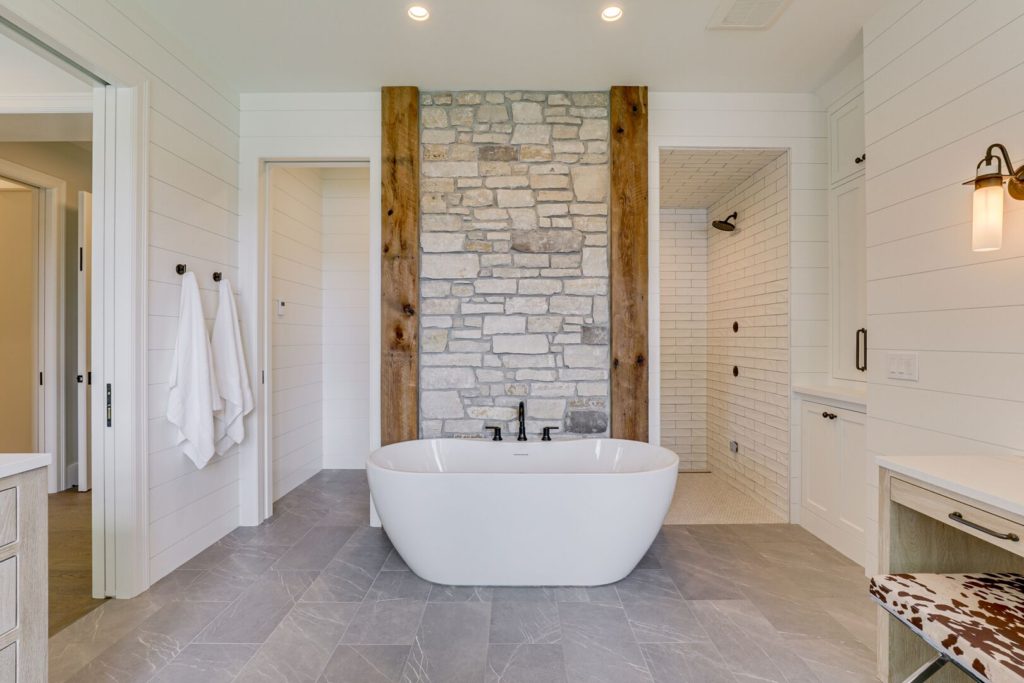 With a beautiful walk-in shower to the right and a comfortable bath in the middle, it's not hard to imagine relaxing in the bathroom of the Breezy Point home after a long day. Of course, there's nothing stopping the future owners of this house from putting a custom glass shower door on front of the walk-in shower if they wanted. However, walk-in showers are popular these days.
Interested in Working With MR Timbers?
Here at Manomin Resawn Timbers, we love working with home builders to help them achieve their client's dream home. Reclaimed wood brings many benefits to homes, including being stronger and more durable than new wood, as well as adding a great sense of character to the house overall.
Take a look at some of our past work on our website and make sure to book an appointment for our showroom to check out our displays and sample sections.
Contact us today to set up an appointment!