When deciding which type of wood flooring to use in your home, the options are nearly limitless.
There is antique ash, antique elm, antique wormy chestnut, reclaimed douglas fir, antique mixed hardwoods, weather antique, and much, much more.
Today, however, we are focusing on one type of wood flooring: antique oak flooring. We've created this helpful guide that'll dive into the different options of oak that we offer and what pairings go well with this style of wood.
But first, let's dive into what makes antique oak one of our favorite flooring options.
What Makes Antique Oak Flooring Special
Our antique oak features reclaimed wood that is milled from a mix of red and white oak barn wood.
Yup, that's right — our antique wood that you can install into your home was once a part of an old, historic barn. In addition to being sturdier than new wood, we love reclaimed wood because of the sense of history and character it can bring into a home.
The red oak features a very warm hue, and the white oak gleams with golden tones to give the duo a unique color scheme.
Pairings: What Works Well With Antique Oak?
Antique oak is an extremely versatile wood when it comes to pairings. While some woods have pairings that are universally recommended (for example, the rustic look of pure redwood looks great with green details around the home), antique oak looks great with pairings of all sorts.
When it comes to antique oak, for the most part, is simply comes down to the homeowner's taste and style preferences.
Let's take a look at some home interiors to illustrate this point.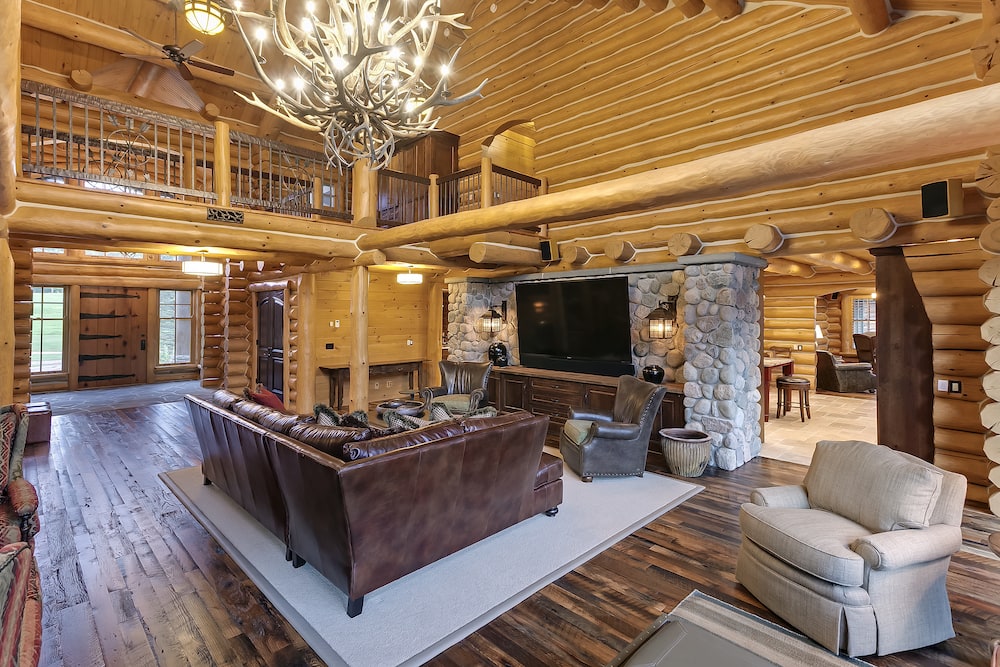 Here we have a very traditional log cabin home that looks extremely inviting —with both the antique oak flooring and logs that outline the interior adding to that sense of warmth. Not everyone wants this much wood in their home, but there is no denying deciding to go with antique oak wood flooring in their log cabin home looks amazing.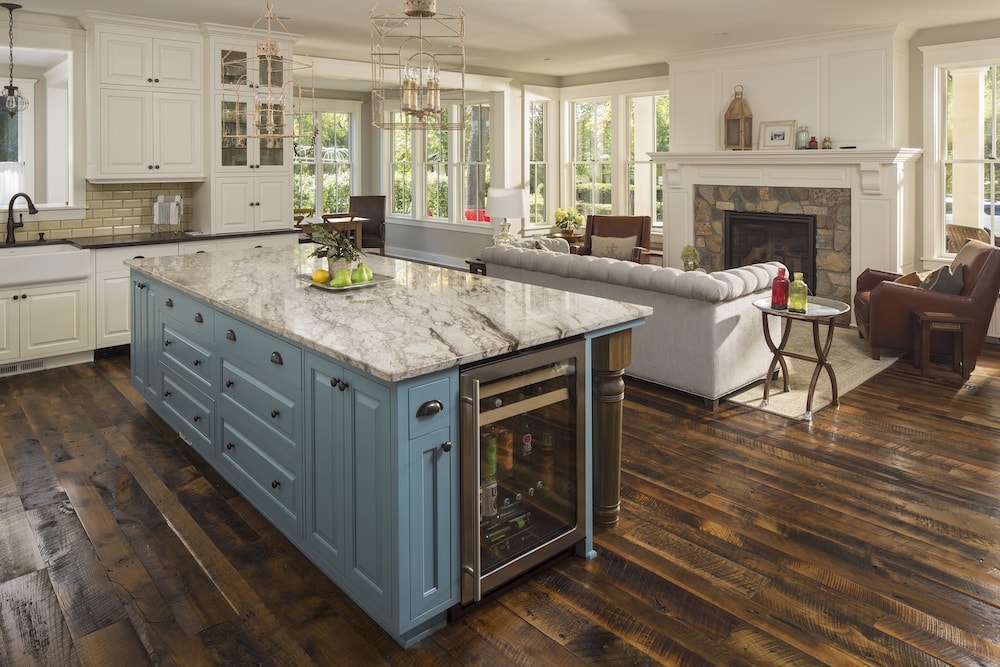 The great thing about antique oak is that even if you pair it with neutral colors, you can still easily create a warm interior environment. The home above is a great illustration of just that. The walls and cabinets are a darker eggshell shade, yet, with the assistance of the wood flooring, this home is just as inviting as the log cabin. Once again, it shows that you can truly incorporate antique oak with nearly anything as long as the homeowner likes it.

In the background of this photo of this home, you'll notice the stone wall. And, if you were looking closely at the other images above, you'd notice that each of those homes also had some stone elements as well — all of which revolved around a fireplace. So, if there is a common pairing you'll find in many homes with antique wood, it's stone walls and fireplaces.
Options: Skip Planed or Planed Smooth
When it comes to Manomin Resawn Timbers Antique Oak, we offer it in two styles: skip planed and planed smooth.
Skip planed antique oak – Skip planing allows us to gently mill off a small portion of the mill marks made from giant saw blades more than 100 years ago, leaving a distressed, aged look to the reclaimed wood flooring.
Planed smooth antique oak – This option will provide an obviously smoother wood flooring overall.
Between the two styles, skip planed is our more popular option. However, we must admit that both variations look amazing in any home!
How to Decide if Antique Oak is Right For Your Project
If you were to ask us, we would definitely recommend you take a look at antique oak.
However, because each flooring option we offer is so unique, each with its own special features, we'd also recommend you take the necessary time needed to go through every option.
When deciding on which wood flooring to go with for your project, make sure to visit our showroom. We've been told many times by our clients how helpful the showroom can be it making a decision.
At our showrooms, you can speak with our intelligent, bright staff who will work with you to find the perfect wood for your project.
You'll also find thousands of square feet of reclaimed wood flooring, paneling, timbers, mantels and more — all displayed in the various finishes we offer so that you can get a full grasp of the options and possibilities for your space.
Without speaking with the experts and seeing firsthand all the available wood flooring styles and species, it can be difficult to make sure you're making the right decision for your home.
Visit our showroom so that you can be confident in your wood selection for your upcoming projects!
Oh, and don't forget to stop by our manufacturing plant as well to get a behind the scenes look at how your wood selection was made. You'll certainly appreciate the dedication and hard work that goes into it!
Contact MR Timbers Today to Learn More
If you have any questions about our products and available wood styles and species, please don't hesitate to give us a call!
You can contact us by calling 651-464-1771. Or, you can reach us by filling out this brief contact form, and we'll get back to you as soon as we can!
We look forward to hearing from you!