Using reclaimed wood for your next tabletop is a guaranteed way of making a statement with your new piece of furniture. With unique benefits and an incomparable look, reclaimed wood makes for the perfect addition to any home, office, or business. If you buy office chairs online to accompany your reclaimed wooden furniture, this could make for an elegant coupling of old and new for a sleek and elegant aesthetic in your office. At Manomin, we love all things reclaimed wood. From tabletops to mantles, we take pride in providing some of the best-reclaimed wood in the U.S.
Benefits of Using Reclaimed Wood for Your Table
Other than being simply stunning, reclaimed wood has a lot to offer as a building material. From being eco-friendly to its incredible durability, a reclaimed wood table can bring a lot of value to any room. For those who are building eco-friendly businesses it might be worth while looking for reclaimed wood desks for a start. Not only are you straight away helping support the environment, you will also have a stunning office space with beautiful wooden desks.
Eco-Friendly:
Reclaimed wood is undeniably eco-friendly. Each year, millions of trees are cut down in the U.S. alone. When you make the choice to utilize reclaimed wood, you're stopping that vicious circle. Due to deforestation, some of the pasts most popular woods have become hard to find, like chestnut and black walnut. But when shopping for reclaimed wood, you'll find that those limits don't apply.
At Manomin, our motto is "saving the forest past and present," and we take that initiative seriously. We ethically source our reclaimed wood from right here in the U.S. and use natural methods when treating our products before they're passed on to our clients. When you choose to utilize reclaimed wood, you're keeping that piece out of a landfill and reducing our nation's carbon footprint by circumventing the energy and pollutants that would have been needed to manufacture new materials. Whether you're buying a single board or an entire tabletop, you can rest assured that your reclaimed wood has lived up to our high standards.
Durability:
When it comes to tabletops, the form needs to support the feature. While any tabletop made from reclaimed wood is visually stunning, it's hidden strength is part of what makes these pieces of furniture so memorable. We've seen companies turn our reclaimed barn wood into any number of applications, including desktops, countertops, coffee tables, dining room tables, bar tops, and more. But one thing that all of these applications have in common is their strength.
We source all of our wood from old barns and factories primarily built between the 18th to the 20th century. Due to their age, the pieces have already undergone years of natural tempering and weathering. During their life as planks in a farmer's barn, or as walls in a factory during the industrial revolution, the planks we've gathered were given the opportunity to expand and contract, over and over again through the years. And after all this time, the wood has finally reached a completely dried out phase. Due to it's aged and solidified nature, reclaimed wood pieces and less prone to splitting or splintering. Additionally, their dense grain patterns, which are naturally accumulated with age, makes these pieces strong enough to cope with any temperature or setting. Whether your reclaimed wood piece of furniture needs to stand up to a full day's work or a messy dinner guest, rest assured that it's up to the challenge. Oak furniture remains as popular as ever so if you're looking to buy something new, take a look at these 6 affordable furniture trends for some inspiration.
There's No Limit When Working with Reclaimed Wood
Reclaimed wood is distinctly unique. Each piece has survived decades in its own setting before it found its way to Manomin. If you're someone who wants to control every aspect of your tabletop's finished design, then reclaimed wood is the perfect material for you.
First, you have the freedom to choose the look, feel, and color of your wood. While modern markets can only offer a few varieties of tabletops, with reclaimed wood, you're only limited by your imagination. We offer a vast variety of woods that range in color from warm and honeyed to rich and dark. While our offerings are often expanding, you can expect to find the following woods available for your reclaimed wood tabletop in our showroom:
Ash

Elm

Oak

Chestnut

Douglas Fir

Black Walnut

Pine

And more
One of our most popular reclaimed tabletop building materials is our antique oak. This wood has been milled from a mix of red and white oak barns and still displays many of the woodworking identifying features from the past 100 years. Each piece is riddled with original saw mill marks and captivating signs of natural aging and distress.
Reclaimed wood has the kind of style that can complement any setting. From chic to formal, a reclaimed wood tabletop can be the perfect addition to your home, office or business. But don't just take our word for it. Here are six of our favorite reclaimed wood tabletops that were made using Manomin reclaimed wood.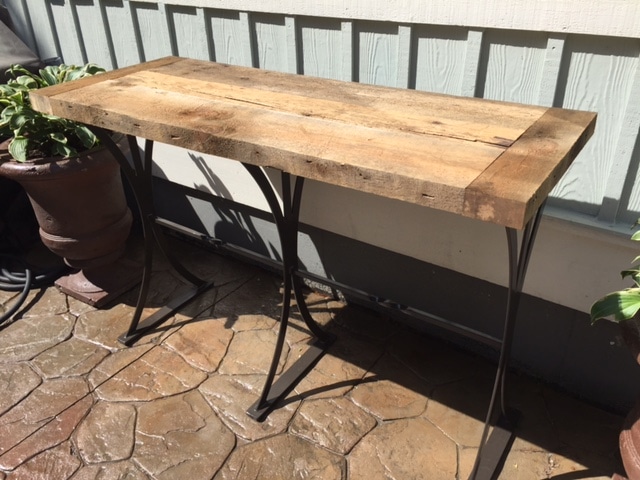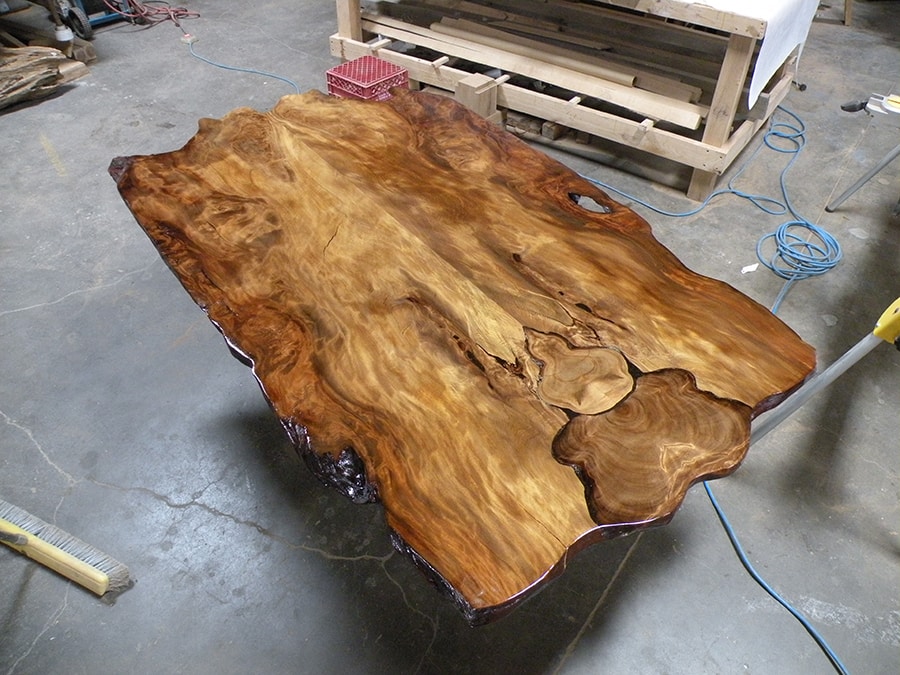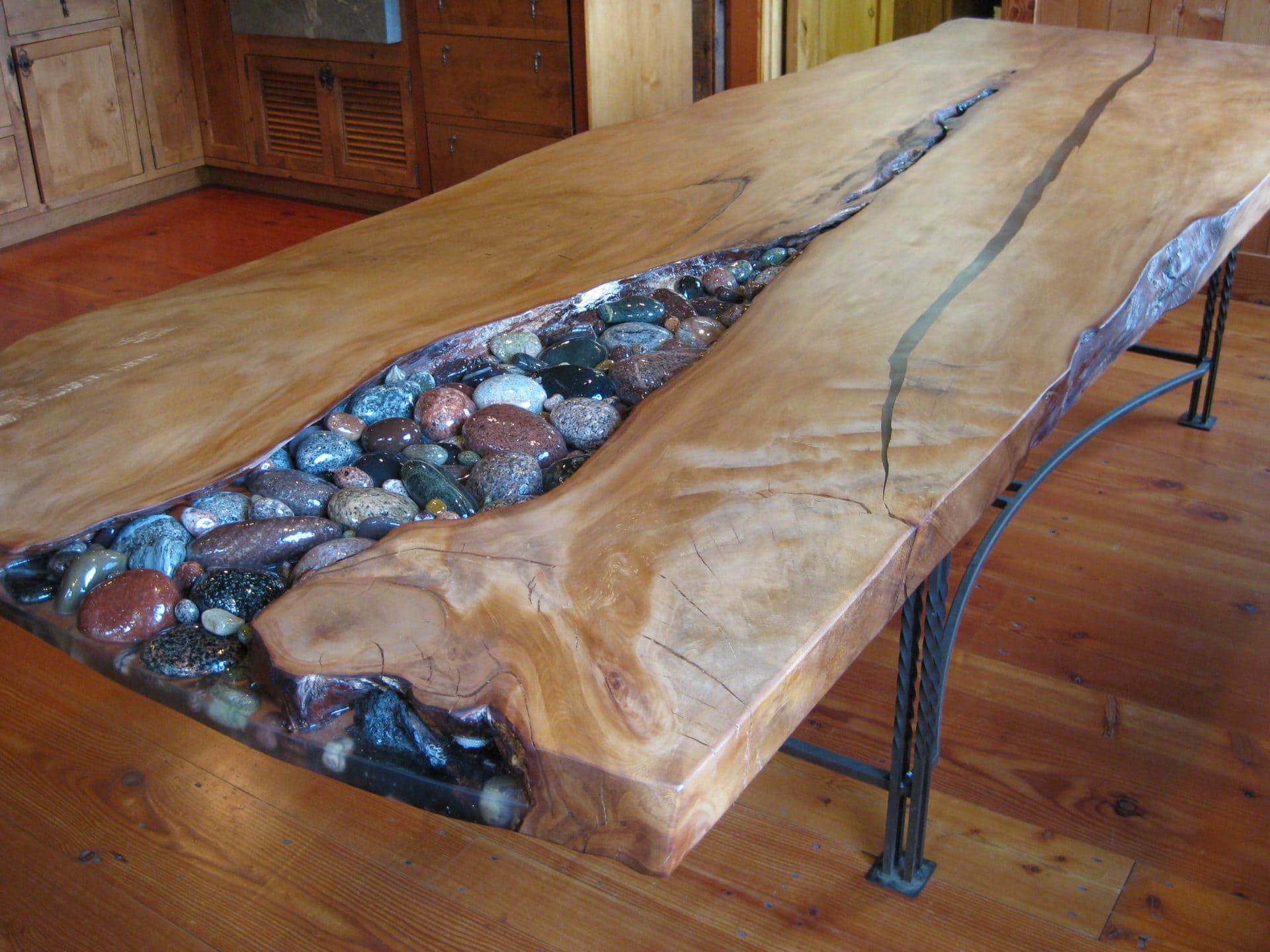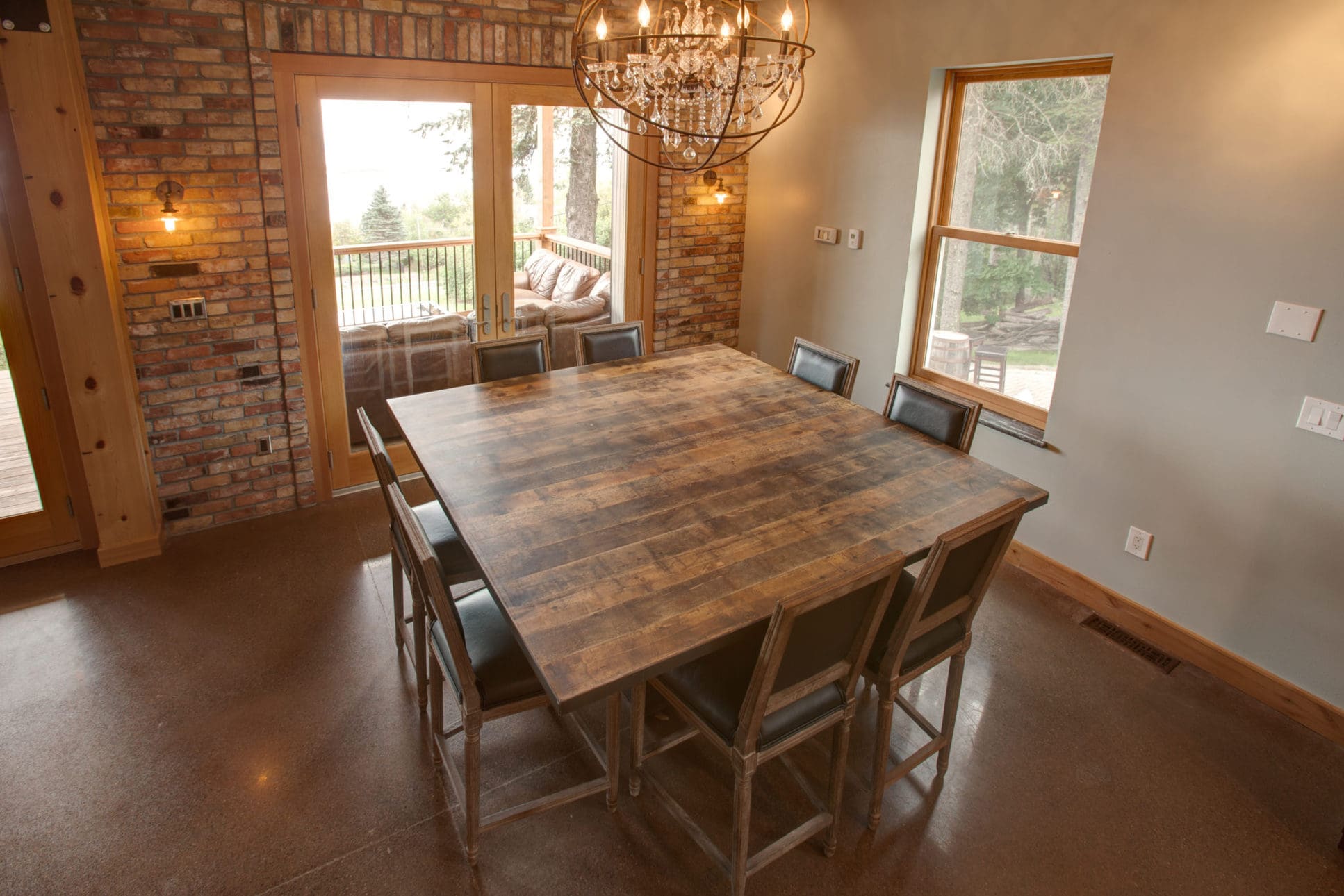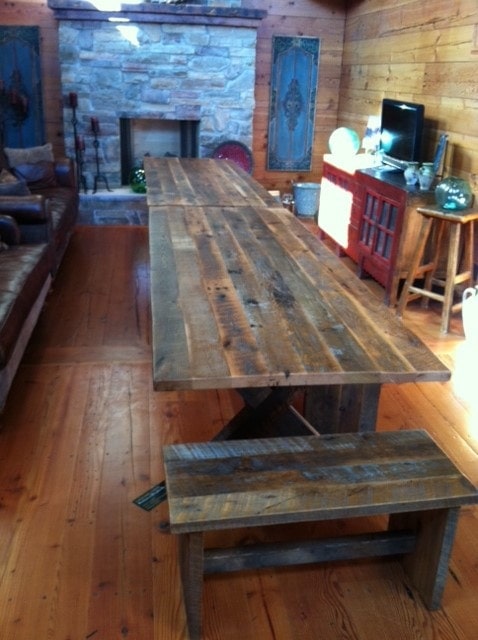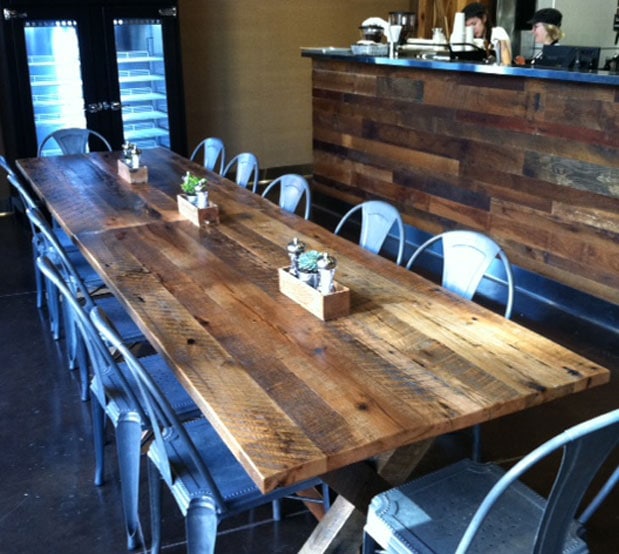 Find the Perfect Reclaimed Wood for Your Tabletop with Manomin
Now that you've found your reclaimed wood, all that's left is to design your dream tabletop. No matter the finished design, we know that your finished tabletop is going to be something to talk about. If you'd like to learn more about our tabletop making process or request a quote for any of our reclaimed wood varieties, we urge you to contact us today.