Have you ever scoured Pinterest or Instagram or watched home design TV shows, wishing your home could look as striking and beautiful as other ones you see? It can be easy to think that you're doomed to have a boring interior if you don't have a multi-million dollar home or an extensive decorating budget.
Well, we're here with some good news. You can transform your living space with the simple addition of reclaimed wood beams! And if you're not quite convinced yet, we've gathered 11 decorative ceiling beam ideas to get your creative gears turning.
1) Create Drama With Black Beams
While all-white interiors were once all the rage, the latest trend has been black. The black interior design trend gained popularity a few years ago and doesn't look like going away anytime soon.
Here at Manomin Resawn Timbers, we source reclaimed ceiling beams from Douglas Fir, Weathered Antique, or Platinum Gray wood. You can also stain any wood or use a burning technique, as seen here: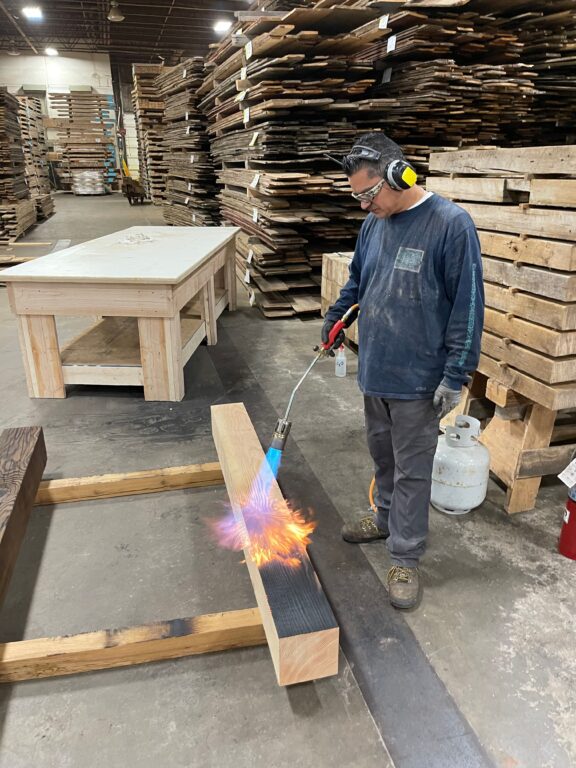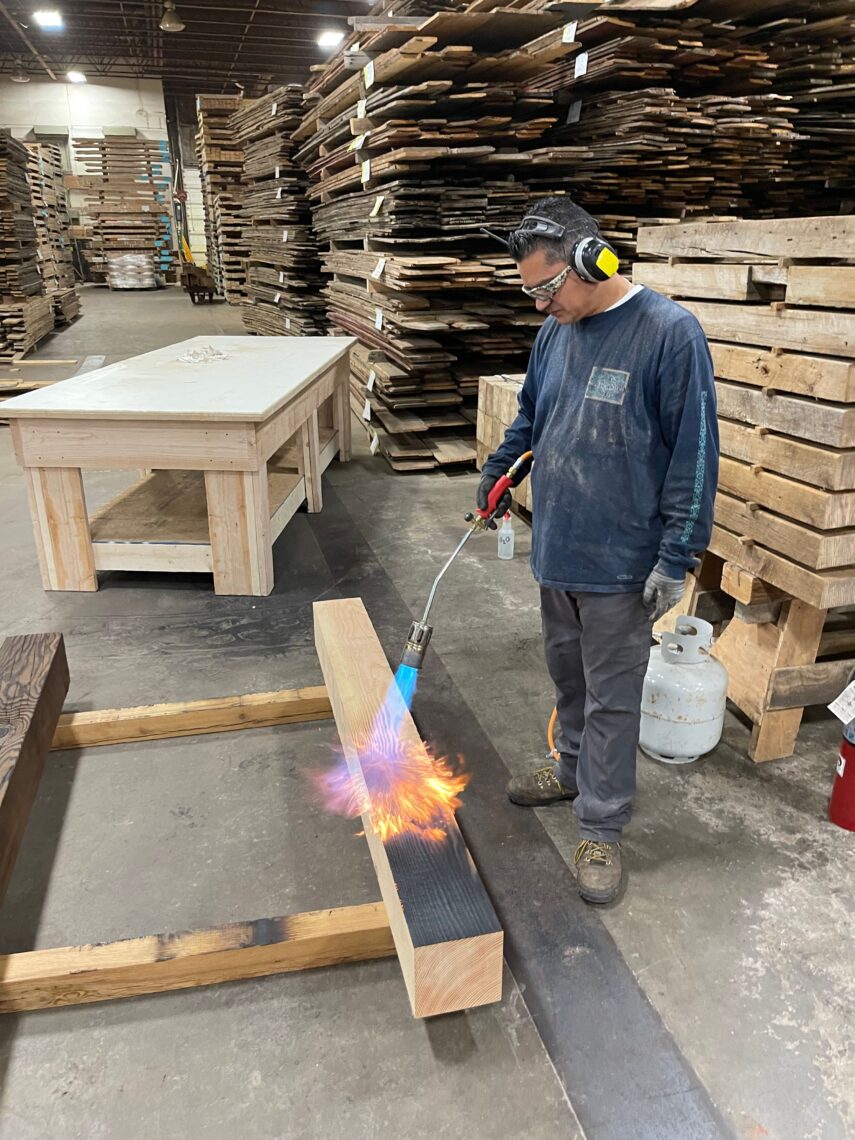 2) Get Creative With Triangular Shapes
Even though the traditional style of wood ceiling beams is long, straight beams, you can create an alternative look with exposed ceiling beams by installing them in a triangular shape. We love how these beams perfectly mold to the existing ceiling shape while creating a striking focal point.
3) Make a Small Room Feel Larger
Like we said earlier, decorative wood beams don't need to be reserved for multi-million dollar homes. Even if you have a smaller home, you can make it feel larger and more grandiose when you incorporate ceiling beams in common spaces.
You may be tempted to think that adding beams on a lower ceiling will make the room feel crowded, but the effect is quite the opposite!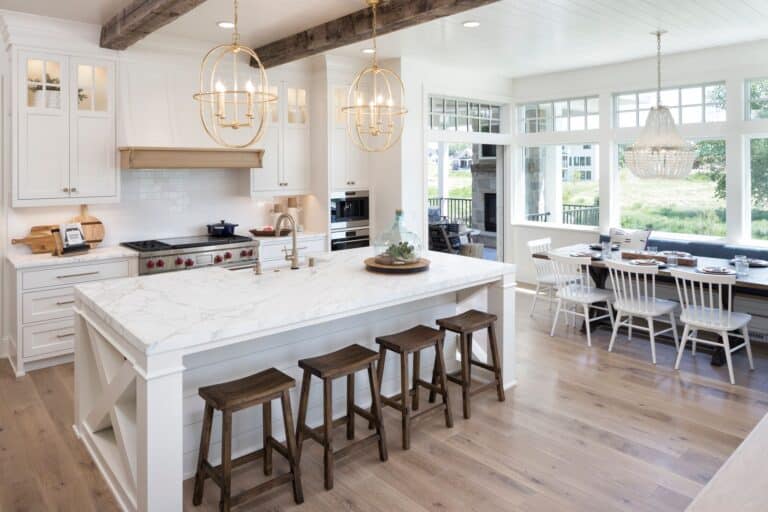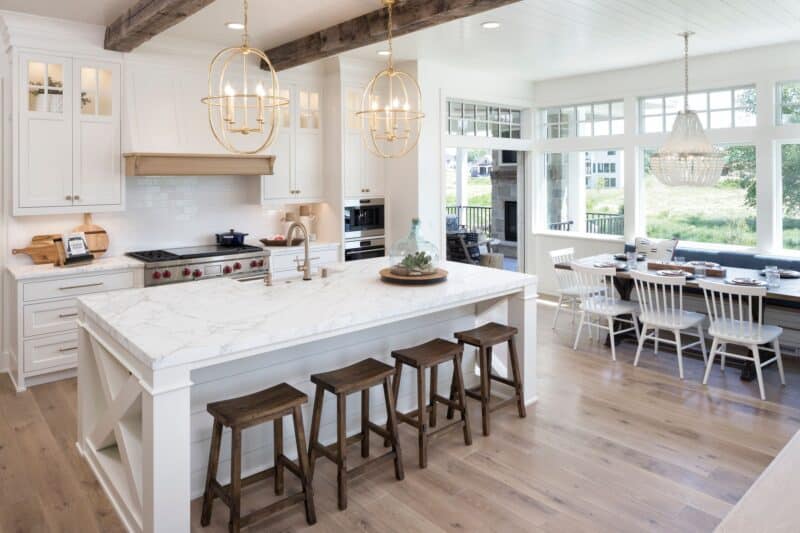 4) Tick Tac Toe… On Your Ceiling!
Feel free to get creative and express your personal style when you add decorative beams. The home pictured here created a coffered ceiling out of wood beams— a rustic and modern way to mimic a traditional style.
5) Bring the Beams Down
Who says wood beams exclusively have to stay on ceilings? We love how this home by Gonyea Homes uses box beams to decorate and display its wine selection. The result is a rustic but regal invitation to the gathering space.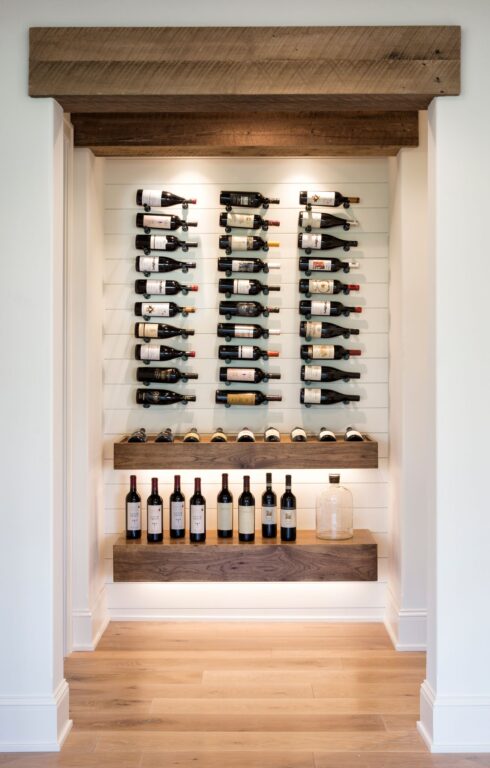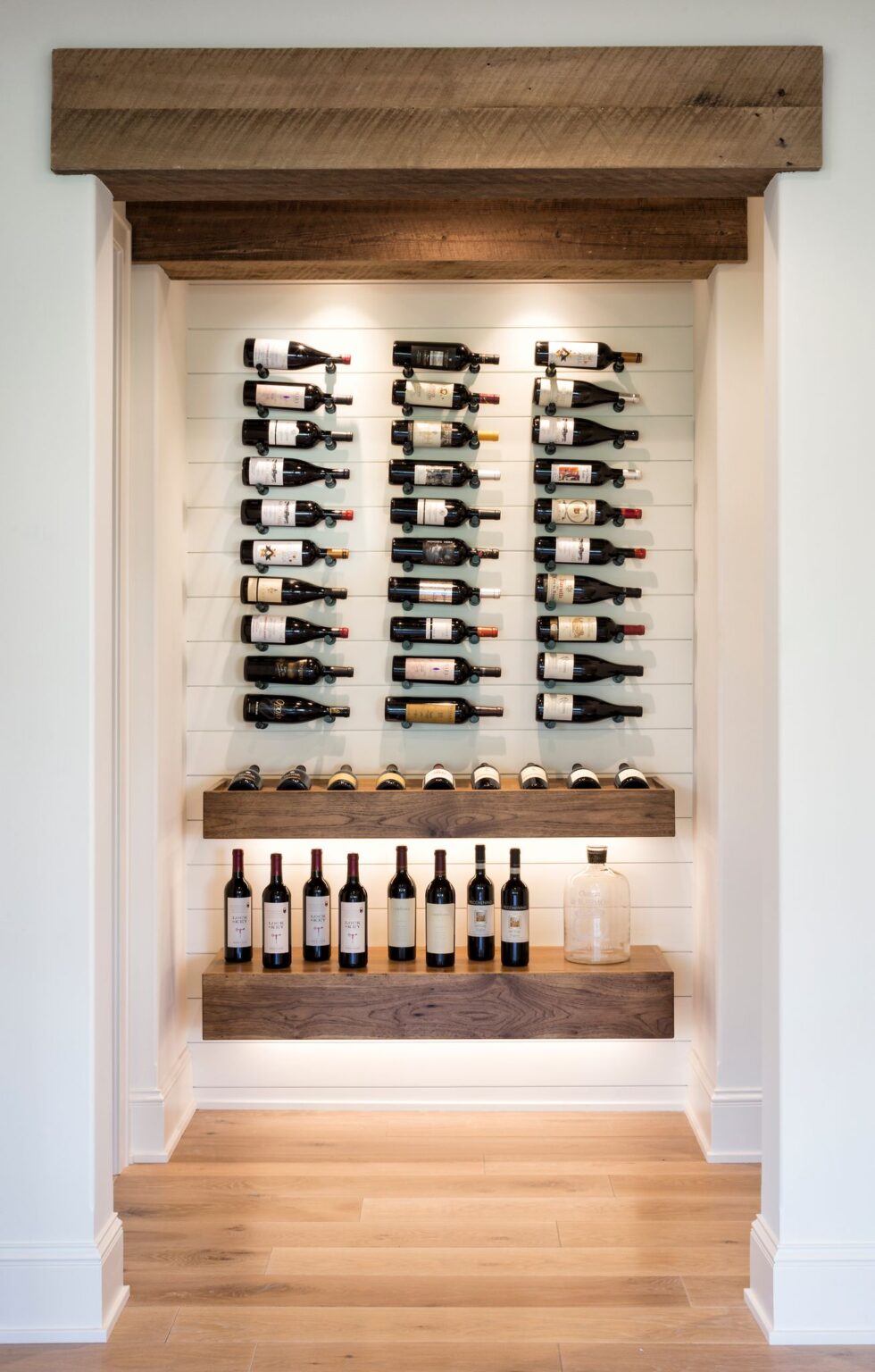 6) Leave Airy Space
With a vaulted ceiling like this, you can create an airy feel in your living space by dropping additional wood beams below the ones directly attached to your ceiling. This creates an open, breathable feel that makes the room incredibly large. The natural light sources in this room allow this design to be especially successful.
7) Go All Out
Wow! You always have the option to choose a subtle, simple design with wood beams, or you can take your design up a notch like the one pictured here. This more complex design is an eye-catcher.
We love how the homeowner incorporated beams throughout the room, not just on the ceilings. Incorporating support beams as well, giving it that rustic cabin feels.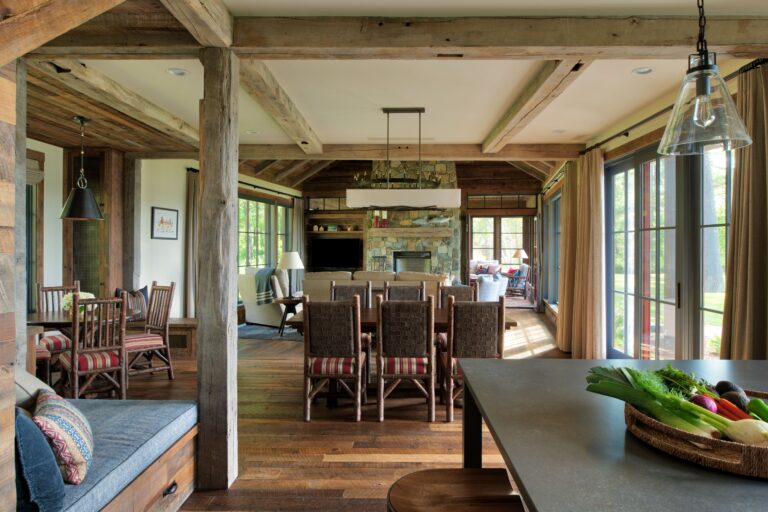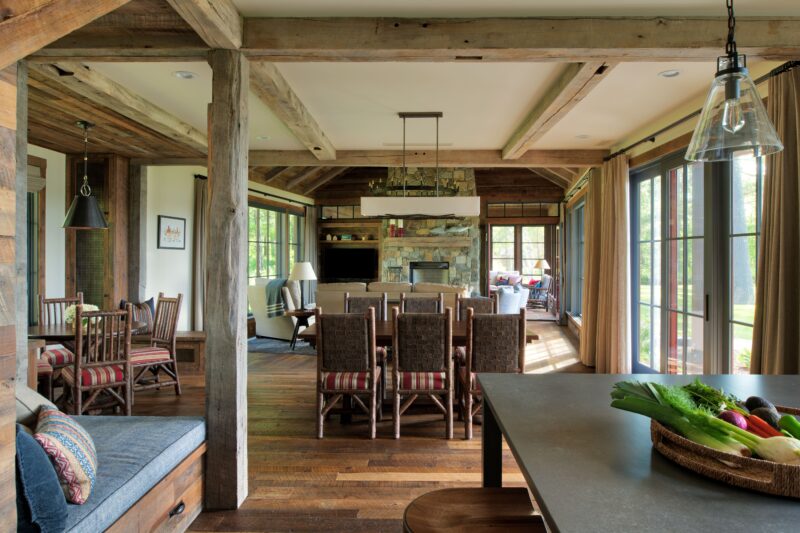 8) Narrow Areas Work Beautifully
Many examples shown here have been in larger spaces with more surface area. But exposed beams also work wonderfully in narrow areas!
If a smaller area in your home feels neglected and you're unsure what to do with it, consider adding real wood beams to bring the interior design to life. This helps every corner of your home design feel intentional.
9) Add a Fun Light Fixture
Wooden beams make an excellent focal point by themselves, but you can also add more personality to your beamed ceiling by incorporating a stylish light fixture like the one pictured here. This modern chandelier mixes traditional and contemporary designs into one. The result is a perfectly rustic bedroom that feels like home.
10) Flat Ceilings Are Included!
The possibilities are endless when it comes to incorporating the rustic style of ceiling beams. Many people think wood beams would only look good if they have vaulted ceilings, but that's not true!
Just look at this stunning flat ceiling and how adding these crossed beams elevates the simple interior design. Consider us obsessed!
11) Add Character to an Entryway
Simple, but effective! You don't need to go all out with multiple beams spread across the ceiling in every room in your house.
One simple beam above an entryway adds immense character and personality to the space. While Manomin loves to source real reclaimed wood beams, we also specialize in faux wood beams that are styled to look just like a large, solid piece of wood!
We'll Help You Bring Your Vision to Life
We don't know about you, but we're sure feeling inspired after taking a closer look at these 11 excellent ceiling beam ideas. We love the visual appeal that reclaimed timber can bring to any ceiling space.
Make your home feel like it's truly yours, all while simultaneously increasing your resale value! Manomin Resawn Timbers is your local Minnesota reclaimed wood retailer, and we can create box beams in just about any size.
Make an appointment to visit our showroom, or contact us today for a free quote!