http://www.presspubs.com/savour/article_49548824-54e2-11e6-bdf1-a3a91d2eb426.html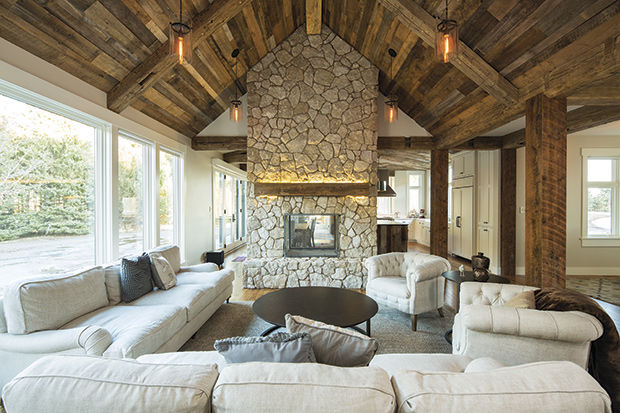 It is unusual for a woman to be in the reclaimed wood industry. However, Sarah Londerville of Manomin Resawn Timbers, a reclaimed wood company in Hugo, has made this her passion. Londerville started the company in 2001 after working in the retail industry. Originally from Wausau, Wisconsin, Londerville has lived in Forest Lake since 2000.
"Growing up in a scrap yard, we were always saving, collecting and reusing things. Reclaimed wood is very similar." Londerville said. "Over the years, I have created a network of people I work with who take down buildings and barns to supply our lumber. Everything we sell is reclaimed."
Manomin Resawn Timbers specializes in wood flooring, paneling, timbers, mantels and more. Preparing the wood is a labor intensive process. When the wood arrives, it is denailed, kiln dried, and heat treated to kill bugs and larvae. At this point, the wood is sorted and sent to various machines to create the final product.
People feel they can find reclaimed lumber cheaper on Craigslist; but, as you can see, the process is extensive. Londerville and her team of 20+ employees have perfected the system for delivering the best possible product.
Reclaimed wood can add warmth and character to any home. Our flooring is unique. It has so many great features that new grain wood does not have like original circle saw marks, patina, hardware marks and nail holes. It can even go over in-floor heat, below grade and directly over concrete because it has been drying naturally for well over 120 years.
All of the reclaimed wood is sourced in the United States and offers a way for many to preserve old structures as family heirlooms.
Londerville prides herself on working with integrity. "Our motto is to under promise and over deliver. If we feel that we cannot meet your expectations, we will turn down the job. I would rather you understand what you are getting. Our goal is to educate our customers so there are no surprises."
Last year Manomin Resawn Timbers was honored to receive the Trillium Award from the Builders Association of the Twin Cities (BATC) and the 2016 Best of Service Award from Houzz.