Reclaimed wood is all the rage these days when it comes to repurposing something old into a work of modern luxury. Whether you plan on building a door with reclaimed wood or something more ambitious like a kitchen island, finishing reclaimed wood to mold into the design of your dreams isn't as difficult as you might think.
Today, we'll walk you through what reclaimed wood is, why you should consider incorporating it into your home, and eight quick and easy techniques for finishing reclaimed wood that will make your next home improvement project nothing short of a breeze.
What Is Reclaimed Wood?
Reclaimed wood is lumber with a history, sourced from mills, warehouses, barns, and other structures dating to the colonial and industrial eras of America and Europe. This lumber is recycled and repurposed for environmentally friendly home exteriors and interiors.
Types of Reclaimed Wood We Offer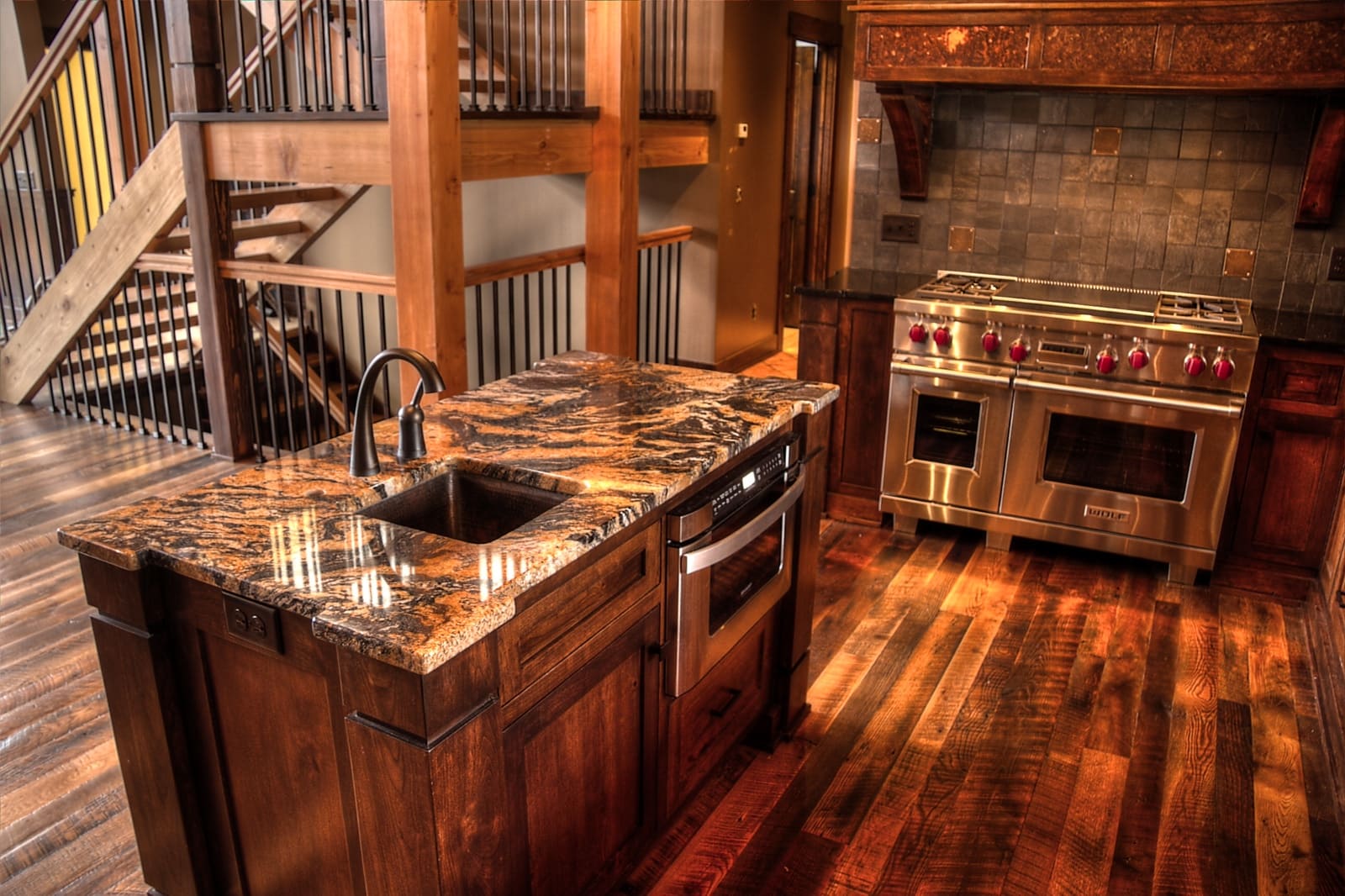 Weathered Antique
Platinum Gray
Antique Oak
Antique Ash
Reclaimed Douglas Fir
Faded Red Barn Wood
Antique Elm
Antique Mixed Hardwoods
Antique Wormy Chestnut
Heart Pine
Timber Tile Shou Sugi Ban
Why Use Reclaimed Wood in Your Home?
Offers a

rustic feel

yet blends seamlessly with any decor style, be it contemporary, traditional, minimalist, or otherwise

Environmentally friendly

because it repurposes sustainable materials from ancient trees rather than contributing to ongoing deforestation

Holds up well in high-traffic areas

because of its tight grain, making it impenetrable to wear and tear

You can purchase reclaimed wood in

much larger board sizes

than you can from modern suppliers who use smaller, younger trees

Sourced from structures made by skilled craftsmen hundreds of years ago

so that you can be sure of the quality and durability of the boards
8 Quick and Easy Techniques for Finishing Reclaimed Wood
Everyone has their vision for turning their reclaimed lumber into a repurposed masterpiece, but these top tips will help streamline the process.
Start with a Good Clean
Use a nylon bristle brush and run it all over the reclaimed wood to remove excess dirt, dead bugs, or any other unwanted materials. An air hose is a great way to get rid of smaller particles that might still be clinging to the wood.
You can also use a high-pressure water sprayer, but you'll need to be extra careful, or you could damage the grain.
Check for Extra Metal
The next step in finishing reclaimed wood is to check for extra metal. Many repurposed materials were once part of barn beams or siding, so you could find bolts or nails in the lumber.
Look at each board carefully to ensure you don't miss any metal that will harm your saw blade when you cut the boards later.
Look for Bugs
When buying your batch of reclaimed timber, inquire from the supplier if the wood was treated for pests previously. If the wood is untreated or if you still see some signs of bug life, you'll need to prime it with a solution.
Prime with Termite Resistant Solution
To protect the wood from termites and other insects, prime the lumber with a Borax solution. These chemicals will not only keep invaders like termites away but kill any pests remaining on the lumber's surface. Make sure you have rubber gloves on for this step.
Mix 3 cups of Borax with a gallon of water in a large bucket, stirring until the mixture has dissolved completely. Use a sponge to prime and coat the wood's surface. You'll need to let it dry for 6 to 7 days, so the chemicals absorb fully into the wood.
If crystals remain on the wood after the Borax dries, use a bristle brush to scrub those off. Be sure to wear a respirator and safety goggles to shield yourself from the harsh chemicals.
Strip Paint
If the wood has old paint on it, you'll need to strip it before finishing your reclaimed wood. Use a brush dipped in chemical paint stripper to cover the surface of the wood. Once the stripper has soaked in and set (which could take anywhere from 30 minutes to 24 hours) you can scrape it off with a paint scraper.
Remember to protect yourself with a dust mask or respirator, rubber gloves, and safety goggles when performing this step of finishing reclaimed wood.
Sand the Wood Down
The next thing you need to do when finishing reclaimed wood is sand it down. Use 100-grit sandpaper and press it firmly against the surface of the lumber. Sand in circular movements to smooth out unwanted imperfections and remove splinters.
Apply Wax or Wood Finish
Before you turn your reclaimed wood into a repurposed masterpiece, apply a wax or wood finish (polyurethane solutions are best) to the boards. Use a large bristle brush to coat the lumber thoroughly.
You will likely need to apply two to three coats, waiting half an hour to one hour between each layer.
Finish with Wood Sealant
Once you apply your wood finish, use a large bristle brush to put a light layer of wood sealant over the lumber. The sealant will protect it against wear and tear, making it more durable in any high traffic or exterior areas.
Count on Manomin Resawn Timbers for Your Reclaimed Wood Needs
Each beam of finished reclaimed wood you bring into your home is like a historical artifact, permeating the space with character and class.  Every crevice and notch include their own unique story.
Your kitchen door might have once been the floor of an Italian count, or your walls could be from the beams of a farmhouse dating back to early colonial America. Who wouldn't want a piece of history in their home?
If you're looking to use reclaimed wood in your next home project or build, then contact Manomin Resawn Timbers today.